Accutics is a leading enterprise marketing data management platform streamlining campaign tracking, consolidating campaign data, and evaluating campaign performance.
But it is important to remember that the features and pricing of Accutics might not be suitable for many businesses. It is important to know its features and pricing model in detail and explore its alternatives to make an informed decision.
Keep reading to explore Accutics pricing & alternatives in detail and why TerminusApp emerges as the superior choice over Accutics. Take advantage of our comprehensive comparison table and FAQ section, designed to give you a crystal-clear understanding of these two platforms!
What is Accutics?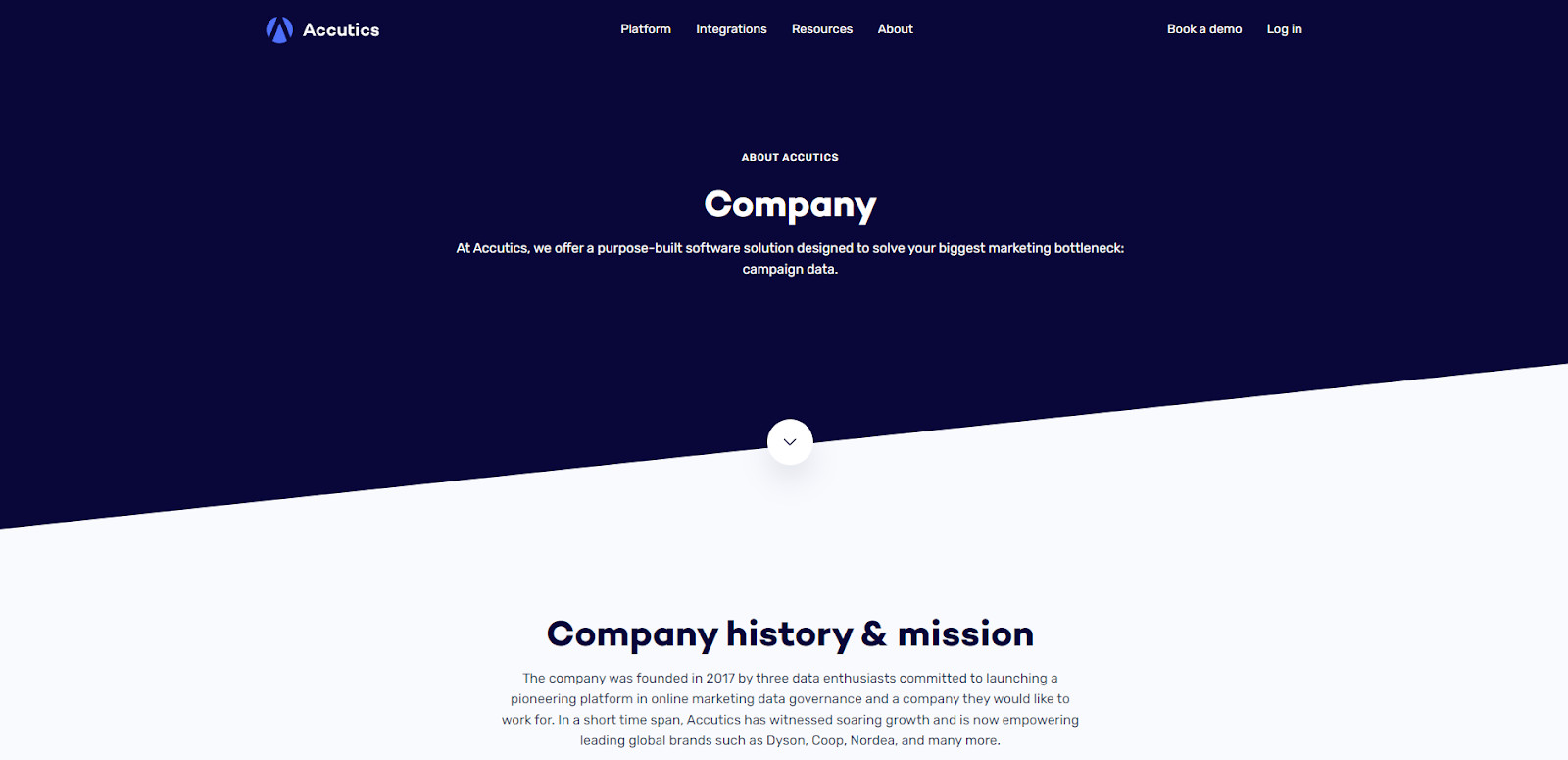 Accutics, a premier platform designed for managing marketing data in large corporations, offers a comprehensive suite of features that simplify the process of campaign monitoring, data consolidation, and performance evaluation across Adobe Analytics and Google Analytics.
One of the critical benefits of Accutics is its ability to streamline campaign organization and coordination for big companies. It is a centralized hub where all campaign details can be effortlessly organized, controlled, and linked, irrespective of the teams or channels involved.
Accutics Validate is crucial in ensuring adherence to your marketing campaign rules. It automatically verifies that all campaign pages have appropriately tracked clicks and impressions while matching campaign names with corresponding ads and creative work.
Furthermore, it conducts automatic checks to identify campaigns that may need to be performed optimally.
Features of Accutics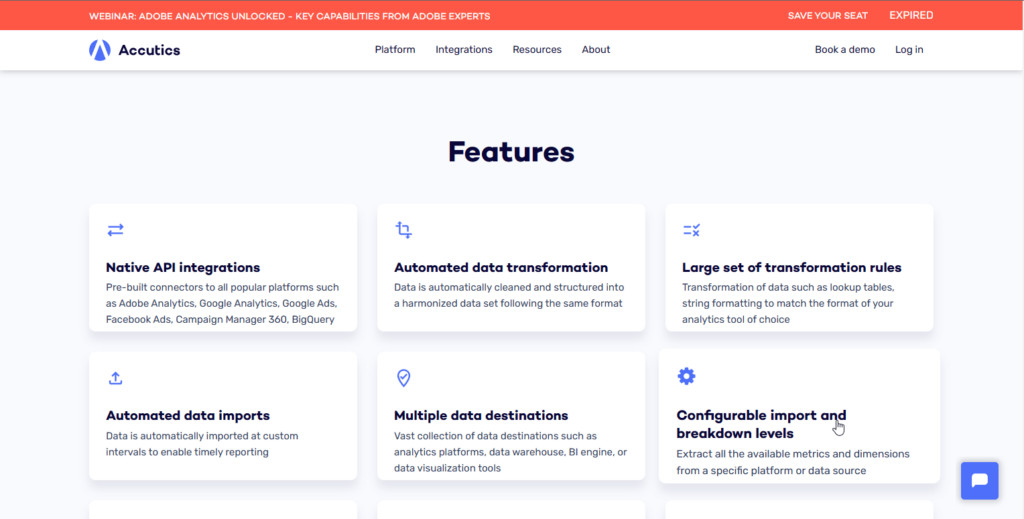 Accutics offers a range of powerful features that enhance marketing data management. Here are the key elements of Accutics:
Native API integrations: Seamless integration with popular platforms like Adobe Analytics, Google Analytics, Google Ads, Facebook Ads, Campaign Manager 360, and BigQuery through pre-built connectors.
Automated data transformation: Data is automatically cleaned and structured into a harmonized data set, ensuring consistent formatting.
A large set of transformation rules: Extensive options for transforming data, including lookup tables and string formatting, enabling alignment with your preferred analytics tool.
Automated data imports: Data is automatically imported at custom intervals, ensuring timely availability for reporting and analysis.
Multiple data destinations: Choose from various data destinations, including analytics platforms, data warehouses, BI engines, and data visualization tools.
Configurable import and breakdown levels: Extract all available metrics and dimensions from specific platforms or data sources, tailoring data imports to your requirements.
Automatic currency conversion: International currencies automatically convert based on European Central Bank exchange rates, eliminating manual conversion efforts.
Accutics Pricing & Alternatives
The complexity of Accutics pricing may pose challenges, particularly for businesses operating on a limited budget. The need for more transparency in its pricing structure makes it difficult to gauge its competitiveness compared to other options available in the market.
Understanding pricing details is crucial for businesses seeking a cost-effective marketing data management solution. Accutics' ambiguous pricing model hinders the ability to make informed comparisons, which can be a drawback when considering alternative platforms.
Why Do You Need Accutics Alternatives?
Considering these cons alongside Accutics' strengths and comparing them with alternative solutions is essential to decide on the best marketing data management platform for your business.
Complexity: Accutics' interface and features can be complex, posing a user challenge. The steep learning curve may hinder the efficient utilization of the platform, especially for those new to campaign tracking and analytics.
Pricing transparency: Understanding Accutics' pricing can be challenging. More clarity may be needed for businesses with limited budgets or those seeking a straightforward pricing model. With clear pricing information, making informed decisions and allocating resources becomes easier.
Integration challenges: Users may need help integrating Accutics with existing marketing tools and workflows. Compatibility issues and difficulties with integrating other software can pose additional challenges. Smooth integration is crucial for an effective campaign tracking and analytics solution.
Focus on larger enterprises: Accutics primarily targets larger enterprises, potentially leaving small businesses and startups unsupported. The platform's extensive feature set may overwhelm smaller organizations. Smaller companies may need help finding value in the platform and may need to explore alternative solutions.
Limited customization options: Accutics may have limitations when it comes to customization. Users may need help tailoring the platform to their needs and preferences. The lack of flexibility in customization options may restrict the ability to optimize the platform for individual business requirements.
Top Accutics Alternatives
Here is a list of Top Accutics alternatives and their advantages and drawbacks.
TerminusApp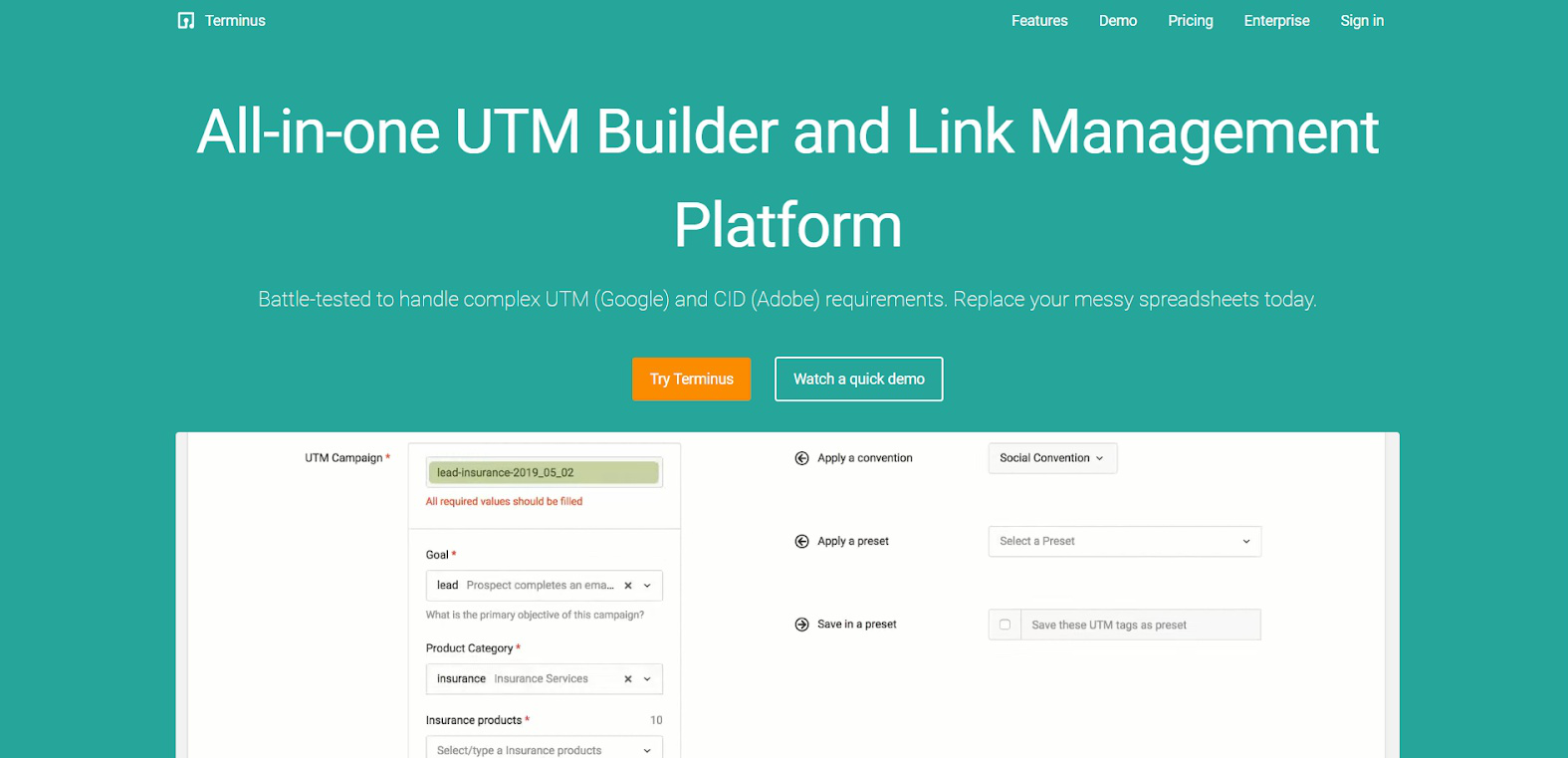 TerminusApp is a powerful UTM builder tool designed to streamline the tracking and analyzing marketing data process, providing businesses with a simpler and more efficient solution than its counterpart, Accutics.
With its easy-to-use interface, transparent pricing, connected solutions, and exceptional customer support, TerminusApp offers a comprehensive package that is worth considering for any organization.
Pros of TerminusApp:
Easy Interface and Features: TerminusApp offers a user-friendly interface and intuitive features, simplifying the creation, management, and analysis of UTM codes without a steep learning curve.
Clear Pricing Model: TerminusApp employs a transparent pricing structure, making it easier for businesses to understand and compare costs, ensuring budgeting and cost analysis is more straightforward.
Connected Solutions: TerminusApp seamlessly integrates with various marketing tools, facilitating smooth data management and analysis across multiple platforms, enhancing overall efficiency and campaign effectiveness.
Helpful Customer Support: TerminusApp provides excellent customer support, ensuring users can access prompt assistance and guidance when needed, maximizing the platform's value and usability.
Cons of TerminusApp:
Limited Depth and Specialization: While TerminusApp offers a comprehensive set of features, it may not provide the same level of breadth and specialization as some competing tools, making it less suitable for businesses with particular requirements.
Salesforce Marketing Cloud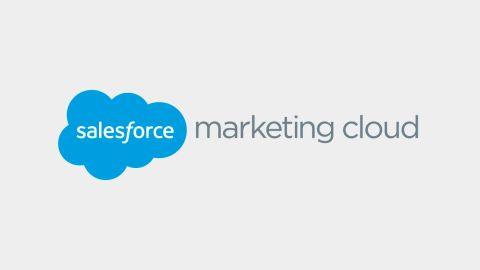 Salesforce Marketing Cloud (SFMC) is a comprehensive platform developed by Salesforce that empowers businesses to drive their digital marketing strategies, automate marketing processes, and engage with customers effectively.
As a Software as a Service (SaaS) solution, SFMC offers three editions (Pro, Corporate, and Enterprise), each equipped with varying levels of functionality to cater to the diverse needs of users.
Pros of Salesforce Marketing Cloud
Robust Multi-Channel Campaign Execution: Whether email marketing, social media advertising, mobile messaging, or web personalization, it has a wide range of tools to reach customers across various channels.
Dynamic Customer Journeys: Businesses can create dynamic customer journeys that span multiple touchpoints and channels.
Comprehensive Campaign Analytics: Salesforce Marketing Cloud offers robust campaign analytics capabilities, providing marketers with valuable insights into their marketing efforts.
Cons of Salesforce Marketing Cloud
Steep Learning Curve: Due to its extensive range of features and functionalities, adequate training and support may be required to leverage its capabilities fully.
Complex Configuration and Setup: Implementing and configuring SFMC to align with specific business needs can be complex.
Cost Considerations: Salesforce Marketing Cloud is a robust enterprise-level solution, and its pricing can be a significant investment for businesses, particularly smaller organizations or startups with limited budgets.
Dependency on the Salesforce Ecosystem: SFMC is tightly integrated with the broader Salesforce ecosystem. It may present challenges for those using alternative CRM or data management systems, as seamless integration with external platforms can require additional effort and resources.
Hubspot Marketing Hub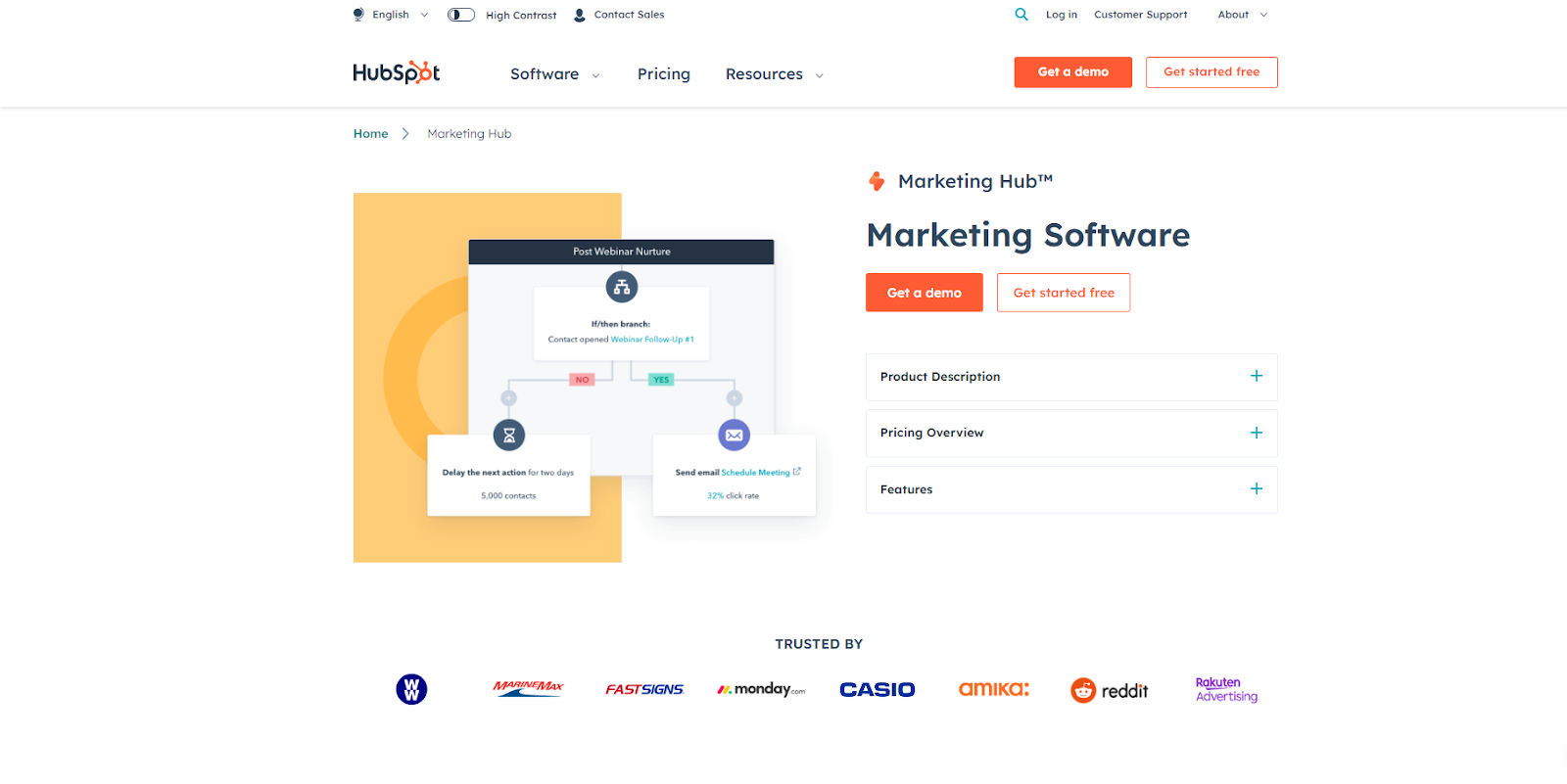 Experience the power of Hubspot marketing hub, where all your marketing information and tools converge onto a single, highly efficient platform.
Seamlessly integrated, the Hubspot marketing hub equips you with the essential insights to create personalized experiences that effectively attract and convert the right clients while optimizing your time.
Furthermore, it offers a streamlined approach to launching and managing all your marketing activities. As your business expands and evolves, HubSpot's Marketing Hub scales with you, ensuring a perfect match for your growing needs.
Pros of Marketing Hub
All-in-One Platform: Marketing Hub provides a comprehensive solution consolidating all your marketing information and tools into one platform.
Personalized Customer Experiences: With Marketing Hub, you gain access to valuable insights that enable you to deliver tailored experiences to your target audience.
Scalable Solution: Marketing Hub is designed to scale with you as your business grows.
Cons of Marketing Hub
Costly Investment: The pricing structure and ongoing subscription costs may not be feasible for organizations with limited resources.
Steep Learning Curve: As a comprehensive platform, Marketing Hub may have a steep learning curve for users who need to become more familiar with the tool.
Limited Customization: While Marketing Hub provides a range of features and functionalities, it may have limitations regarding customization.
Dependence on HubSpot Ecosystem: Marketing Hub is part of the HubSpot ecosystem, and relying solely on this tool may require a significant commitment to the entire HubSpot suite.
TerminusApp is a top choice for UTM building and management because it offers an easy user interface, transparent pricing, and customer support. It provides multiple customization options that give effective and suitable insights for your business.
Let's take a closer look at the features of TerminusApp.
TerminusApp: The Best Tool For Link Management and UTM Building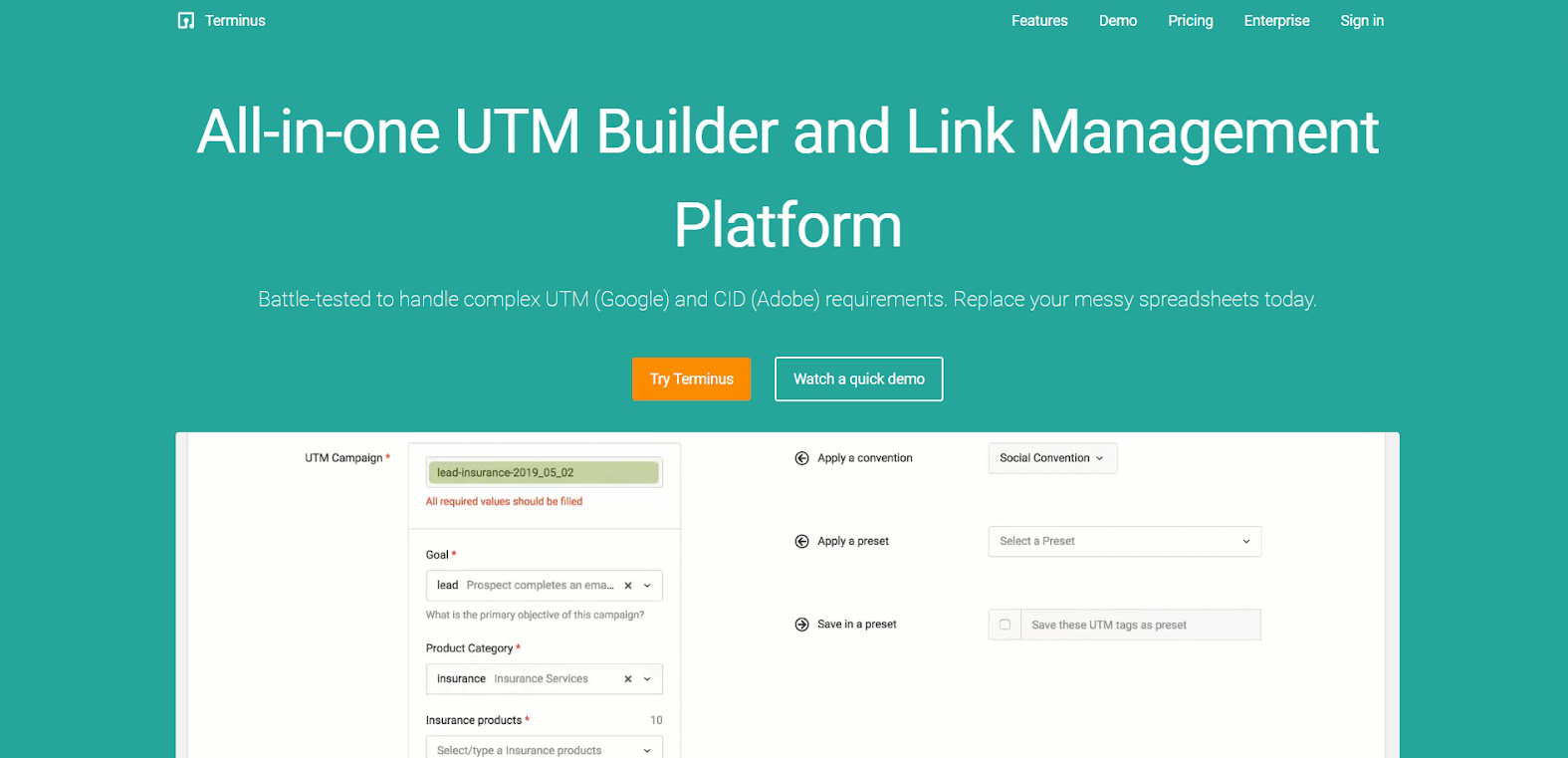 TerminusApp is a UTM builder designed to streamline the process of tracking and analyzing UTM codes and marketing data.
TerminusApp offers an easy-to-use interface, clear pricing, connected solutions, and excellent customer support, making it a compelling alternative to Accutics.
Features:
Build Multiple URLs: TerminusApp allows you to save time and effort by generating multiple URLs simultaneously. Instead of creating each URL individually, you can input the necessary parameters, such as UTM tags, and TerminusApp will quickly generate a batch of URLs for your campaigns.
One-Click Copy: With TerminusApp, copying tracking URLs is a breeze. You can simply click a button, and the tracking URL is instantly copied to your clipboard. Once copied, you can easily paste it wherever you need, such as in emails, social media posts, or other marketing materials.
Easy Social Sharing: TerminusApp enhances the visual appeal of your URLs when shared on social media platforms like Twitter, Facebook, and others. It provides attractive and concise URLs that are more likely to capture your audience's attention.
Save All UTM Parameters: UTM parameters are essential for tracking the effectiveness of your marketing campaigns. TerminusApp allows you to save all your UTM parameters for future use. Once you have set up the necessary UTM tags for a particular campaign, you can easily save them within TerminusApp.
Enforce Lowercase: TerminusApp enforces lowercase for all UTM parameters to maintain consistency and avoid potential issues. This ensures that your UTM tags are standardized and eliminates any discrepancies caused by variations in capitalization.
Email UTM Tracking: Sharing UTM tracking information with your team members is made easy with TerminusApp. You can conveniently email your colleagues UTM tracking details directly from the application.
Use Your Custom Domain: TerminusApp integrates with your custom domain, allowing you to create branded short URLs. Utilizing your domain can reinforce your brand identity and establish trust with your audience.
Pricing: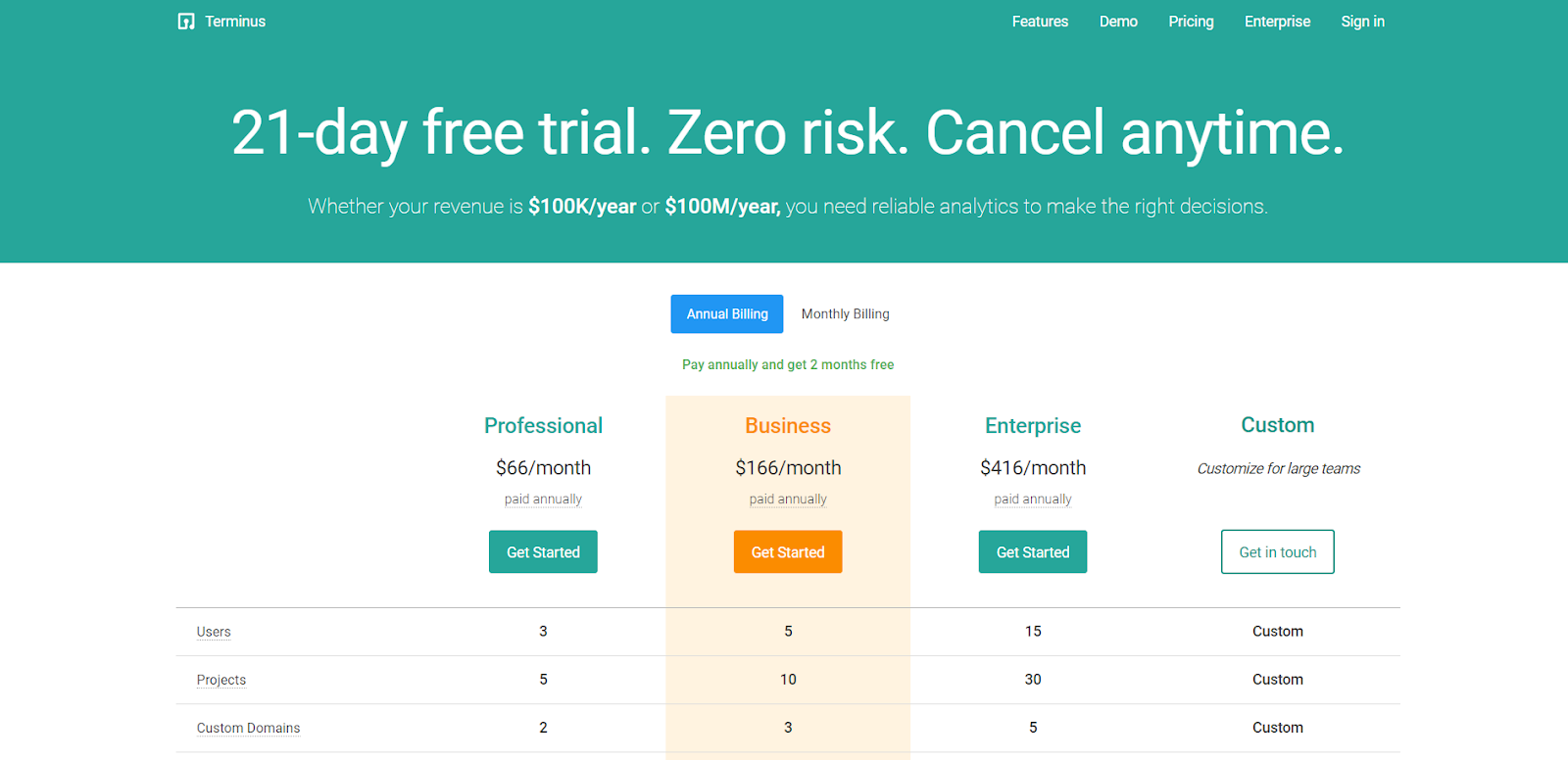 Discover the advantages of our URL management services firsthand with a complimentary 21-day trial. Unleash the full potential of TerminusApp before committing to our flexible monthly or annual pricing options.
By opting for the annual plan, you'll receive two extra months at no cost, making it a highly valuable investment. Our dedicated team can provide customized packages with increased limits for businesses requiring specialized UTM and link management solutions.
Contact our team to explore personalized plans or request tailored demos that align perfectly with your requirements.
Conclusion
Effective marketing data management is crucial for businesses to track, analyze, and optimize their campaigns. While Accutics offers a comprehensive suite of features for enterprise marketing data management, its pricing complexity and lack of transparency may only be suitable for some businesses, especially those operating on a limited budget.
Therefore, it is important to consider the drawbacks of this tool and explore alternatives that suit your needs and budget. Among all the Accutics alternatives, TerminusApp stands out as the top choice
TerminusApp is a reliable platform for managing marketing data that makes it easier to track campaigns, combine campaign data, and evaluate the effectiveness of campaigns.
TerminusApp provides a user-friendly interface, transparent pricing, seamless integration with various marketing tools, exceptional customer support, and extensive customization options.
The clear pricing model enables businesses to understand and compare costs, facilitating informed decision-making. TerminusApp's seamless integration with other marketing tools enhances overall efficiency and effectiveness.
Explore TerminusApp today and unlock the full potential of your marketing efforts by signing up.