Today, more and more businesses are leveraging the power of a marketing automation platform to track their digital marketing campaign performance.
With the advent of UTM tracking solutions, getting actionable insights into your digital campaign has become easier than before. One such powerful and amazing UTM tracking platform is CampaignTrackly.
Although the UTM-centric marketing automation platform is highly effective in determining digital marketing ROI, business enterprises often wonder whether it's worth the price.
If you're looking for a UTM tracking software that delivers actionable insights in no time, you may have CampaignTrackly on your list. In this article, learn about this platform, how it benefits businesses, and the best alternatives to CampaignTrackly for easier decision-making.
What is CampaignTrackly ?
CampaignTrackly is an excellent, state-of-the-art links management software that is designed to assist marketing teams in producing spreadsheets, tagged links, and short links.
Its single location for housing and maintaining the marketing tracking links and the automated campaign URL builder helps businesses to set industry-leading performance monitoring plans and delivers actionable insights and data easily.
With over 80 marketing automation platform features, this software alleviates manual labor and lowers the risk of human errors. Thanks to its free version and professional membership plans, performance-driven business enterprises can use this platform for integrated operations and sustainable tracking.
Top 5 CampaignTrackly Alternatives To Know About
Here is a comprehensive list of the best CampaignTrackly competitors that all medium and small business owners should consider: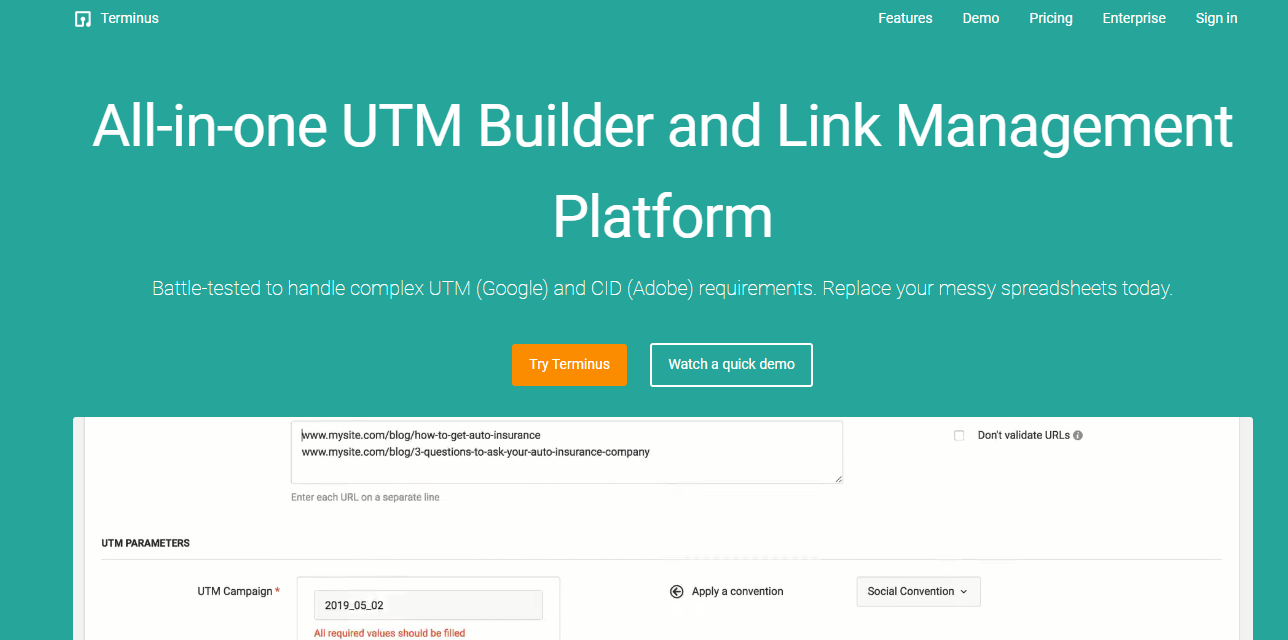 TerminusApp is a cutting-edge marketing automation platform well-known for its link management and UTM builder capabilities.
Whether ad optimization or email marketing campaigns, this software will always deliver simple and consistent UTM tracking results for them. The platform's UTM Builder is capable of using multiple UTM codes to develop URLs.
No matter the complexity, it can effectively replace any kind of UTM spreadsheet. This marketing platform comes with various key features, which are as follows:
Businesses can incorporate multiple URLs, pick existing UTM values, devise new ones, leverage predefined templates to overrun common UTM settings rapidly, or make a new preset.
Follow naming conventions without any hassle and eliminate the possibility of making mistakes.
Enjoy seamless software customization according to the explicit needs of your business and digital marketing campaign.
Create each and every tracking URL in a few simple clicks by leveraging the platform's Multi-Tag URL Builder.
Benefits of Using The TerminusApp
It maps out notes for the marketing team to document or record any workflows, instructions, etc.
Apart from UTM, the software offers other custom parameters for campaign tracking.
The site comes with a repository for all UTMs, URLs, and other data for future reference.
The platform enables you to conduct bulk operations on multiple URLs at once.
It allows dynamic data insertion with retargeting/remarketing/redirect codes.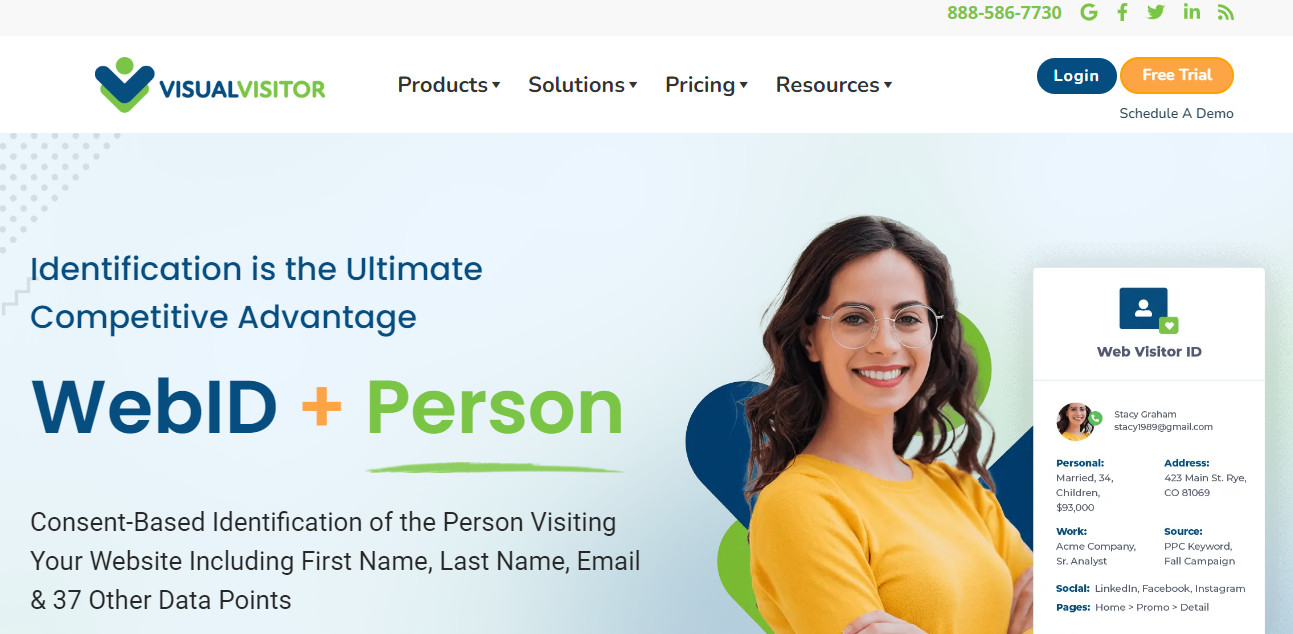 Visual Visitor is a reasonably priced, highly effective, and user-friendly sales intelligence platform that helps businesses to simplify their process of B2B sales. The platform plays a key role in assisting the sales and marketing teams to accelerate sales and generate more revenue.
With over 640 billion B2B contacts in the database, this site consists of huge statistical data sources on buyer intent. When it comes to website tracking emails and proposals, the platform ensures anonymized visitor identification.
Pros of using Visual Visitor
It is one of the best CampaignTracking alternatives that come with the following advantages for business enterprises:
It facilitates initial contact for your sales and marketing teams.
It offers 36% of the sales to the merchant that responds first.
It lowers your prospecting time by a whopping 80% and helps you find hidden leads.
It provides the google analytics data you need to approach any challenging prospect.
Like many SEO tools, this platform also generates more leads from the existing traffic.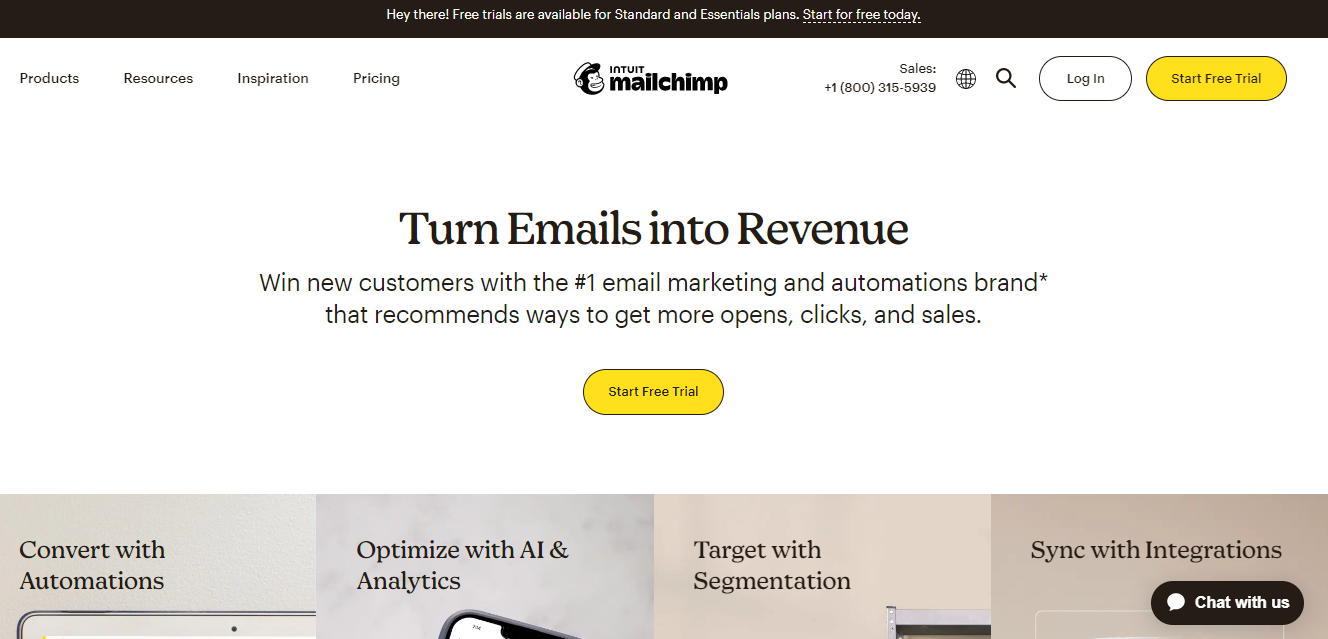 With millions of users worldwide, Mailchimp has become a leading web-based marketing automation suite in the business world. The software enables users to track consumer interactions while disseminating newsletters across a variety of social networks.
The program includes capabilities for tracking the advancement of campaigns, automating follow-ups, managing Facebook ad campaigns, and setting up targeted emails, among other things. This marketing tool enables users to gather and examine their email answers.
Moreover, Mailchimp has an iOS and Android mobile application. The service is offered on a monthly subscription basis and caters to a wide range of organizations, from small e-commerce to large web-based stores.
Benefits of using MailChimp
The software provides graphical depictions of information and user interactions in several different formats.
Users of Mailchimp may create, distribute, and track email newsletters from any place.
Marketers can build and share eye-catching email campaigns using an interactive drag-and-drop interface.
Businesses can also track consumer activity or create ad-hoc reports using the built-in analytics and reporting functionality.
It enables marketing teams to add subscribers, receive campaign updates, and keep track of social media activity.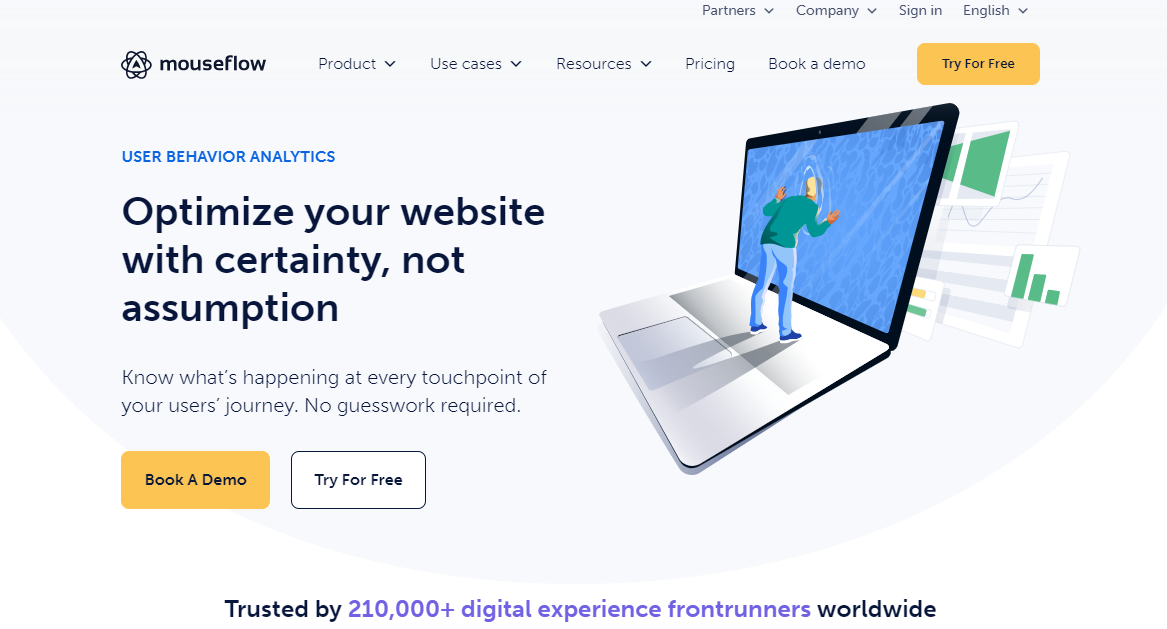 Mouseflow is a renowned marketing automation platform that is trusted by over 190,000 websites worldwide for its next-level behavior analytics ecosystem. Since the site guarantees the highest conversion rates and the best website experience, it has emerged as a highly sought-after platform in the marketing world.
Benefits of using MouseFlow
There are plenty of benefits to integrating MouseFlow into your marketing tool arsenal. These include the following:
Save time by pinpointing the areas of your website where users are having difficulty and understanding what keeps them from becoming customers.
With heatmaps, form analytics, conversion funnels, and session replay, you can learn more about your visitors' behavior.
Learn what made an A/B test successful and why users aren't submitting your forms.
To help/recover conversions, set up feedback campaigns based on a range of triggers.
Determine and order conversion barriers while increasing the visual context to hasten implementation.
Now that you know about the four major alternatives to CampaignTrackly, let's take a quick overview at some other alternatives too.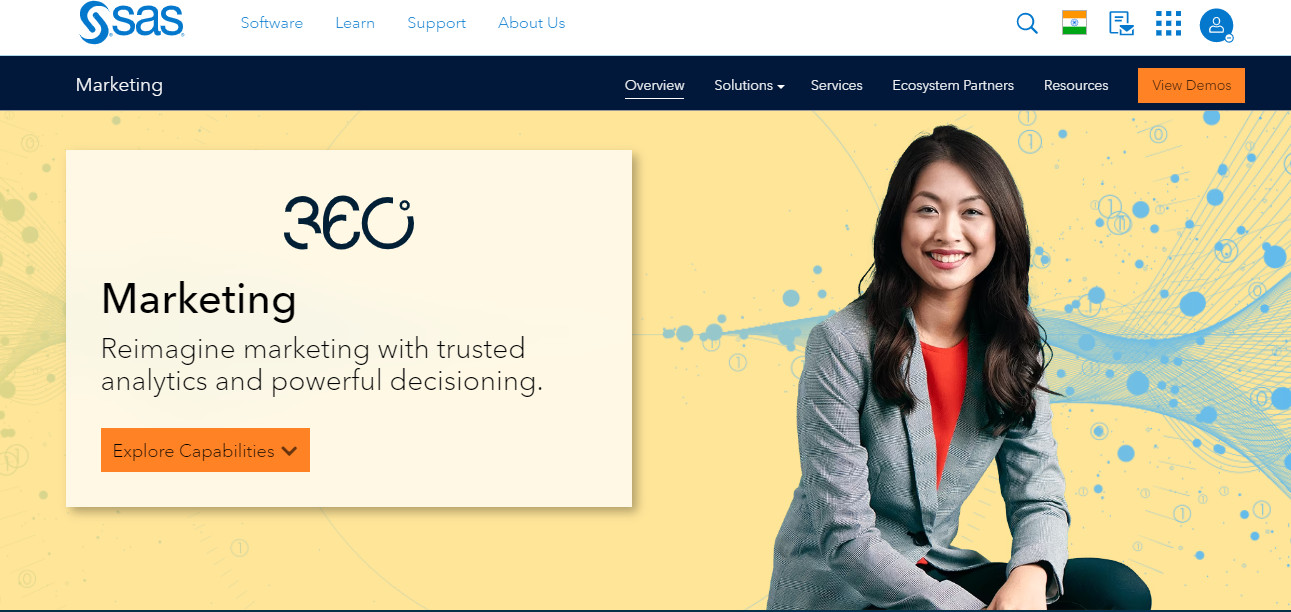 One of the most popular alternatives to CampaignTrackly – SAS Customer Intelligence 360 – is an advanced customer outreach platform specializing in smart, goal-driven marketing automation.
By leveraging a dynamic and robust data collection, this software helps marketers get a comprehensive understanding of all the steps involved in the customer experience journey.
With SAS CI 360, marketers can leverage owned data to find crucial customer insights and translate this knowledge into more pertinent, tailored, and personalized interactions on all marketing channels, including both direct and digital.
With a focus on chief marketing officers, digital transformation officers, and customer experience executives, SAS Customer Intelligence 360 anticipates the demands of businesses across all geographic locations.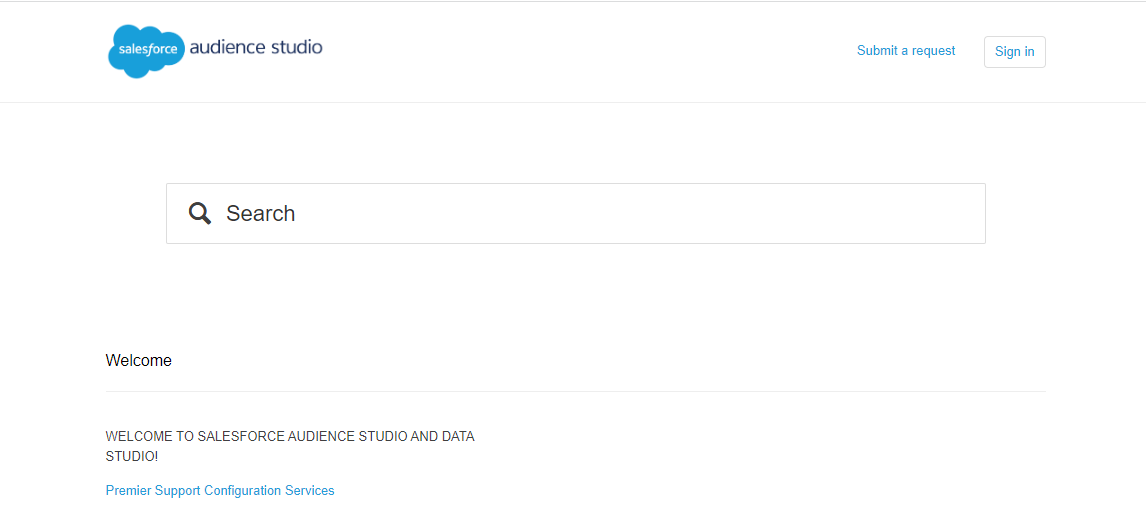 Audience Studio is a well-known data management software that was designed to assist companies in providing tailored marketing experiences by gathering and conserving data signals from various sources.
It features a device graph that can help advertisers identify their footprints across media, and machine learning technologies can be used to establish audience categories. Using this Salesforce application, administrators can learn more about customer journeys and find new communities according to occurrences or actions.
Additionally, it provides a permission management module that enables companies to set up consent frameworks for various markets, ask for data deletion, and change regulations to ensure regulatory compliance across the board.
Audience Studio, previously Salesforce DMP, is available for purchase on a monthly or yearly subscription both separately and as a component of Marketing Cloud. Phone, email, documentation, and other online tools are used to provide support.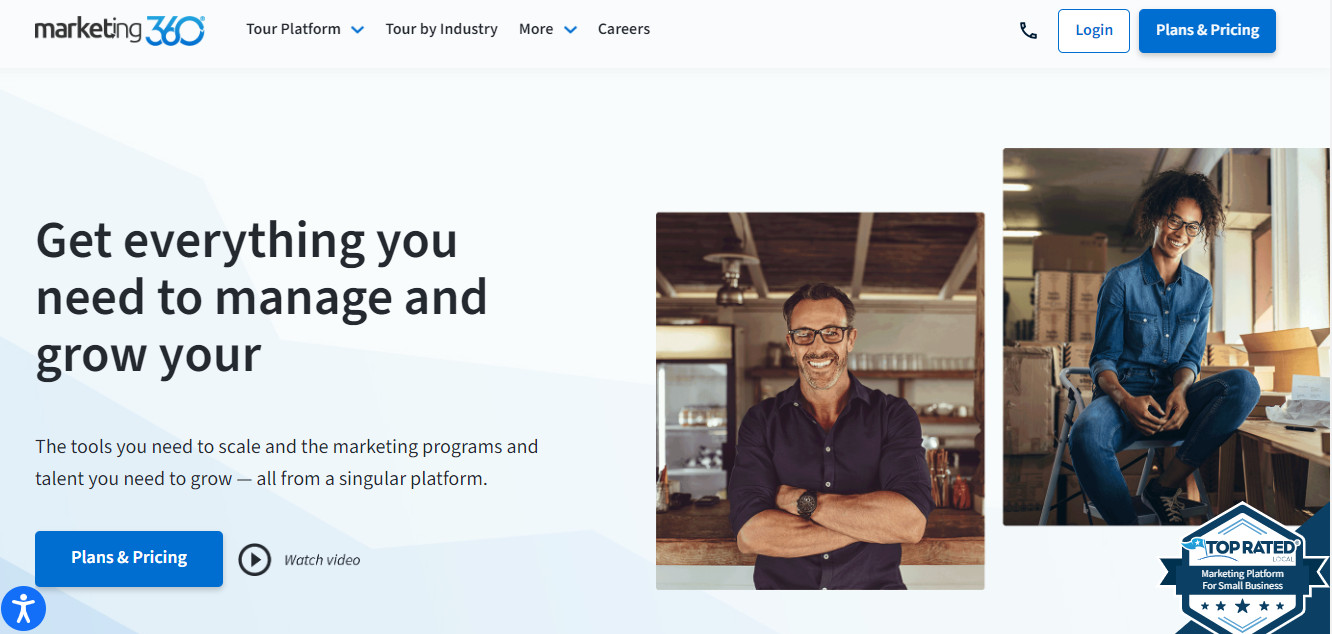 Marketing 360 is one of the best cloud-based marketing automation tools that is explicitly designed for mid-sized and small business owners as well as independent marketers.
With the help of this tool, businesses can run social media ad campaigns, carry out search engine optimization (SEO) initiatives, perform integrated operations, and track the success of their digital marketing efforts. The UX website feature of Marketing 360 enables customers to build branded web pages with call-to-action buttons.
Additionally, the system offers editable website templates that may be changed using drag-and-drop technology. By monitoring keyword volume and ranking, Marketing 360's Natural Listing Ads function assists marketers in managing organic search results.
It also gives real-time analytics with organic conversion rates and assesses how well competitors perform SEO for the same keywords. Organizations can divide and target their clientele based on social factors like interests, region, gender, and age with the use of social targeting ads.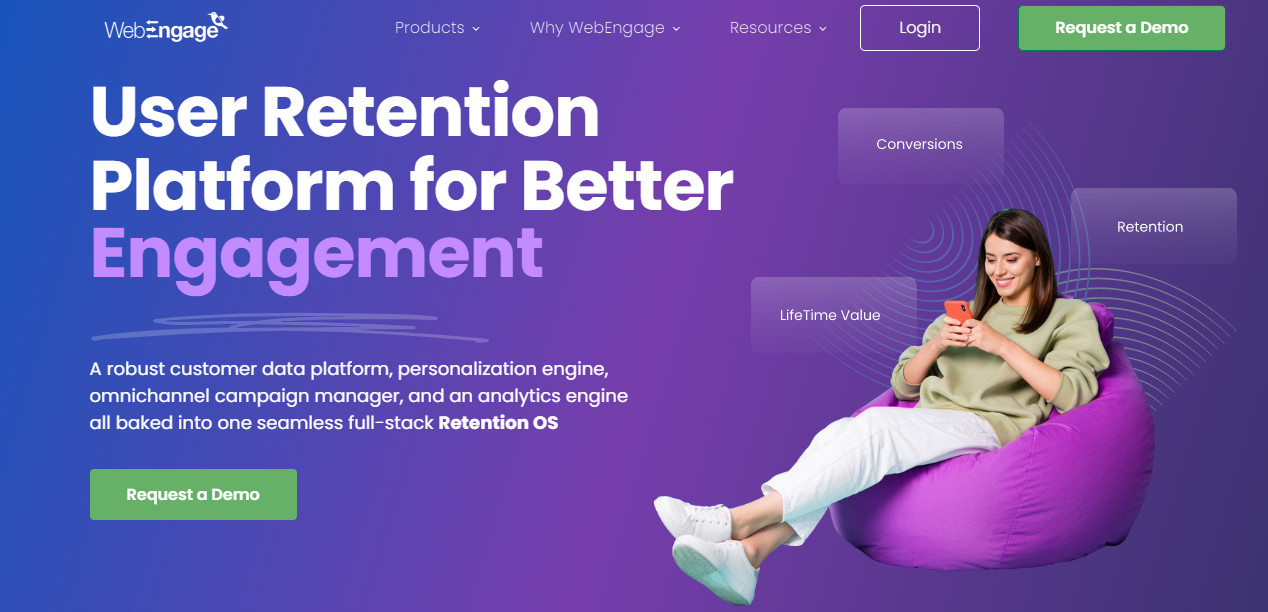 WebEngage is an excellent marketing automation suite and customer data platform that makes user engagement and keeps retention simplified for SMBs and consumer tech enterprises.
With highly contextual, hyper-personalized engagement campaigns spread over ten communication channels, this platform assists brands in increasing income from their current customers and anonymous users.
With the WebEngage dashboard, product and marketing professionals worldwide create simple user lifecycle journeys to convert current users through timely, data-backed multichannel engagement campaigns.
The platform enables brands to effectively track growth indicators and campaign performance by providing in-depth product and marketing insights.
Several industries, including EdTech, FoodTech, Gaming, Healthcare, eCommerce, Finance, Media, Entertainment, BFSI, and online retail, rely on WebEngage to enable user interaction.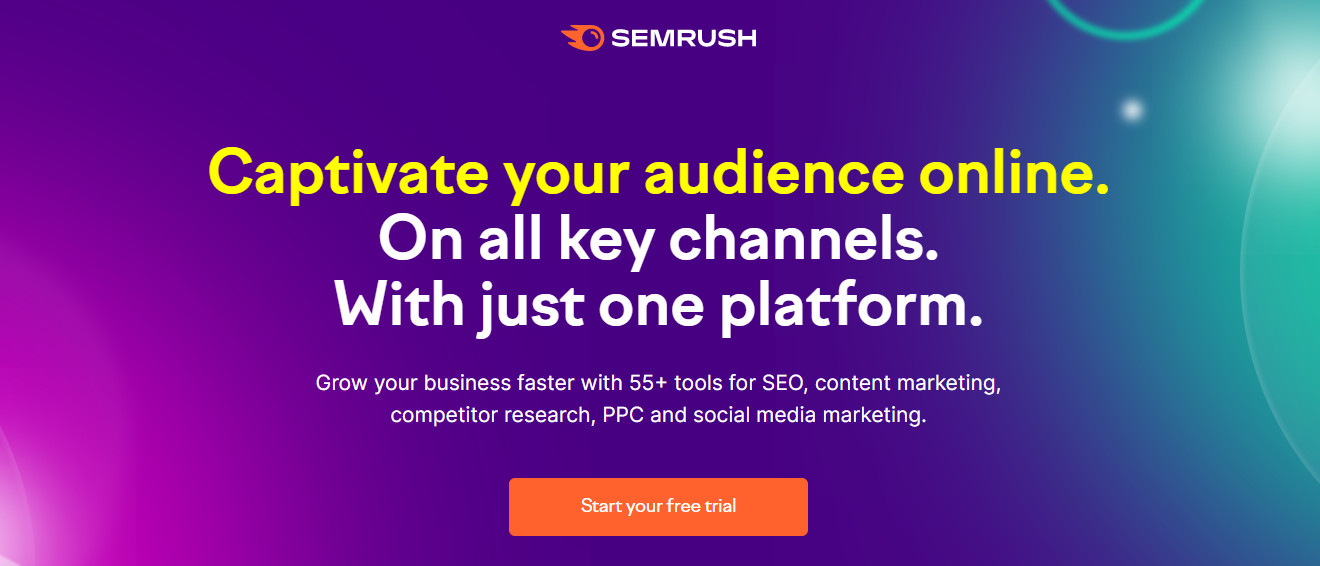 Semrush is one of the leading SaaS online visibility management software. With more than 55 products, add-ons, and tools, this tool has become a go-to choice for several marketing teams.
The platform consists of data sources from over 142 countries and tools for market research, social media, content, and search engine optimization.
By offering seamlessly integrated operations with task management software tools and Google Analytics, Semrush becomes a need of the hour for businesses concerned about their online visibility management.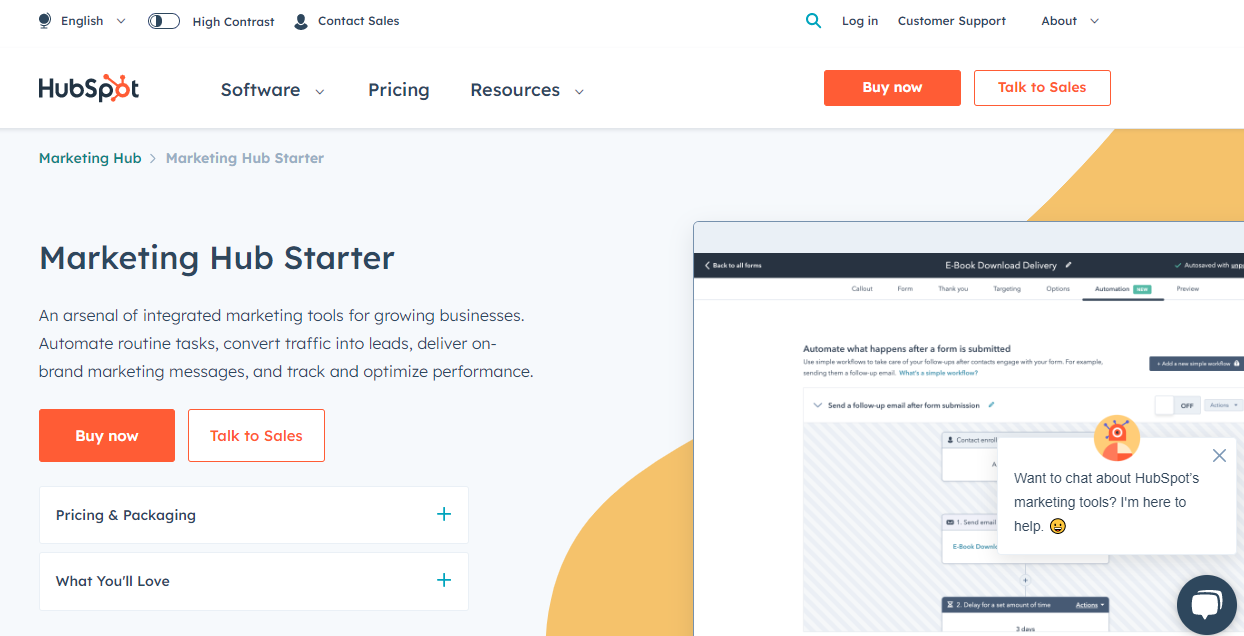 With the help of HubSpot Marketing Hub, businesses can boost traffic, convert prospects, and demonstrate ROI.
HubSpot is an all-in-one customer data platform that provides brands and marketing experts with the resources they need to create and roll out successful campaigns that promote their company. This includes using social media sites like Twitter, Facebook, and LinkedIn, as well as content management systems (CMS), search engine optimization (SEO), and blogging.
The platform works seamlessly to help your team use Marketing Hub to boost traffic, convert leads, and track your whole funnel in one location. You can create email templates and polished landing pages by using the platform's drag-and-drop feature.
Marketers can use this platform to post blog entries that position their company as an authority on any subject and aid in your online discovery. Additionally, since your content is adaptable straight out of the box, you will be prepared for people using any device.
Businesses can use this software to get real-time SEO recommendations and develop a content strategy that takes into account how modern search functions. And a whole lot more.
TerminusApp – The Best CampaignTrackly Alternative In 2023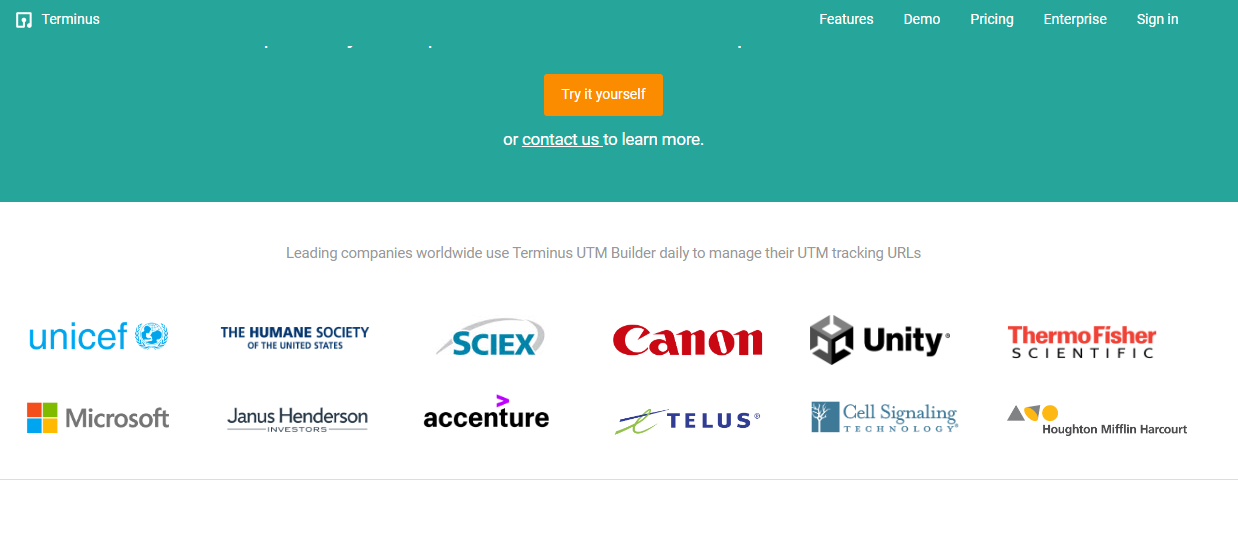 Businesses looking for the most reliable, powerful, and robust alternative to CampaignTrackly for UTM tracking management should opt for the TerminusApp platform. Here are a few reasons why TerminusApp is a better alternative than others:
It alleviates the manual need to handle UTM tracking in spreadsheets. Marketers can easily detect and review errors in a single platform.
It implements a highly reliant and stable UTM approach across the whole business to ensure every marketing team member uses the same taxonomies and conventions. It facilitates tracking and makes comparing results simpler.
This software is highly compatible with a wide range of workflows and business requirements. It easily integrates with your currently available solutions.
Lastly, TerminusApp is a highly affordable marketing platform that comes with a reasonable pricing model specially designed for small business owners.
Conclusion
So, from the following CampaignTrackly alternatives, you now know which is the best one. Although every alternative software mentioned comes with unique features and outstanding marketing capabilities, TerminusApp stands out in terms of value for money.
It provides all the UTM tracking solutions along with other features that a business seeks for its digital marketing performance.
That said, do a bit of customization, pay an affordable subscription fee, and enjoy the best UTM solutions with TerminusApp today!
Click here to get the app today!
Get started with Terminus
The quickest and easiest way to create UTM links in bulk while following your complex UTM strategy.
Sign Up Now