Claravine is a data governance platform that helps companies protect, analyze, secure, and manage their data. As the data governance market becomes more competitive, Claravine faces stiff competition from several Claravine Competitor.
All these companies offer similar products with different features and pricing. They also offer unique products and services that make them formidable Claravine Competitor.
This article will look at the top Claravine Competitor in the market.
What is Claravine?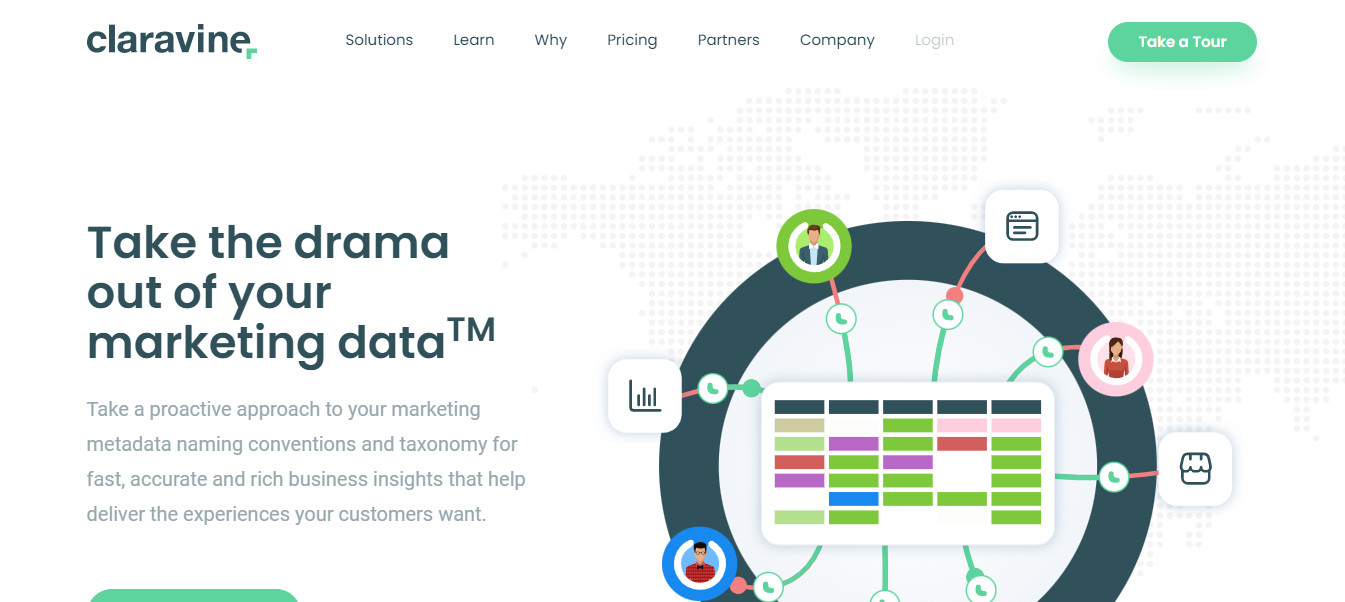 Claravine is a cloud-based data management tool that makes it easier for companies to manage their data workflows. It provides data preparation systems for ML data and data science. Professionals may design data models, manage language, configure fields, values, and lists for relationships, and submit clean data using this no-code platform.
Claravine is a platform for marketing solutions. Campaign tracking is one of the options that they provide. In addition, it provides mobile marketing, media and Ad operations, and content and creative.
Claravine Features
Get rid of inconsistent or missing campaign tracking
You can avoid spreadsheet mayhem with the use of this software. You may set up precise campaign tracking codes and parameters in a single platform. Then, verify data entry to find problems that can be quickly fixed.
Efficiently build consistent links
Claravine is in favor of upholding consistency. You may create exact and consistent relationships not just for one team or campaign but for all teams and campaigns. To reduce errors and save time while producing what you and the team members need, give each team specific instructions and access to the channels and roles they need.
Keep the necessary information hidden
You can hide campaign information and use your company's easily recognized and unique ID. You can reduce the link's character count as well. It enables you to exchange any amount of metadata, including audience, product, and channel, with Analytics or other BI tools.
Avoid costly tagging mistakes
Reducing manual checks and validating marketing tags in real-time can help avoid tagging errors. Your team can ensure that data is entering your analytics and execution platforms properly, enabling you to rapidly and effectively spot mistakes on a large scale.
Measure campaign performance precisely
By gathering the appropriate data, performance can be measured. You can guarantee that tracking is thorough and enhanced with the required information and data keys. Every marketing team needs accurate data and thorough measurement to assess the effectiveness of their campaigns' return on investment.
Claravine Pricing
Claravine offers both a core plan and a customized plan. The price of any of their plans is not specifically stated on the website.
Why you need to consider a Claravine Competitor?
Claravine is a great tool for managing customer data, but it's not the only option. If you're looking for a more cost-effective, flexible, and powerful solution, a Claravine Competitor can be a great choice.
With a Claravine Competitor, you get access to more advanced data cleansing, integration, and analytics capabilities that help you gain deeper insights into customer behavior.
Additionally, these alternatives typically have lower costs and more user-friendly interfaces. Considering Claravine Competitor is a great way to make the most of your customer data.
Top Claravine Competitor list
1. TerminusApp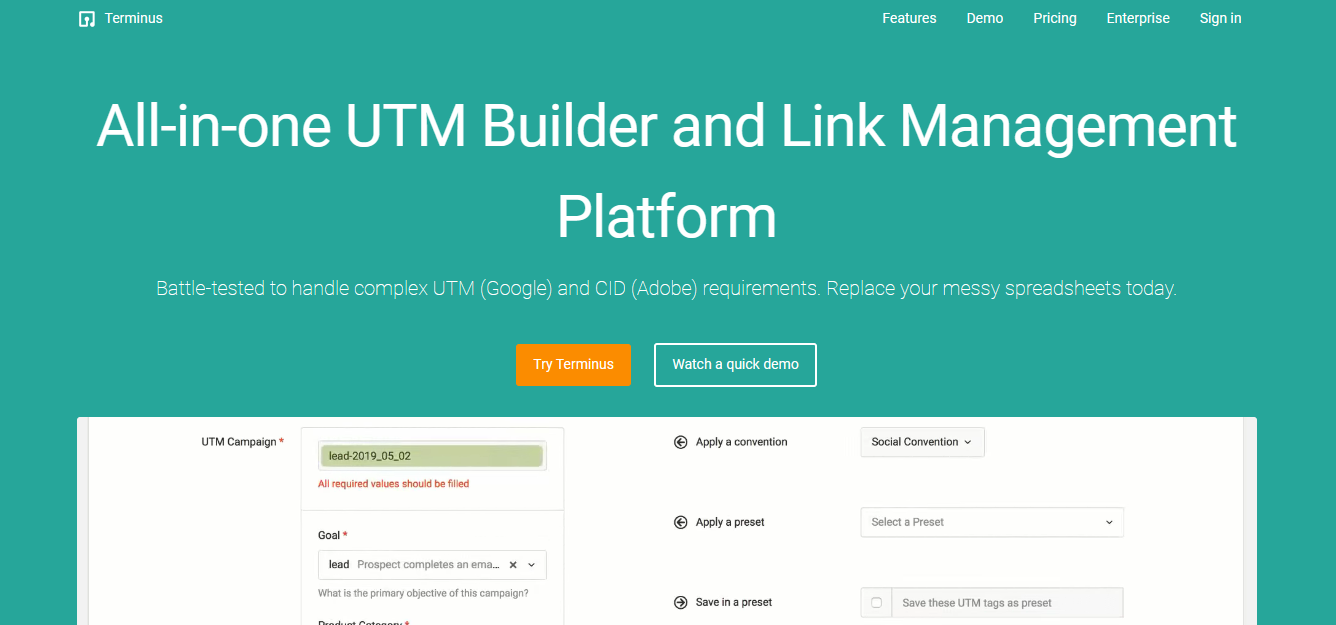 TerminusApp is an all-in-one UTM Builder and link management program. Your email campaigns' UTM monitoring and ad optimization can be done quickly and consistently with TerminusApp. Multiple UTM codes may be added to URLs using the Terminus bulk UTM builder. No matter how complicated, it can replace any UTM spreadsheet.
Pros
No matter how complicated, Terminus can replace any UTM spreadsheet.
Enforce your UTM (or CID) tagging policies consistently.
Multiple UTM codes can be added to URLs using the bulk UTM builder.
Your email campaigns may be tracked by UTM easily and consistently.
A complete solution for UTM link management
It offers total visibility and transparency into the unstructured data dispersed across your organization.
Terminus enables your team and you to track UTMs consistently.
It offers data integrity and data security.
Cons
It can be a bit overwhelming for users with limited knowledge
2. Accutics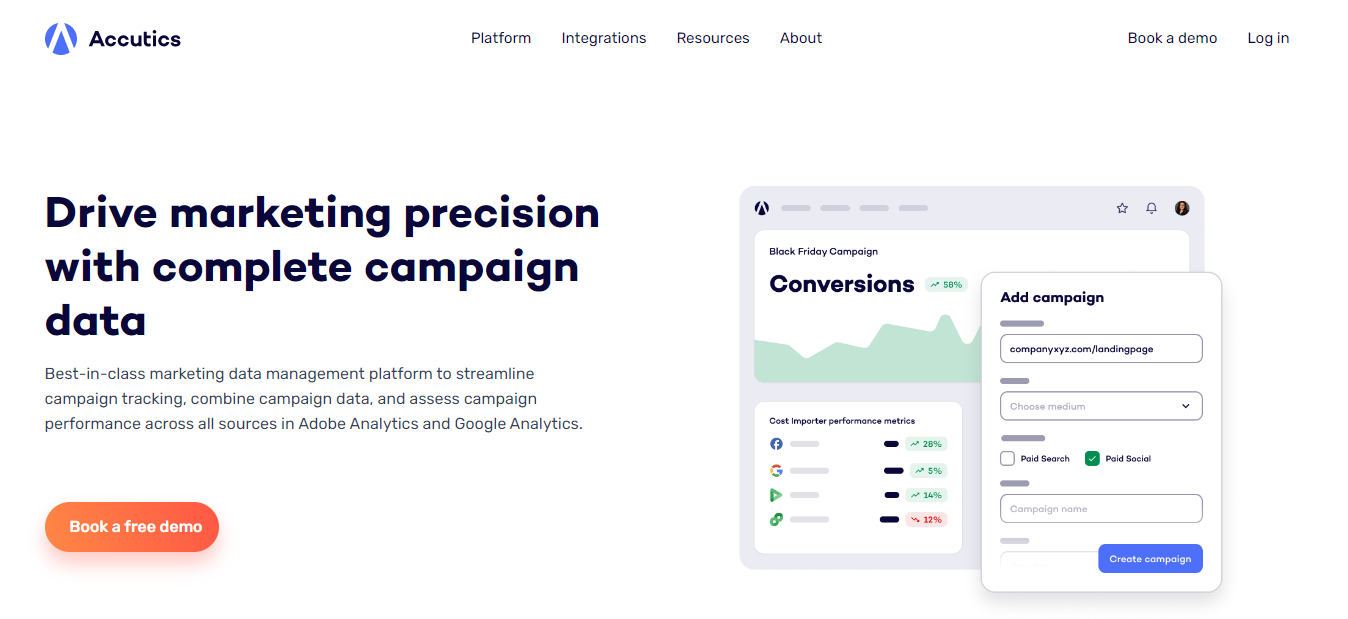 Accutics is a platform for managing marketing data that makes it easier to track campaigns, combine campaign data, and evaluate the effectiveness of campaigns across all sources in Adobe Analytics and Google Analytics.
Pros
Easily generate unique tracking codes without using spreadsheets
With its improved tracking and standardized naming rules, you can gain a full understanding of your campaign.
All of your expenses and traffic data can automatically be aggregated and imported.
Campaign metrics are automatically cleaned, mapped, and grouped from hundreds of sources.
You can sync your taxonomy with your campaign names, placements, and designs.
Cons
There is a lack of user-friendly features.
Accutics is quite expensive and requires a complex setup process, making it hard to use for smaller organizations.
The platform is unsuitable for large, complex datasets requiring extensive analysis and reporting.
Accutics is not as customizable as other data analytics solutions, so it may not be ideal for businesses that need more specific capabilities.
Accutics requires users to input sensitive data, which can be vulnerable to security breaches.
3. Alation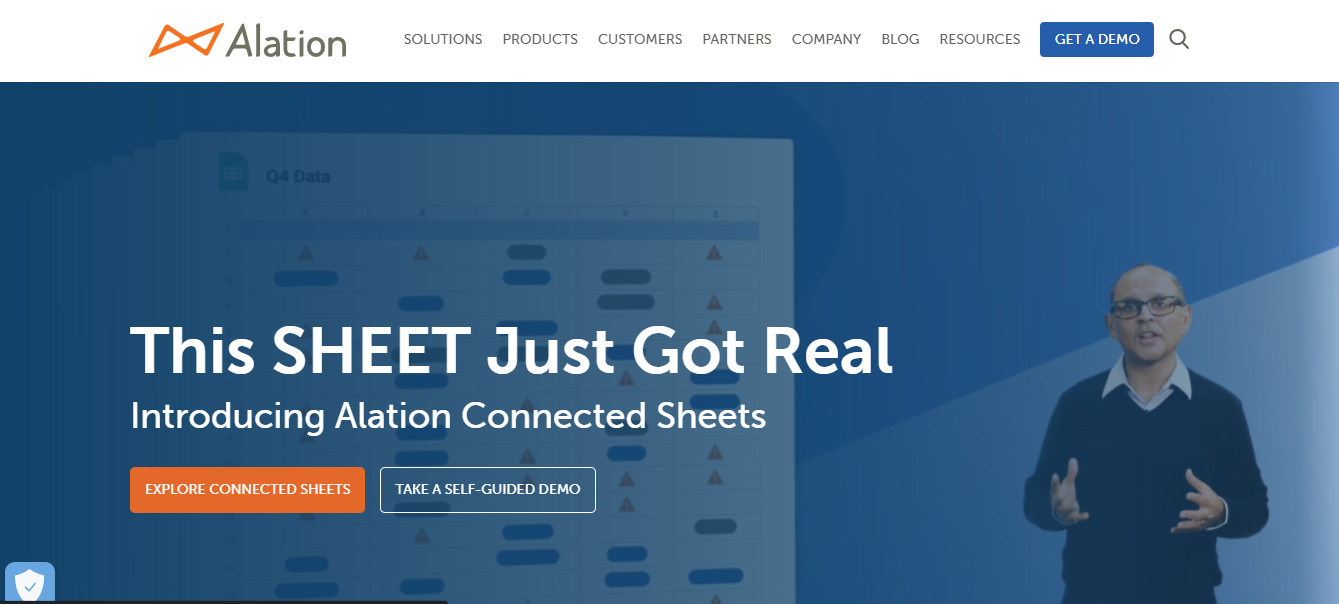 Alation is a data collaboration platform that allows companies to find, understand, and trust their data. It provides users with an intuitive search for data, with data visualizations and integrated knowledge about data and tools.
With Alation, organizations can quickly discover, catalog, and put data into context to make better decisions faster.
Pros
It has a single system of reference for your organization's data and users. You can quickly comprehend usage patterns, context, and data quality.
Your valuable data is kept secure in the cloud while still being accessible to essential users with a catalog-supported migration.
It has fast onboarding of analysts. To facilitate team collaboration, share inquiries.
Comprehensive data Governance: Workflows and procedures for data governance can be operationalized to deliver trusted data.
Easily define connections, ensure data privacy, develop data dictionary, Visualize data lineage and much more.
Cons
Its user experience can be complex.
Some users have found that many features require manual updates and that the data can be slow to sync.
Alation does not provide native support for popular programming languages like R and Python.
It requires a certain level of technical proficiency.
It may require additional data validation or curation efforts to ensure that the data is accurate and up-to-date.
4. Hevo data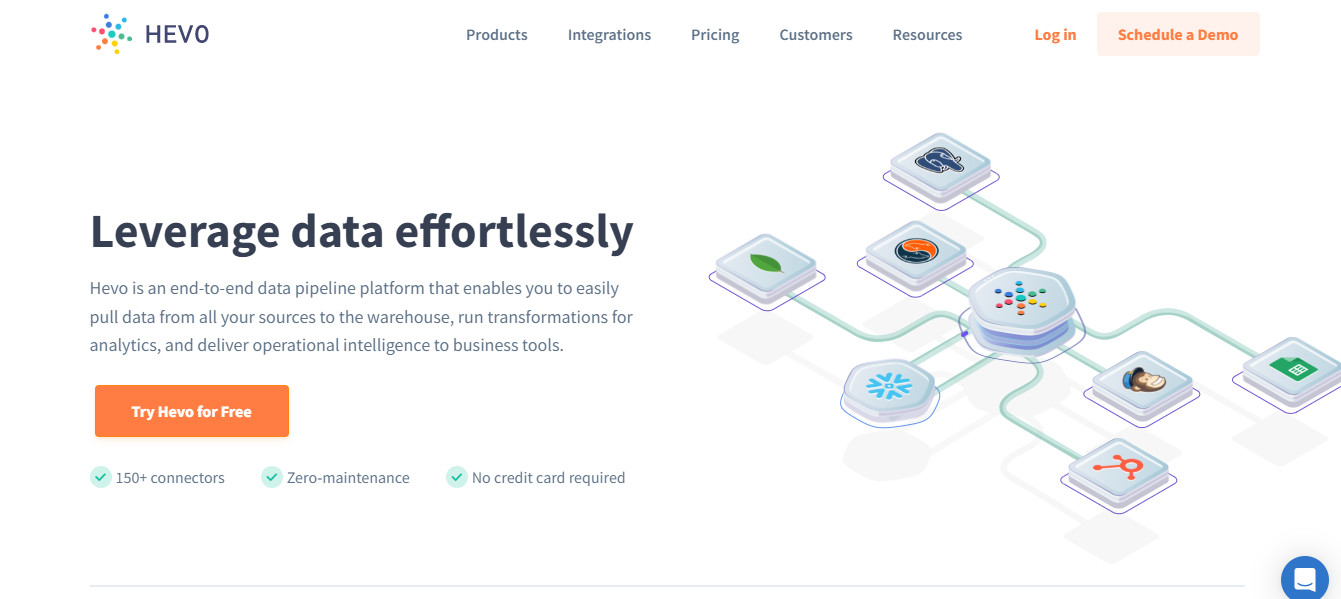 Hevo is a complete data pipeline platform that makes it simple to deliver operational intelligence to business tools, run analytics transformations on data from all your sources, and pull data from all your sources into the warehouse.
Pros
It delivers analytics-ready data to your data teams so they can use it in their SaaS applications to drive automated processes and data-driven decisions.
It offers powerful data models and processes that work in tandem with your pipelines and enable you to easily prepare data for analytics as it enters the warehouse.
You can obtain data from any location.
Production-ready data pipelines
Preload transformations, automated schema mapping, and CDC allow you to load data into the warehouse almost instantly and manage how it falls.
5. Datameer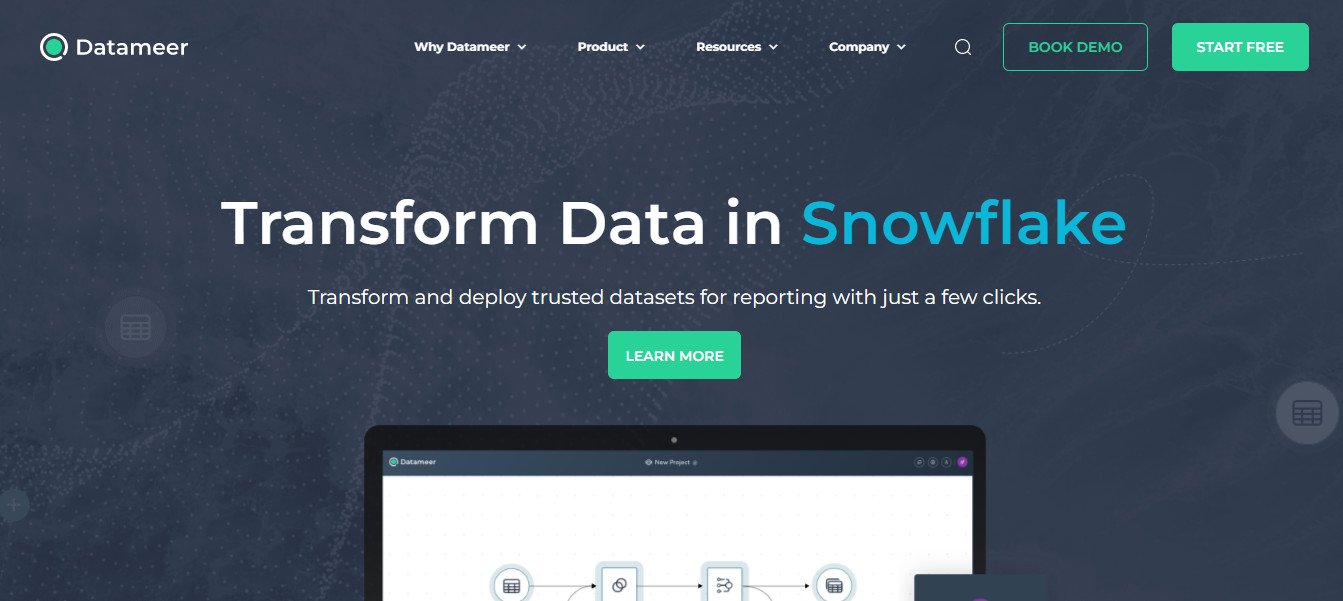 Datameer is an analytic platform that enables businesses to make sense of their complex data and transform it into actionable insights. It is an end-to-end data platform that simplifies and automates data preparation, analysis, and visualization.
Pros
Get quick access to documentation and asset metadata to aid in movement.
Datameer provides one location for data makers to generate, document, and track the use of their data assets.
It enables data democratization without compromising adherence to data access control, data discovery, and encryption standards.
Datasets can be transformed using SQL or a variety of pre-built operations.
You can automate data delivery, exception handling, data quality, and more with customizable, data-driven workflows.
Snowflake cloud data warehouse
Cons
It can be expensive
It doesn't offer a comprehensive suite of tools for big data analytics.
It requires more technical knowledge since it's designed specifically for data engineers and other experienced data professionals.
Datameer cannot combine data from multiple sources, which can be a limiting factor in some cases.
The platform's performance is not as good as some of its competitors, making it difficult to use for large-scale analytics.
Why is Terminus App the Best Alternative to Claravine?
Are you looking for an alternative to Claravine for your campaign management? Look no further than TerminusApp! TerminusApp is the best alternative to Claravine, as it offers a range of features and benefits that can help your company easily manage its UTM tracking.
With TerminusApp, you don't have to manage any UTM spreadsheets, as it comes with a one-stop shop for all your UTM tracking needs. It also comes with the ability to review your UTM campaigns and can enforce a highly consistent UTM strategy across the entire company.
Moreover, TerminusApp can handle complex UTM conventions and taxonomies and can be easily configured to work with various workflows and requirements. This makes it easy to tailor TerminusApp to your company's unique needs, ensuring that it is up to managing your UTM campaigns and tracking.
All in all, Terminus App is the best alternative to Claravine for managing UTM campaigns, as it comes with all the features and benefits you need to ensure the success of your campaigns. Give it a try today!
Features of TerminusApp
TerminusApp allows you to easily manage and measure the performance of your campaigns across multiple channels. Here are some of the features that TerminusApp offers:
UTM Naming Conventions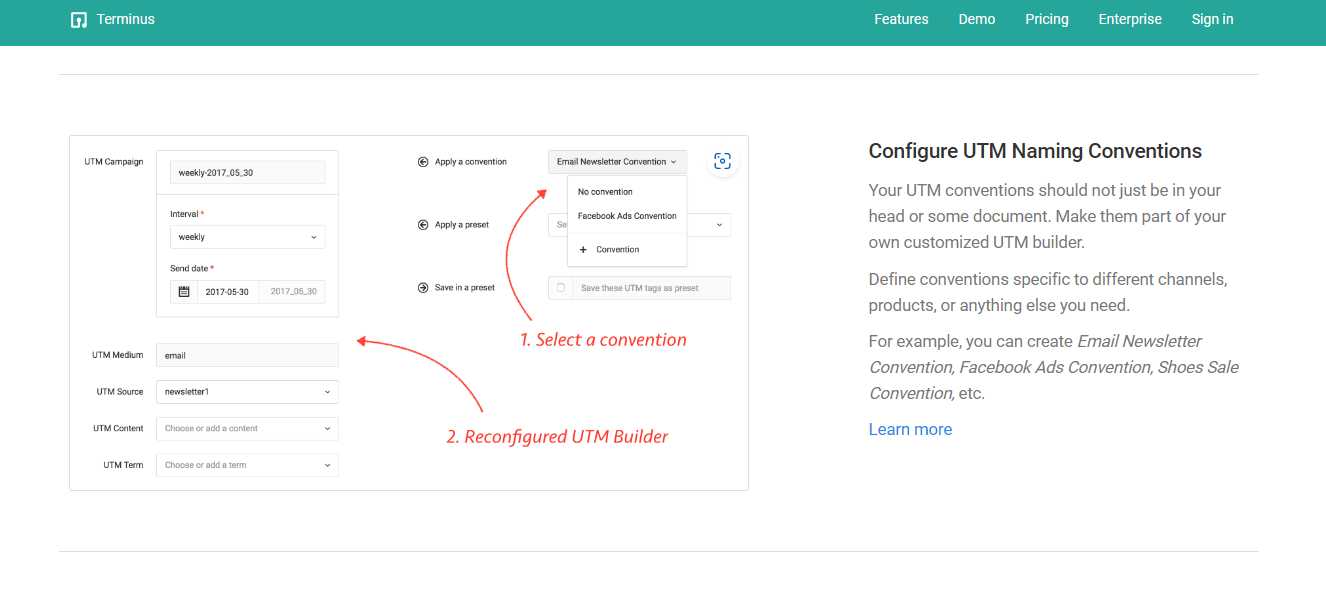 With TerminusApp you can automatically create and assign UTM parameters to your URLs with the help of their UTM naming conventions feature. This feature helps ensure accuracy in campaign tracking and makes your URLs look professional and organized.
Chrome Extension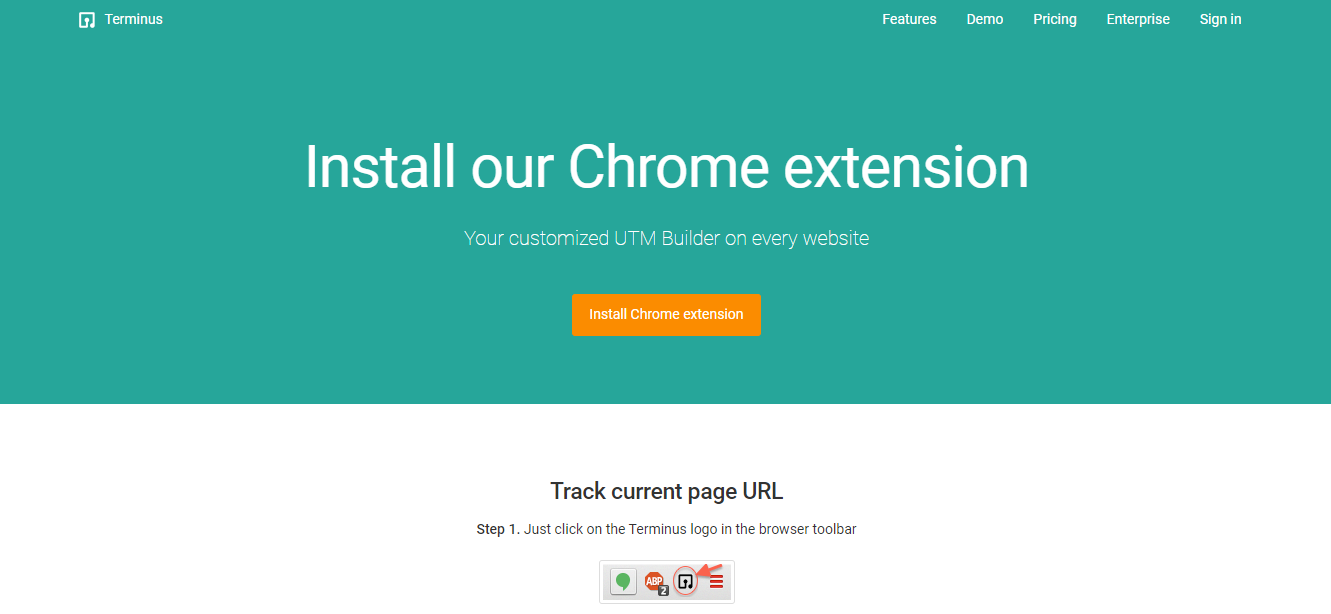 With the TerminusApp Chrome Extension, you can quickly create and assign UTM parameters to your URLs without leaving your browser window. This makes campaign tracking easier and more efficient.
UTM Builder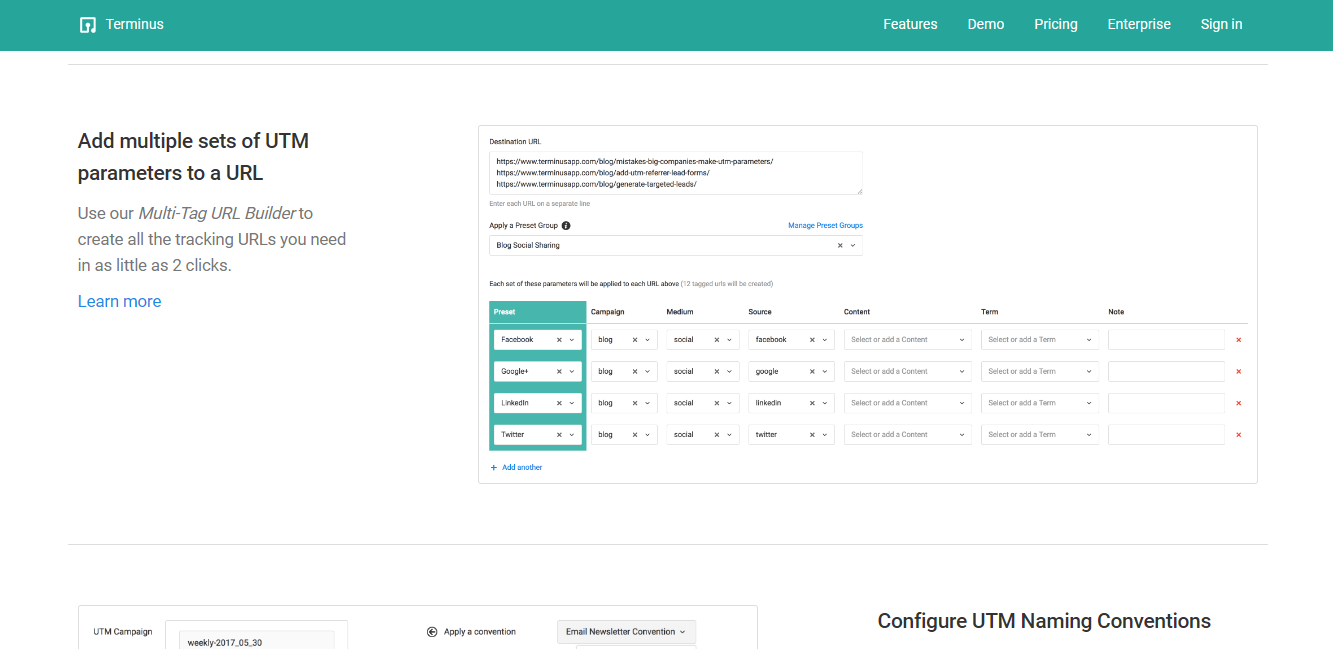 TerminusApp also offers a UTM builder tool to create UTM parameters within seconds. This feature helps you quickly assign UTM parameters to URLs to ensure accurate tracking of your campaigns.
URL Shortener with Link Retargeting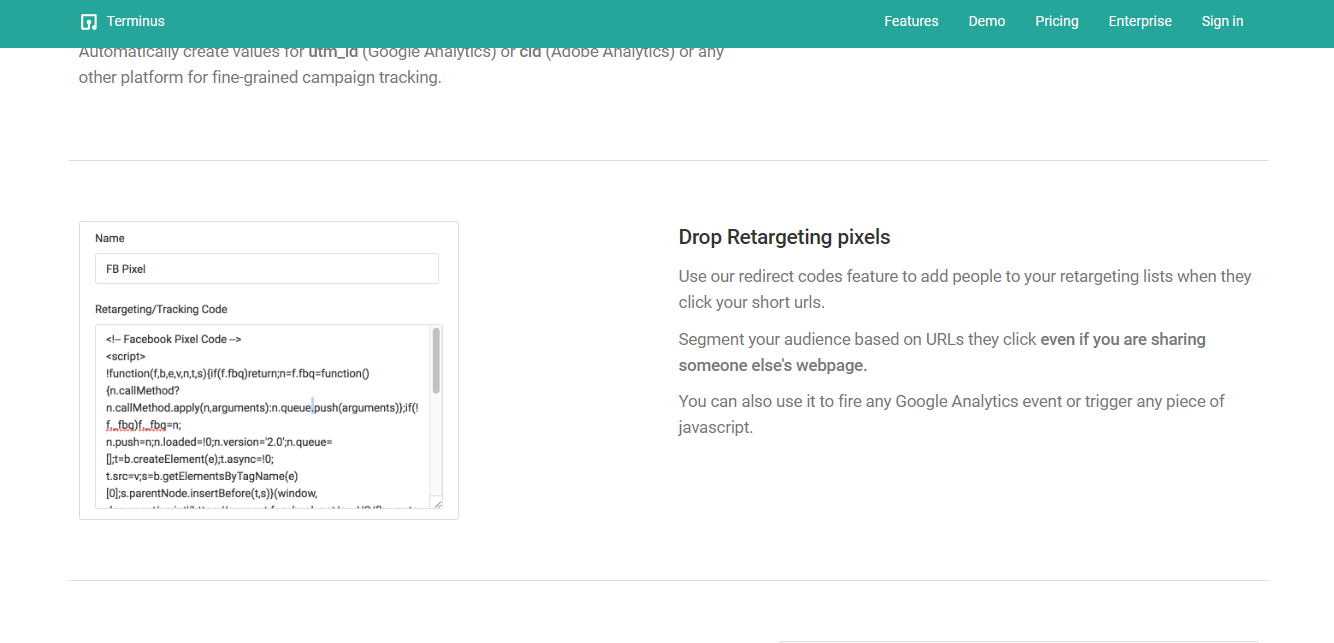 TerminusApp also offers a URL shortener with a link retargeting feature. This feature allows you to track the performance of your campaigns across multiple channels and measure the effectiveness of your campaigns.
URL Builder for Emails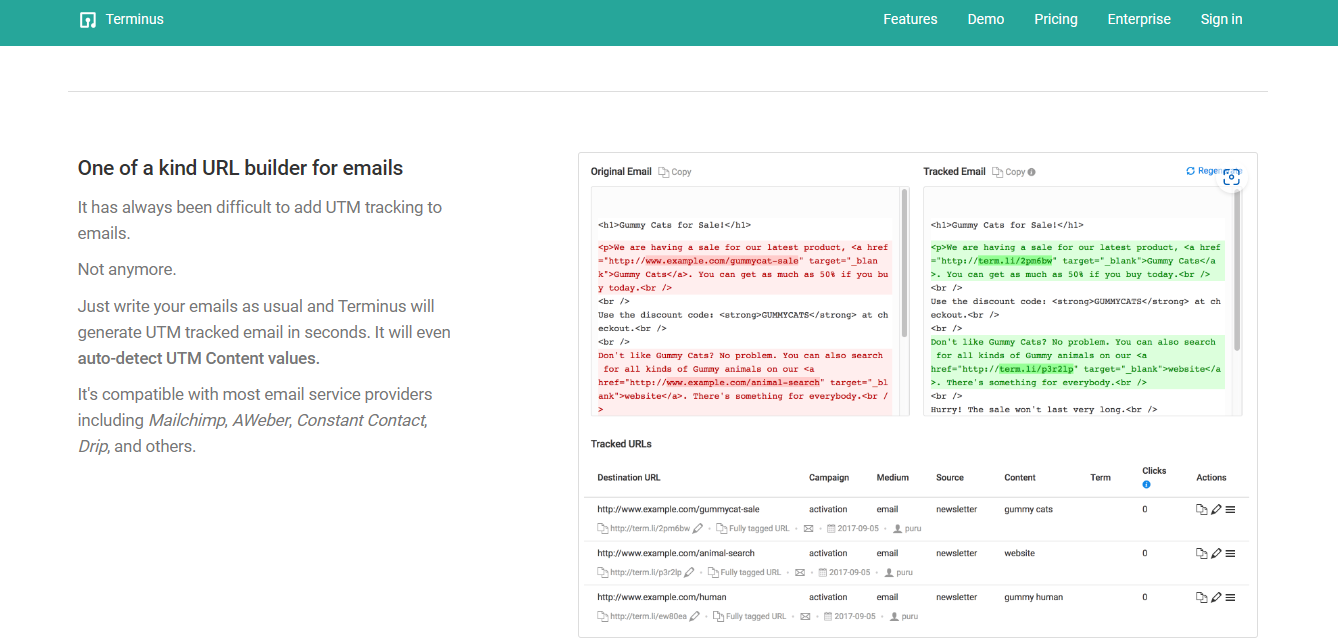 They also offer a unique URL builder for emails. This feature helps you create and assign UTM parameters to your emails to better track and measure the performance of your campaigns.
Adobe Classifications and Google Analytics Data Sets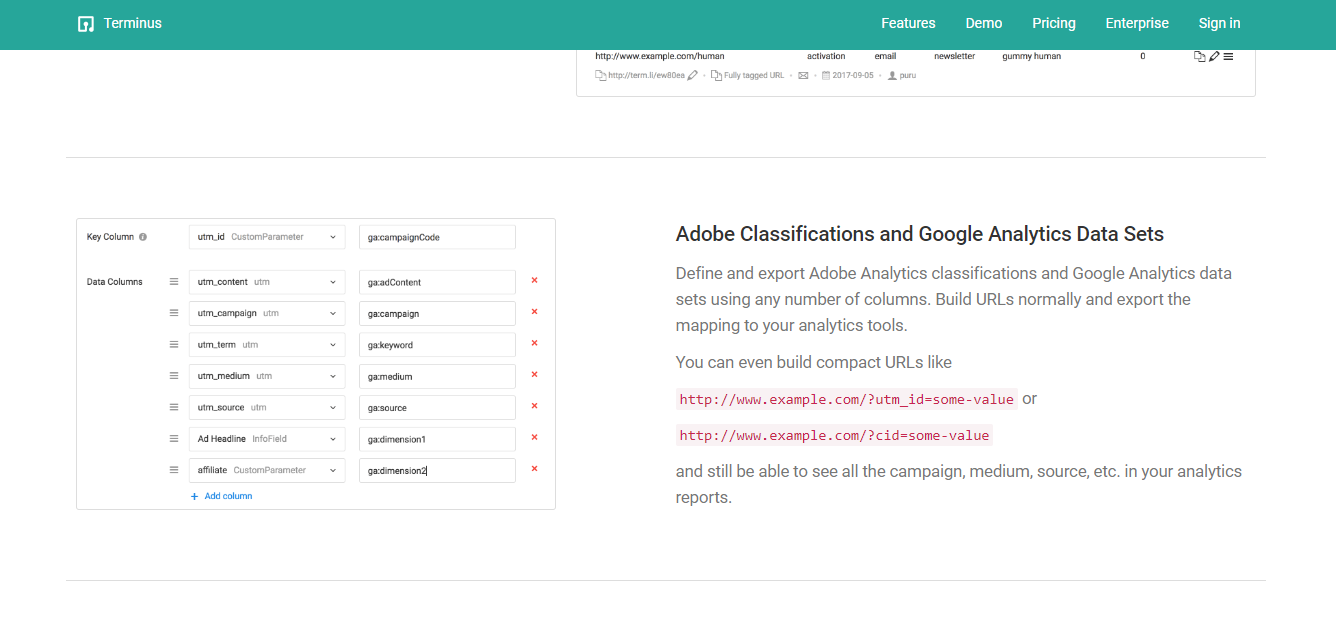 Get Adobe classifications and Google Analytics data sets, which allow you to easily integrate your campaigns with your Adobe and Google Analytics accounts.
Analytics Reports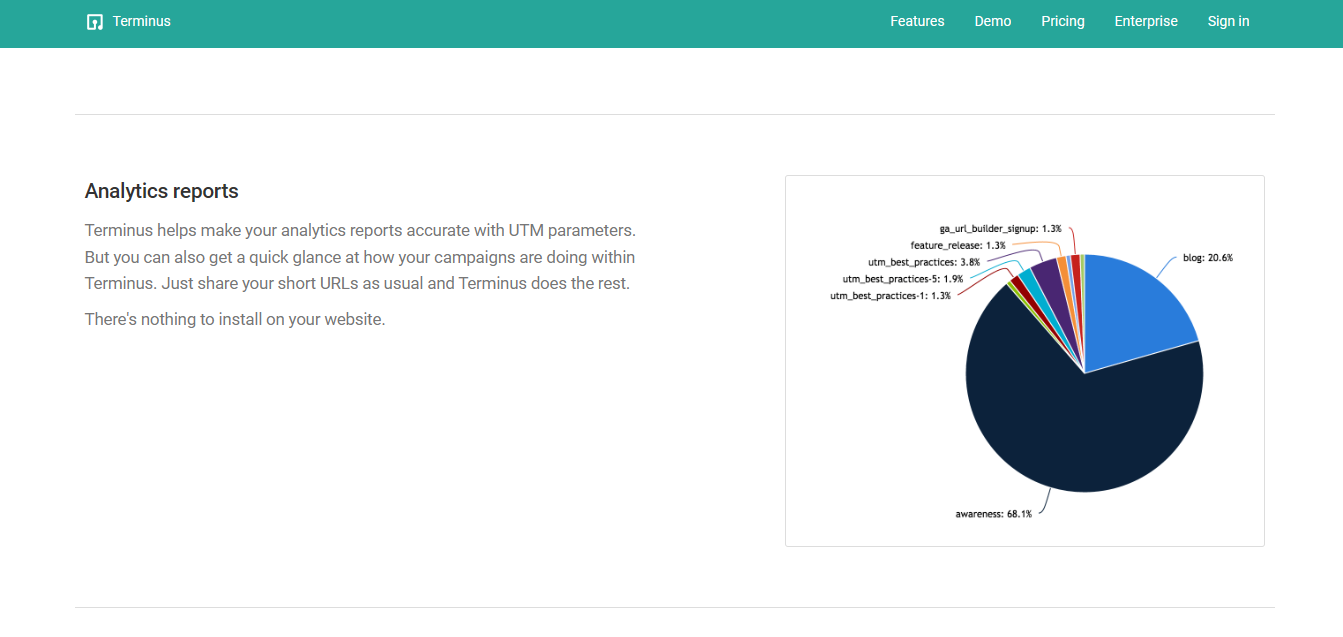 TerminusApp also offers analytics reports that provide detailed insights into your campaigns' performance.
TerminusApp Pricing
Each plan has a 21-day free trial
$29/month
1 User
1 Projects
1 Custom Domains
$79/month
3 Users
5 Projects
2 Custom Domains
$199/month
5 Users
10 Projects
3 Custom Domains
$499/month
15 Users
30 Projects
5 Custom Domains
Conclusion
Terminus App is the best alternative to Claravine because it offers an all-in-one solution to UTM tracking. With Terminus App, you don't have to manage UTM spreadsheets or try to enforce a consistent UTM strategy across all departments.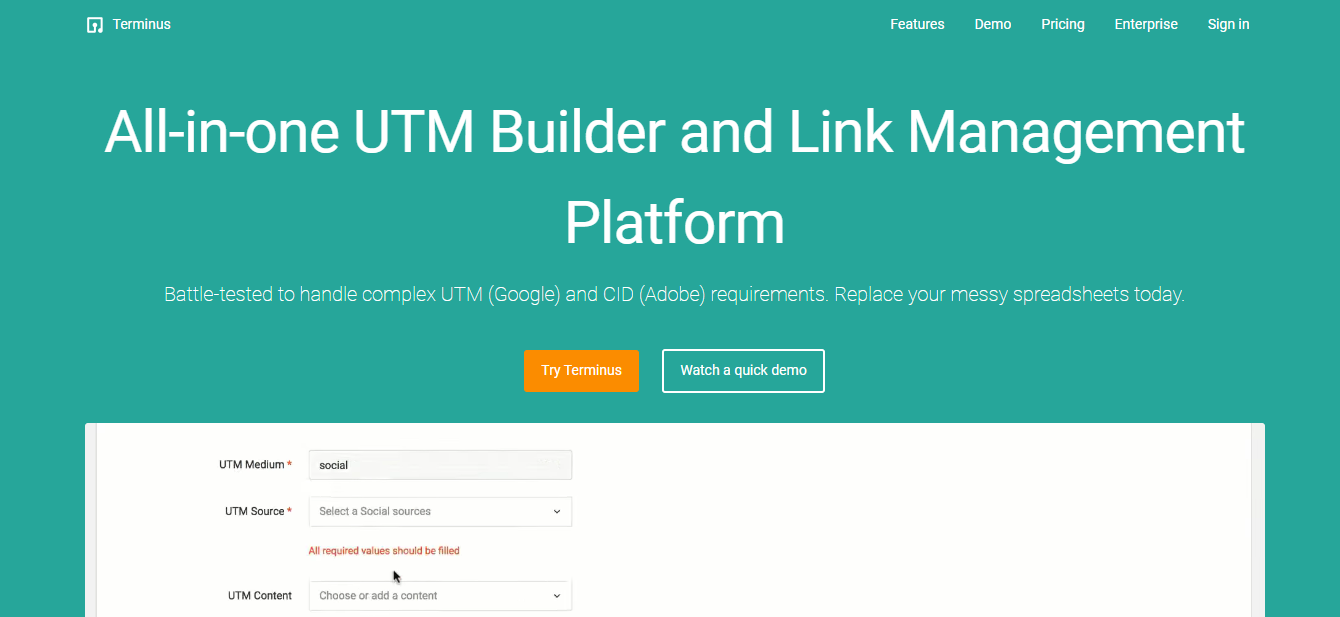 It also offers the configurability to work with various workflows and requirements, so you can set up the tracking in whichever way works best for you.
In addition, Terminus App allows you to review all UTM tracking in a single place, making it easier to identify patterns and make changes quickly. This allows you to handle complex UTM conventions and taxonomies quickly and efficiently.
Get started with Terminus
The quickest and easiest way to create UTM links in bulk while following your complex UTM strategy.
Sign Up Now