If you have shared tracking links across different marketing channels, online or offline, you know how difficult it can get to gain accurate insights about each channel. But as a marketer, you need to know which channels drive the most traffic.
So how can you do that? By creating custom URLs. When you collect campaign data with custom URLs, you uncover hidden data that gives you de information about your traffic sources.
This data helps you improve your campaigns according to your target audience's liking. Here we will discuss all about custom URLs, how to create them, collect data from them, and analyze them in Google Analytics 4 (GA4).
We will also discuss some limitations GA4 users face and explore an alternative that can help you overcome them. We intend to give you a clear understanding of how custom campaign URLs work and what you can do to make them more effective. Let's get started!
What are Custom URLs?
Custom URLs, also known as campaign URLs or tracking URLs, are specially crafted URLs that contain additional parameters appended to the destination URLs used in your ad campaigns or marketing initiatives.
These parameters provide valuable information about sources, mediums, or channels driving the most desirable results.
Let's say you're running a "Summer Sale" campaign across various social media apps. You can add specific campaign parameters to the destination URLs for each social media platform using custom URLs.
This allows you to track and measure the performance of each platform individually. Similarly, if you're running different campaign versions through email, video ads, and in-app ads, custom URLs enable you to compare the results across these channels.
You can evaluate which channel delivers the desired outcomes and adjust your marketing strategies accordingly. When a user clicks on a referral link that contains these custom parameters, the information is sent to Google Analytics.
This data is then available in the "Acquisition" reports within Google Analytics, allowing you to analyze and gain insights into the effectiveness of your campaigns.
Now let's see how you can collect campaign data with custom URLs.
How to Collect Campaign Data with Custom URLs
To collect campaign data with custom URLs, you first need to create custom campaign URLs. You can see which campaigns refer to traffic when you add campaign parameters to the destination URLs you use in referral links and ad campaigns.
Here are the parameters you can add-
utm_id– Identifies a specific campaign or promotion.
utm_source– Identifies referrers, like Google, billboard, and Facebook.
utm_medium– Identifies market mediums, like email, CPC, and banner.
utm_campaign– Identifies product, promo code, and slogan, like pink_friday_sale.
utm_term– Identifies paid keywords, like skincare+sale.
utm_content– Identifies what call-to-action brought the traffic, like shop_now.
utm_source_platform– Identifies the specific platform on which your campaign was run. Say you ran two campaigns, one on Facebook and one on Instagram. The source platform will tell from which platform your ad was run.
utm_marketing_tactic– Identifies the specific tactic used in your campaigns, such as remarketing, prospecting, email marketing, or social media advertising.
utm_creative_format– Identifies the creative material used by your ad campaigns, such as a skyscraper, carousel, interactive, video, and image.
Note: The last two parameters are not reported by GA4 yet; if you want to track these parameters, you can create custom dimensions using the gclid parameter.
You have two ways to add these UTM parameters to your destination links-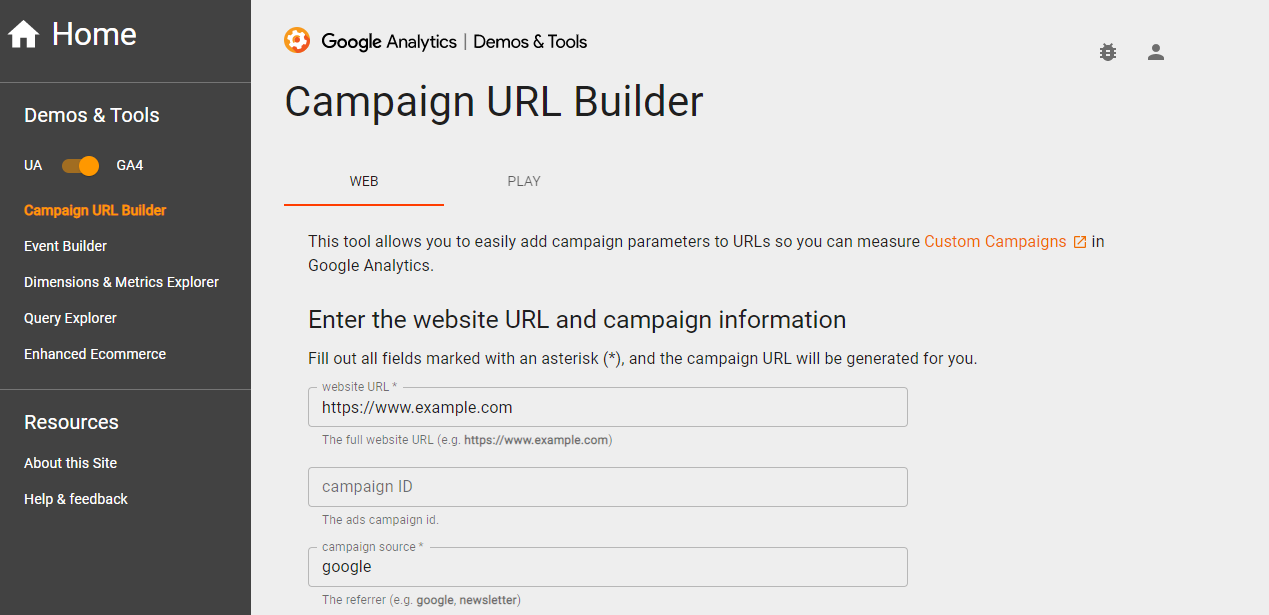 1.Use the Campaign URL Builder for links to websites and the Play Campaign URL Builder for Android-app ads.
OR
2.Manually tag (not recommended) the parameters to your URLs. When you use manual tagging, you provide the value for each parameter in your destination URL, for example:
http://www.example.com/?utm_source=google&utm_medium=cpc&utm_campaign=pink_friday_sale
Make sure you have separated the parameters from the URL using a question mark (?). We suggest using a reliable URL builder instead for tagging your URLs, as manually tagging them is prone to human/ formatting errors.
Once you have created your links, you can share them across different channels. Whenever there are any clicks on those links, all the data will automatically be collected by GA4.
Now let us move to the next section, where we discuss how Google Analytics collects and processes this data.
How Analytics collects, processes, and reports the campaign data
You can utilize Google Analytics 4 (GA4) to better analyze how users find your website or application through various channels, including social networks, search engines, and advertising efforts.
The three key steps of the process are collection, processing, and reporting.
Collecting
GA4 uses Software Development Kits (SDKs) or tracking codes to collect campaign data.
The collected data is sent to Analytics using various fields such as Campaign Id, Campaign Source, Campaign Medium, Campaign Name, Campaign Content, Campaign Term, Document Location, and Document Referrer.
These fields contain information about the unique campaign ID, traffic sources (e.g., search engines, social networks), and other dimensions for reporting purposes.
Processing
After collecting campaign field values, they are translated into final dimension values and assigned to sessions.
The processing logic considers source precedence, custom campaigns, sponsored search-engine referrals, organic search-engine referrals, and direct traffic.
Reporting
Once processed, the campaign dimensions and metrics become available in the Google Analytics web interface and Reporting API.
The dimensions include Source (referral source), Medium (referral type), Campaign ID, and Campaign Name. They provide insights into the sources of referrals and the effectiveness of marketing campaigns.
GA4 also offers advanced configuration options at the property level. These are-
Attribution settings determine how conversions are attributed to different ads and touchpoints along the user's path.
The campaign lookback window determines the timeframe for which touchpoints are eligible for attribution credit.
Excluding referrers allows you to exclude certain referring sources from reports, such as self-referrals or third-party services.
Now you know how to collect campaign data with custom URLs in GA4, but where can you see this data? Let us learn-
Where will you see your campaign data?
You will see all your data in the "Traffic Acquisition" section. Read here to navigate through these reports efficiently. Here's how to find the 'traffic acquisition' reports-
Login to analytics.
Navigate to reports.
Click on Acquisition>Traffic acquisition.
You can also see your campaign data in 'Custom Exploration Reports.'
Now that we have discussed all how to collect campaign data with custom URLs, let's move ahead and discuss some key points you must remember while tagging your URLs.
Best practices for collecting campaign data with custom URLs
When you are tagging your URLs with UTM parameters, there are a few things you must know. These best practices will help you generate effective tracking URLs-
Tag only what you need
Avoid using too many UTM parameters in your URLs. Determine what information you want to track and tag it accordingly. Including additional parameters will clutter your data and complicate analysis.
Use advanced naming conventions
Create a standardized naming convention for your UTM parameters to preserve consistency and make data analysis and comparison easier across campaigns.
Instead of adding numerous custom parameters, try modifying the standard ones with custom campaign values to gain deeper insights into your campaigns. This will keep your reports clean and error-free.
Avoid sending PII
Do not include sensitive or personally identifiable information in your personalized URLs.
PII comprises information such as names, email addresses, phone numbers, and any other data that can be used to identify individuals personally. By removing PII from your campaign data, you can protect user privacy.
Use a reliable URL builder like TerminusApp
Use a reliable URL builder tool like TerminusApp or Analytics URL builder to generate your custom URLs reliably and quickly. They assist in ensuring correct formatting, validating parameter values, and avoiding errors.
While Google Analytics is highly customizable and robust, it can become overwhelming for beginners or people who have been used to Universal Analytics (UA). Let's discuss some of its limitations-
Why can't you rely on GA4 entirely?
If you have already been using Universal Analytics, you must have faced these challenges while navigating through GA4-
Event collection
GA4 consolidates various hit types into a single measurement property called "events."
As your organization grows and your website experiences high traffic, the limits on the number of events, event parameters, and user properties that can be logged in GA4 can become restrictive.
To give you an idea, there is a limit of 500 distinctly named events per app instance and 25 event parameters per event. This can make it challenging to collect complex events and track performance effectively.
Missing metrics and reports
GA4 has changed in terms of metrics and reports compared to its predecessor, Universal Analytics (UA). Some familiar metrics like average session duration and bounce rate are no longer available in GA4.
Moreover, standard reports have been reduced, with only a fraction of the reporting techniques available in UA.
Conversion tracking in GA4
The "destination" goal type, which was present in UA and made it simple to configure conversion monitoring for certain page destinations, is not present in GA4.
Form-fill conversions and other destination-based conversions in GA4 must be manually set up with Google Tag Manager (GTM). This can take a lot of time and effort, especially for B2B SaaS websites where lead generation relies a lot on form fills.
Character limitations
GA4 imposes character limits on event and user names and values. For instance, page names are reduced to a maximum of 300 characters; if URLs are longer than this, data may be lost.
The length of event parameters and user attributes is also constrained. These constraints may impact the precision and comprehensiveness of data analysis.
Custom events and dimensions
Compared to UA, GA4 has fewer scopes for custom dimensions, reducing the flexibility of data collecting and analysis. GA4 only provides session, event, and user-scoped custom dimensions; whereas UA also offered a product dimension.
The number of available custom dimensions and metrics is likewise restricted.
Wouldn't you like a platform that solves all your UTM requirements without any of these limitations?
If yes, consider using TerminusApp. TerminusApp is the best UTM builder ever created. You can trust TerminusApp with all your UTM needs, from creating to formatting to tracking them, all with the most straightforward UX platform. Let's learn more about it-
TerminusApp: The Best UTM Builder Ever Created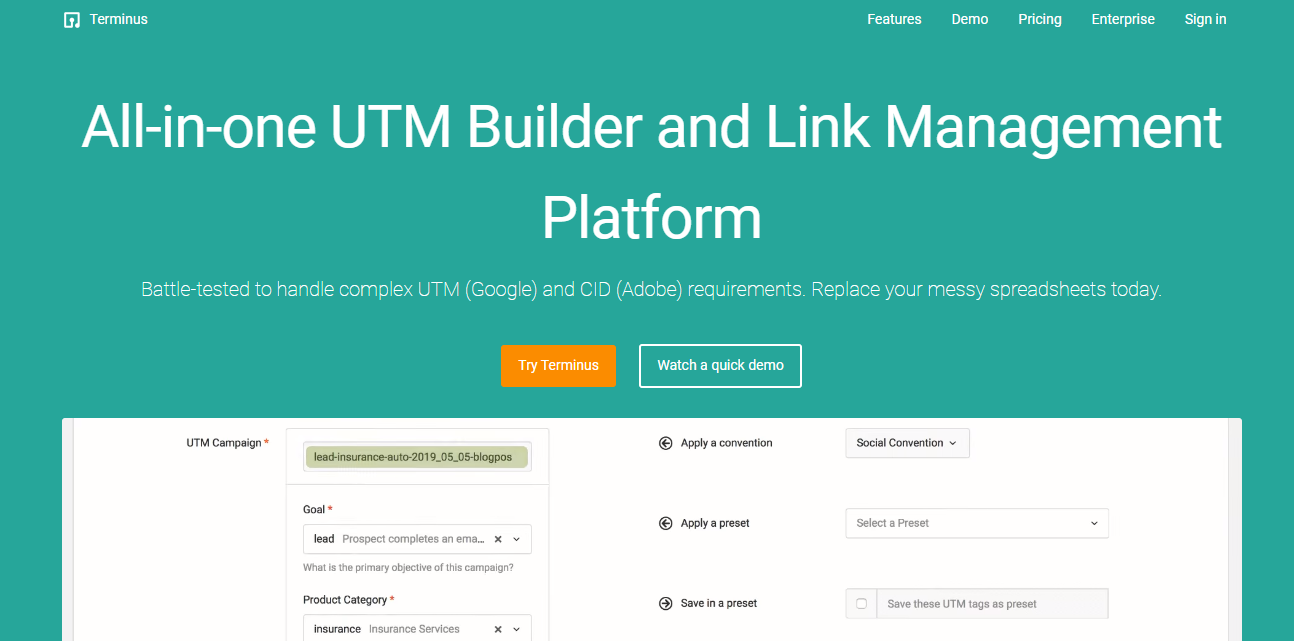 TerminusApp is a powerful platform designed to improve your URL tracking and management processes. With its user-friendly interface and intuitive design, TerminusApp makes it easy to simplify your URL building and organization tasks.
It offers a range of features that empower you and your team to efficiently handle complex UTM and CID requirements, track email campaigns, generate detailed reports, and more. One of the key highlights of TerminusApp is its simplicity and ease of use.
The platform provides a simple and friendly user interface that enables you to navigate through its platform effortlessly. You can even save your commonly used parameter values in a preset and fill them in the next time with just one click!
Whether building multiple URLs, customizing parameters, or generating UTM-tracked emails, TerminusApp ensures a smooth and straightforward experience, allowing you to focus on your core tasks without any unnecessary complexities.
TerminusApp Features
TerminusApp provides you with a number of powerful features that will considerably improve your campaign tracking and analysis. Here we've discussed six of them-
Consistent UTM tagging
TerminusApp ensures that your UTM tagging is consistent across all your campaigns. You can maintain a structured approach to your URL tracking by following standardized UTM naming conventions.
What's more? All your formatting worries, like spaces, case issues, and URL validation, are handled.
URL shortener

Shortening your URLs has never been easier. TerminusApp provides a built-in URL shortener, eliminating the need for external tools.
You can create concise and branded short links that are easy to share and track, enhancing the user experience and maintaining your brand identity.
UTM naming conventions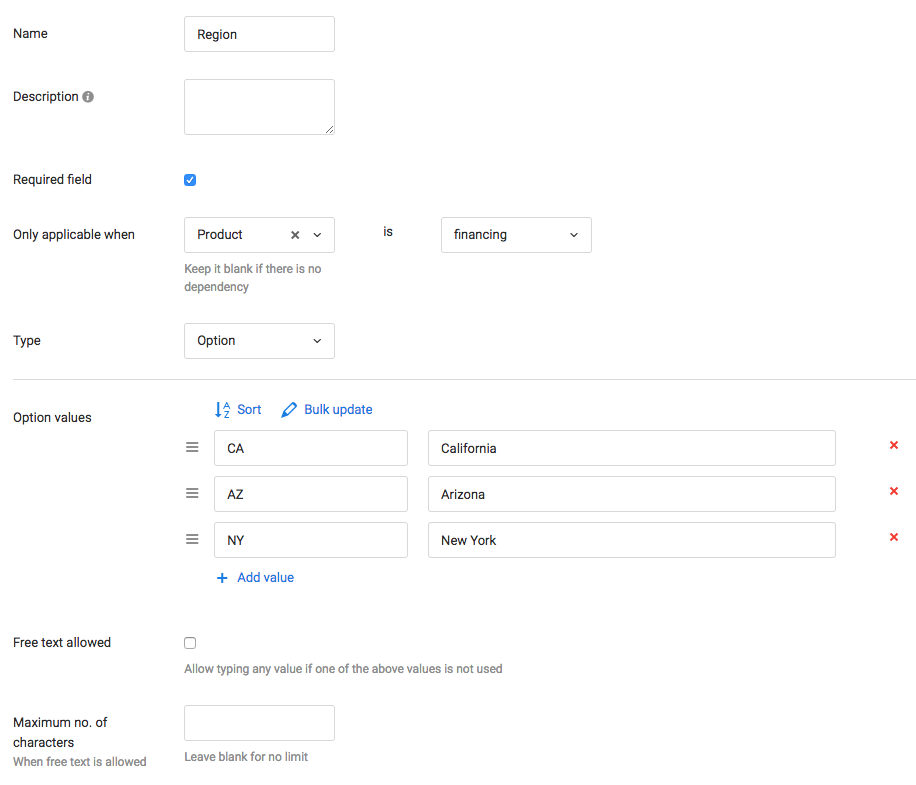 TerminusApp allows you to define as many UTM naming conventions as you need, tailored to your specific requirements. You can ensure consistency, enabling you to easily categorize your campaigns, mediums, sources, and more.
Bulk URLs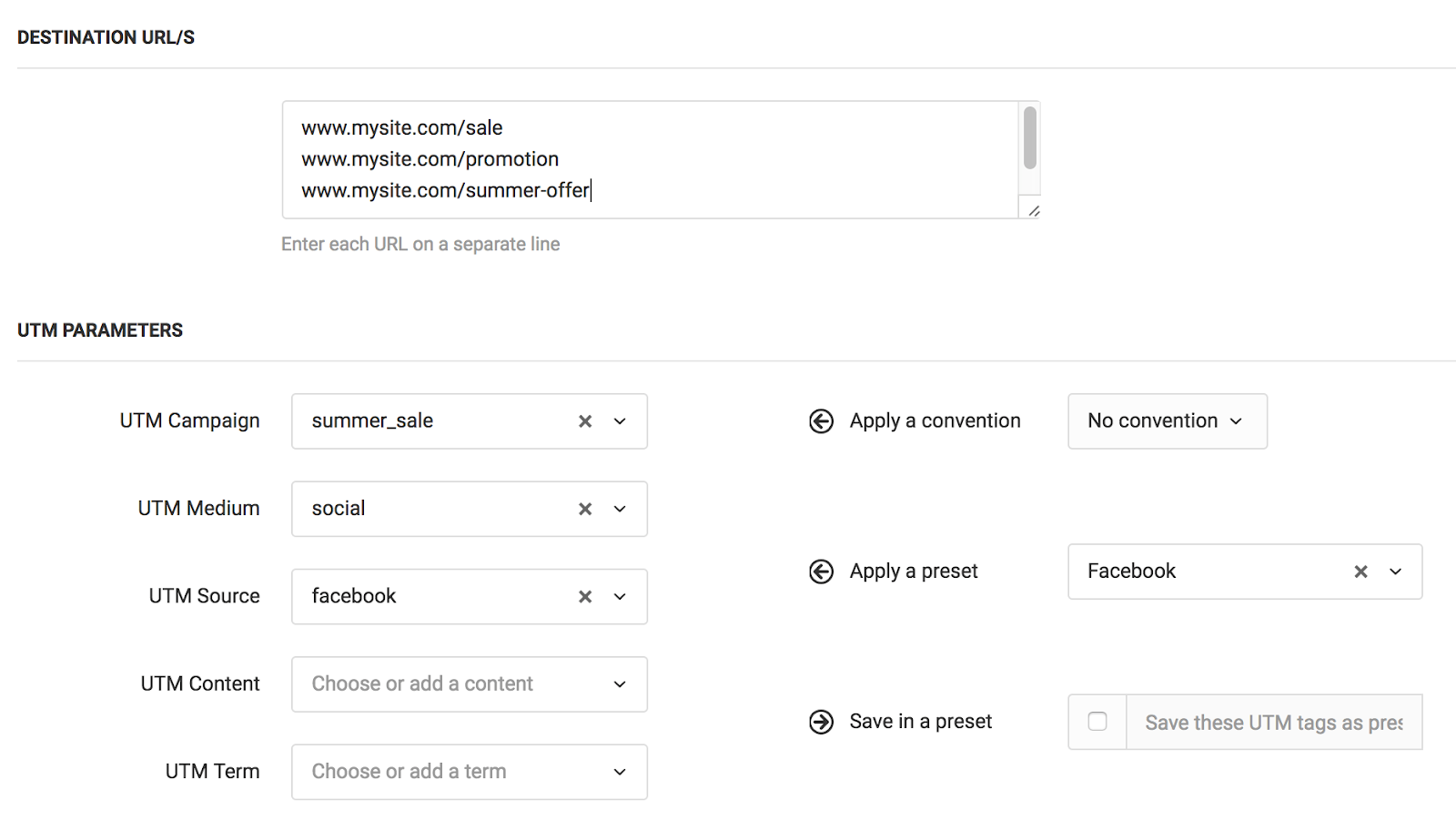 Dealing with multiple URLs simultaneously becomes effortless with TerminusApp's bulk URL management feature. You can import and manage a large number of URLs simultaneously, saving you valuable time and effort.
Easy Link Management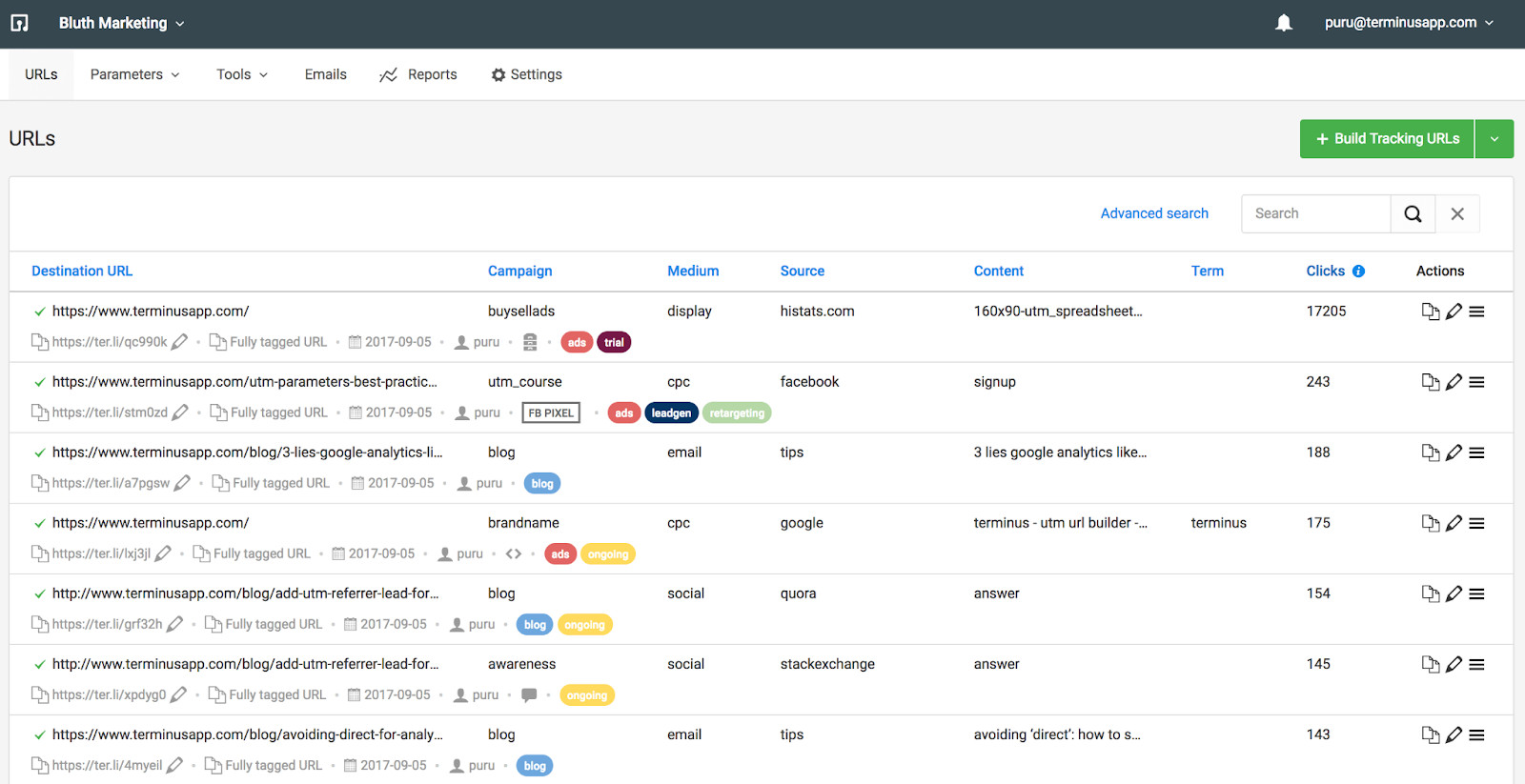 You can easily organize, search, and edit your URLs within the platform, making tracking and updating your campaigns convenient. There are color-coded labels for your links, one-click copy, easy search, and more.
Detailed reports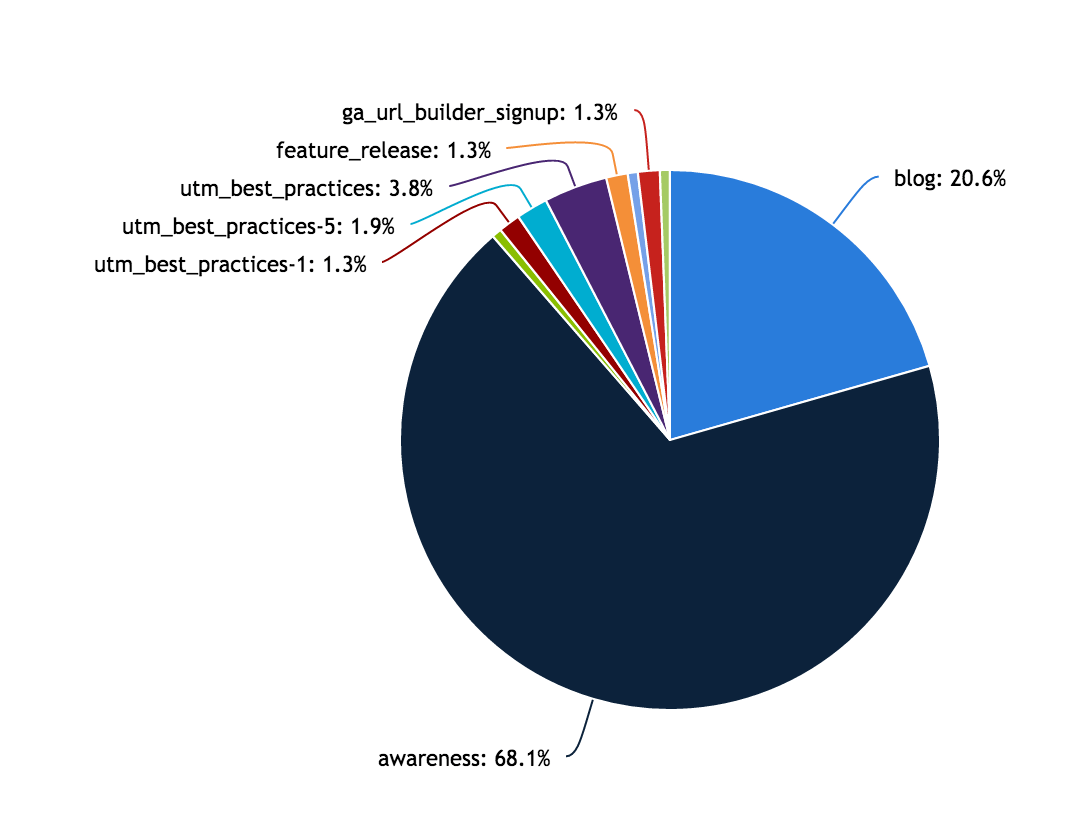 TerminusApp provides detailed reports like time-based reports, distribution reports, and drill-down reports. They offer valuable insights into your campaign performance. You can also download them in CSV format for further analysis.
Additional features include email link tracking, custom parameters, Chrome Extension, role-based access control, and Bitly integration.
TerminusApp Pricing
We offer four different plans that have been curated carefully, keeping your requirements in mind. However, if you need a customized plan, feel free to connect with us!
You can choose to pay annually and get two months free. You also get a 21-day free trial so you can experience TerminusApp risk-free.
Professional

Business

Enterprise

Custom

$79/ month or

$66/ month (billed annually)

3 Users

5 Projects

2 Custom Domains

UTM Rules

Presets

Labels

Notes

Custom Parameters

Multi-tag UTM Builder

Auto-shortening

Click-reports

Fine-grained user permissions

Auditing tools

Chrome Extension

Custom domain SSL

URL Monitoring

Redirect codes/ Link retargeting

Bulk operations

$199/ month or

$166/ month (billed annually)

5 Users

10 Projects

3 Custom Domains

Everything in Professional, plus:

Bulk URL Cloning

QR Codes

Conventions

Grid Mode URL Builder

Email Builder

Auto-generated Tracking IDs

Adobe/GA Classifications

API Access

$499/ month or

$466/ month (billed annually)

15 Users

30 Projects

5 Custom Domains

Everything in Business, plus:

Single Sign-on

Invoice Billing

Signed Agreement

Get in touch

Users, Projects, Custom Domains- Custom

Everything in Enterprise.
Conclusion
Once you've understood how to collect campaign data with custom URLs, you can effectively optimize your campaigns and tailor them according to your audience's needs.
While Google Analytics 4 is a well-sought platform to collect and analyze campaign data, it can be confusing for some. People who have been using UA previously might not find it very user-friendly.
Although, remember that it's a developing platform rolling out new features now and then. However, if you want all the custom URL benefits with a simpler UI, you will be happy investing your time and money in TerminusApp.
TerminusApp provides comprehensive UTM and CID building, validating, organizing, and tracking features with the ability to create branded short URLs that are easy to share and remember.
You do not have to worry about inconsistencies and errors, as TerminusApp takes care of them. Watch this demo video to know more about how it works, and try it before committing to anything; you don't have to take our word for it!