You spend hours creating the right pins, curating stunning boards, and implementing your Pinterest plan. But how do you know whether it's working?
That's where UTM tracking helps. This guide will give you the information you need to take control of your Pinterest tracking with UTM parameters; no more relying on guessed analytics.
We will walk you through establishing customized URLs with UTM parameters, implementing split testing, and leveraging the power of analytics to measure the impact of your Pinterest campaigns.
But that's not all – we'll also explore the limitations and potential challenges of Pinterest UTM tracking. We'll offer practical ideas and workarounds to help you overcome any obstacles you may face. Let's get started!
What are UTM parameters, and What is their Role in Pinterest
UTM parameters are URL tags that you can add to track and analyze the efficacy of your marketing initiatives. They enable you to collect valuable information on a website visitor's source, media, campaign, and other specifics.
You can separate and identify traffic from different sources and campaigns in your analytics systems by attaching UTM parameters to your URLs.
Say you're launching a Pink Friday Sale campaign and advertising it via numerous means such as email, social media, and paid advertisements. You can add UTM parameters to each channel's URL to track its performance. Here's an example URL that includes UTM parameters:
https://example.com/products?utm_source=email&utm_medium=newsletter&utm_campaign=pink_friday_sale
In this URL, the UTM parameters are:
utm_source=email: Indicates that the source of the traffic is from an email.
utm_medium=newsletter: Specifies the medium, which is a newsletter.
utm_campaign=pink_friday_sale: Identifies the campaign as the Pink Friday Sale.
When you include UTM parameters in the URLs of your Pinterest pins, you can track the traffic and conversions that come directly from Pinterest.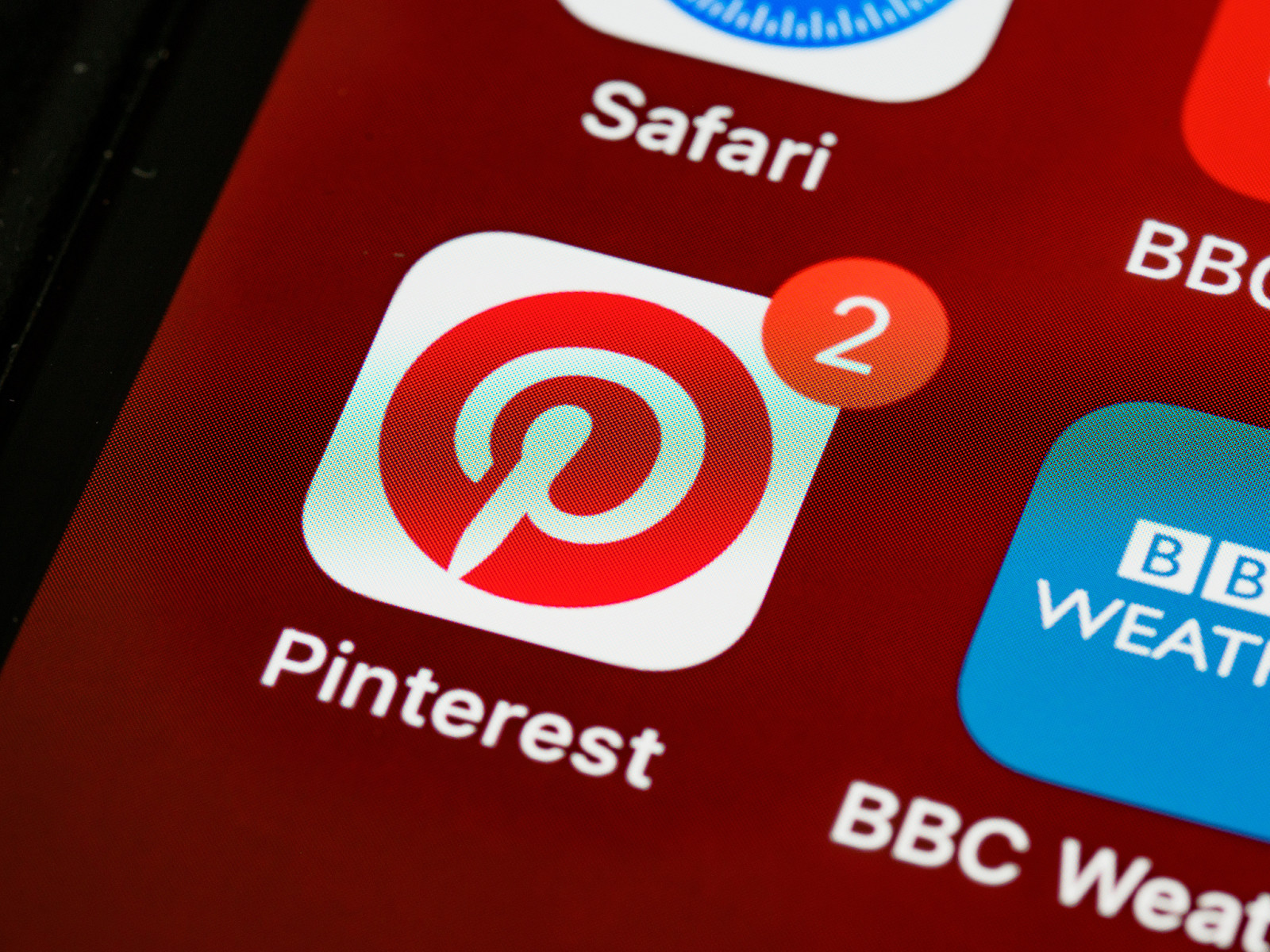 You may learn which pins generate the greatest interaction, click-throughs, and conversions from Pinterest users by analyzing the data acquired using UTM parameters.
This data assists you in measuring the efficacy of your Pinterest marketing and advertising campaigns, optimizing your approach, and making data-driven decisions to better your platform outcomes.
Where will you find UTM links on Pinterest?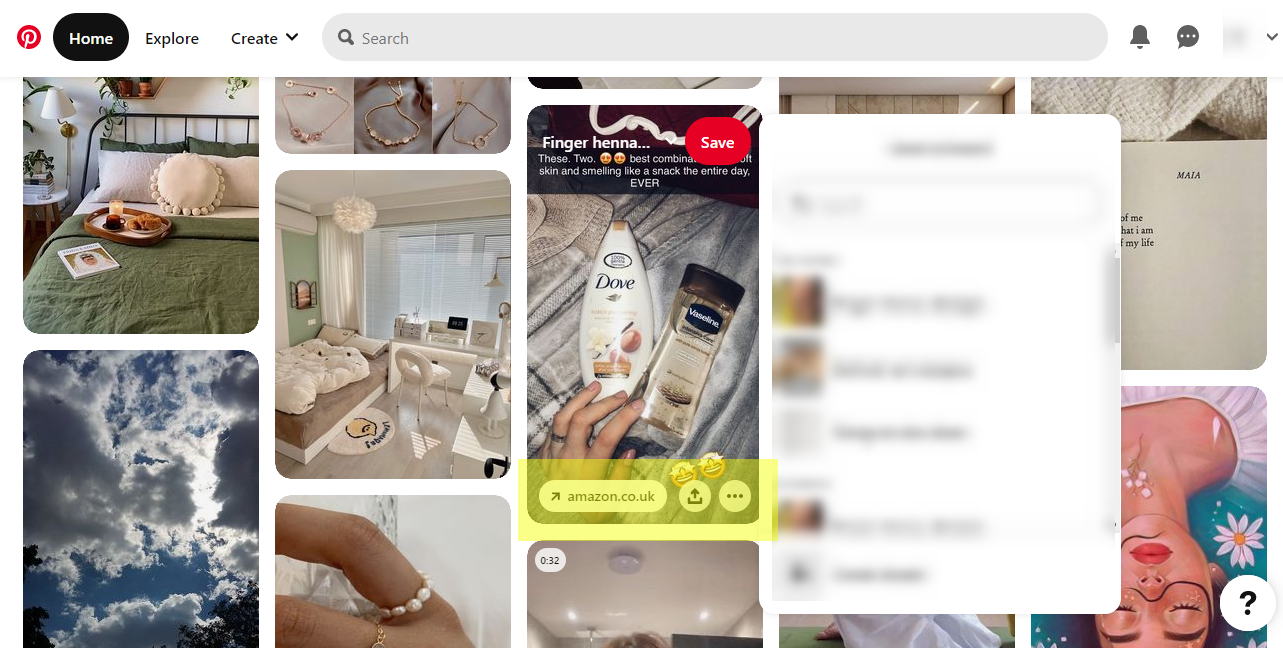 When uploading your pins to Pinterest, look for UTM URLs in the destination link area. You may also include a destination link when you create a pin with a photo, title, and description. The UTM parameters will be included here to track the efficacy of your marketing activities.
Remember to add UTM characteristics related to your campaign to the destination link, such as the source (Pinterest), medium (social media), and campaign name (board or promotion). This allows you to track the impact of your pins precisely.
Tracking Pinterest Campaigns with UTM Parameters
Pinterest does not natively support UTM parameters. However, you can still track UTM parameters on Pinterest by manually appending them to your campaign URLs and using a web analytics tool like Google Analytics to capture the data.
Here's how you can leverage Pinterest tracking with UTM parameters:
Make sure your website/ landing page is connected to an analytics platform like Google Analytics.
Create your UTM-tagged URL using any URL builder. You can use tools like Google's Campaign URL Builder or TerminusApp.
Go to your Pinterest account and click on "Create."
Click on "Create Pin."
Upload your campaign details, and paste your UTM-tagged URL in the destination link section.
Click on "Save," and all your campaign data will be visible in your analytics tool.
You can define as many custom parameters as you like or modify the standard parameters for advanced tracking. You can also shorten your URL and paste it to avoid any handling errors. Learn more about how to track campaign links in Google Analytics.
Benefits of Pinterest Tracking with UTM Parameters
Psychologically, human beings are drawn towards visually appealing campaigns, and Pinterest is a visual platform, so Pinterest tracking with UTM parameters strategically provides multiple benefits. Let's discuss top five-
Accurate Attribution
You can use UTM parameters to correctly attribute traffic, conversions, and other actions to individual Pinterest ads.
You can identify the specific source of your website traffic and monitor the efficacy of each campaign by adding UTM parameters to your Pinterest URLs. This lets you see which Pins or ads generate the maximum engagement and conversions.
A/B Testing
UTM parameters allow you to do A/B testing on Pinterest by creating different versions of Pins. You can experiment with different titles, photos, colors, descriptions, or landing pages to see what works best for your audience.
You can optimize your Pinterest campaigns for optimal engagement and conversions by comparing the performance of different UTM-tagged Pins.
Comparative Analysis
UTM parameters enable you to compare the performance of various campaigns, both within and outside of Pinterest. You can analyze the traffic, conversions, and engagement created by each campaign by tagging them with unique UTM parameters.
This allows you to identify which campaigns are doing better, whether on Pinterest or other marketing channels and which channels are more effective at bringing visitors to your website.
Repins
UTM parameters also track the repins of your original Pinterest pins. The parameters connected with a pin are kept when it is repinned.
This enables you to analyze the virality of your content, discover the most popular Pins, and assess the amplification and reach of your Pinterest campaigns.
Data-driven Decision Making
Tracking Pinterest ads using UTM parameters delivers data-driven insights that help you make decisions. You may uncover trends, patterns, and correlations in the performance of your Pinterest campaigns by analyzing the data acquired using UTM parameters.
This data enables you to make informed changes to your Pinterest strategy, optimize your content, and effectively allocate resources to achieve better outcomes.
You can also track your campaigns on Pinterest itself without UTM parameters. Pinterest offers several methods to gain insights from your ads, but there are limitations to it, like Pinterest is known for rolling out certain features to some accounts and not others.
Why Campaign Tracking on Pinterest isn't Enough
Here are some more reasons why Pinterest analytics isn't enough-
Organic pins and ad-specific parameters
Although Pinterest's native campaign tracking focuses primarily on advertising, it may not capture the full extent of your marketing actions. You won't have access to the same amount of tracking if you use organic pins to promote your content.
You can track both your advertisements and organic pins using UTM parameters, giving you a complete picture of your Pinterest marketing effectiveness.
Limited impression tracking
Because Pinterest's campaign tracking primarily focuses on click-based analytics, impression tracking is limited. Understanding your Pins' exposure and reach is critical for determining the effectiveness of your promotions.
Dynamic parameter limitations
Dynamic parameters enable you to collect extra campaign information, such as the precise ad group or creative being used. However, Pinterest's monitoring system may not provide flexibility or customization.
You have more control over the dynamic tracking parameters when you use UTM parameters, allowing for a more personalized and precise study of your campaigns.
Tracking template setup
Pinterest's campaign tracking necessitates a specific configuration utilizing their tracking template. While this template is helpful for monitoring within Pinterest's ecosystem, it may not work well with your existing tracking infrastructure or other analytics tools.
Pinterest tag availability
Pinterest Tag, Pinterest's advanced tracking function, is unavailable in all areas or to all business accounts. This restriction can make it challenging to utilize advanced tracking functions within Pinterest's native system.
To overcome the limits of Pinterest's native campaign tracking and reach the full potential of your Pinterest marketing efforts, UTM tracking and a comprehensive solution such as TerminusApp is required.
TerminusApp gives you the tools and functionality you need to effectively utilize UTM parameters, allowing you to track both advertising and organic pins. Let us explore it in detail-
TerminusApp: The All-in-one Link Management Platform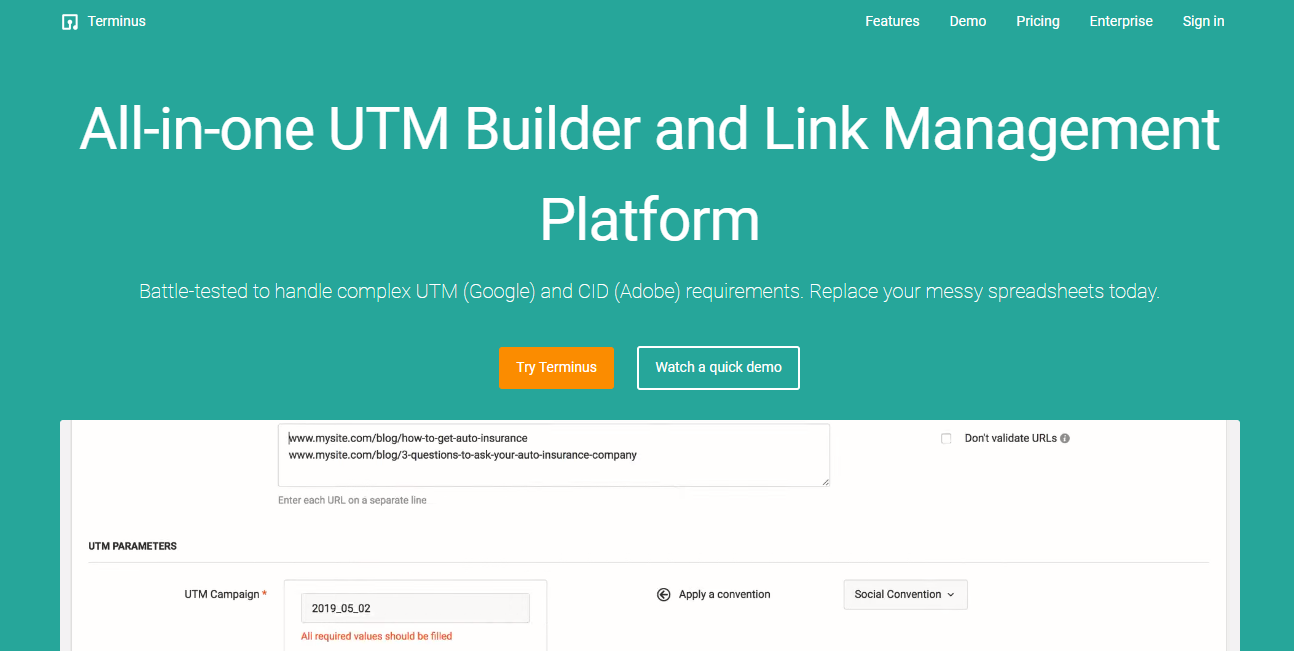 TerminusApp is a powerful tool that will change how you track and manage marketing campaigns. TerminusApp's user-friendly interface and powerful capabilities make it an efficient alternative for streamlining your campaign management process.
You can quickly generate, organize, and track your campaign URLs with TerminusApp, ensuring accurate and consistent data across all your marketing channels.
The platform provides a streamlined experience, allowing you to add and change multiple URLs, import existing UTM URLs, and tailor parameters to your requirements. TerminusApp can replace any spreadsheet, making it simple to keep organized and avoid tracking errors.
It acts as a centralized platform for all of your UTM parameters, allowing you to maintain consistent naming conventions and properly track the performance of your campaigns.
TerminusApp Features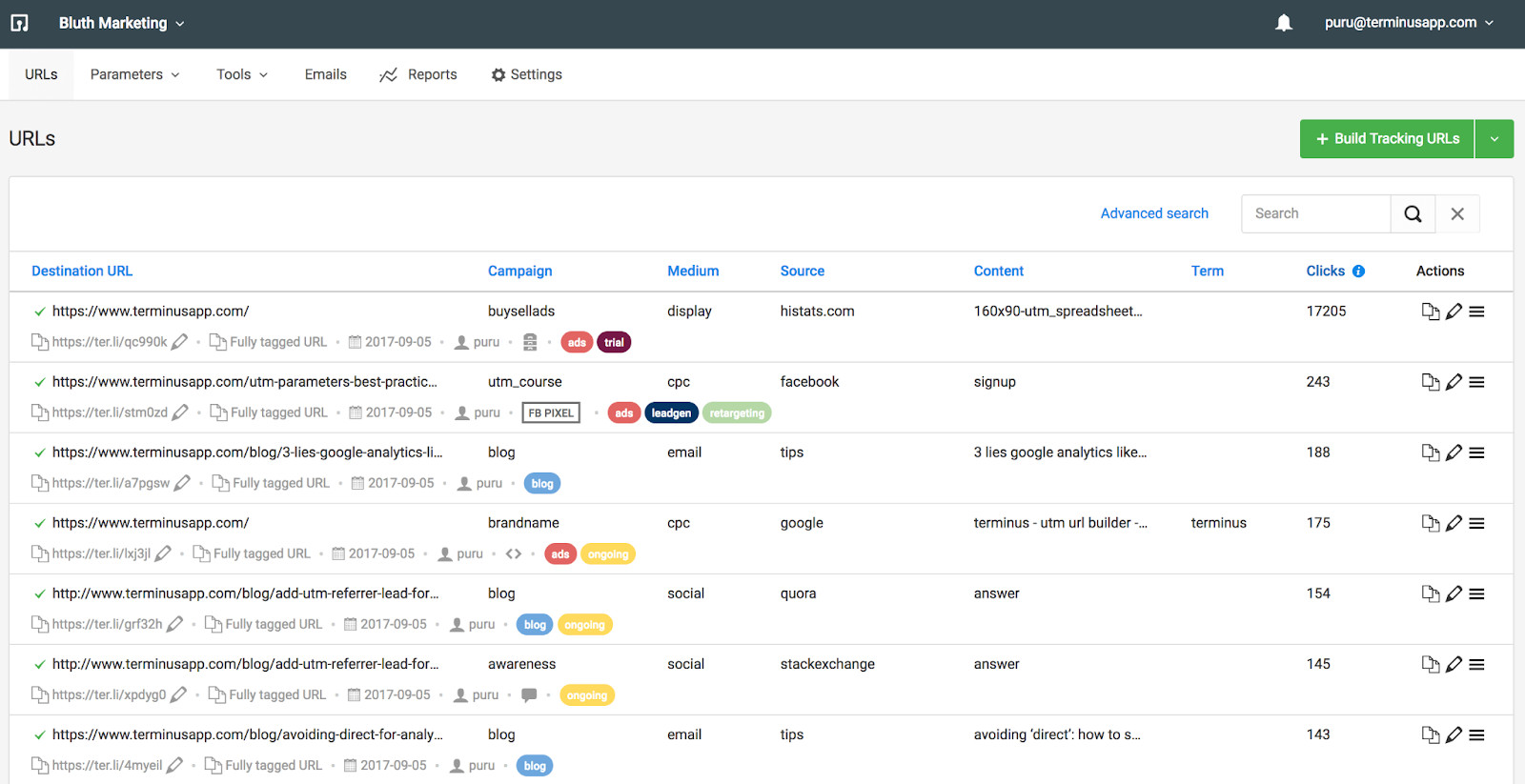 TerminusApp offers a range of powerful features to optimize your Pinterest tracking with UTM parameters. Here's how TerminusApp can enhance your Pinterest marketing efforts:
TerminusApp provides a powerful UTM builder tool that allows you to create multiple URLs efficiently. You can save time by building a batch of URLs simultaneously, ensuring consistency and accuracy in your tracking.
TerminusApp enables you to create custom URLs with personalized domain names for your Pinterest campaigns. This helps you maintain your brand identity while sharing tracking URLs, enhancing the professionalism and credibility of your marketing efforts.
With TerminusApp, you can say goodbye to manual URL shortening. The platform automatically shortens your URLs, eliminating the need for copy-pasting or extra manual work.
Copying tracking URLs becomes effortless with TerminusApp. With just one click, you can easily copy any tracking URL and use it wherever you need, including Pinterest.
TerminusApp understands the importance of keeping track of campaign details. The platform allows you to add notes to URLs, providing you and your team with a convenient way to store additional information for future reference.
The Info Fields feature enables you to create custom notes according to your specific requirements.
TerminusApp offers comprehensive drill-down reports that enable you to filter and analyze your campaign data based on various parameters.
You can gain deeper insights into your Pinterest campaigns, such as the most effective campaign, source, term, and content.
TerminusApp provides you with these features to help you simplify your Pinterest tracking with UTM parameters, allowing for efficient management, reliable data analysis, and informed decision-making.
TerminusApp Pricing
We offer four different plans structured to cater to your requirements. You get two months free if you choose to pay annually. You also get a 21-day free trial without any commitments that you can cancel anytime!
Professional

Business

Enterprise

Custom

$79/ month or

$66/ month (billed annually)

3 Users

5 Projects

2 Custom Domains

UTM Rules

Presets

Labels

Notes

Custom Parameters

Multi-tag UTM Builder

Auto-shortening

Click-reports

Fine-grained user permissions

Auditing tools

Chrome Extension

Custom domain SSL

URL Monitoring

Redirect codes/ Link retargeting

Bulk operations

$199/ month or

$166/ month (billed annually)

5 Users

10 Projects

3 Custom Domains

Everything in Professional, plus:

Bulk URL Cloning

QR Codes

Conventions

Grid Mode URL Builder

Email Builder

Auto-generated Tracking IDs

Adobe/GA Classifications

API Access

$499/ month or

$466/ month (billed annually)

15 Users

30 Projects

5 Custom Domains

Everything in Business, plus:

Single Sign-on

Invoice Billing

Signed Agreement

Get in touch

Users, Projects, Custom Domains- Custom

Everything in Enterprise.
Conclusion
Taking control of your Pinterest tracking with UTM parameters is crucial for accurately measuring the effectiveness of your campaigns and making data-driven decisions.
You can monitor the traffic, interaction, and sales brought about by your Pinterest pins by using customized URLs with UTM parameters. However, using Pinterest's native campaign tracking alone has limits.
From restricted impression monitoring to dynamic parameter limits, you may lack the data and flexibility required to optimize your marketing efforts. TerminusApp empowers you with powerful features to enhance your Pinterest tracking and management.
With the ability to efficiently build multiple URLs, import existing UTM URLs, and automatically shorten links, TerminusApp saves you time and ensures consistency in your tracking.
Watch this free demo and sign up for a 21-day free trial today. Experience the power of comprehensive campaign tracking and management.