Effective lead generation comes from diversifying your market reach and expanding your campaigns to target a broad audience.
However, simply reaching out to gather more prospects isn't where digital marketing ends. You must track where your customers are coming from to analyze your campaign's performance and optimize them further.
While adding UTM tags to your campaign URLs is the best way to collect the required insights, creating UTM-tagged links is time-consuming for larger organizations.
UTM builder spreadsheet templates help automate the process and remove any chance of typos or tracking variables that are not accepted under a specific UTM parameter.
Learn how to create your own UTM builder spreadsheet or choose from the 7 best in the market right now from our article.
Why You Need A UTM Builder Spreadsheet
B2B and eCommerce businesses understand the importance of effective website tracking to improve subsequent marketing efforts. While fully UTM-tagged marketing URLs are the best option, setting them up in bulk can be a hassle.
A UTM builder spreadsheet can enable companies to simplify the creation of UTM-tagged links, among many other functions. Thus before we learn about the best UTM builder spreadsheet templates, let's take a look at why you should consider implementing one, to begin with:
Companies maintain a UTM builder spreadsheet to provide organizations with a single standardized source to create marketing URLs for any campaign. These links can track the performance of your campaigns by recording various attribution metrics.
UTM builders assist your teams with consistent UTM tagging. The tracking variable for their respective UTM parameters will reflect the same throughout your shared documentation, enabling you to monitor every website element seamlessly.
A UTM builder spreadsheet acts as a centralized repository for every campaign URL your organization creates so you can track all website links in a single location. It is incredibly beneficial for smaller organizations that need complete visibility.
Utilizing software like Google Sheets lets you use notes to communicate with team members and leave critical instructions or protocols for future users. Revision history allows tracking every update made to your UTM builder spreadsheet.
With adequate training, high-quality data, and end-to-end visibility on your marketing URLs, you experience higher ROI and better optimization for your marketing efforts with data-driven insights.
Create Your Own UTM Builder Spreadsheet
If your company has specific requirements based on the type of marketing links they want to track, you can choose to create your own UTM builder spreadsheet templates by following this guide:
1.Open Google Sheets.
2.Create a new spreadsheet.
3.Add the necessary UTM parameters in the first row.

4.Fill out the required tracking variable for each column.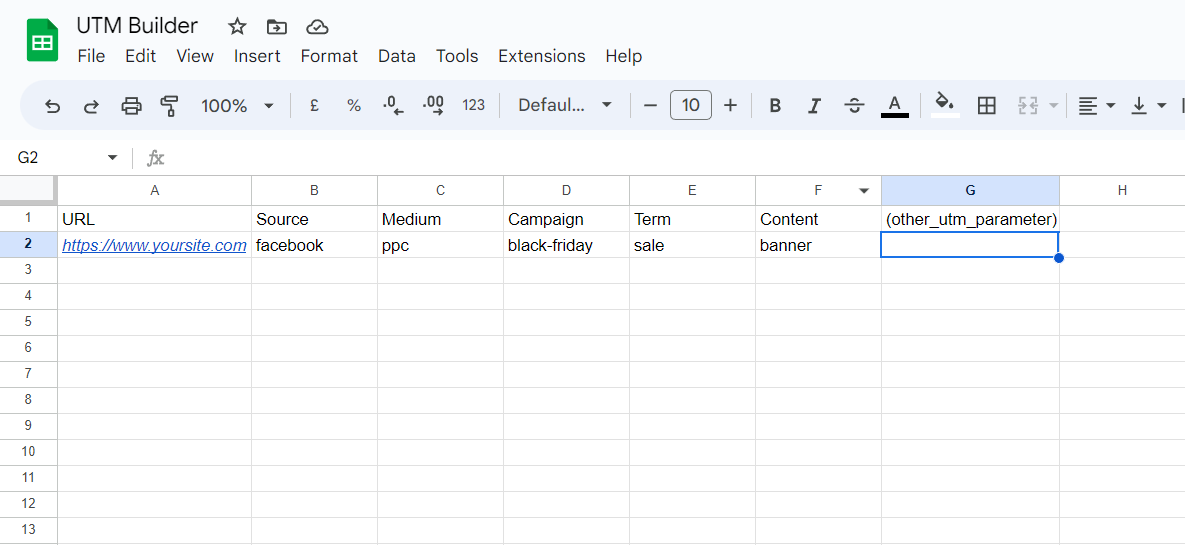 5.Add the following concatenation formula to combine the custom values in all columns to create a fully tagged marketing link:
=CONCATENATE(A2,"?utm_source=",B2,"&utm_medium=",C2,"&utm_campaign=",D2,"&utm_term=",E2,"&utm_content=",F2,"&utm_other_utm_parameter=tracking_variable",G2)

6.Incorporate data validation to remove the possibility of errors and incorrect metrics:
Create a new sheet by clicking the "+" icon on the bottom left.
Add the validated tracking variable for every parameter in the column of the new sheet.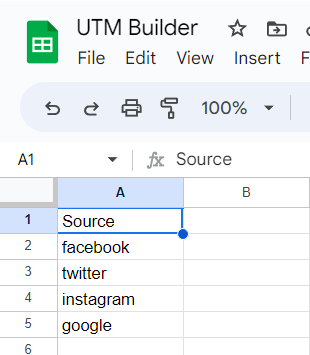 Open Sheet 1.
Right-click a column and select Data Validation.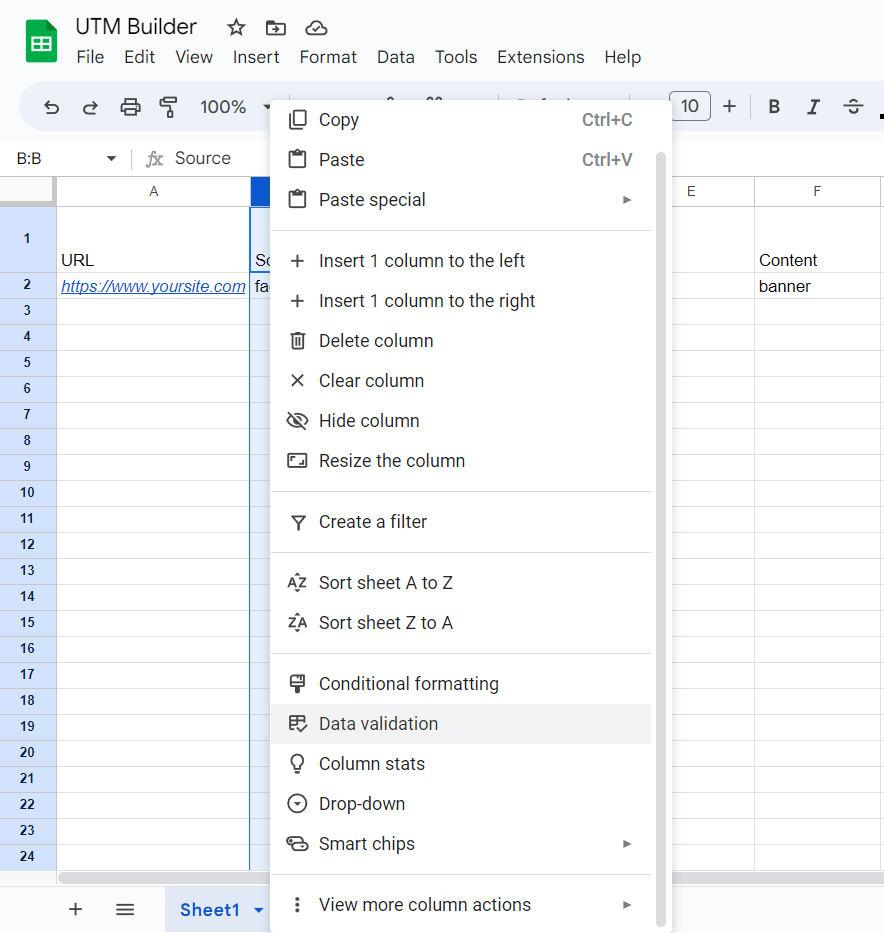 For the "Source" column, select Add Rule > Apply to range B2:B1000 > select "Drop-down (from a range)" in Criteria > Apply range to "Sheet2!A2:A1000" > select "Reject the input" under "If the data is invalid:"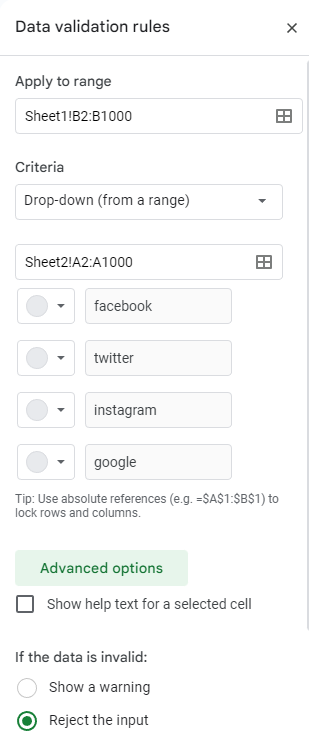 Select the accepted tracking variables from the drop-down menu.
Repeat the process for all UTM parameters.
To prevent unauthorized changes, click and drag the necessary cells.
Press right-click > View more cell actions > Protect Range. You can also set permissions to allow only verified users to make changes to your UTM builder.
7.In a scenario where you do not have tracking variables applicable to a particular marketing URL and the cell is blank, you can add the following formula to truncate the final URL and avoid adding the parameter with no valid tracking variable:
=CONCATENATE(A2,"?utm_source=",B2,"&utm_medium=",C2,"&utm_campaign=",D2,"&utm_term=",E2,"&utm_content=",F2,"&utm_other_utm_parameter=tracking_variable",G2)if(ISBLANK(H2),,CONCATENATE("utm_parameter2=",H2)))
Top 7 UTM Builder Spreadsheet Templates
While creating a UTM builder spreadsheet from scratch is the best way to tackle the customized requirements of your company, it is undeniably a lengthy process that will take significant resources and time from your teams.
To save time while structuring a robust link generation process, you can implement the 7 best UTM builder spreadsheet templates in the market today:
Cardinal Path – Google Analytics Campaign Tagging Tool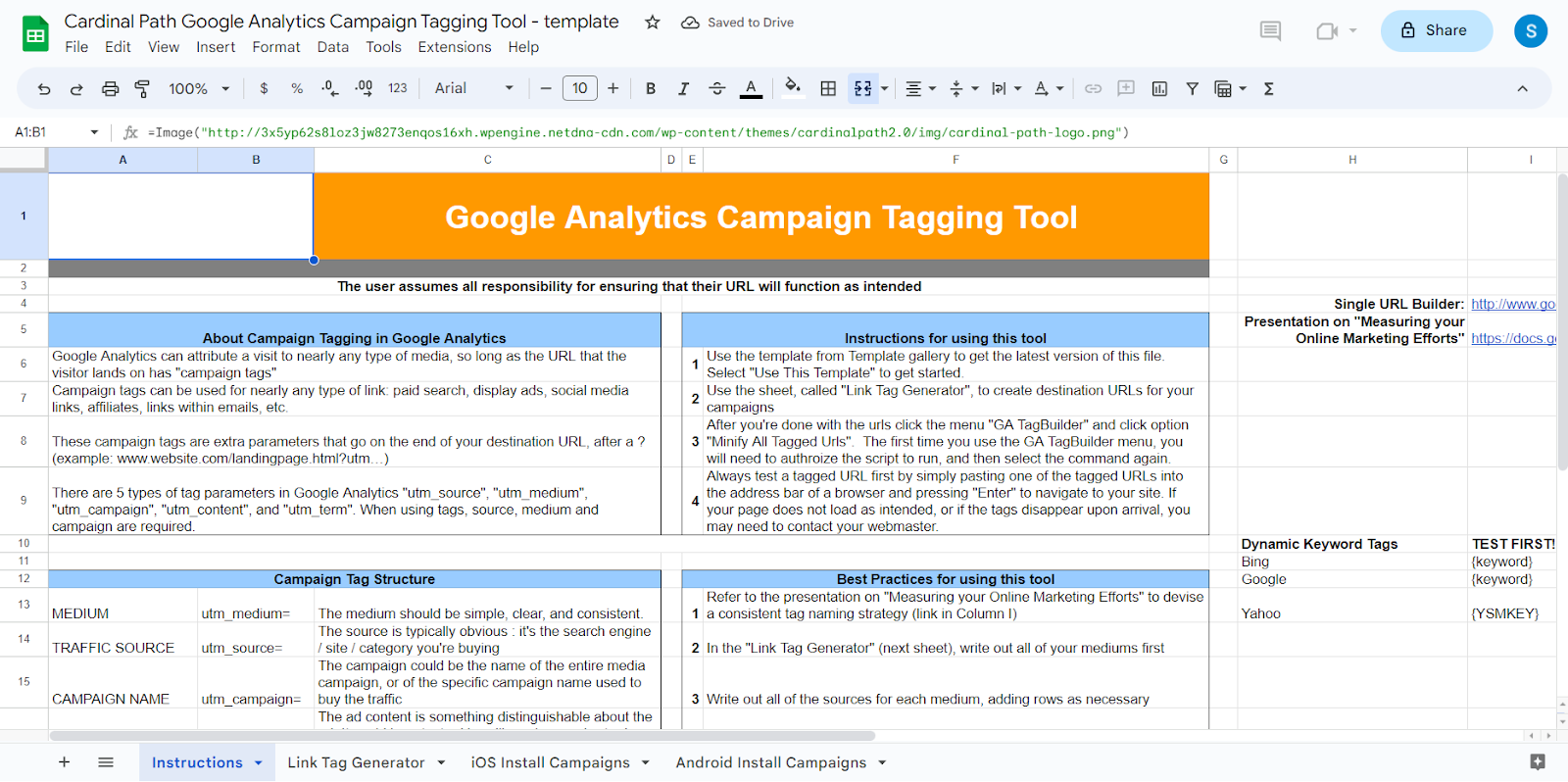 source
Starting our list, we have Cardinal Path's UTM builder template that includes a detailed guide that users can follow and additional resources that provide more contextual information on various aspects of creating marketing URLs.
What sets this template apart is the inclusion of installation campaigns for iOS and Android for companies that operate across several platforms.
Advance Metrics – UTM Standardizer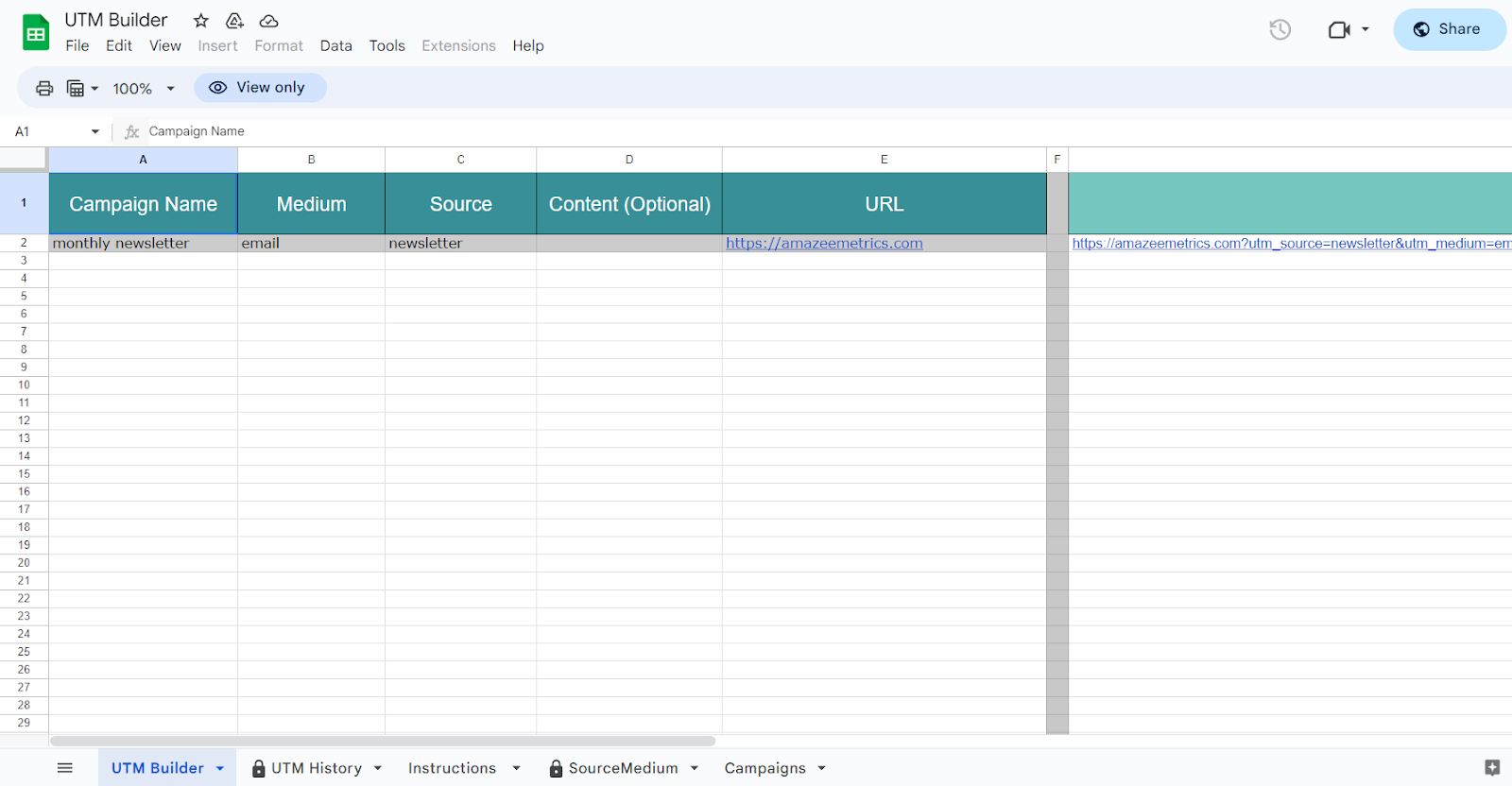 source
The UTM Standardizer by Advance Metrics (formerly Amazeemetrics) is a simple UTM builder that assists most users by including a few standard tracking variables for the UTM parameters included in the spreadsheet.
However, users who do not know how to use data validation in Google Sheets (refer to the guide in the previous section) or operate a UTM builder will be lost due to a lack of clear instructions.
Verrunt – Campaign URL Builder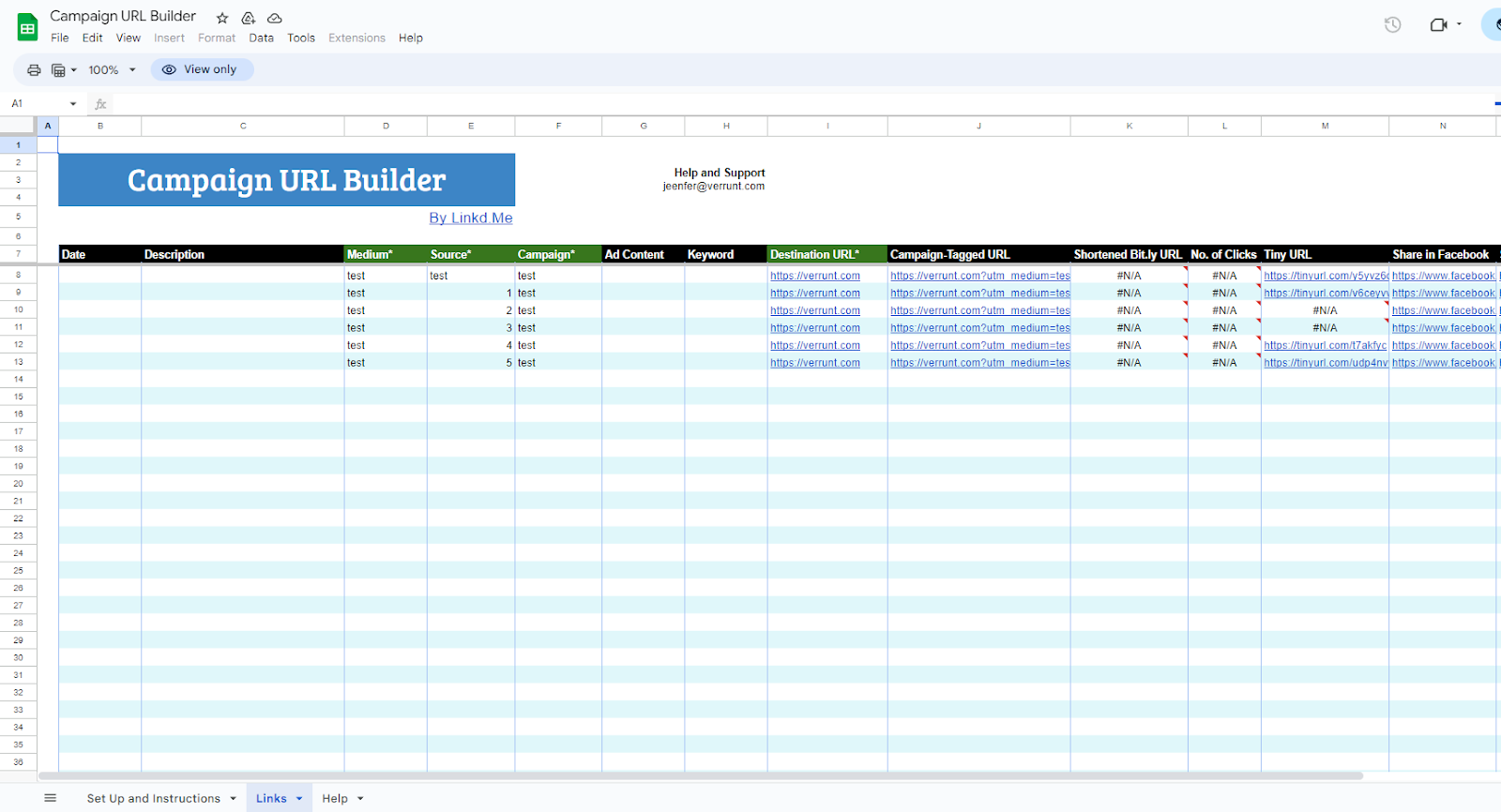 source
The Verrunt Campaign URL Builder is an intuitive spreadsheet aimed at providing business users with a simplified experience of creating marketing URLs. The template also has an option to shorten your URL with a Bitly and Tiny URL integration.
The only drawback is that you can only create simple UTM-tagged website links.
Whole Whale – UTM Builder and Shortener Spreadsheet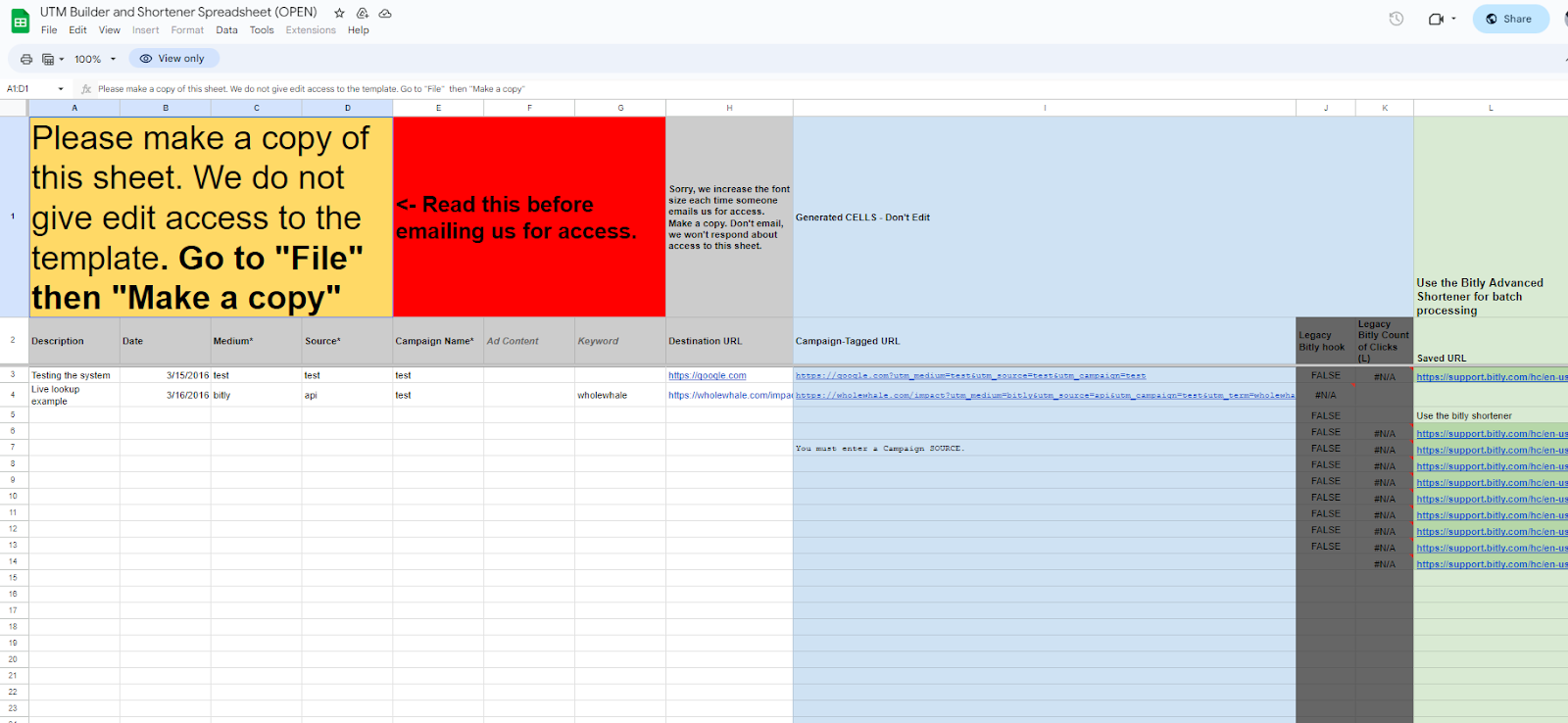 UTM Builder and Shortener Spreadsheet by Whole Whale combines the qualities of a few spreadsheets mentioned earlier by giving you access to a URL shortener using a Bitly addon while also having a sheet dedicated to listing a few common tracking variables.
The UTM builder also comes with a short explanation for every UTM parameter to serve as a refresher for users.
Chameleon Collective – UTM Campaign URL Builder

source
UTM Campaign URL Builder by Chameleon Collective hosts one of the most extensive collections of custom UTM parameters and their tracking variables to offer companies superior personalization capabilities right out of the box.
Robin Rozhon – UTM Tagging Template

source
Originally redirecting to linktosheets.com, the UTM Tagging Template was created by a digital marketing and SEO specialist, Robin Rozhon. It is a simplified UTM builder spreadsheet that focuses on tagging the essential UTM parameters for your URLs.
Hallam Internet – UTM Tagger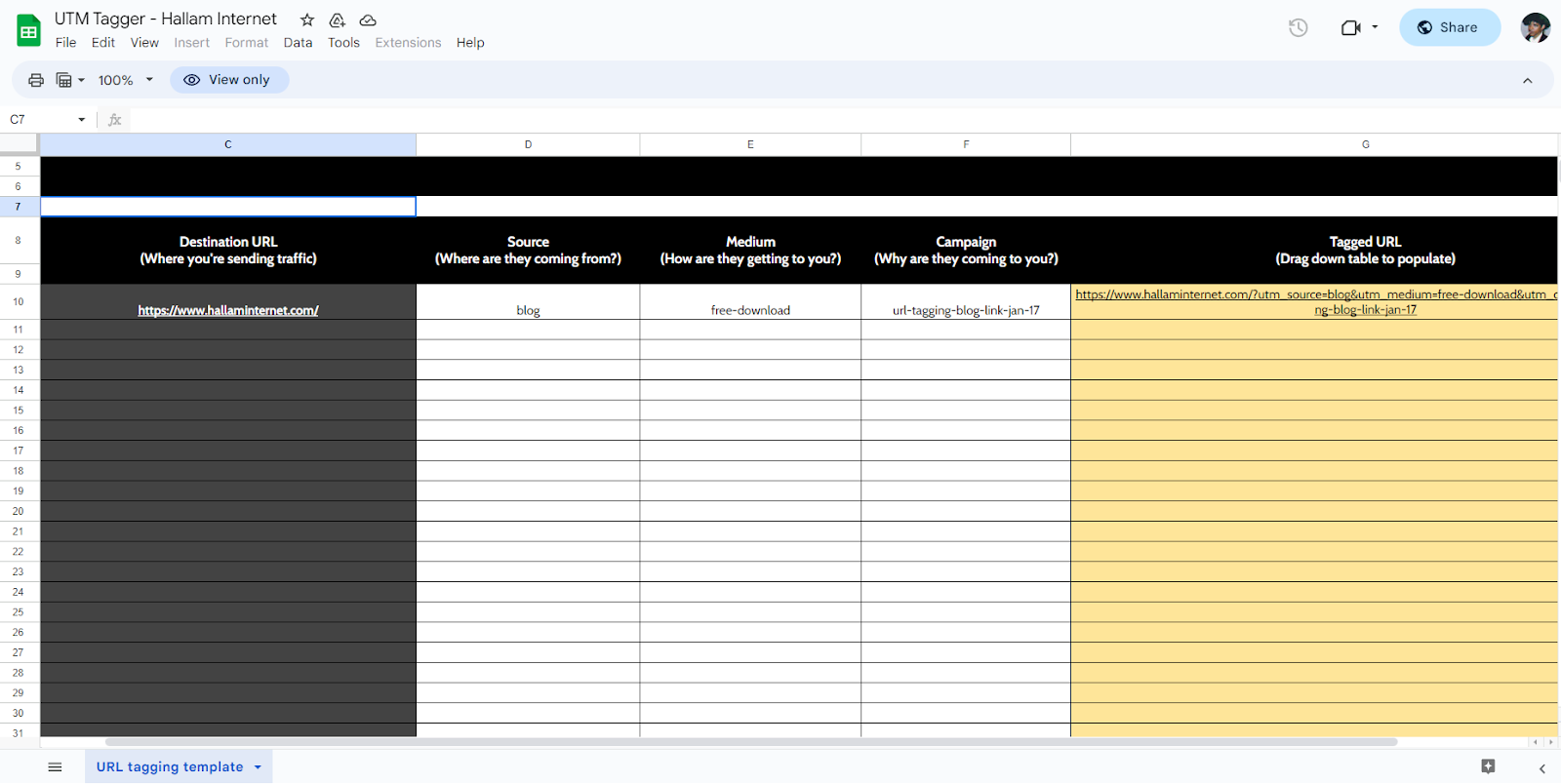 source
Finally, we have the UTM Tagger by Hallam Internet. It is a relatively easy-to-use spreadsheet with the essential parameters added to ensure quality website tracking.
The spreadsheet also provides a short question under every header to guide users into filling the tracking variable with the appropriate answers.
Despite listing the best UTM builder spreadsheet templates, you might have noticed how they merely reduce the time it takes to create UTM-tagged marketing URLs manually. Additionally, adding new UTM parameters opens the possibility of inputting incorrect data.
Is there a way to automate the tagging process of marketing URLs without risking errors? There is when you're using TerminusApp.
TerminusApp is an all-in-one management platform that enables you to create marketing URLs with full UTM tags in bulk, convert them into branded short links, and track metrics on a centralized platform to work with accurate insights consistently.
TerminusApp: Bypass Tedious Spreadsheets Forever!

TerminusApp is the ultimate solution to remove the need for messy spreadsheets by providing a centralized link management and UTM building platform where you can create, track, and manage UTM-tagged marketing URLs in bulk for campaigns of any size.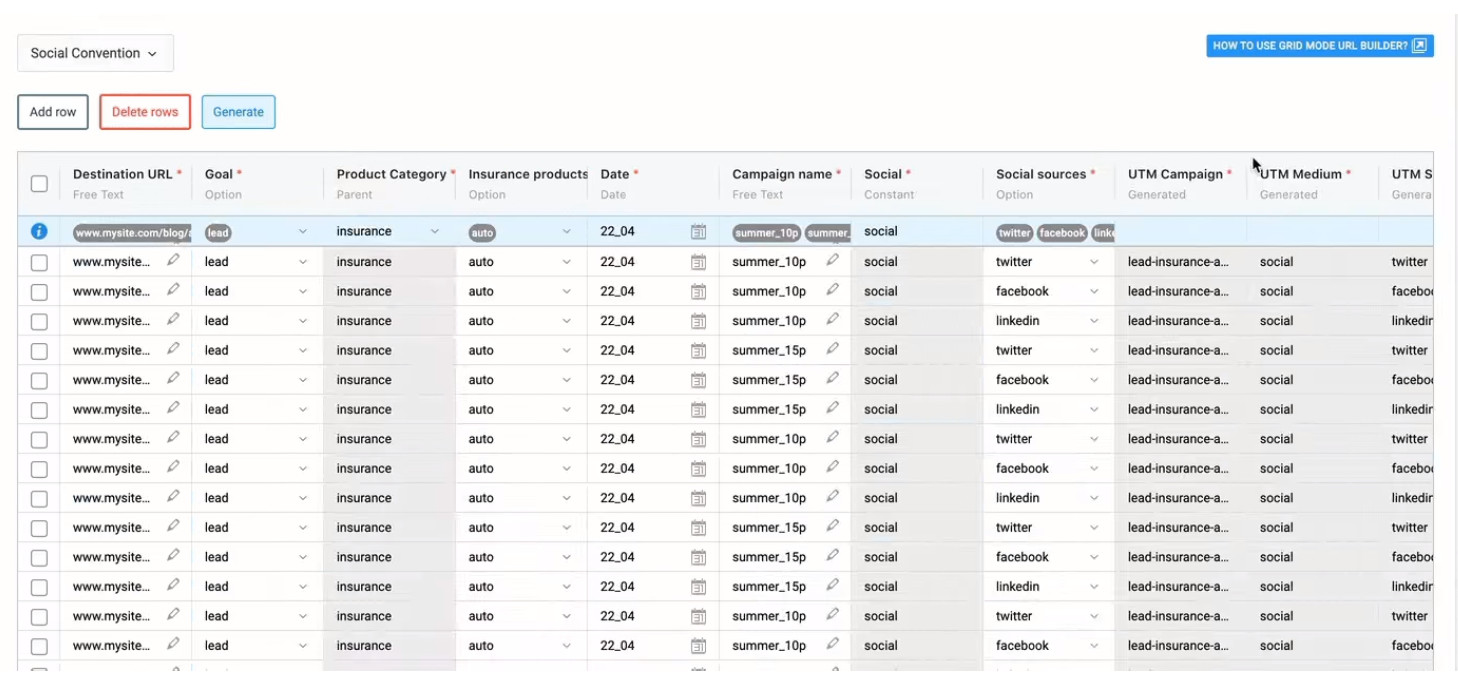 source
Going a step above standard UTM builder spreadsheet templates, we enable you to maintain a consistent UTM strategy by maintaining naming conventions like enforcing lowercase and removing spaces. Additionally, seasoned users can toggle advanced settings for better control.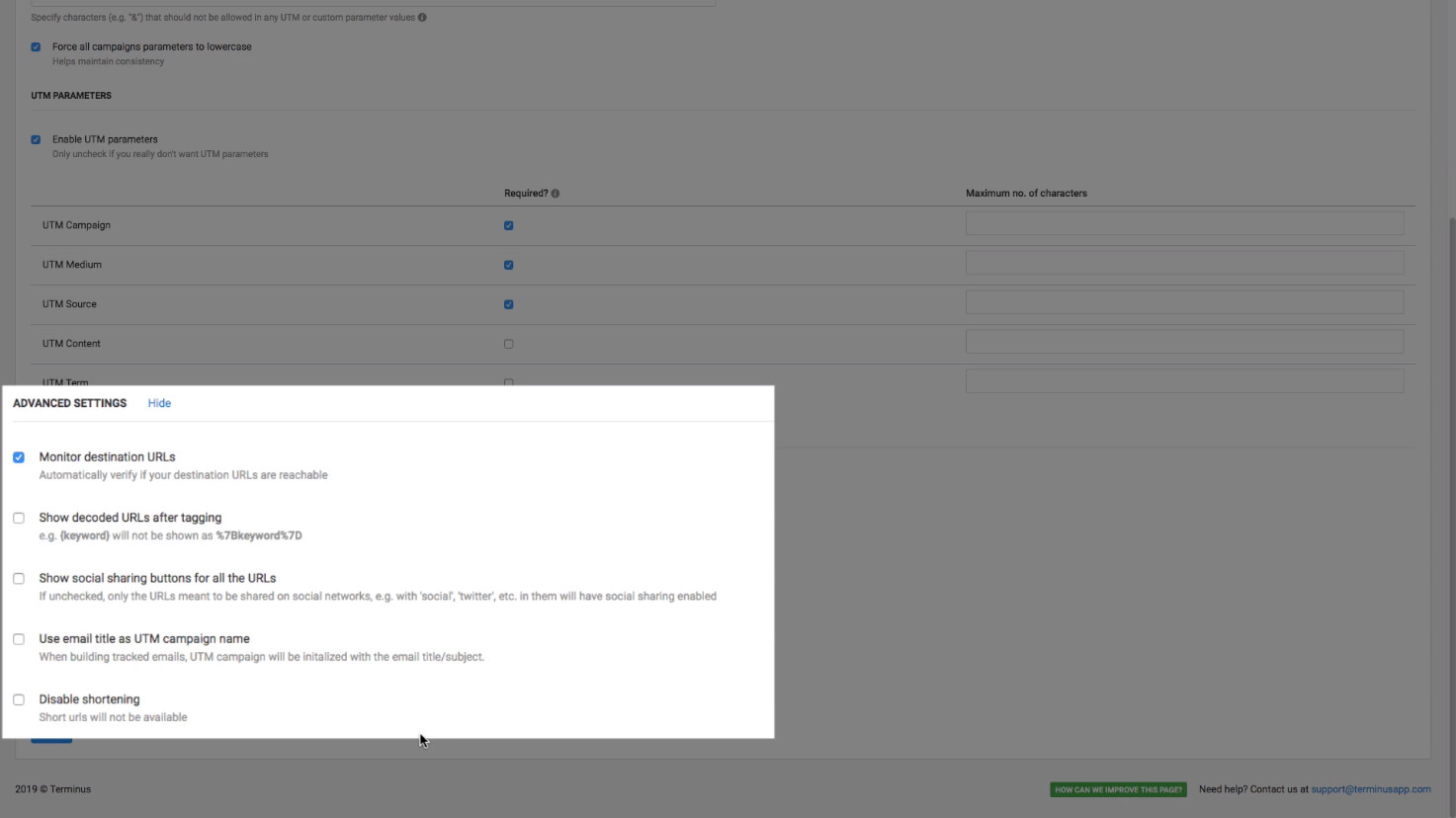 source
You can reliably make error-free, fully tagged marketing URLs with TerminusApp as our UTM builder reconfigures itself based on the conventions you choose to only accept values from the specified format. You can define and build as many custom conventions as per your requirements.
The URL builder feature lets you save URLs as templates for future campaigns and maintain consistent UTM tagging across your teams. You can easily configure URLs for complex use cases. Multi-Tag URL builder allows you to add multiple sets of UTM parameters to the same URL.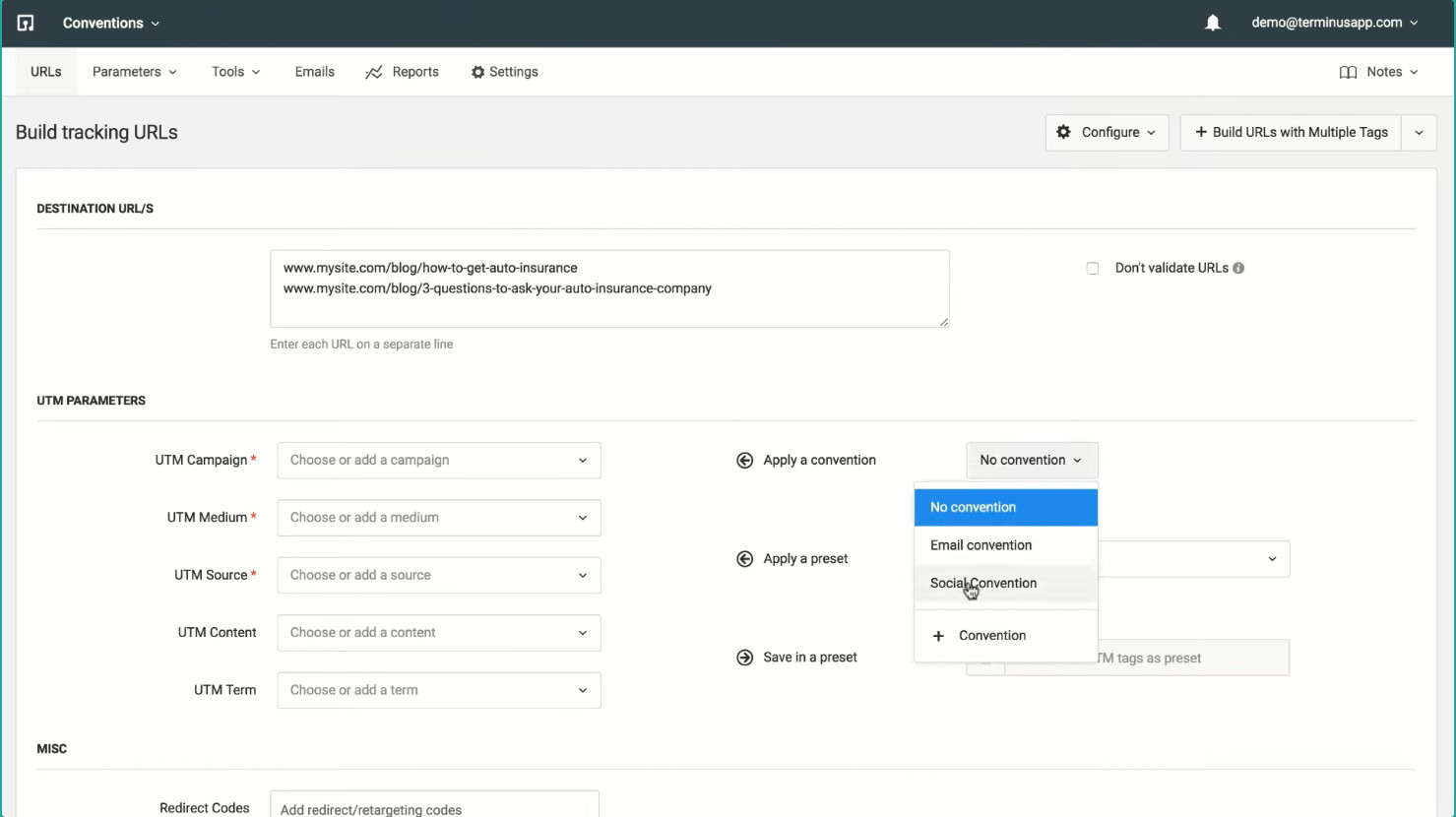 source
Go beyond the metrics tracked by default parameters and define your custom parameters for granular tracking for deeper insight into your website visitors.
TerminusApp's analytics dashboard lets you glance through campaign performance and drill down on specific sources, mediums, and campaigns to gather more insight and optimize your marketing efforts further.

source
Pricing
You can try TerminusApp's premium features risk-free with a 21-day free trial before subscribing to our monthly and annual plans. You get two months free with an annual subscription.
If you are a business with unique UTM and URL management goals, you can contact our team to receive a demo and a personalized pricing plan that will cater to your every requirement.
Professional

$79/month or $66/month (annual)

3 users

5 projects

2 Custom Domains

UTM rules

Presets

Labels

Notes

Custom Parameters

Multi-tag UTM builder

Auto-shortening

Click reports

Fine-grained user permissions

Auditing tools

Chrome Extension

Custom Domain SSL

URL Monitoring

Redirect Codes/Link Retargeting

Bulk Operations

Business

$199/month or $166/month (annual)

5 users

10 projects

3 Custom Domains

Everything in Professional and:

Bulk URL Cloning

QR Codes

Conventions

Grid Mode URL Builder

Email Builder

Auto-generated tracking Ids

Adobe/GA Classifications

API Access

Enterprise

$499/month or $416/month (annual)

15 users

30 projects

5 Custom Domains

Everything in Business and:

Single Sign-On (SSO)

Invoice billing

Signed agreement

Custom

Customized pricing

Personalized user and project limit.

Everything in Enterprise
Conclusion
Tracking customers that visit your website lets you acquire a wealth of information regarding where they found your website, the marketing campaign that piqued their interest in your brand, and the overall performance of your campaigns.
While creating UTM-tagged marketing URLs is the best option for B2B businesses, the process gets challenging for larger organizations as their campaigns start to scale upwards. Worse yet, manually creating links increases the chances of errors and typos.
To save your company from receiving wrong data and incorrect attribution metrics, you can utilize UTM builder spreadsheet templates to access the tracking variables from a drop-down menu to simplify creating URLs with no chance of errors.
For an even more optimized process, you can automate the creation of campaign URLs in bulk with TerminusApp. Our centralized platform automatically creates website links with UTM tags. You can track and manage your URLs and gain valuable insights on our platform.
Try our features risk-free with a 21-day free trial, or contact our team for a personalized demo and pricing plan that caters to your unique business requirements.
Find the perfect solution for all your UTM management requirements with TerminusApp today!