Marketing campaigns are essential for businesses to drive sales and build their online brand presence. Hence, it becomes necessary for companies to measure and track the performance of their campaigns to make data-driven decisions and optimize future marketing strategies.
As a result, most businesses use a UTM builder such as UTM.io to set parameters on their URLs to identify the website traffic generated by their campaigns. It creates analytics reports that provide valuable insights that enable them to achieve their marketing goals and future growth.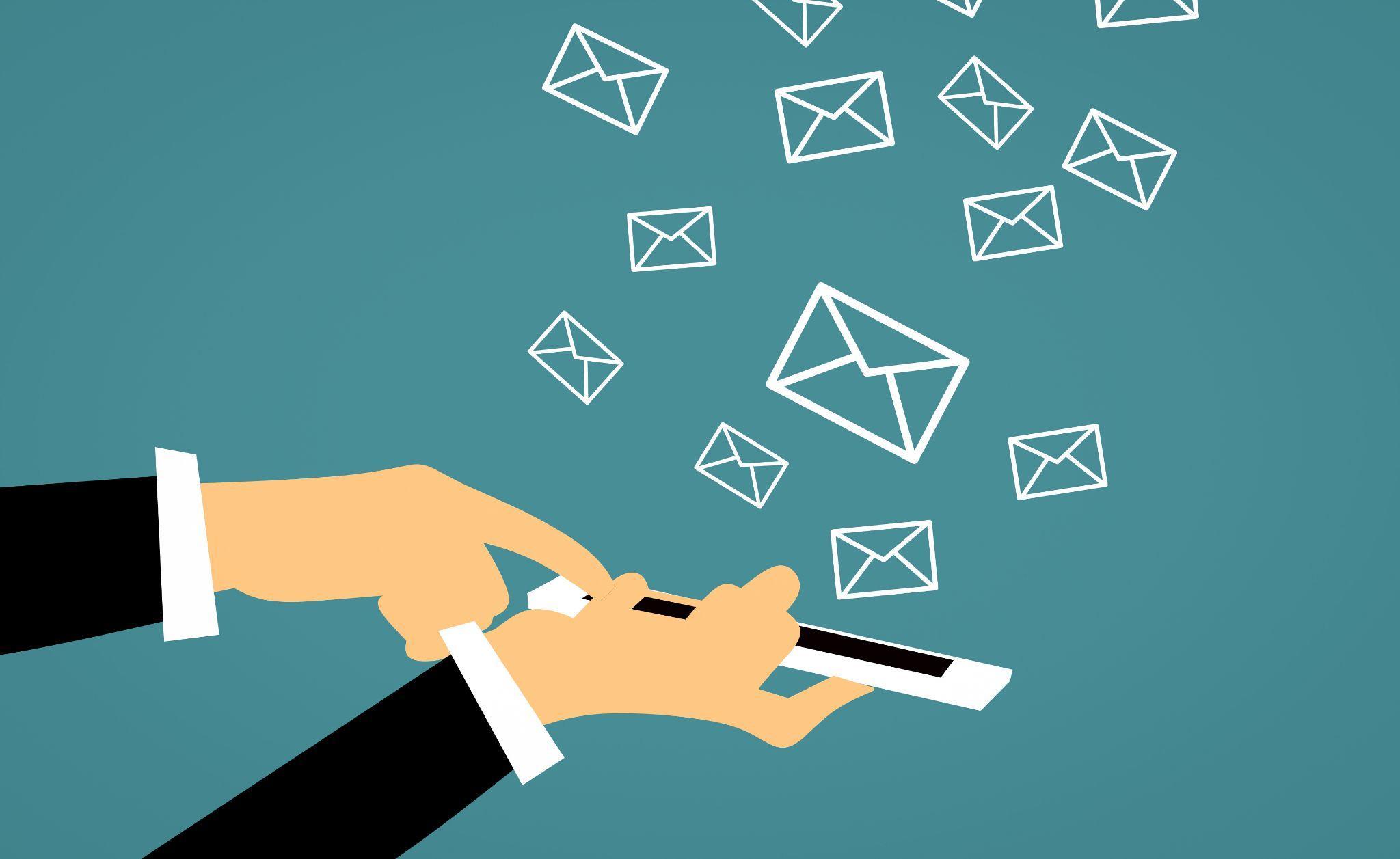 What is UTM.io?
UTM.io is one of the popular UTM builders that helps businesses to set up tracking on their links to measure the affectability of their campaigns. The platform allows users to collaborate with their team members to share, create, and sync their UTMs to eliminate confusion.
Moreover, the tool provides useful analytics to help you make informed decisions and maximize the results of your social media and email campaigns. It also helps enforce rules across team members to maintain a rich and consistent data flow for analytics. Hence, you can organize and track the performance of your UTM links on a single dashboard.
UTM.io has various templates for you to choose and customize to create custom parameters and build advanced UTM conventions. It is available as a Chrome extension to make it easy to use. You can check out its free version with a single workspace to see if it is the right tool. Its pricing starts at $69 per month for three workspaces.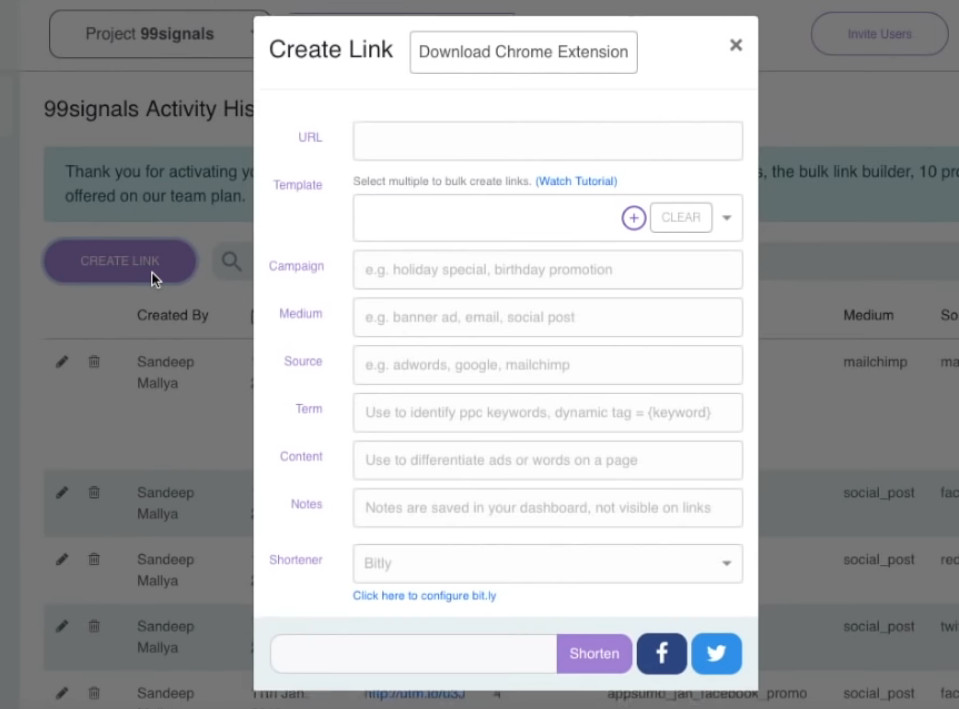 Source – UTM.io
Features of UTM.io
UTM.io has various benefits to help businesses make intelligent decisions and optimize their marketing campaigns according to their performance. Some of the main features include the following: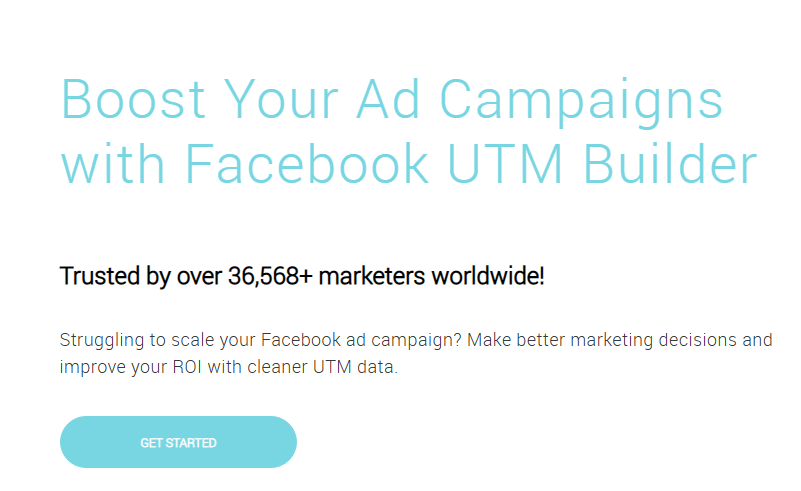 Source – UTM.io
Free Chrome Extension
UTM.io is a free Chrome extension to help you get set up and ready to go in a few minutes. You can easily track your marketing campaign's performance with a simple click. You'll also have access to other features to create and manage UTMs from the browser.
Custom UTM Templates
UTM.io offers a range of templates to help save time and effort and streamline your marketing processes. Moreover, it comes with a bulk UTM and link builder to create multiple UTMs and campaign links simultaneously. It helps to eliminate the chances of making mistakes as well. Hence, it helps to manage your digital marketing campaigns in an organized way. Additionally, it offers custom domains to help build trust.
Unlimited Team Members
One of the prominent features of UTM.io is that you can allow as many members as you want to manage your marketing campaigns. It helps enforce real-time collaboration to allow multiple users to work with the same template following a set of rules and parameters. Hence, it helps to ensure no inconsistencies and enables users to work efficiently and effectively.
Facebook UTM Builder
UTM.io's Facebook UTM builder is a great feature for marketers who run their ads on Meta and its subsidiaries. It is designed to boost Facebook ad campaigns and get a better ROI. The tools help standardize a consistent framework to track your ads in real time. You can also create consistent campaign links with the tool to save time and optimize your campaigns.
Efficient UTM Campaign Tracking
As mentioned earlier, UTM.io offers real-time tracking of marketing campaigns. It helps you understand which campaigns are working and which are not. Accordingly, you can use analytics to refine your marketing campaigns to ensure success and increase clickability. Moreover, UTM.io seamlessly integrates with existing analytics tools such as Amplitude, KissMetrics, and Google Analytics to produce detailed campaign data.
Pros and Cons of UTM.io
Apart from the various features, UTM.io has its fair share of pros and cons of using the tool. Here are a few prominent ones based on user reviews who use the tool for their businesses: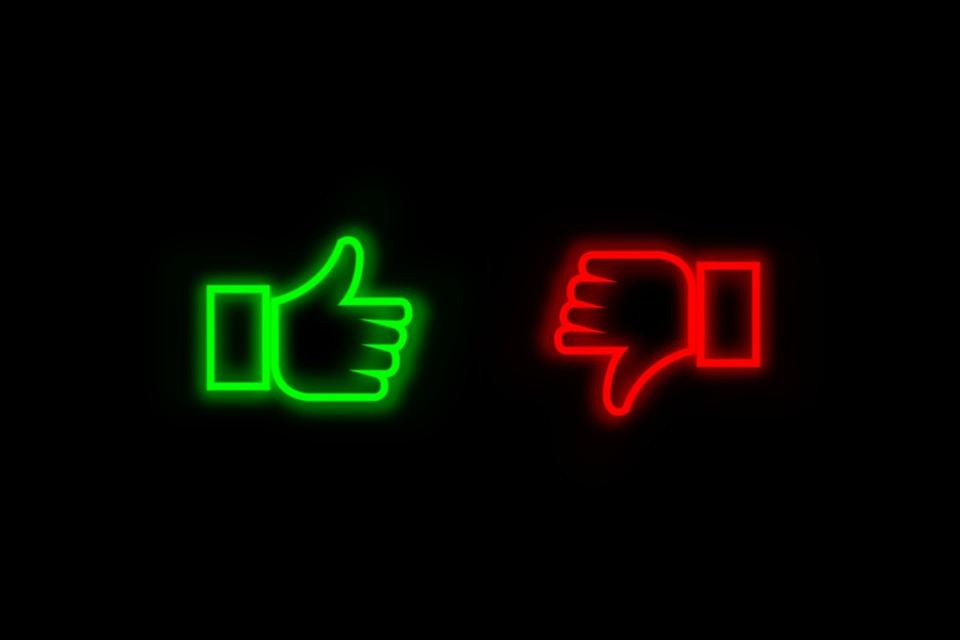 Pros
Easy to use:
As a Chrome extension, UTM.io is intuitive and designed in a way that is easy to use. You can track all the campaigns and conversions from the dashboard. Moreover, you'll have access to all the tools you need to ensure the success of your marketing campaigns.
Unlimited team members:
UTM.io allows unlimited members to use the tool and it allows one to manage the workflow and make it more efficient. It improves collaboration and ensures that all members work together to achieve marketing and business goals.
Efficient website tracking:
With its detailed real-time monitoring, businesses can get a clear insight into the performance of their campaigns and use analytics reports to optimize their future campaigns. It works for all digital marketing campaigns, including social media and email. It helps to identify which campaign is driving traffic and generating sales.
Cons
Bugs and performance:
Although UTM.io is reliable, a few bugs make the tool glitch from time to time. However, it is a minor issue as it does not potentially break the program but may create inconvenience or frustration for the users. In such cases, the support team comes in handy as they resolve most issues within a day.
Limited view space:
Some users have complained that they can only check up to ten links simultaneously due to the small view space. Hence, it becomes difficult for businesses to keep a quick tab on all their campaigns' performance. They have to keep scrolling if they are tracking multiple campaigns. Therefore, it becomes difficult, especially if businesses are working with large data. In such cases, an alternative is recommended with more robust capabilities.
Limited templates:
UTM.io has a limit of 10-20 templates that businesses can use for their campaigns. It has become a significant con as many users are unhappy with the limitations. It becomes difficult for them to manage their campaigns effectively, leading to data inconsistency and disorganization. Hence, most users consider alternatives if they cannot use the tool to its optimum potential.
Why Do You Need UTM.io Alternatives?
UTM.io has its fair share of limitations and may not be the right choice for everyone. Businesses have different needs and requirements that are not on par with their features and capabilities. The biggest drawback is the limited number of UTM templates it allows you to create. It isn't easy to track and measure all your campaigns, especially if you have a large business or organization.
Another issue with UTM.io is the lack of information on how to implement a custom domain. It can be a significant challenge for businesses or organizations that want to build customer trust. You need to get in touch with their customer support to learn how to use a custom domain. Hence, it can be time-consuming and difficult for those who are not familiar with the process.
Moreover, UTM.io does not have a consistent naming methodology. It can result in inconsistent data and make it difficult to analyze your campaigns properly. Therefore, you may need to look for UTM.io Alternatives if you need a more robust solution that offers better customization and control over your tracking and measurement.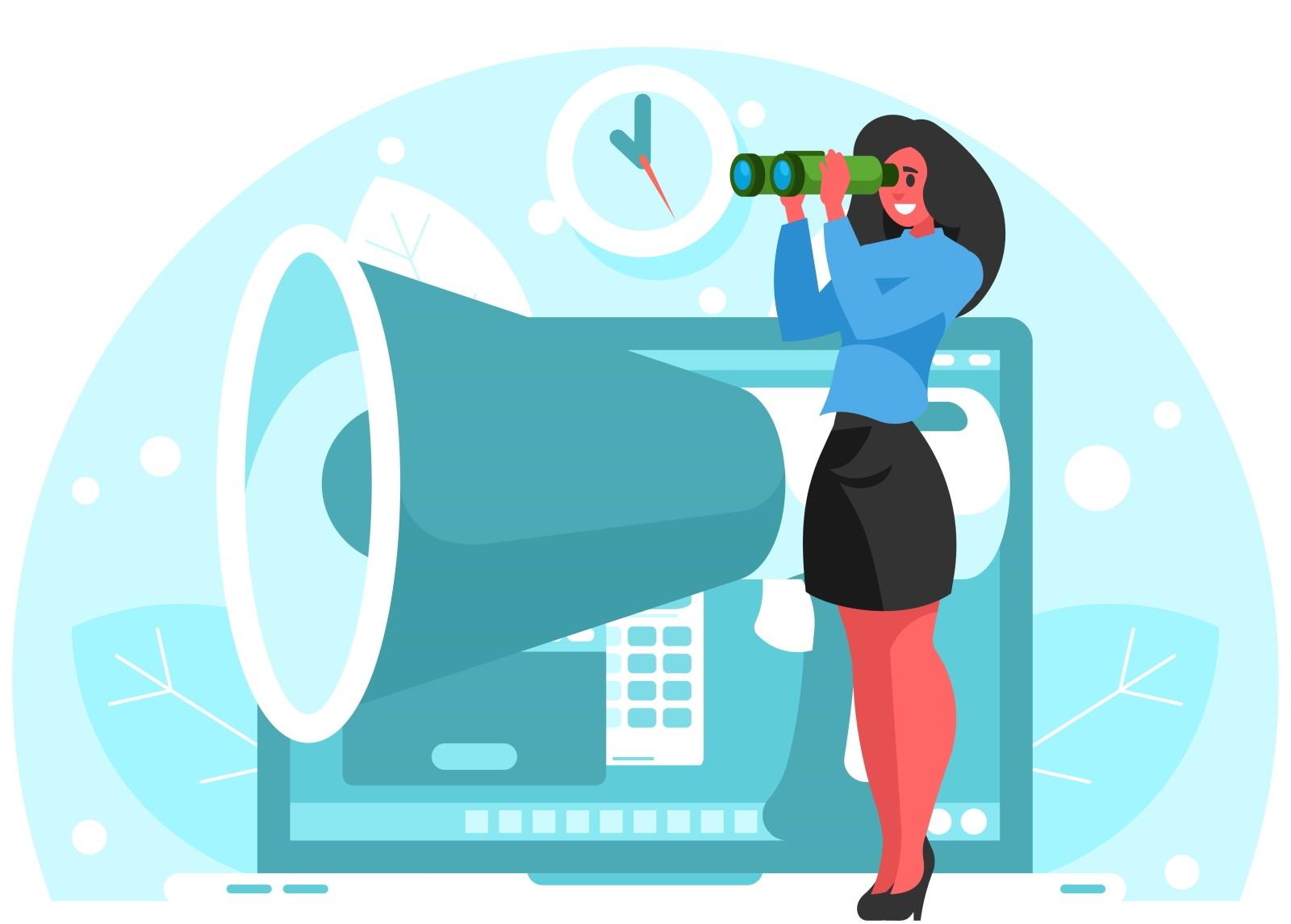 Top 5 UTM.io Alternatives
As mentioned earlier, different businesses have different requirements for tracking and managing their marketing campaigns. Hence, here is a list of the top 5 UTM.io Alternatives to explore:
1. Terminus App
Terminus App is an all-in-one UTM builder and link management platform to replace the messy spreadsheets used by businesses. It ensures a better control of your UTM strategy and marketing campaigns. It can handle complex CID (Adobe) and UTM (Google) requirements and enforce desired parameters such as lowercase, replacing spaces, validating URLs, and managing complex UTM conventions. Hence, it is the perfect solution for productive teams that need to enforce consistent naming methodologies for their UTM tracking.
Moreover, you can create multiple UTM codes and URLs to make tracking your campaigns more accessible and efficient. Like UTM.io, the tool works as a Chrome extension to add UTM codes in emails, making it convenient for businesses to enforce collaboration and improve the accuracy of UTM tracking.
Terminus App offers a 21-day free trial, with pricing starting at $24 per month.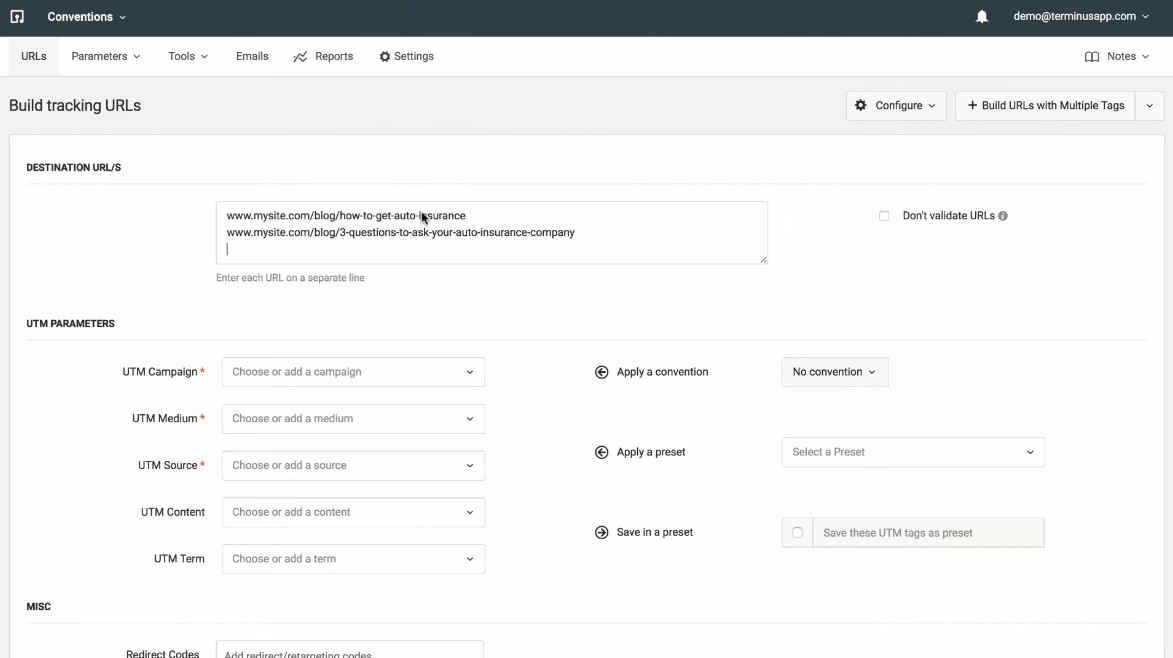 2. WeCanTrack
WeCanTrack is another alternative to UTM.io that offers a comprehensive conversion tracking and measurement platform. It provides real-time data collection and reporting to manage your campaigns on a single dashboard. Moreover, it integrates with popular platforms like Data Studio, BigQuery, Google Ads, and Facebook Ads to offer complete data consolidation and attribution solutions.
Additionally, users can evaluate various performances related to advertisers, networks, content, traffic source, and campaigns and generate transaction reports. You can start using the tool as it has a free version and a free 15-day trial. Its pricing starts at €59, and it is a convenient tool for small and large businesses.
3. Postaga
Postaga is an all-in-one outreach tool that helps website owners build quality links and get quality website traffic. One prominent feature is finding prospects' contact information, such as email addresses and social media profiles. You can use the tool to create and send personalized email campaigns and track their results in real time.
Subsequently, the platform offers AI-powered tools to generate effective outreach campaigns in a few minutes. They also help users to find the right businesses, websites, podcasters, and bloggers to connect with. It has different outreach campaign types to make it easier for businesses to reach out to their target audience effectively. Postaga offers a 14-day free trial, starting at $84 per month for five users.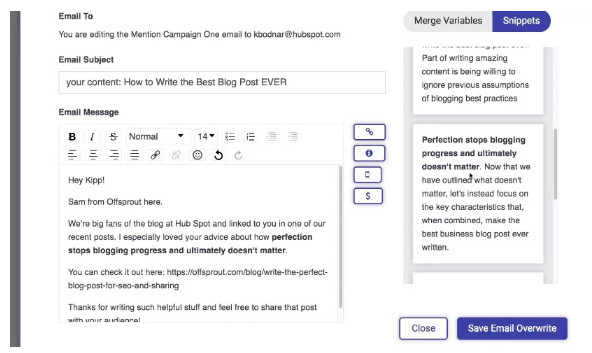 Source – Postaga
4. CampTag
CampTag is a customizable UTM builder platform to improve your real-time marketing tracking and attribution. It ensures data integrity and standardizes your marketing taxonomy when attributing ad return on investment (ROI) in popular analytics platforms like Adobe and Google Analytics. Also, it eliminates the need for complex spreadsheets and ETL processes by allowing you to create compatible names and UTMs.
Hence, it allows you to create standardized campaigns with just a few clicks to supercharge your analytics data, gain insights, and make better business decisions. CampTag also enforces collaboration between AdOps and analytics teams by defining constraints and rules to minimize errors in campaign tracking. It offers a 1-month free trial, and its pricing starts at $99 per month.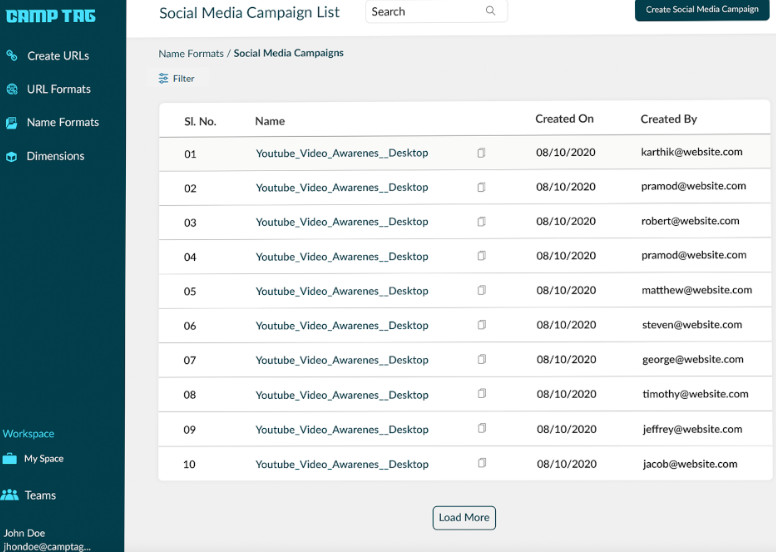 Source – CampTag
5. Dibz
Dibz is a comprehensive solution for digital marketers that is designed to simplify and streamline the processes of link-building and influencer outreach. It helps users to find potential link-building opportunities and grow their brand online. It saves time on prospecting and link scraping so businesses can focus on essential tasks. Therefore, it is an ideal tool for marketing agencies and SEO consultants.
Additionally, it comes with a custom spam algorithm to filter out spammers or irrelevant prospects from results while offering a complete breakdown of relevant metrics. The tool makes it easier for users to locate and capitalize on link-building opportunities with the help of intuitive data management. Dibz offers a free trial, and its pricing depends on the number of credits and features businesses require.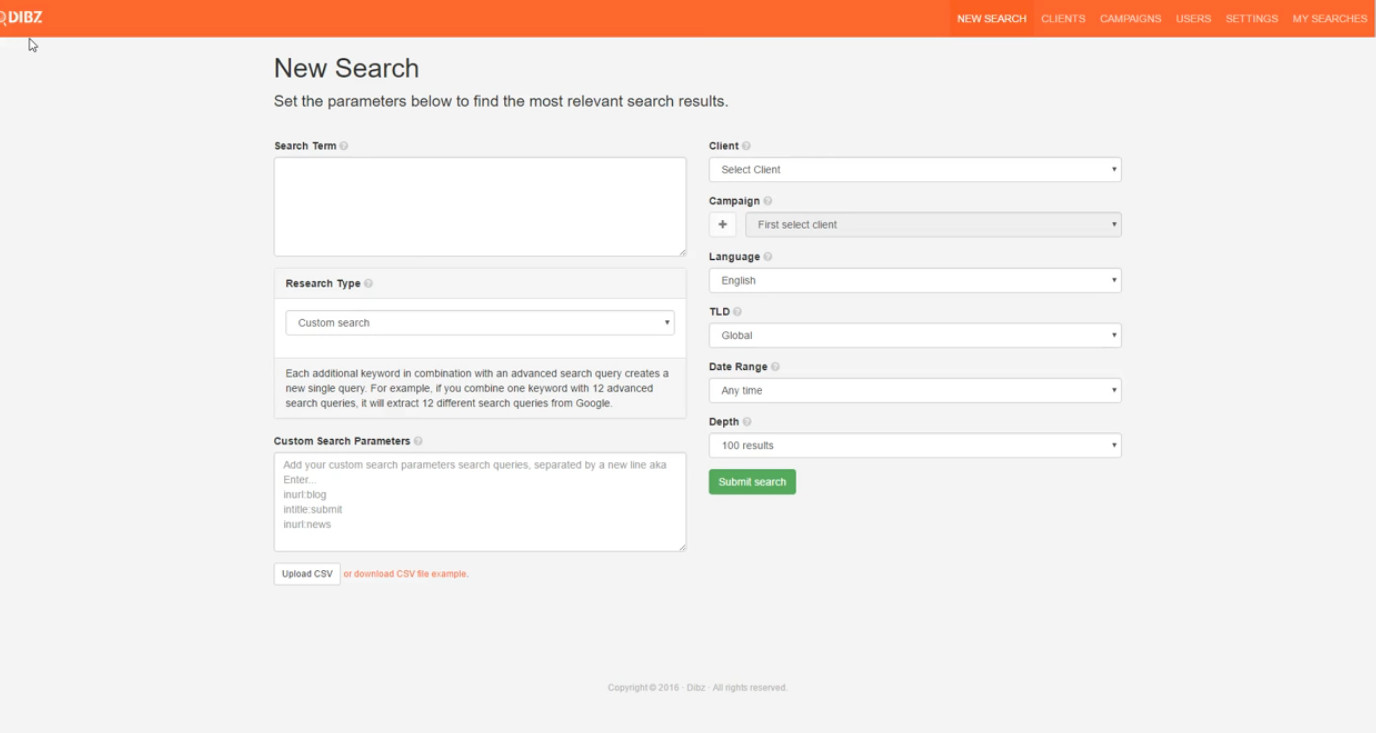 Source – Dibz
Why Is Terminus App the Best Alternative?
TerminusApp is an all-in-one UTM builder and link management platform that equips businesses with the comprehensive organization tools they need to succeed. It has carefully crafted URL-building tools to allow users to customize UTM parameters for their specific needs and requirements.
In addition, Terminus App includes URL validation and monitoring to ensure that your links are always working correctly. You can also use its color-coded labels to organize your URLs to make it easy to keep track of your campaigns. One of the prominent features of the Terminus App is its one-of-a-kind URL builder for emails.
It makes it easy to add UTM parameters to your email campaigns and track their success in real-time. The tool can also generate analytics reports to provide valuable insights into how your campaigns are performing. Lastly, Terminus App is an excellent pocket-friendly alternative despite its wealth of features. Hence, it is a great option for businesses working on a budget.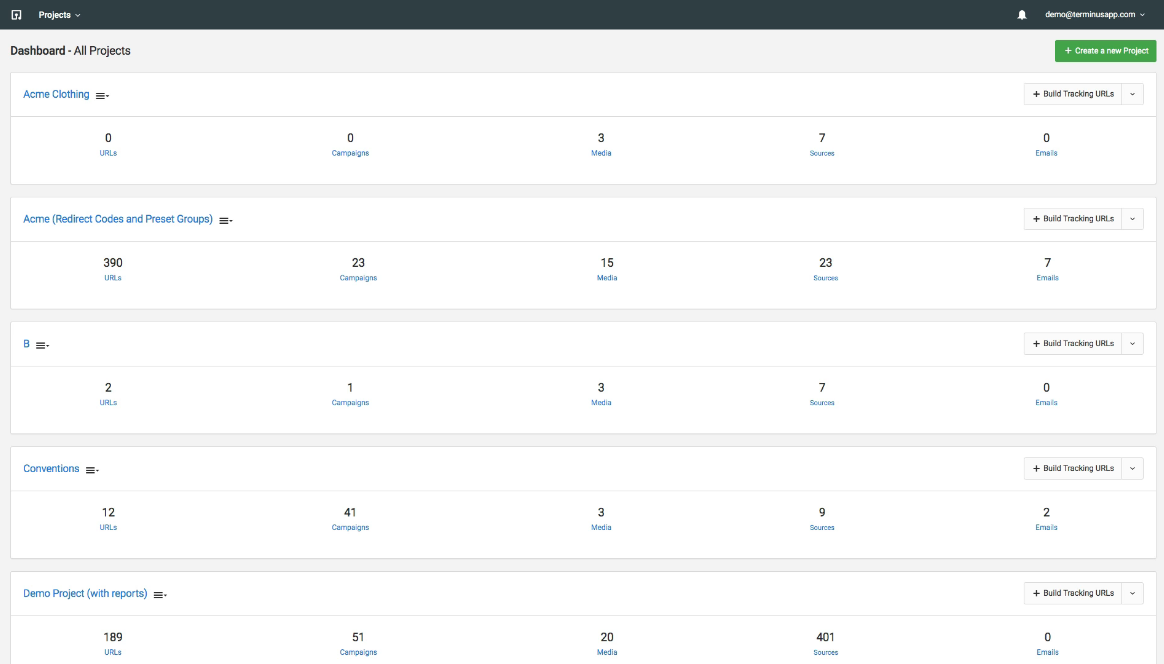 Conclusion
To summarize, UTM.io is a great tool, but it has its fair share of limitations and problems and may not be the right tool for many businesses. UTM.io may have some basic UTM tracking capabilities, but it is limited compared to its alternatives. On the other hand, Terminus App is a comprehensive and highly customizable solution for businesses looking to manage their UTM tracking codes and improve their campaign performance. It has various helpful features, including a URL builder for emails, analytics reports, color-coded labels for organizing URLs, and adding multiple sets of UTM parameters to a URL.
Therefore, Terminus App has everything a business needs to get the most out of its marketing campaigns. It allows companies to control their UTM naming conventions better, configure custom parameters, and quickly validate and monitor their URLs. Moreover, the tool offers a 21-day free trial, and pricing starts at $24 per month. Hence, it is a great, affordable, and effective amongst UTM.io Alternatives for businesses of all sizes.
Get started with Terminus
The quickest and easiest way to create UTM links in bulk while following your complex UTM strategy.
Sign Up Now