Are you struggling to track the effectiveness of your digital marketing campaigns? Do you want to improve your understanding of user behavior on your website? If so, you will need UTM parameters.
UTM parameters are tags that you can add to the end of a URL, allowing you to track the performance of your marketing campaigns and identify which channels are driving the most traffic to your website.
In this blog post, we will discuss the UTM parameters available in Google Analytics 4 and their dimensions, including the UTM marketing tactic.
By the end of this post, you will have a solid understanding of UTM parameters and how they can help in effectively tracking campaigns.
What is UTM?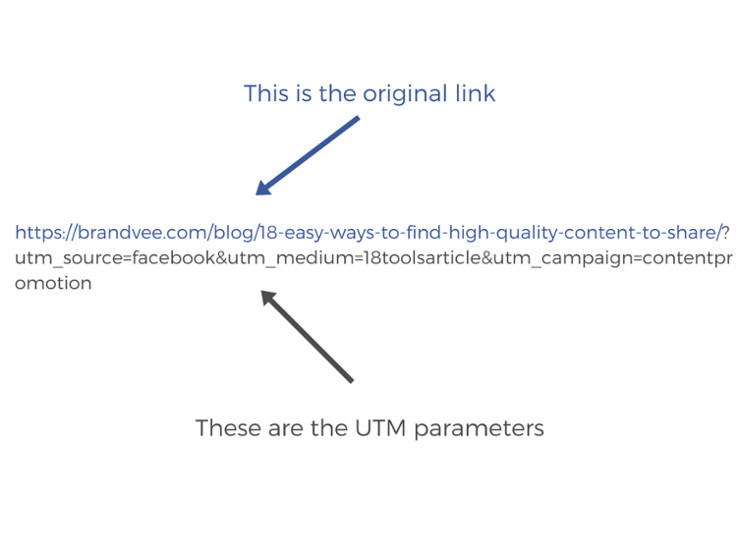 UTM stands for "Urchin Tracking Module" and is a way to add tags to your links that tell you important information about where visitors are coming from and what they're doing on your site.
This can help you determine which marketing campaigns are effective and which need improvement. Using UTM codes lets you get valuable insights into your website traffic and make informed decisions to improve your online presence.
UTM tags or parameters can be broadly classified into two-
Standard Parameters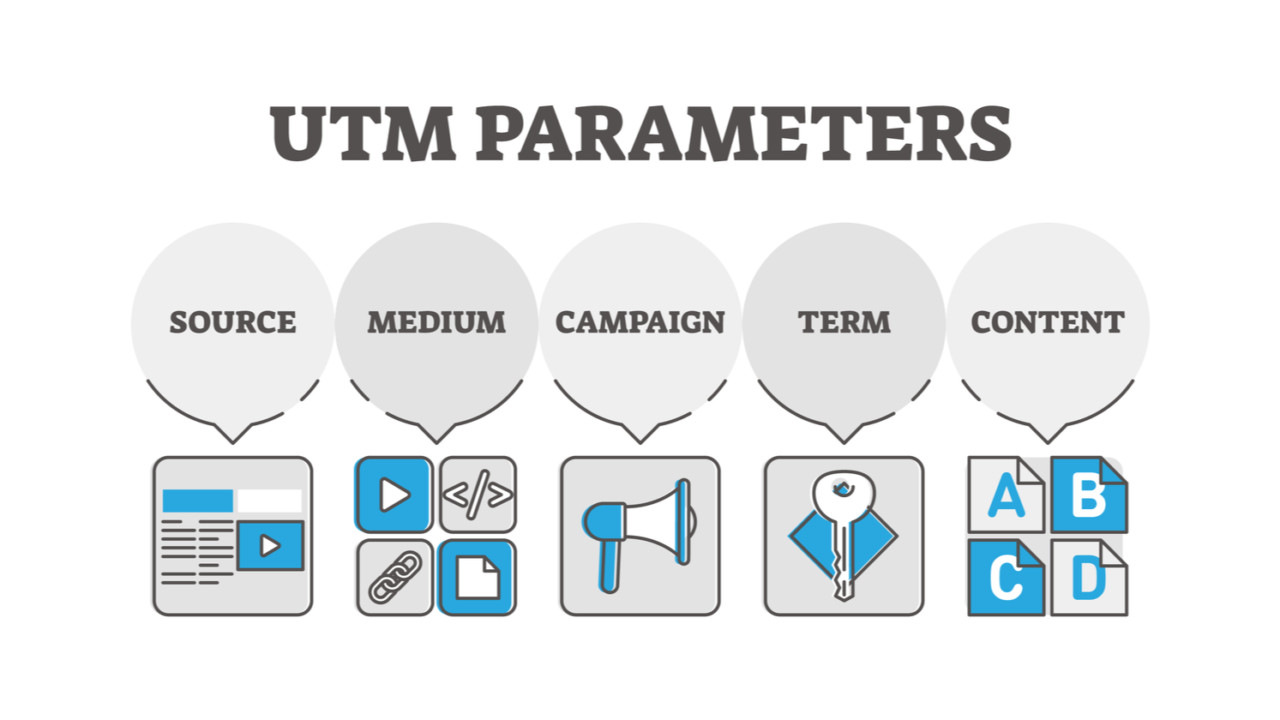 Standard UTM parameters are pre-defined tags used to track website traffic and measure the effectiveness of your marketing campaigns. There are five standard parameters (listed below with their dimensions) that can be added to your URLs:
utm_source: It identifies your traffic source, such as a search engine or another website.

Source
First User Source
Session Source

utm_medium: It identifies the medium through which your link was shared, such as email, social media, or cost-per-click (CPC) advertising.

Medium
First User Medium
Session Medium

utm_campaign: It identifies the specific marketing campaign associated with a link, such as a summer sale or product launch.

Campaign
First User Campaign
Session Campaign

utm_term: It identifies the keyword or phrase used in a paid search campaign.

Manual term
Session term
First User term

utm_content: It identifies the specific content within a campaign, such as a banner ad or a text link.

Manual ad content
Session manual ad content
First user manual ad content
Custom Parameters

On the other hand, custom parameters are additional tags that can be added to a URL to capture more specific information about your website traffic. These parameters are not pre-defined and can be customized based on your specific tracking needs.
For example,
utm_source_platform: Determines the platform on which the marketing activity was performed.

Source platform
Session source platform
First user source platform

utm_marketing_tactic: Identifies the tactic used like customer onboarding or retention.

Marketing tactic
Session Marketing tactic
First User Marketing tactic

utm_creative_format: Identifies the creative used for example skyscraper.

Creative format
Session creative format
First User creative format
You can create custom parameters to track user behavior on your website, such as the type of device used or the specific product viewed.
Custom parameters can help you gain a deeper understanding of your website visitors and their behavior and can be used to improve the effectiveness of your marketing campaigns.
Now, What is UTM Marketing Tactic?
UTM marketing tactic (utm_marketing_tactic) is a custom parameter that helps you track and measure the effectiveness of your marketing campaigns.
It allows you to identify the specific tactic used in your campaigns such as remarketing, prospecting, email marketing, or social media advertising.
Adding the UTM marketing tactic parameter to your URLs lets you easily track which tactics generate the most traffic, engagement, and conversions on your website.
This information is crucial for optimizing your marketing strategies and allocating your budget effectively.
Suppose you're running multiple ad campaigns on Facebook. You can use the UTM marketing tactic parameter to differentiate between each campaign's tactics, such as "remarketing" or "prospecting."
This allows you to track which tactic or method drives the most traffic and which results in more conversions.
Traffic- Source Dimensions and Scope of UTM Marketing Tactic
Traffic-source dimensions of any UTM parameter reveal the origin of your traffic (source), how users find your site/app (medium), and the marketing efforts driving that traffic (campaign, creative format, keywords).
These dimensions can have different scopes. "Session" scope dimensions refer to the session being evaluated, while "user" scope dimensions describe the person performing the action.
Let us discuss the dimensions of utm_marketing_tactic. Each dimension provides unique information about how users interact with your marketing efforts.
By analyzing these custom dimensions, you can gain valuable insights into the performance of your marketing efforts and optimize your campaigns for maximum effectiveness.
Marketing tactic
Marketing Tactic describes the overall approach or strategy you are using to attract and convert customers.
This includes different methods like email marketing, social media advertising, or content marketing. You can identify the most effective at driving traffic and conversions by tracking the performance of different marketing tactics.
Session Marketing tactic
Session Marketing Tactic refers to the specific tactic that led a user to visit your site/app during a particular session. It helps you understand which campaign or channel was most effective in driving traffic and engagement during a particular session.
Let's say a user clicked on a Facebook ad to arrive at your site. Then the Session Marketing Tactic would be a "Facebook ad". This information can help you understand which specific tactics are most effective at driving traffic and conversions in the short term.
First User Marketing tactic
First User Marketing Tactic refers to the first marketing tactic that brought a user to your site/app.
Even if a user later returns to your site from a different source, the First Source Marketing Tactic will always reflect the original source. This information can help you understand the long-term impact of other marketing tactics and how they contribute to overall customer acquisition.
How can you create a Custom UTM Marketing tactic Dimension in GA4?
Here are the steps to follow to create a custom dimension in GA4-
Sign in to Google Analytics.
On the bottom-left corner where you see the 'Settings' icon, click on 'Admin'.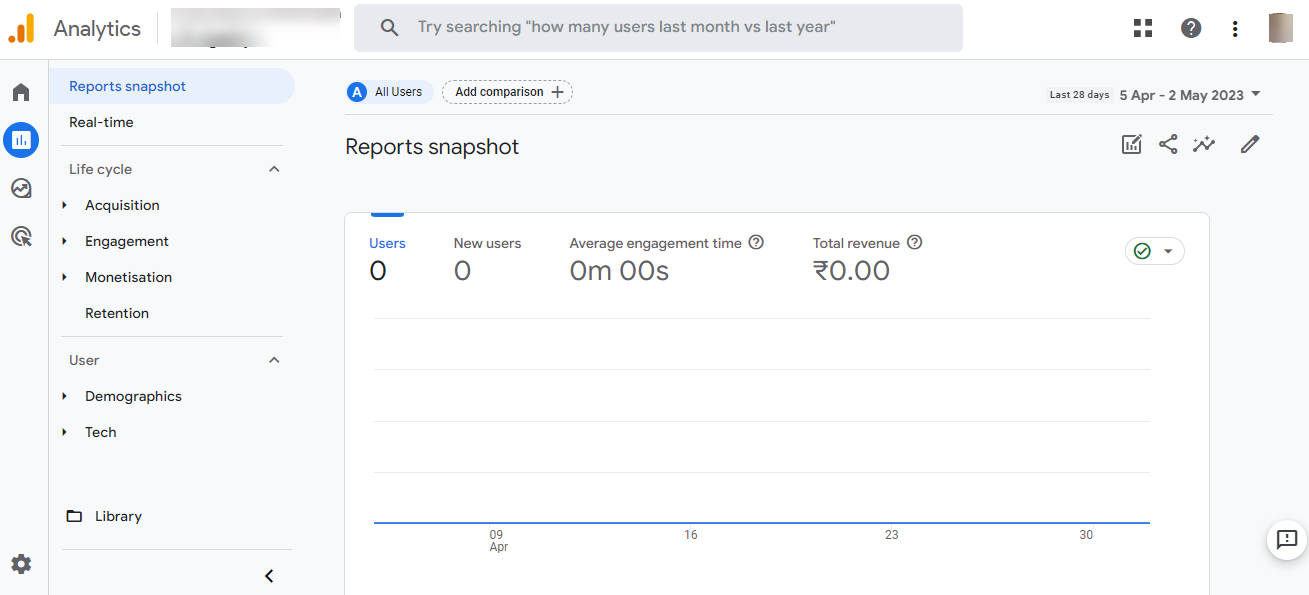 Now in the 'Property' section, look for 'Custom Definitions.'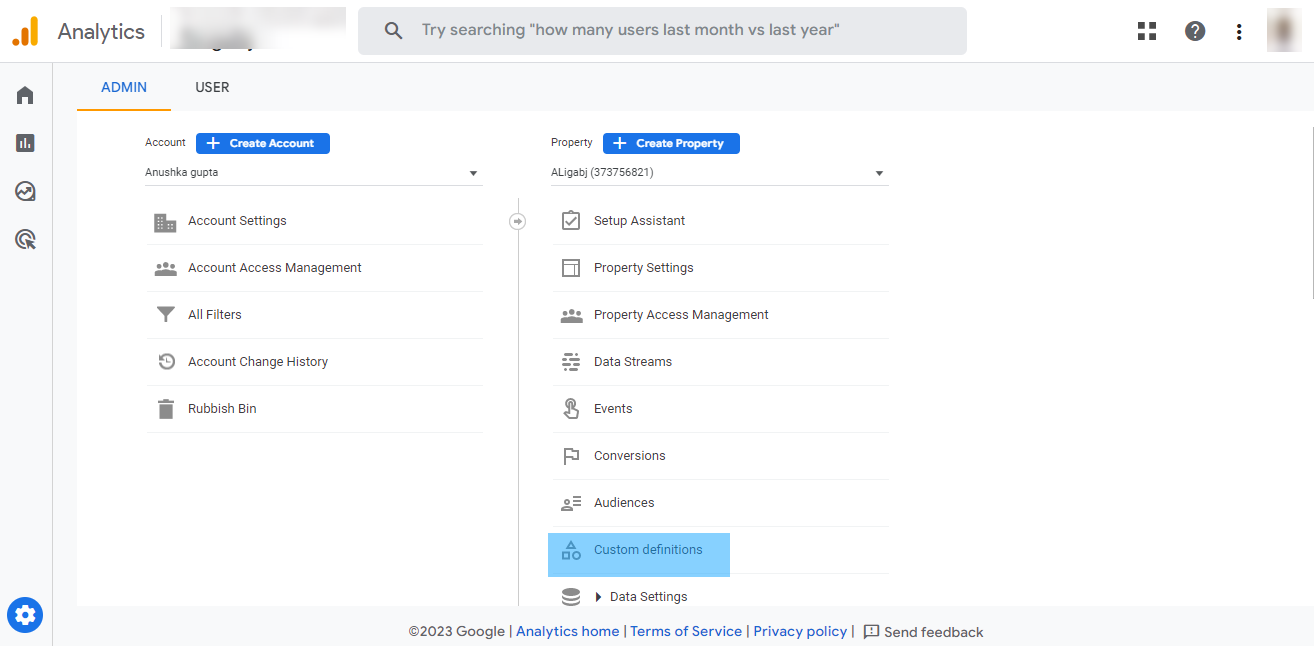 Click on 'Create Custom Dimensions.'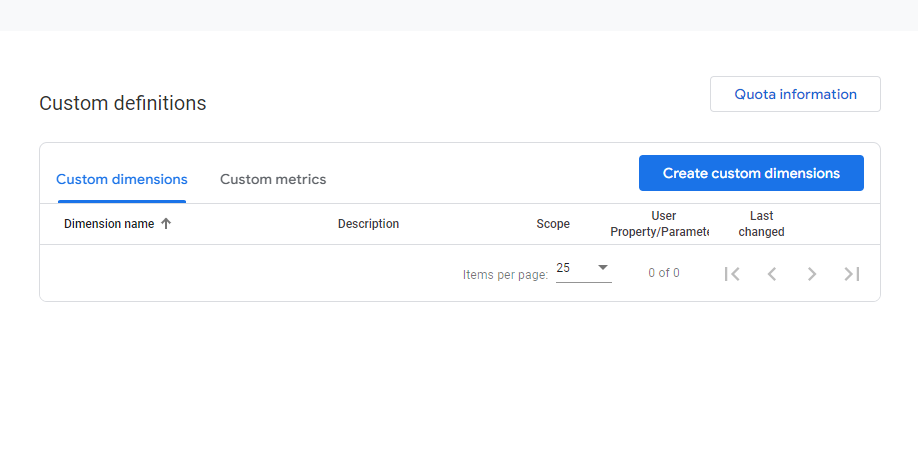 Fill in the details- dimension name as 'utm_marketing_tactic', Scope, Description (optional) and event parameter.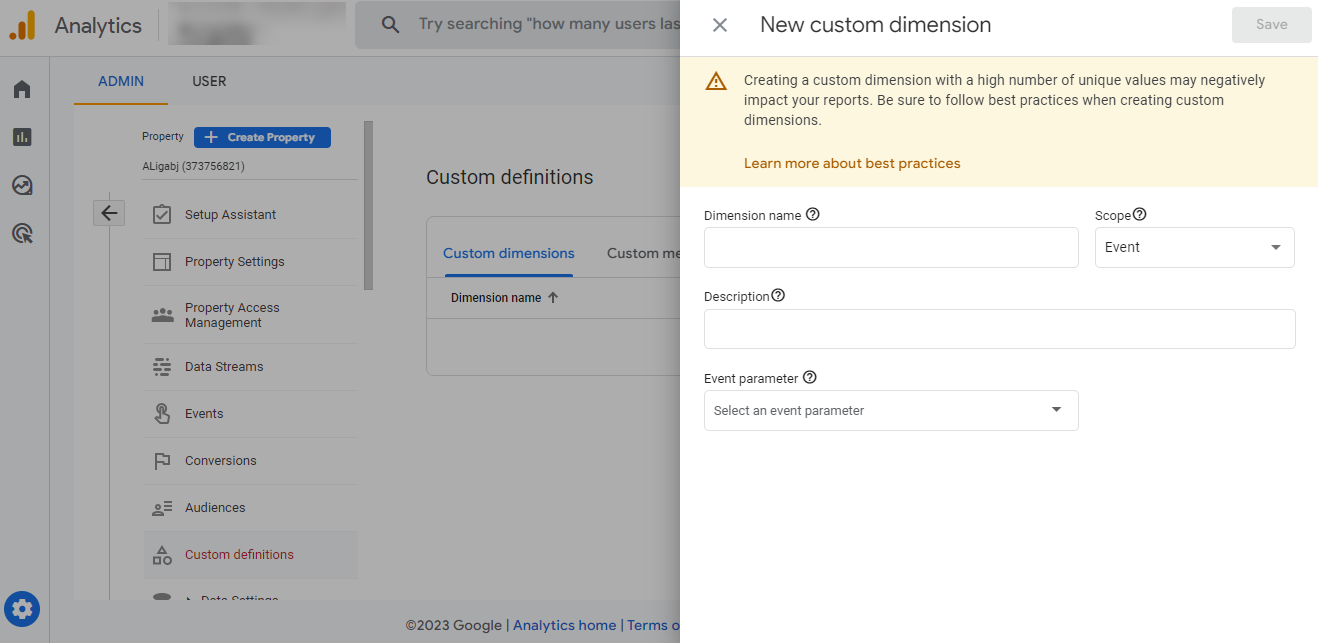 Click 'Save' and you're done!
Once you've created your custom dimension, you need to track them to collect data which will help track your marketing campaigns.
This can include tracking affiliate performance, identifying how different ads perform based on geo-locations, and comparing the performance of two or more agencies.
How to track your Custom Dimensions?
You can track your dimensions by collecting traffic-source data. You have two options to collect traffic-source data in Google Analytics: manual tagging and auto-tagging.
Regardless of your tagging method, the parameters and their values will appear as dimensions and dimension values in your reports and explorations.
This enables you to analyze your traffic sources and campaigns and identify areas for improvement. These dimensions and values can also be used to create audience segments for more targeted marketing efforts.
Manual tagging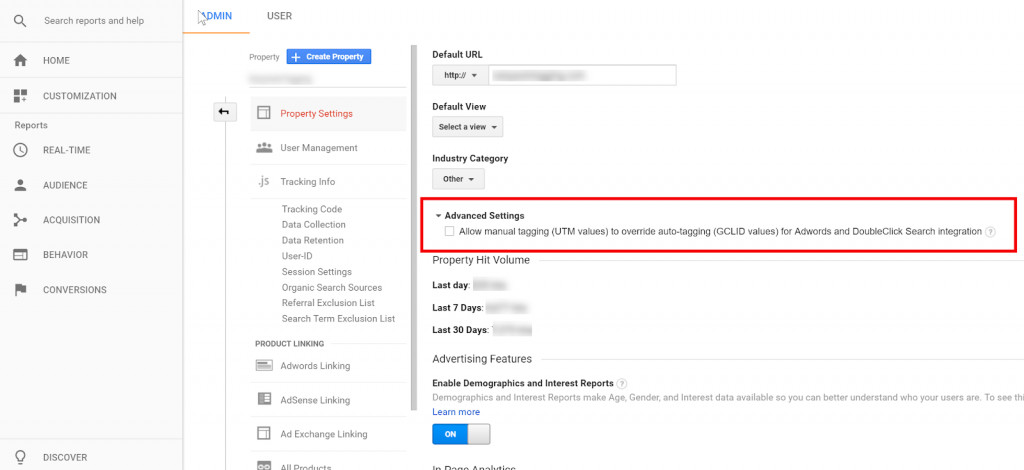 With manual tagging, you need to add specific parameters to your destination URLs to identify the traffic's source, medium, campaign, and other details. This process requires more effort but gives you greater control over the data.
Auto tagging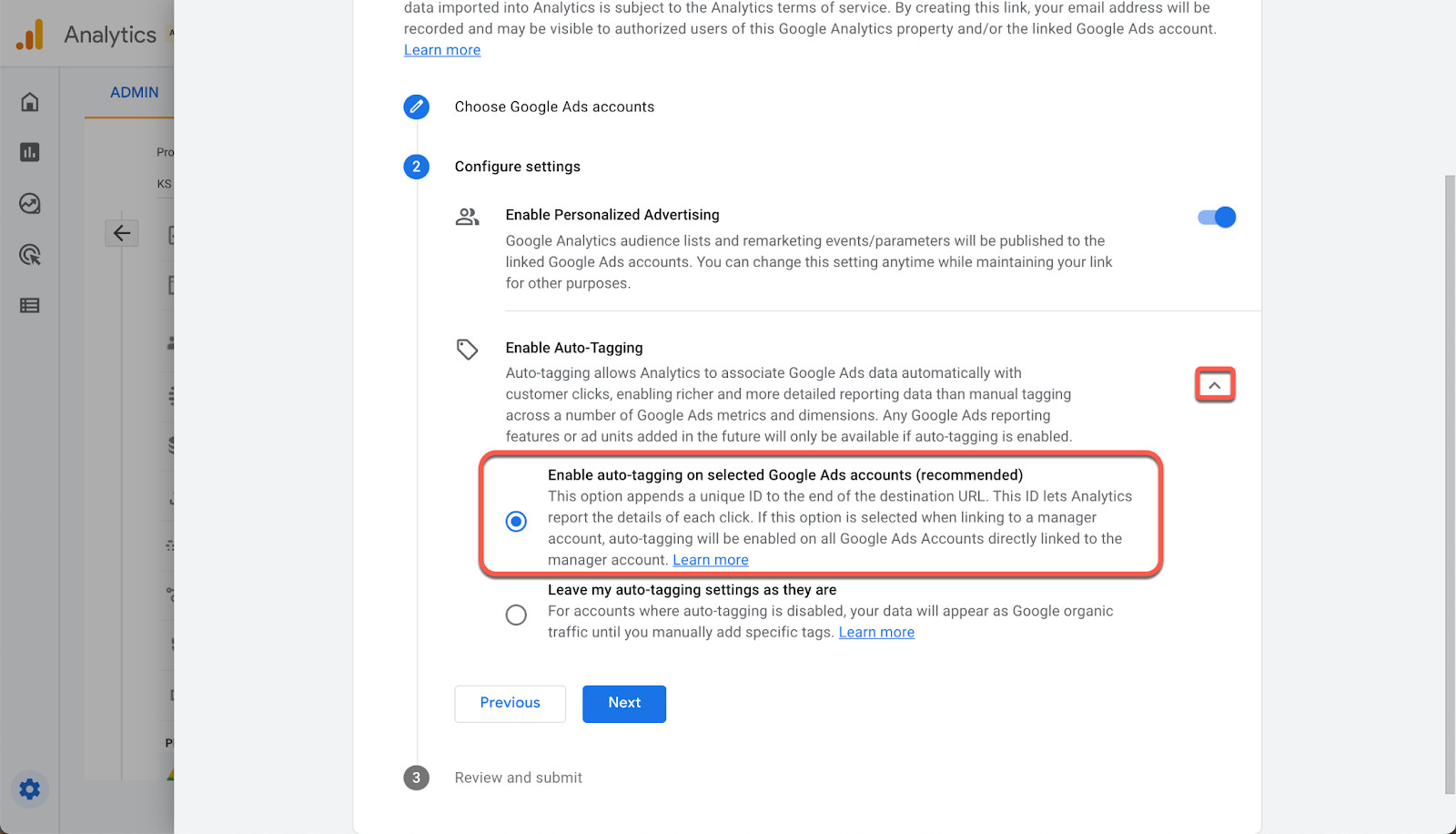 On the other hand, with auto-tagging, the parameters are automatically added to your URLs through integrations between Analytics and your ad platforms, such as Google Ads. This makes the process easier and more efficient, especially when dealing with large volumes of data.
Is Google Analytics the Only Platform Available for Custom UTM Parameters Tracking?
No! There are other platforms that offer UTM tracking, such as TerminusApp. It offers custom UTM parameter builders with additional features like UTM templates, bulk URL generation, UTM link management and more.
TerminusApp is a comprehensive UTM management tool that provides customizable UTM templates, analytics, and the ability to create and track URLs in bulk.
It also allows you to manage and organize all your UTM links in one place, making it easy to keep track of your campaigns and measure their success.
Using a reliable UTM builder like TerminusApp, you can simplify your UTM creation process, ensure consistent campaign tracking, and gain valuable insights into your marketing efforts. So let's have a look at TerminusApp!
The Best UTM Builder- TerminusApp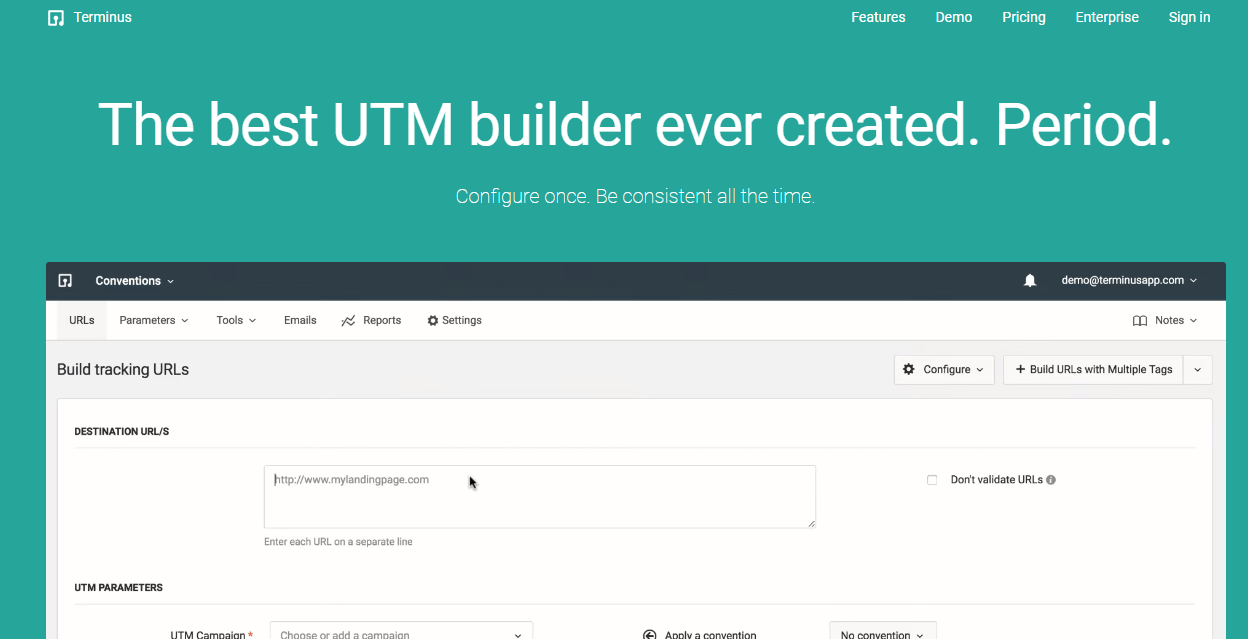 TerminusApp is a reliable UTM builder that allows you to create custom UTM parameters for your marketing campaigns. With its user-friendly interface, you can easily build and track your UTM parameters to gain valuable insights into the effectiveness of your campaigns.
Unlike Google Analytics, TerminusApp focuses specifically on UTM building, making it a specialized tool for UTM tracking.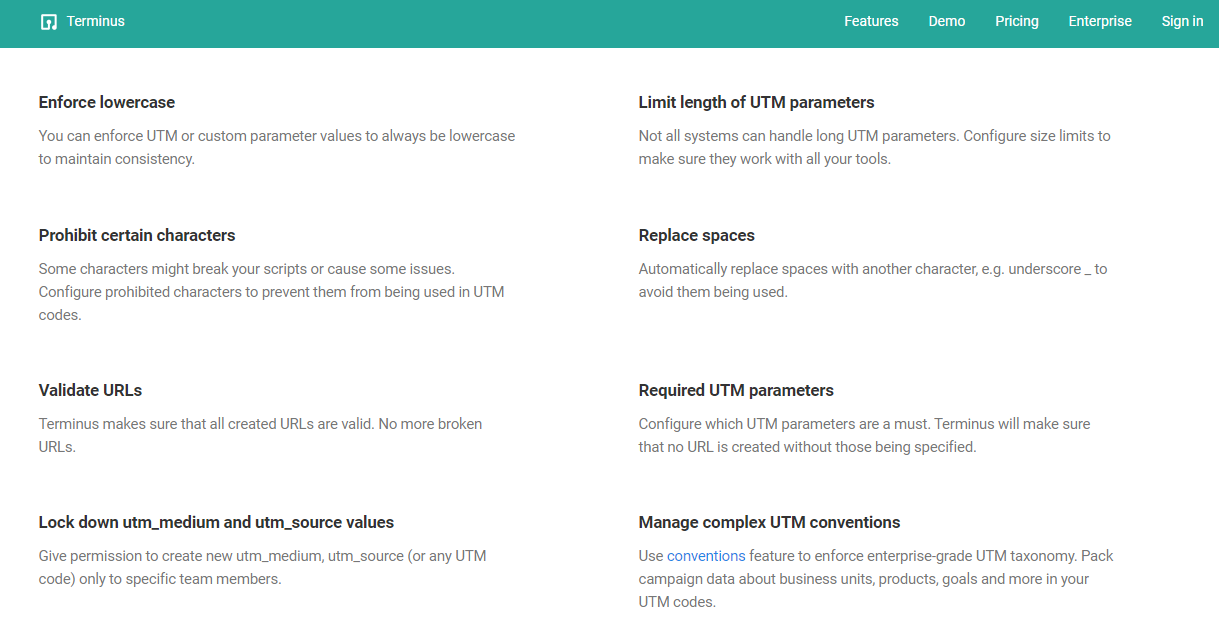 TerminusApp offers a range of features, including custom URL creation, automatic link shortening, and UTM parameter suggestions based on your marketing goals.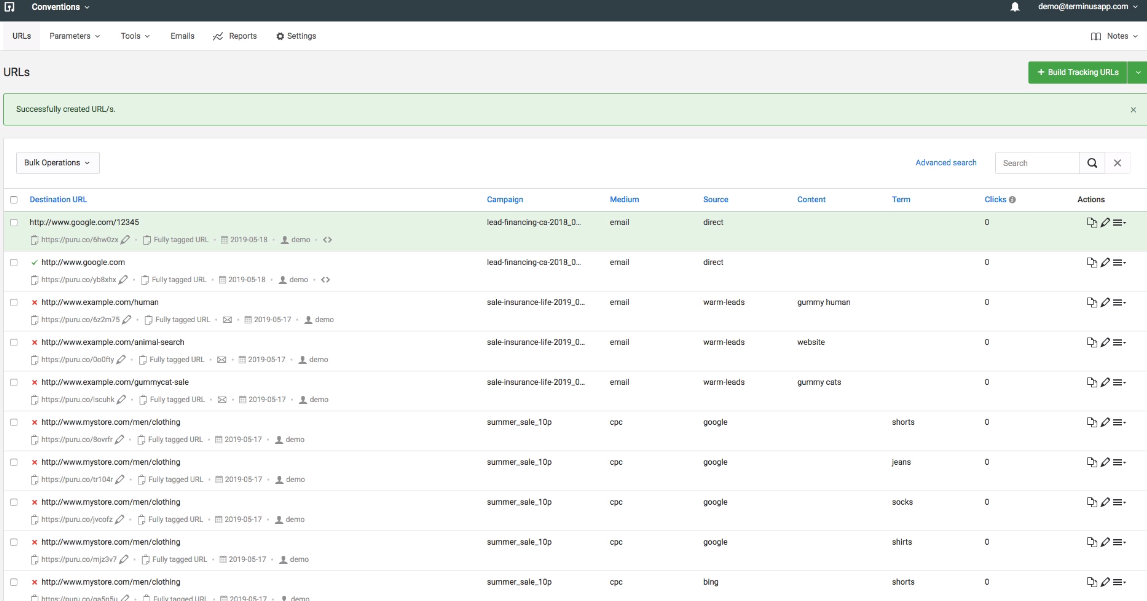 It also offers a comprehensive dashboard to view and analyze your UTM data to optimize your marketing strategies. TerminusApp allows you to collaborate with team members to manage and track UTM parameters across multiple campaigns.
How to Build Custom URLs with TerminusApp
Once you've signed up, open TerminusApp and select 'build tracking URLs' on your desktop.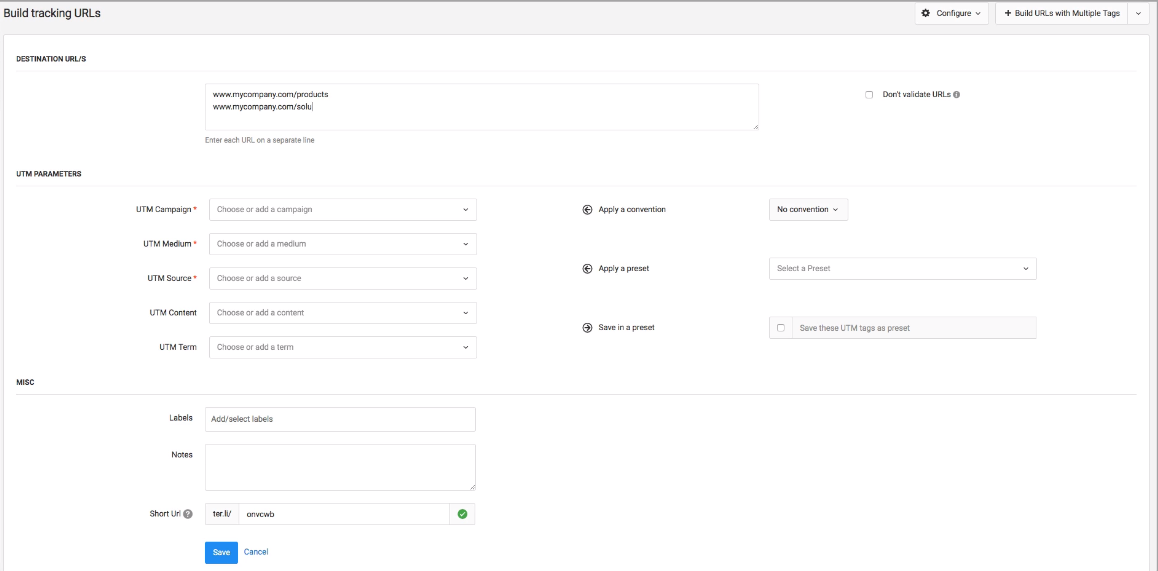 Enter your destination URLs
Apply UTM parameters or select a pre-existing one.
(You can even save these settings in a preset if you want to use them again)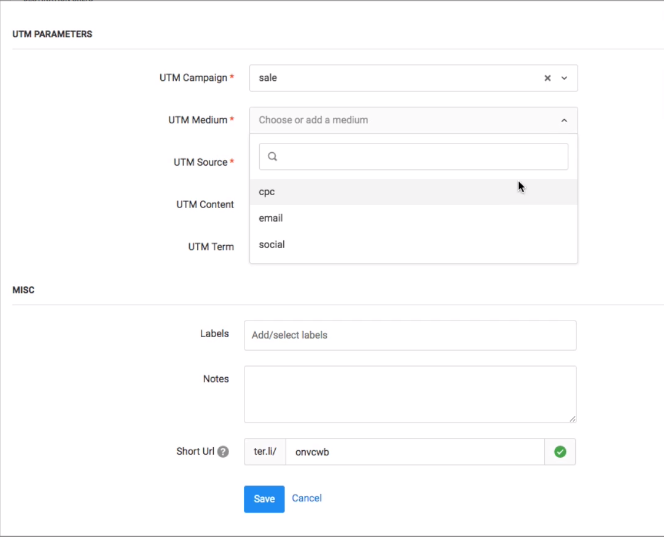 Use 'conventions' for specific cases.
Once you select the convention, you can configure the UTM campaign accordingly.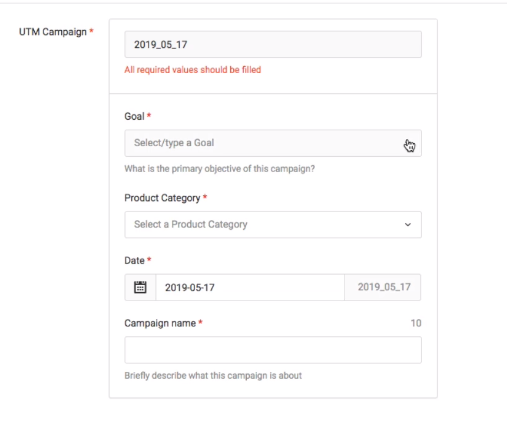 Add 'labels' and 'notes' if needed.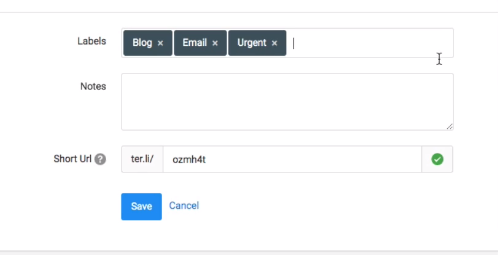 Click save and voila! Your custom URLs are now ready. You can copy your short URL, or fully tagged link, as desired.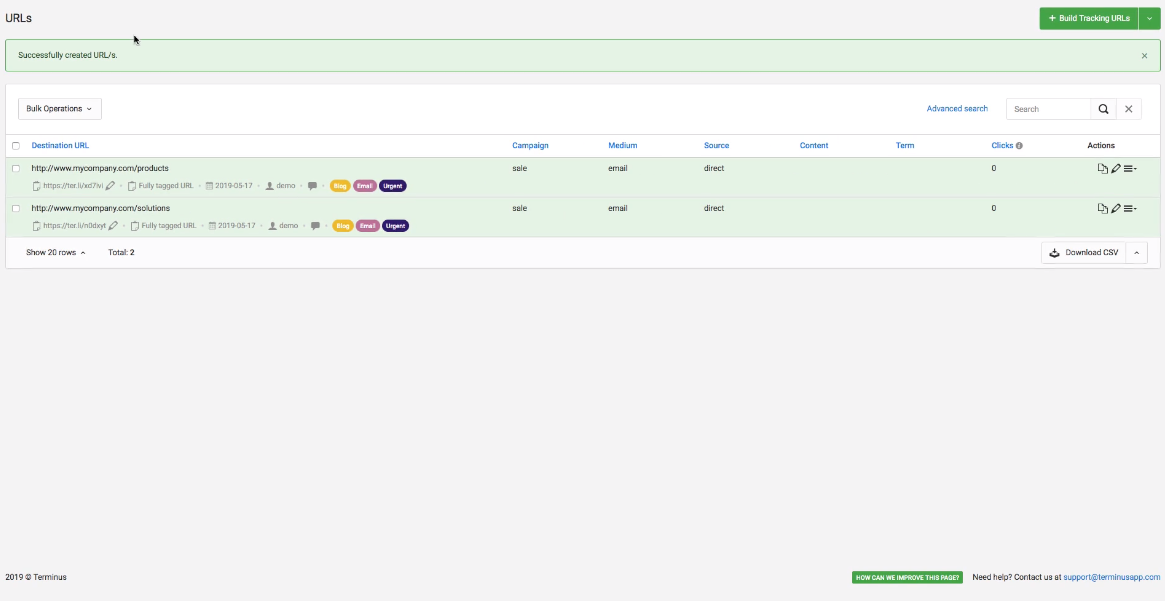 You can even create multiple URLs with different tags.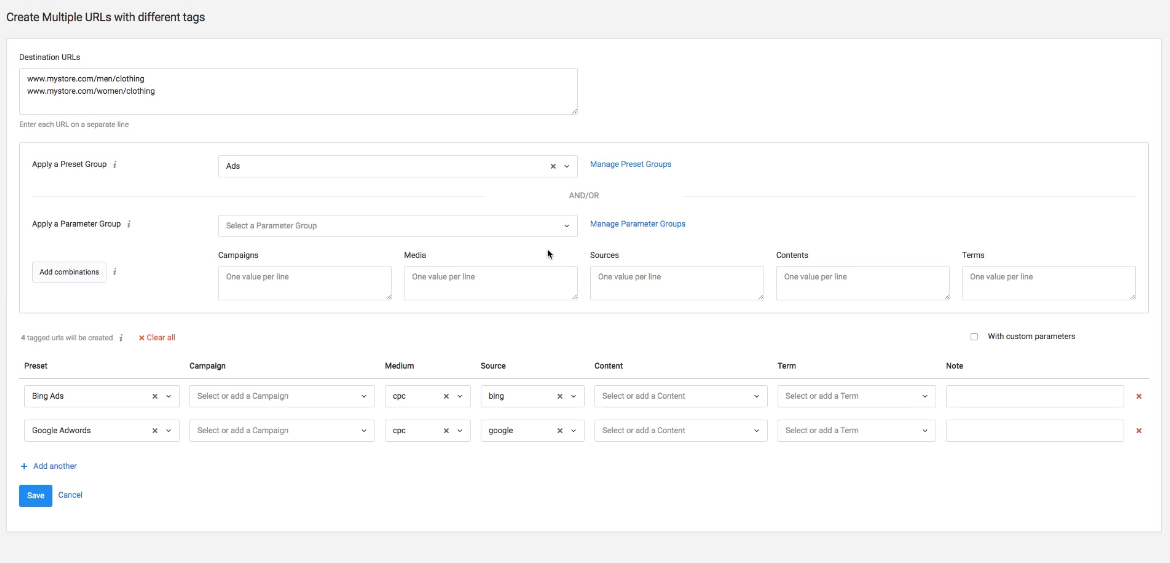 TerminusApp Pricing
Personal

Professional

Business

Enterprise

$29/ month or

$24/ month (billed annually)

1 User

1 Project

1 Custom Domain

UTM Rules

Presets

Labels

Notes

Custom Parameters

Multi-tag UTM Builder

Auto-Shortening

Click Reports

Fine-grained User Permissions

Auditing Tools

Chrome Extension

$79/ month or

$66/ month (billed annually)

3 Users

5 Projects

2 Custom Domains

Everything in Personal, plus:

Custom Domain SSL

URL Monitoring

Redirect Codes

Bulk Operations

$199/ month or

$166/ month (billed annually)

5 Users

10 Projects

3 Custom Domains

Everything in Professional, plus:

Bulk URL Cloning

QR Codes

Conventions

Grid Mode URL Builder

Email Builder

Auto-generated Tracking IDs

Adobe/GA Classifications

API Access

$499/ month or

$466/ month (billed annually)

15 Users

30 Projects

5 Custom Domains

Everything in Business, plus:

Single Sign-on

Invoice Billing

Signed Agreement
You can choose to pay annually and get 2 months free. Have a question about customized requirements? Get in touch with our team to tailor plans according to your needs.
Conclusion
UTM marketing tactic is a powerful parameter for tracking the effectiveness of your marketing campaigns and improving conversions.
With the latest version of Google Analytics, GA4, you can access advanced features that make tracking and analyzing your UTM parameters more effortless.
However, building custom UTM parameters can be time-consuming, especially if you have multiple campaigns to track. That's where TerminusApp comes in.
Its intuitive interface and powerful tracking capabilities make it ideal for managing your UTM parameters and maximizing your marketing efforts. So if you're serious about tracking your marketing ROI and email campaigns to social media ads, Try TerminusApp today.