Informed decisions are the backbone of a successful marketing campaign. Data regarding your customer's behavior through website traffic is essential in helping you understand where you can improve and adjust your campaigns.
Tools like Google Analytics (GA4) are important to understand what you're doing right and where your efforts can be streamlined further. You can access this information with the help of UTM tags.
But what do we mean by UTM tags? Are you using them correctly? And can you use UTM tagging to understand your audience better?
Read this article to answer these questions and gain a deeper insight into your marketing endeavors for better ROI!
What are UTM Tags/Parameters?
UTM is short for Urchin Tracking Module, a tracking software developed by Google after they acquired Urchin in 2005 to create what we now know as Google Analytics.
UTM tags are stubborn snippets at the end of an URL that lets you track your customers' behavior on your website. These tags relay information like the platform your audience accessed your site from, campaign link, and content to an analytics tool like Google Analytics.
For example, this is what a site with UTM tags would look like:
www.yoursite.com/page?utm_medium=social&utm_source=instagram&utm_campaign=fall-sale-2023
The additions after the "?" are UTM tags. These tags help you understand where your traffic is coming from. The personalized link states the platform your potential customer came from, how they reached your website, and what campaign it falls under.
But UTM tags can do much more than that. Let's dive deeper to find out how.
Different Types of UTM Parameters and How They Work
When we talk about UTM tags, there are two parts that we refer to collectively: UTM parameter and tracking variable. These are written following the UTM convention, which dictates the guidelines for strong UTM tags.
Understanding these terms is key to using UTM tagging to understand your audience.
The tracking variable refers to the specific component in the analytics to be tracked. Our focus is on the UTM parameter.
5 kinds of parameters are widely used in GA4:
Campaign parameter answers the "Why" your customer has landed on your website. The tracking variables for this parameter are given the name of the marketing efforts, such as launch, sale, free-trial, etc., for easier identification.
This tag can help track and record website visitors if their browsers do not generate a Referrer URL.
Medium parameter refers to the type of traffic and marketing channel from which the website visitor came. For example, "?utm_medium=email" means your customer found your website through an email.
Similarly, "Organic" refers to unpaid traffic from search engine results, "cpc" (Cost Per Click) is for paid traffic, "referral" for when you have been linked from a different website, "video" for video links, "display" from display ads like images, GIFs, etc.
The "none" variable is used when the traffic is unknown. It is also used when the user manually inputs your site's URL or accesses it through a bookmark.
Source parameter records where your traffic is coming from. While this might sound similar to the medium parameter, source parameters specifically tell you the platform your website is being referred from. Medium parameters show you the marketing channel.
The source parameter can be search engines (Google, Bing, Yahoo), social media sites (Facebook, Instagram, Twitter), or paid posts and ads.
Like the "none" medium parameter, if the source of traffic is unknown or not recorded correctly, it becomes a "Direct" source which makes it direct traffic."Direct" sources can show up if people type out your URL directly or use a bookmark too.
The above 3 UTM parameters were the original part of Google Analytics. It is with GA4 that "term" and "content" were added for tracking clicks from paid advertisements.
Term parameter is used in the Google AdWords campaign to track the keywords that bring more traffic to your website. The parameter enables you to determine the performance of every paid keyword.
Content parameter comes in handy when you conduct A/B testing for your ads. This parameter lets you know the exact call-to-action (CTA) that brought you traffic. Like the term parameter, you can see which CTA performs better than others.
GA4 supports even more parameters you can read in detail by clicking here.
If you or your company deals with UTM tagging frequently, opting for a UTM management tool that builds and stores past URLs to maintain a consistent naming convention would be wise.
Marketing tools like TerminusApp can help build tracking URLs and UTM codes so that you can simplify the UTM tagging process.
Benefits of UTM Tagging
Now that you understand what UTM tags are, it is time to discuss the advantages of using UTM tagging to understand your audience. The 5 parameters are important for any marketer to analyze and track consumer behavior.
Tracking URLs enables you to conduct customer journey mapping, where you need to visualize and retrace the steps a customer takes from initial discovery to successful conversion.
UTM tags allow you to gain an in-depth view of the customer's experience and identify the elements that lead to a successful conversion and the pain points you need to improve.
You get to create more streamlined marketing strategies and targeted ads and present engaging content to nurture more leads.
UTM tagging gives better transparency on your marketing campaigns and traffic.
Detailed analytics show you the campaigns that are performing the best, bring the most revenue, and get prospects to convert faster. You can allocate resources and budget effectively to further streamline current and future campaigns.
By comparing the performance of one campaign with another, you get a clearer idea of what works and what doesn't through A/B testing.
Tracking the performance of your campaigns helps your team achieve better collaboration efforts with the creation of data-driven strategies.
Finally, reinforcing team collaboration and the customer experience through data provided by UTM tags gives your company a higher ROI for both short-term and long-term marketing efforts.
Despite their many benefits, UTM tagging will not work as intended if you input the incorrect codes or do not follow strict guidelines and conventions. Errors can lead to incorrect or missing data, resulting in misinformed business decisions.
How do you ensure proper UTM tagging at every step of the way to get information on which you can hinge your next marketing campaign on? The answer is TerminusApp.
TerminusApp: The Ultimate UTM Campaign Builder

TerminusApp is a robust UTM builder and link management system that aims to streamline and replace the hassle of managing a UTM spreadsheet by providing a platform to build and track your marketing URLs in a single platform. It's a tool designed to help you use UTM tagging to understand your audience.
It is an all-in-one UTM builder and link management tool that helps you derive accurate and insightful results from Google Analytics, Adobe, and other reports.
You can expect a better ROI with centralized UTM tracking when using GA4 to detect the source and medium of your traffic, the type of content that drives the most amount of engagement, and specific keywords your customers use to look for your services.
TerminusApp provides a consistent UTM tagging strategy by automatically enforcing conventions and rules so that you receive actionable results. You get better scalability by creating tracking codes for multiple URLs in bulk for social and ad campaigns of any size.
What differentiates TerminusApp from its competition is its URL builder for email marketing. It works with mail providers like MailChimp and Drip to provide consistent and more efficient tracking by adding UTM tags to all URLs.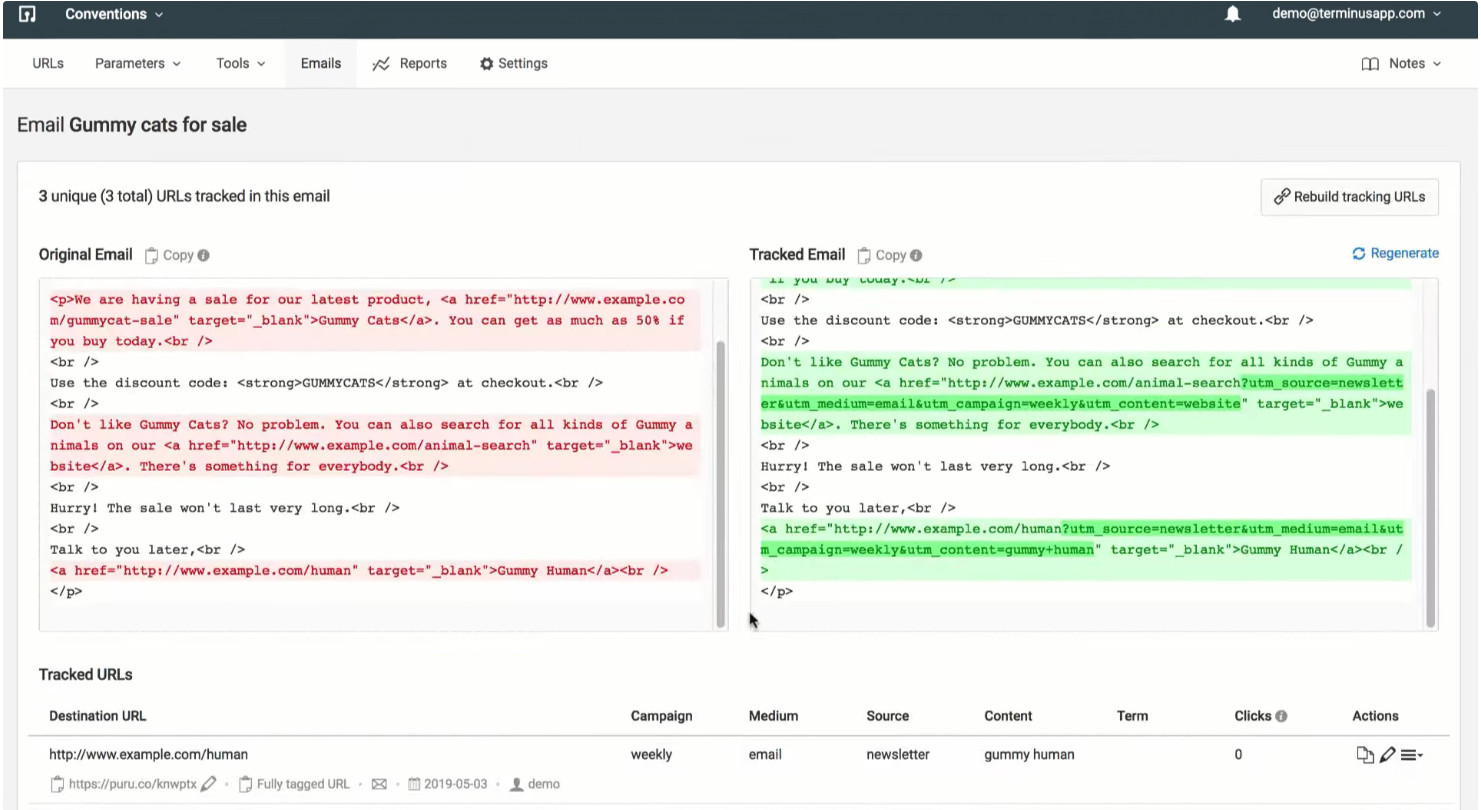 TerminusApp's intuitive dashboard gives you several assistance tools like forced lowercase for all campaign parameters that help you carry out UTM tagging effectively. Experienced users can toggle advanced settings as well.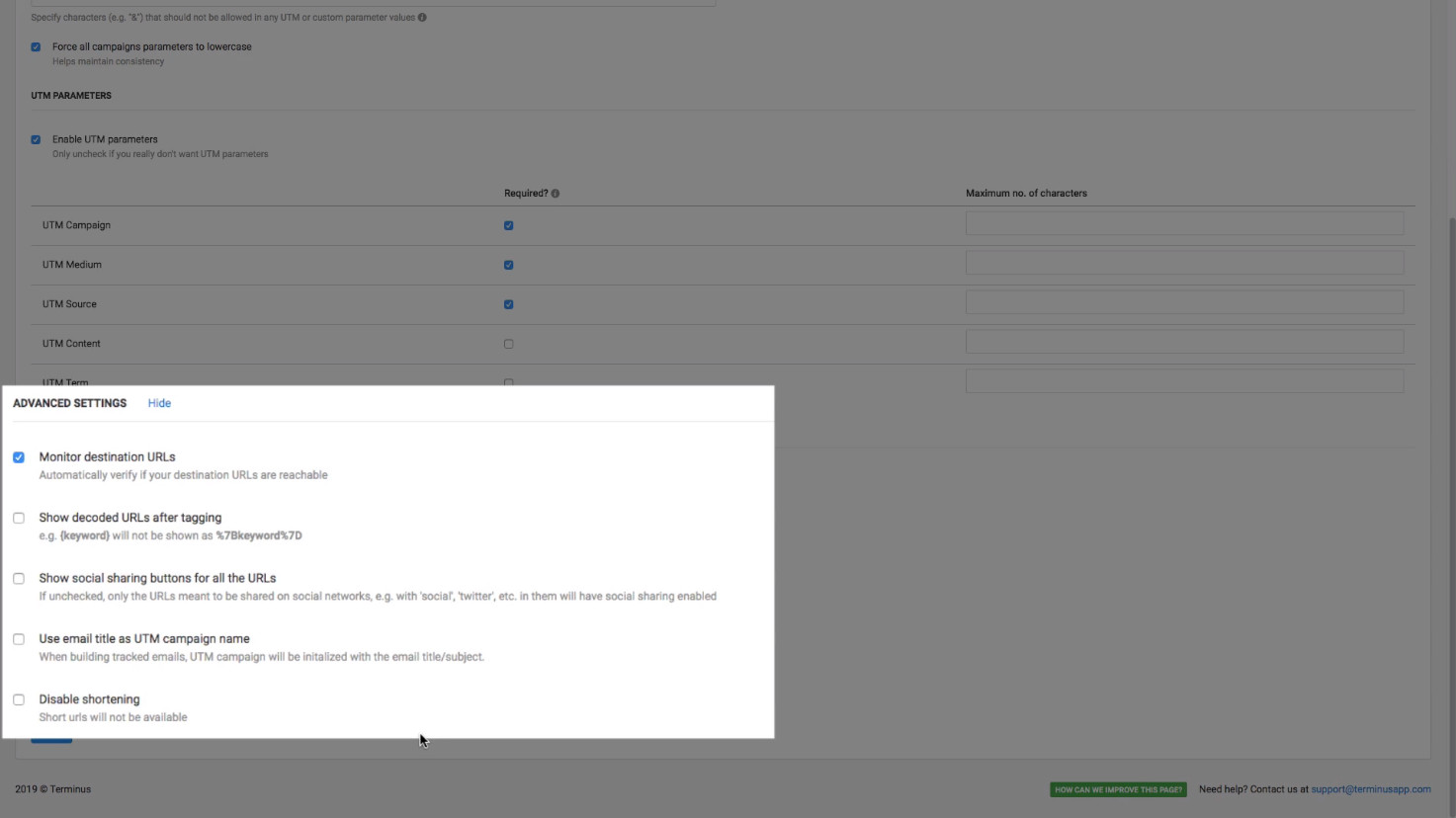 You can build URLs with preset parameters and save them as templates for subsequent marketing campaigns, including copying the short text and fully tagged URLs. Complex requirements are fulfilled by selecting a range of conventions that are configured to build URLs.
To promote better collaboration, you can decide the different levels of access each team member has alongside the individual creators of URLs and campaigns for auditing purposes.
By allowing you to manage past URLs and campaigns, you can carry out bulk operations or download them as a CSV file. Drilldown reports give you a detailed analysis of specific campaigns, mediums, and sources to determine what works best for your marketing efforts.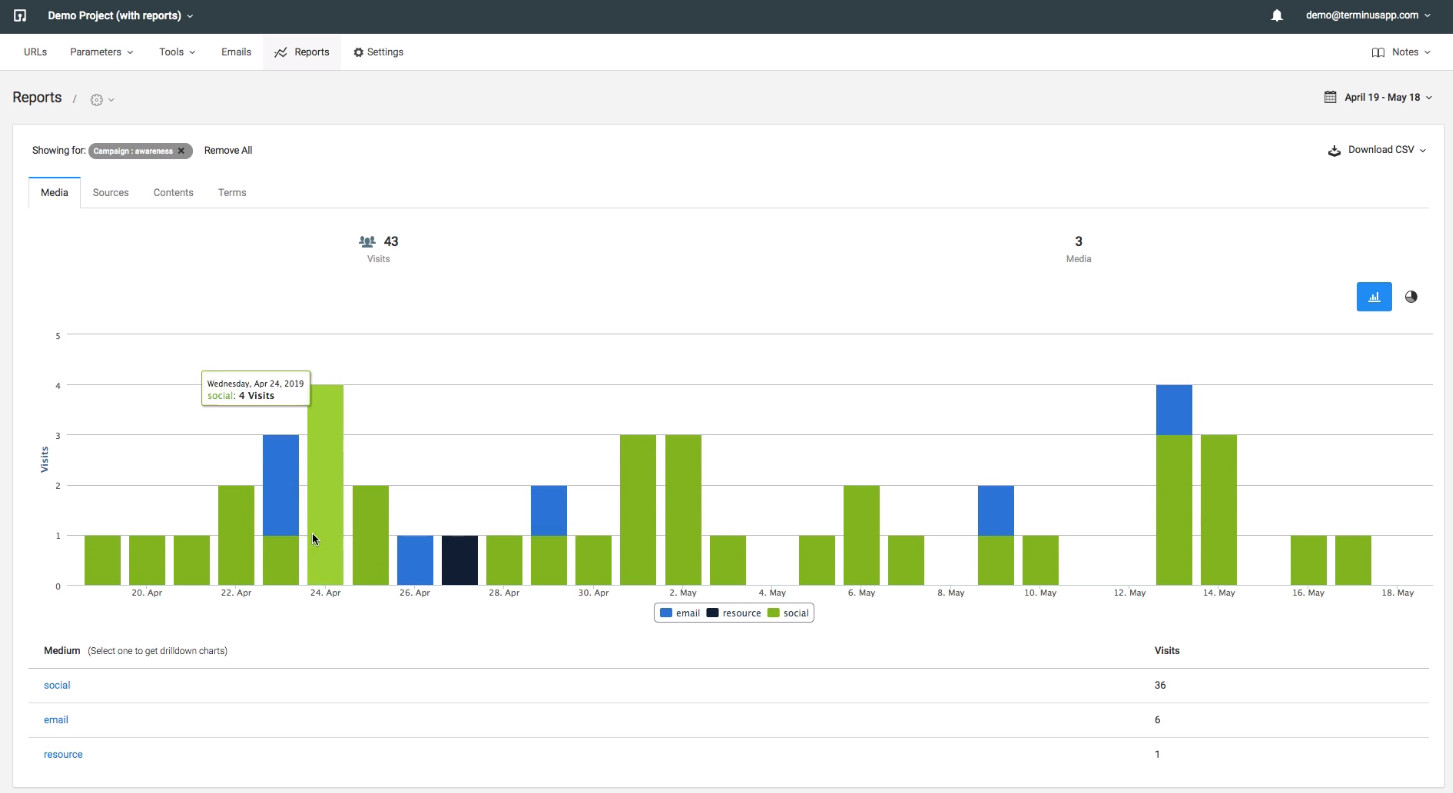 TerminusApp features URL shorteners for branded short links with link retargeting to further segment your audience based on their clicks, even if you're sharing someone else's webpage.
Pricing
TerminusApp comes with a 21-day free trial so that you can try out their features risk-free before deciding to opt for their monthly or annual subscription plans. The annual plan comes with two months free of charge.
Personal

$29/month or $24/month (annual)

1 user

1 project

1 Custom Domain

UTM rules

Presets

Custom Parameters

Multi-tag UTM builder

Auto-shortening

Click reports

Fine-grained user permissions

Auditing tools

Chrome Extension

Professional

$79/month or $66/month (annual)

3 users

5 projects

2 Custom Domains

Everything in Personal and:

Custom Domain SSL

URL Monitoring

Redirect Codes/Link Retargeting

Bulk Operations

Business

$199/month or $166/month (annual)

5 users

10 projects

3 Custom Domains

Everything in Professional and:

Bulk URL Cloning

QR Codes

Conventions

Grid Mode URL Builder

Email Builder

Auto-generated tracking Ids

Adobe/GA Classifications

API Access

Enterprise

$499/month or $416/month (annual)

15 users

30 projects

5 Custom Domains

Everything in Business and:

Single Sign-On (SSO)

Invoice billing

Signed agreement
If you contact our team, we can provide a demo and customized plans to meet your company's requirements.
Conclusion
Tracking your customer's journey on your website is crucial for helping you optimize your marketing campaigns and create a customer experience that drives conversions with minimal effort.
You need extremely detailed information to achieve this result, which is possible through UTM parameters. When you use UTM tagging to understand your audience's behavior, you know exactly where they found your site, which of your campaigns work, and which ones need tweaking.
In addition to the customers, your team needs this data to form effective marketing strategies without resulting in a resource drain.
With TerminusApp, you have the power to gather actionable data through URL tracking from your campaigns. Try out their features risk-free with their 21-day free trial and watch your company thrive with the help of detailed analytics and optimal customer experience.
Get started with Terminus
The quickest and easiest way to create UTM links in bulk while following your complex UTM strategy.
Sign Up Now