If you're looking for a powerful and flexible UTM tracking solution, CampaignTrackly is not a bad option to consider. But is it worth the price? Let's find out about CampaignTrackly Pricing.
With the help of CampaignTrackly, businesses can now more easily determine the ROI of their digital marketing by overcoming the obstacles caused by poor data quality. Users can automatically generate campaign URLs, UTM codes, and short links with CampaignTrackly.
In this article, I'll discuss CampaignTrackly pricing and helpful CampaignnTrackly alternatives.
What is CampaignTrackly?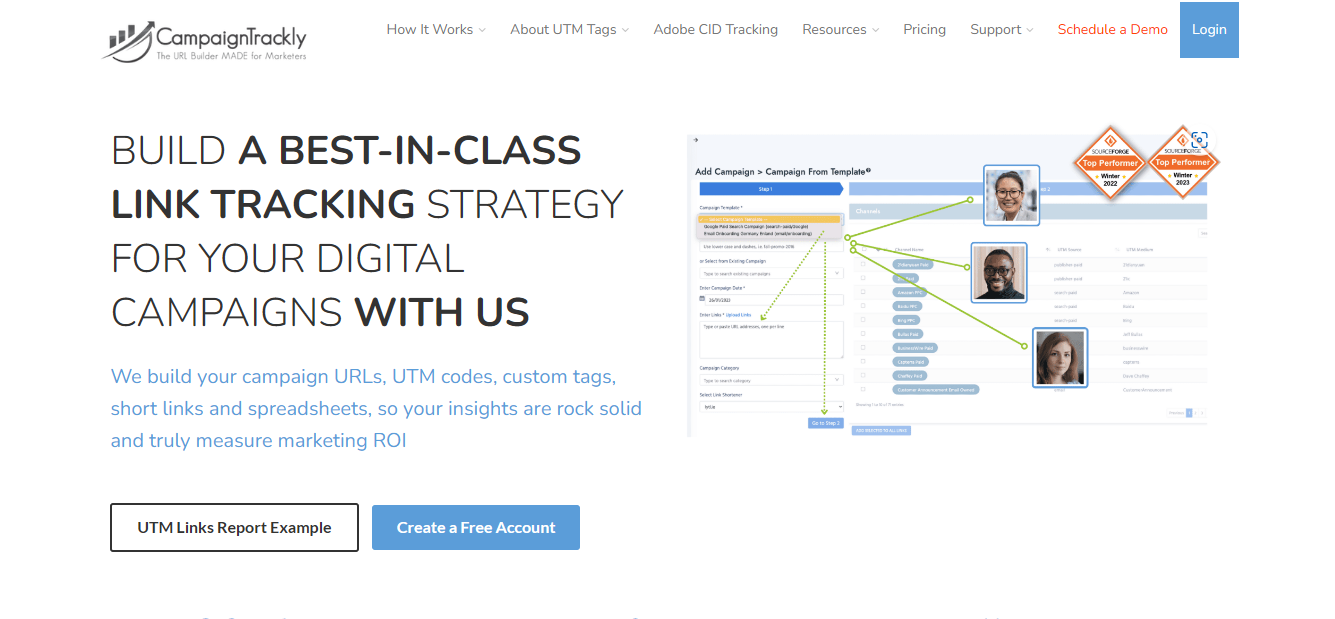 CampaignTrackly is a link management tool designed to help marketing teams create short links, tagged links, and spreadsheets.
It enables companies to quickly develop best-in-class performance monitoring plans and produce actionable data thanks to its automated campaign URL builder and unified location for housing and managing all marketing tracking links.
The platform offers over 80 automation capabilities that do away with manual work and reduces human error. It offers free, professional, and corporate subscription plans, enabling performance-driven enterprises to easily integrate and execute solid governance and sustainable tracking procedures in a few days.
Features of CampaignTrackly
CampaignTrackly is a tool that can help you track your campaigns and measure their effectiveness. Here are some of its most popular features:
Chrome and Edge extensions that enable auto-tagging of email links
This is a great way to track the links you send in your emails, so you can see which ones are getting clicked on the most.
A link shortener with deep targeting options
CampaignTrackly's link shortener makes sure your links are as targeted as possible. You can target by location, device, or even by specific channels like Facebook or Twitter.
CampaignTrackly's bulk processing
This is a great feature if you need to track a large number of links at once. You can process them all in bulk, so you don't have to individually tag each one.
A QR code auto-generator for mobile, desk, and print
This is a great way to ensure your links are accessible from any device. You can generate a QR code scanned from a mobile phone or desktop or printed out for offline use.
Dynamic tracking tag library with unlimited tags and templates
This is a great way to keep track of all your campaign tags in one place. You can create unlimited tags and templates to always have the most up-to-date information at your fingertips.
CampaignTrackly Pros
CampaignTrackly supports different devices: Android, iPad, and iPhone.
It helps to identify areas for improvement in campaigns.
Get detailed insights into campaign performance.
Users have the ability to optimize campaigns for maximum success.
It allows users to measure the effectiveness of campaigns.
CampaignTrackly Cons
It requires technical knowledge to set up and use the tool, which can be a difficult barrier for some businesses.
It can be difficult to set up the tracking codes needed to monitor campaigns, especially if you're not familiar with HTML and web coding.
CampaignTrackly may not be compatible with some third-party tools and platforms.
How much does CampaignTrackly cost?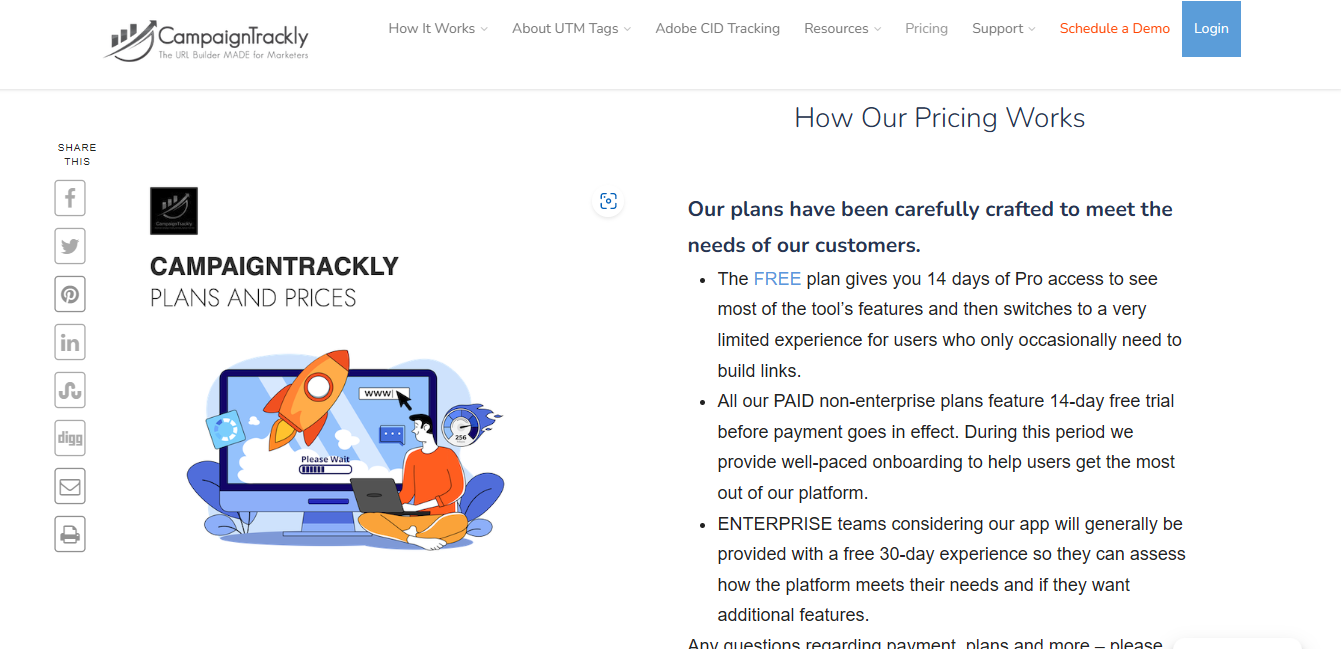 CampaignTrackly pricing
Starter for 1
Monthly Subscription
$4.99/Month/User Billed Monthly
14-day Free Trial
UTM & Custom Tags: The Complete Suite
Link Shortener: Yes
Analytics and Reports: No
Shortener Targeting Options: Most of the features
Free Add-ons: Somewhat Limited
Team Features: None available for this plan
Links: Up to 1200/User/Year
Track Pro 1 to 10
Monthly Subscription
$24.99/Month/User Billed Monthly
14-day Free Trial
UTM & Custom Tags: The Complete Suite
Link Shortener (for short links): Yes
Analytics and Reports: Yes
Shortener Targeting Options: The Complete Suite
Free Add-ons: Almost All
Team Features: User-based
Links: Up to 8000/User/Year
Track Pro 1 to 10
Yearly Subscription
$15/Month/User Billed Annually
14-day Free Trial
UTM & Custom Tags: The Complete Suite
Link Shortener: Yes
Analytics and Reports: Yes
Shortener Targeting Options: The Complete Suite
Free Add-ons: Almost All
Team Features: User-based
Links: Up to 8000/User/Year
Enterprise Yearly Subscription
Billed Annually
Volume Discounts Apply
30-day Free Trial
UTM & Custom Tags: The Complete Suite
Digital Links Shortener: Yes
Analytics and Reports: Yes
Shortener Targeting Options: The Complete Suite
Free Add-ons: Everything
Team Features: Everything
Links: Unlimited Links per User
The FREE plan gives you 14 days of Pro access to see most of the tool's features and then switches to a very limited experience for users who only occasionally need to build links.
All PAID non-enterprise plans feature a 14-day free Trial before a payment goes into effect. During this period, we provide well-paced onboarding to help users get the most out of the platform.
ENTERPRISE teams considering the app will generally be provided with a free 30-day experience so they can assess how the platform meets their
Why you might need an Alternative to CampaignTrackly
There are many reasons why you might need an alternative to CampaignTrackly. Maybe you're not happy with the service, or you're looking for something more affordable. Whatever the reason, there are plenty of other options out there.
Here are a few things to consider when looking for an alternative to CampaignTrackly:
What are your needs? Make a list of everything you need from a service, and then see how different options measure up.
What's your budget? Not all services are created equal, and the price is often a reflection of quality. But there are plenty of affordable options out there.
What's your level of expertise? If you're a beginner, you might want a service that's easy to use and doesn't require much technical knowledge.
No matter your reasons for wanting an alternative to CampaignTrackly, there are plenty of options. So, research and find the perfect fit for you and your business.
Top 5 Alternatives to CampaignTrackly
There are several alternatives to CampaignTrackly out there. Here are five of the most popular:
1. TerminusApp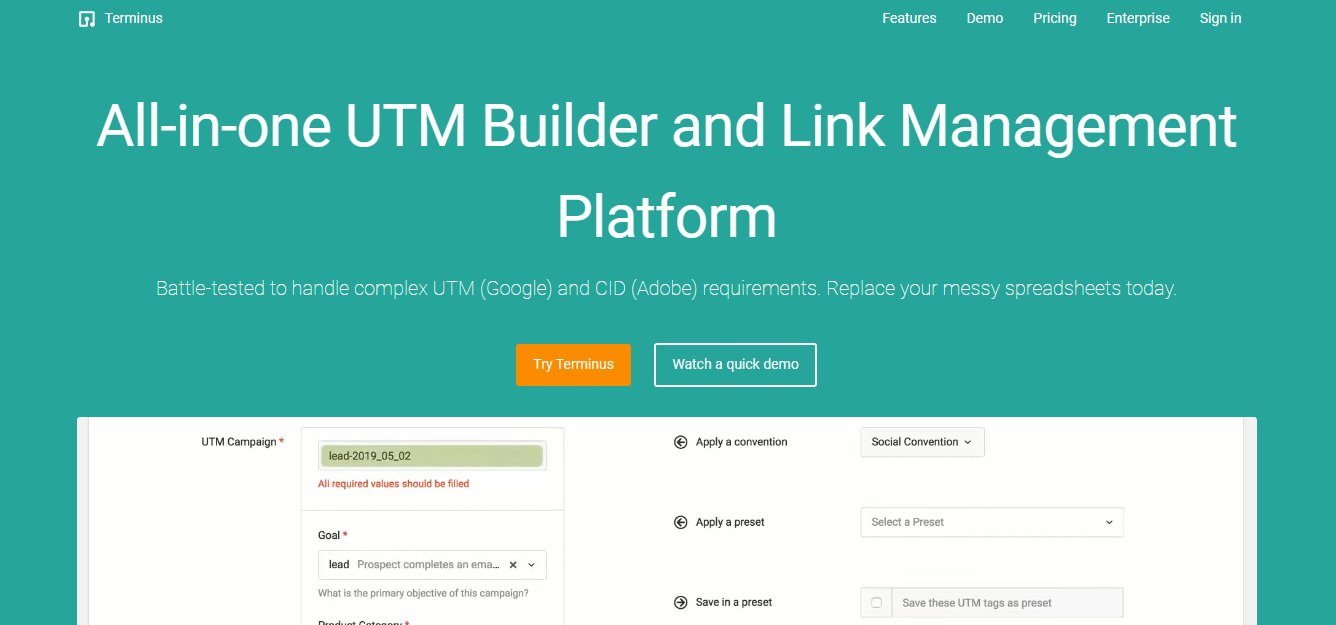 TerminusApp is an all-in-one UTM Builder and link management software. They provide easy and consistent UTM tracking of your email campaigns and ad optimization. Terminus bulk UTM builder can create URLs with multiple UTM codes. It replaces any UTM spreadsheet, no matter how complex.
Pros
Project notes to document any instructions, workflows, etc., for your team
Custom parameters for tracking beyond UTM
Repository of all URLs, UTMs, and other information for future reference
Perform bulk operations on URLs
Custom enforcement includes lowercase, replacing spaces with a custom character, prohibiting certain characters, limiting the length of UTMs, etc.
Redirect/remarketing/retargeting codes with dynamic data insertion
Basic short URL click reports
And much more…
Cons
It can be a bit overwhelming due to its many benefits
2. Google URL Builder
Google URL Builder is a free tool for creating custom tracking URLs for your digital campaigns. Using UTM parameters, Google URL Builder allows you to track metrics like clicks, sessions, and conversions from emails, social media, and other digital campaigns. It can help you measure the success of your campaigns and make informed decisions about your marketing strategy.
Pros
The builder makes it easy to add campaign parameters to URLs so that users can track the source and content of their campaigns.
It is a great tool for digital marketers to track the performance of websites, ads, emails, and other marketing channels.
The ability to track results, customize the tracking URL, and easily share the tracking URL on various platforms.
Cons
Limited metrics and the need to manually update the tracking URL when campaigns change.
It requires manual effort to create UTM codes, which can be tedious and time-consuming.
UTM codes can become increasingly long and complex as you add more parameters, making them harder to read and interpret.
3. Campaigntracker.io
Campaigntracker.io is a link management platform that helps digital marketers and teams streamline their workflow. It provides a powerful system to create, manage, and track all of your campaigns.
With Campaigntracker.io, you can quickly launch campaigns and make changes on the fly. It offers an easy-to-use interface, analytics, and automation capabilities to make sure that your campaigns are running smoothly.
Pros
It is easy to use and understand, provides real-time analytics, and allows for rapid deployment of campaigns.
It also allows for automated campaigns, meaning that you don't have to manually launch them, and there is no need for coding.
You can track campaigns quickly and easily.
Cons
It does not provide real-time tracking and reporting.
It can be expensive to use, and it requires an ongoing subscription.
If you have a large number of campaigns, it can take some time to set up and manage them.
Limited customization options and lack of support for mobile platforms.
If you're not familiar with the platform, the learning curve can be steep.
4. Uplifter
Uplifter is an all-in-one, cloud-based link management platform designed to make creating, tracking, and analyzing UTMs, CIDs, short links, and QR codes easier and more efficient. Its features allow users to save time in uploading files, creating links, and tracking performance, as well as being able to control and monitor certain aspects of the links.
Pros
It also has a wide range of features, including custom URL shortening, geo-targeting, and analytics.
Uplifter can save users time by allowing them to create UTMs, CIDs, short links, and QR codes quickly and easily.
It is cloud based, so you can access and edit your links from anywhere.
You can also generate performance reports to evaluate the performance of your created links.
Cons
It is also limited to certain countries and may not be available in your region.
The pricing can be a bit steep for some businesses.
It requires a subscription, which may be a deterrent for those who don't want to commit to a long-term contract.
It does not offer a lot of customization, so users may not be able to get the most out of their links.
Uplifter can be a bit complex to use, and there is a learning curve associated with getting started.
Why is Terminus App the Best Alternative to CampaignTrackly?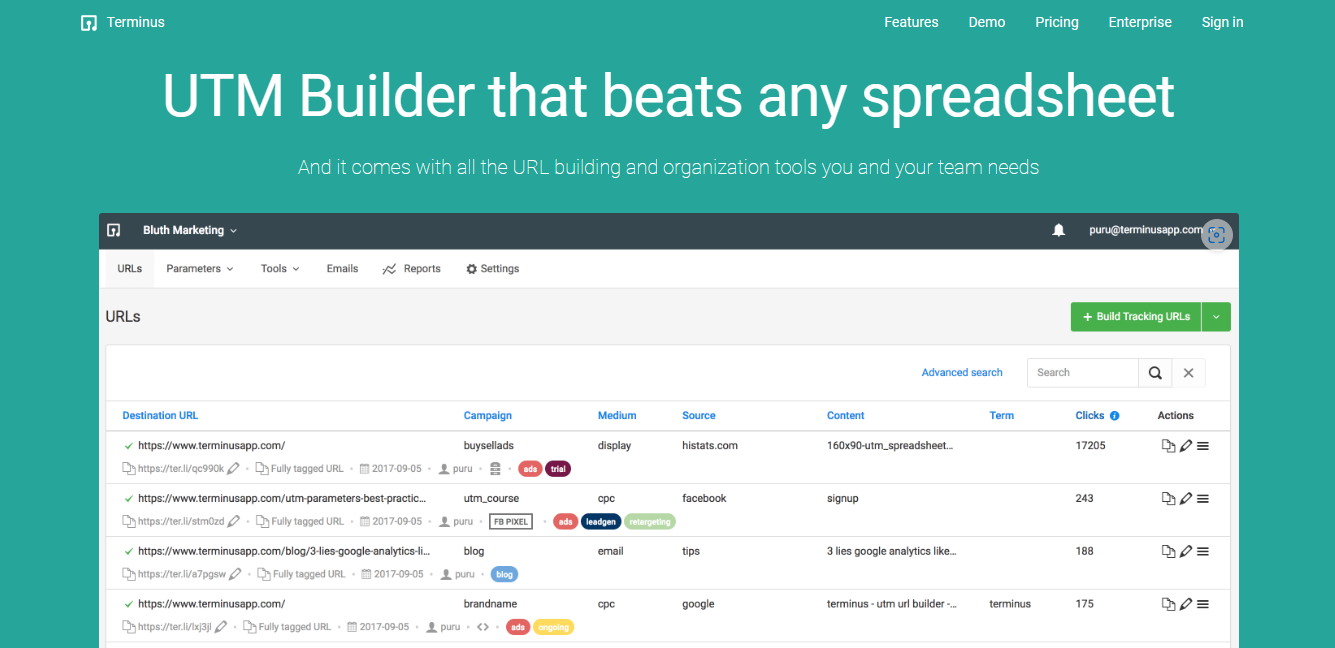 If you're looking for a powerful and flexible tool to manage your UTM tracking, Terminus App is the best alternative to Campaigntrackly. Here's why:
First, Terminus App eliminates the need to manage UTM tracking in spreadsheets. All your tracking can be done in one place, making it easy to review and spot errors.
Second, Terminus App enforces a highly consistent UTM strategy across your entire company. This ensures that everyone uses the same conventions and taxonomies, making tracking and comparing results easier.
Third, Terminus App is configurable to work with various workflows and requirements. This makes it easy to integrate with your existing systems and processes.
Finally, Terminus App is the most affordable solution on the market. For a fraction of the cost of other tools, you get all the features and functionality you need to manage your UTMs effectively.
So if you're looking for the best alternative to Campaigntrackly to get value for money, look no further than Terminus App.
Features 
Tools that construct URLs with care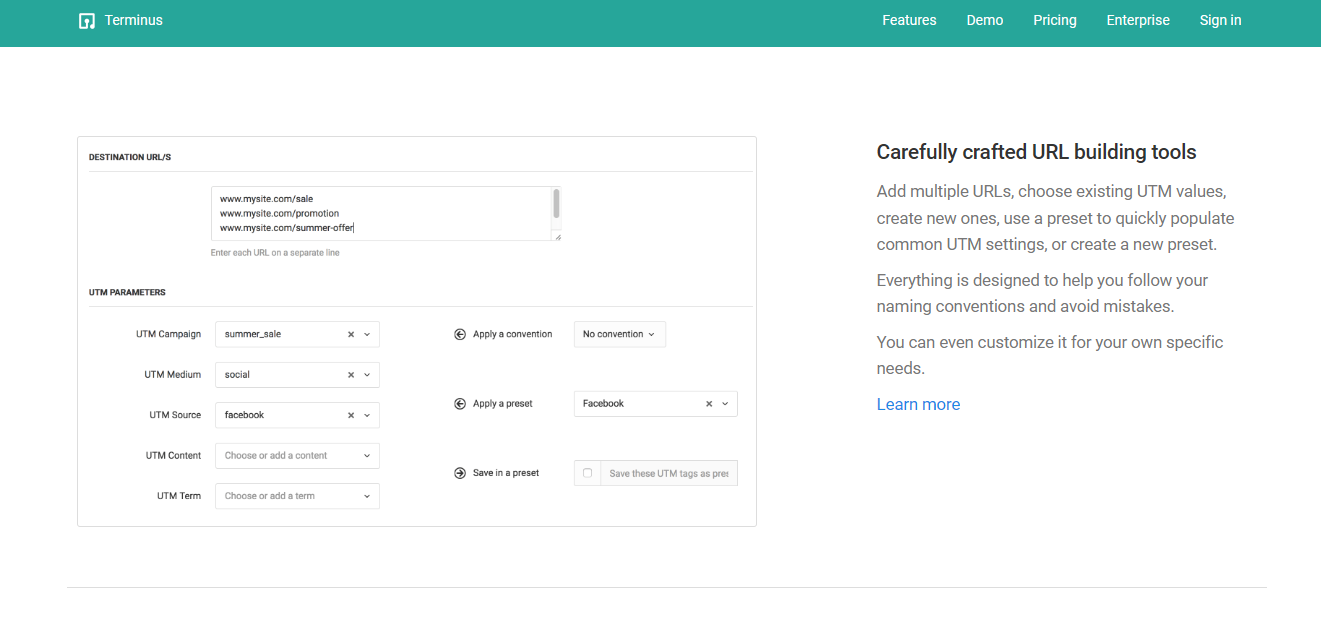 Choose from pre-existing UTM values, enter new ones, add multiple URLs, use a preset to rapidly fill in typical UTM parameters, or make your own preset.
Everything is set up to make it easier for you to adhere to your naming rules and catch errors.
Even better, you can alter it to suit your requirements.
Add various UTM parameter settings to URL links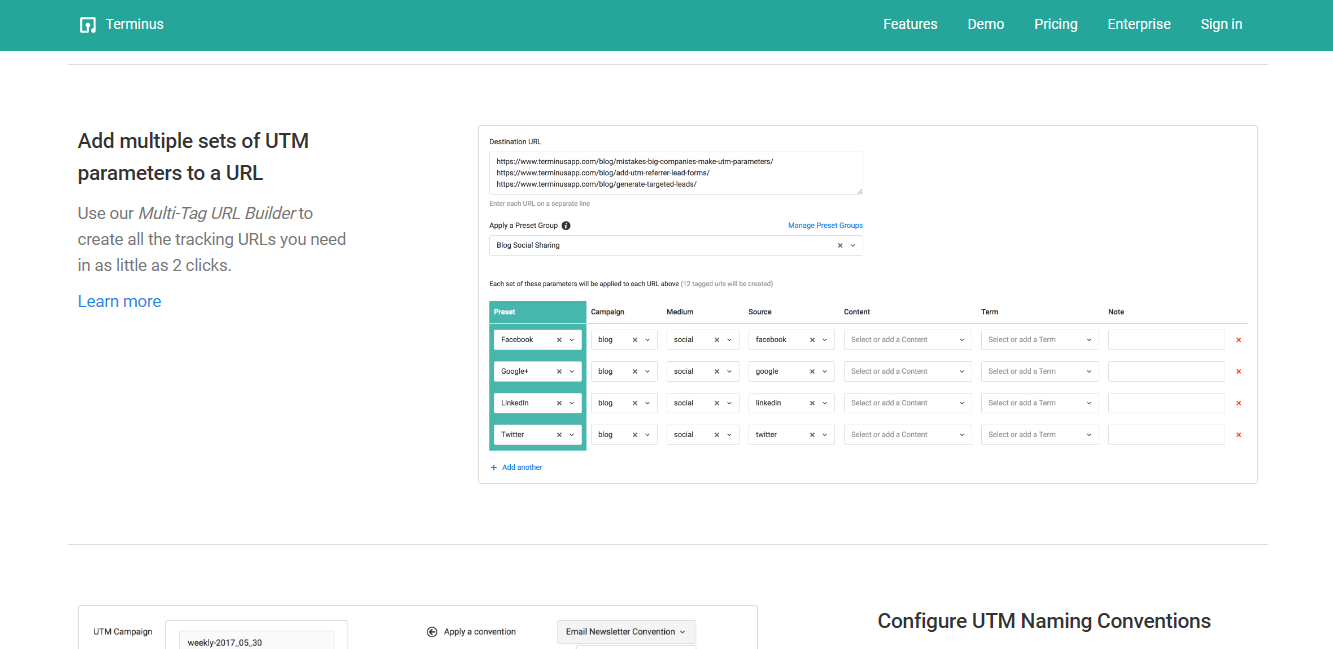 With only two clicks, you can create all the required tracking URLs using our Multi-Tag URL Builder.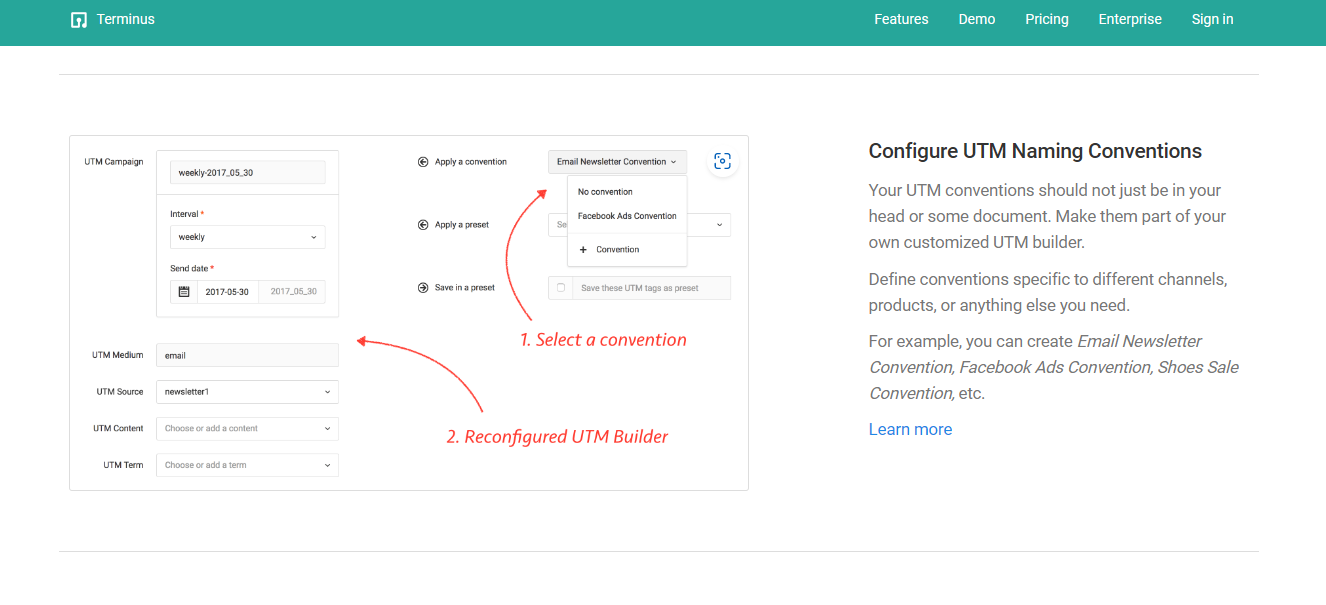 Your UTM conventions shouldn't only exist in a paper or your thoughts. Include them in your personal, unique UTM builder. Establish conventions particular to certain channels, items, or anything else you require.
For example, you can create Email Newsletter Convention, Shoes Sale Convention, Facebook Ads Convention etc.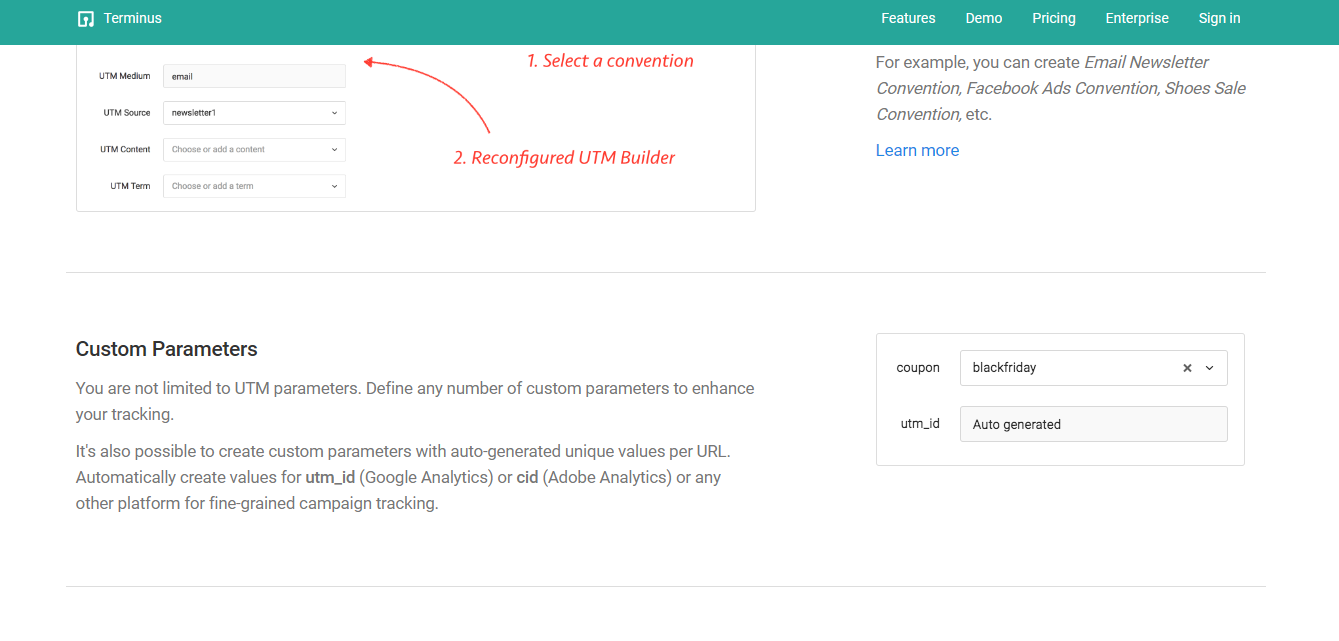 You are not constrained to UTM specifications. To improve your tracking, define as many custom parameters as you like.
Custom parameters can also be made with automatically generated distinct values for each URL. For precise campaign URL tracking, automatically generate values for UTM id (Google Analytics), cid (Adobe Analytics), or any other platform.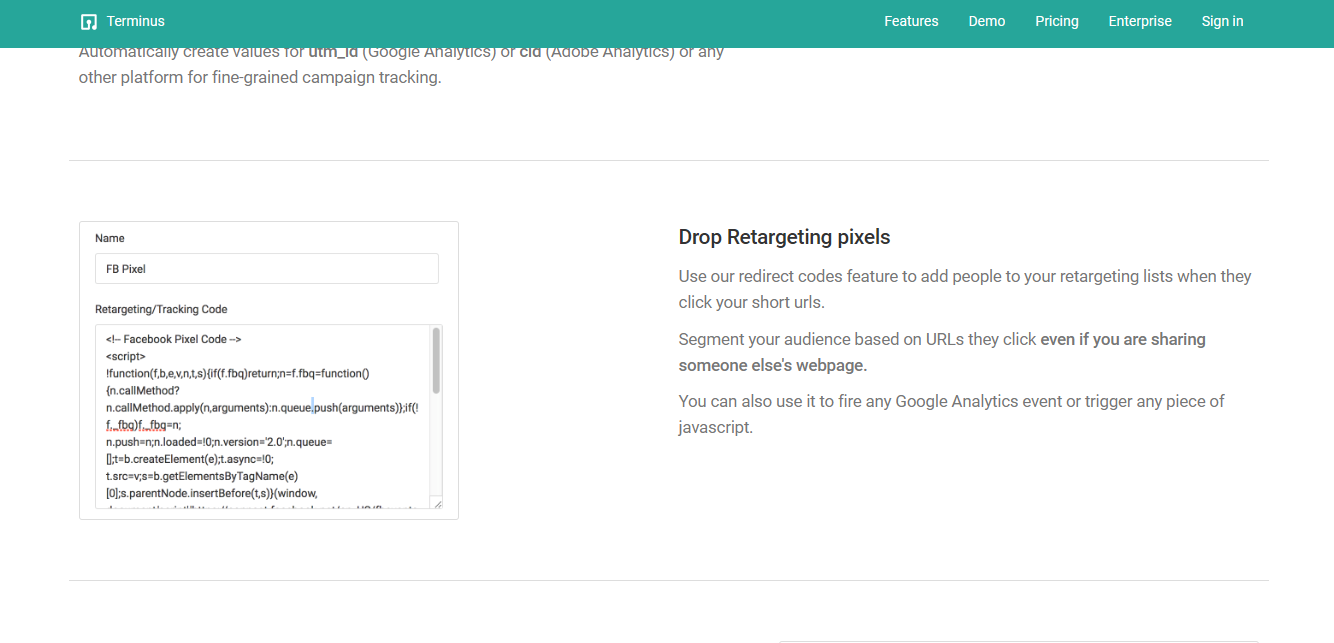 When consumers click your short URLs, use our redirect codes to add them to your retargeting lists. Even if you are sharing someone else's website, segment your audience based on the URLs they click.
Additionally, you may use it to launch any Google Analytics event or start any javascript.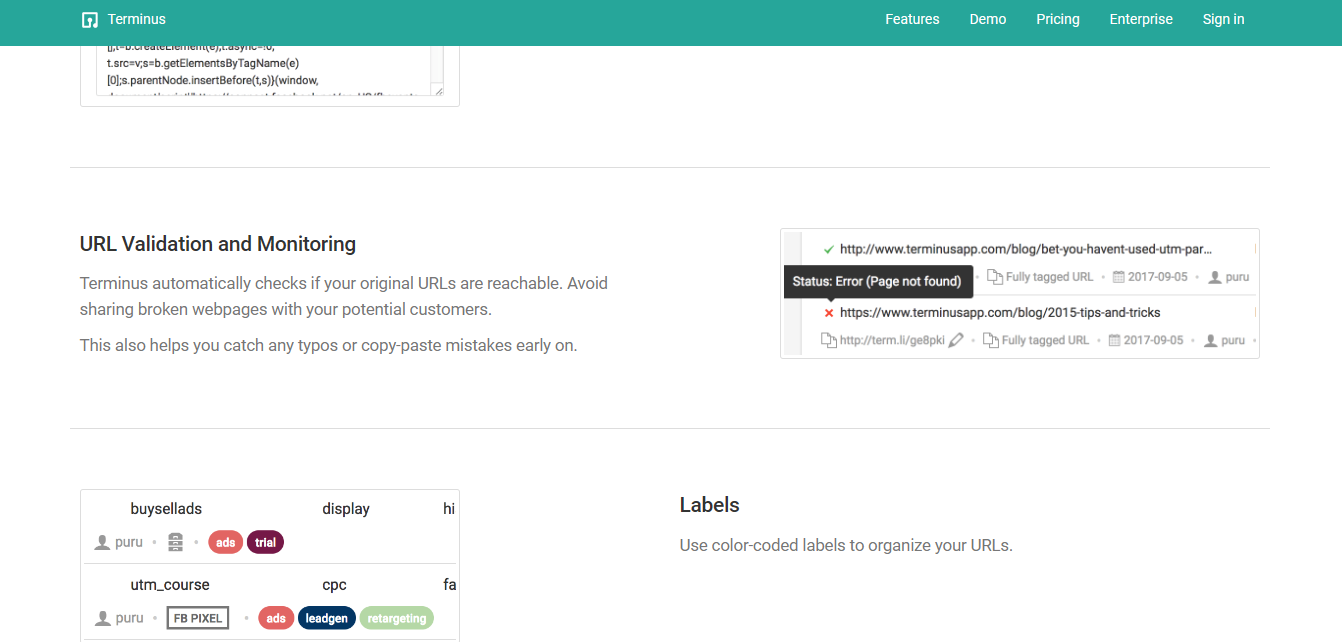 Terminus automatically verifies the accessibility of your original URLs. Don't send potential customers to broken pages..
This enables you to identify typos or copy-paste errors as soon as possible.
Automatically adding UTMs to emails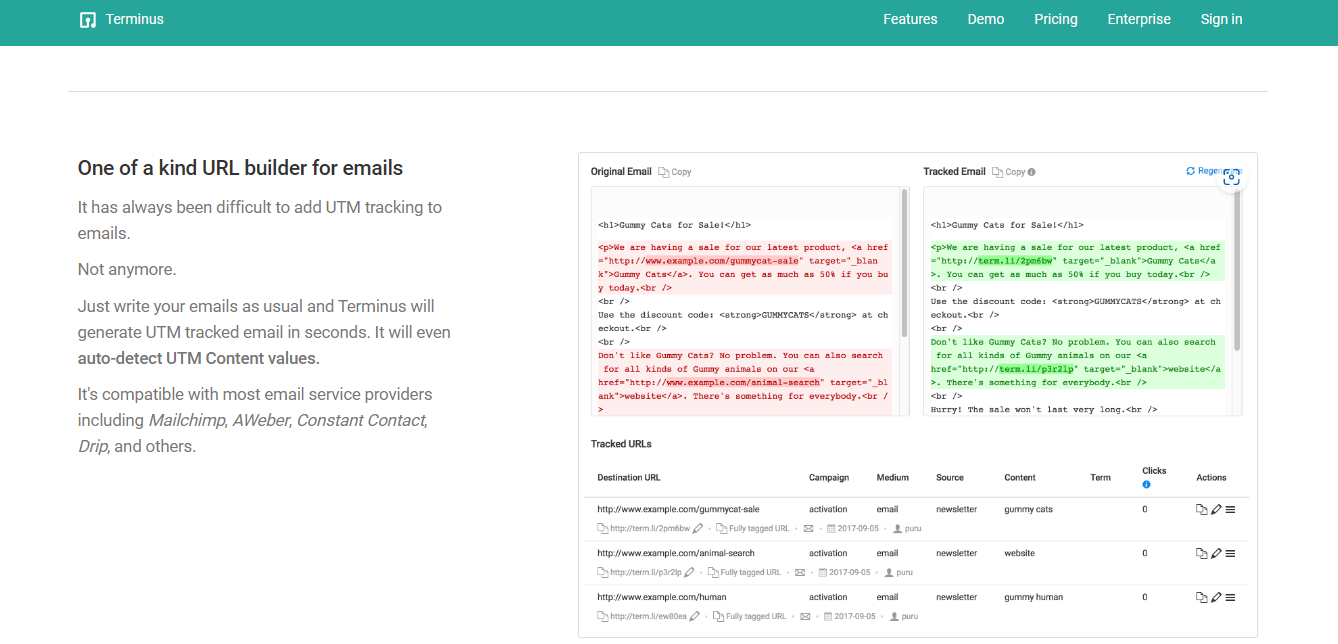 Terminus has the ability to automatically add UTMs (Urchin Tracking Module) to your emails, providing you with valuable analytics that can help you measure the success of your campaigns. This helps marketers target audiences more accurately and track campaigns in real-time, allowing for better optimization and improved conversions.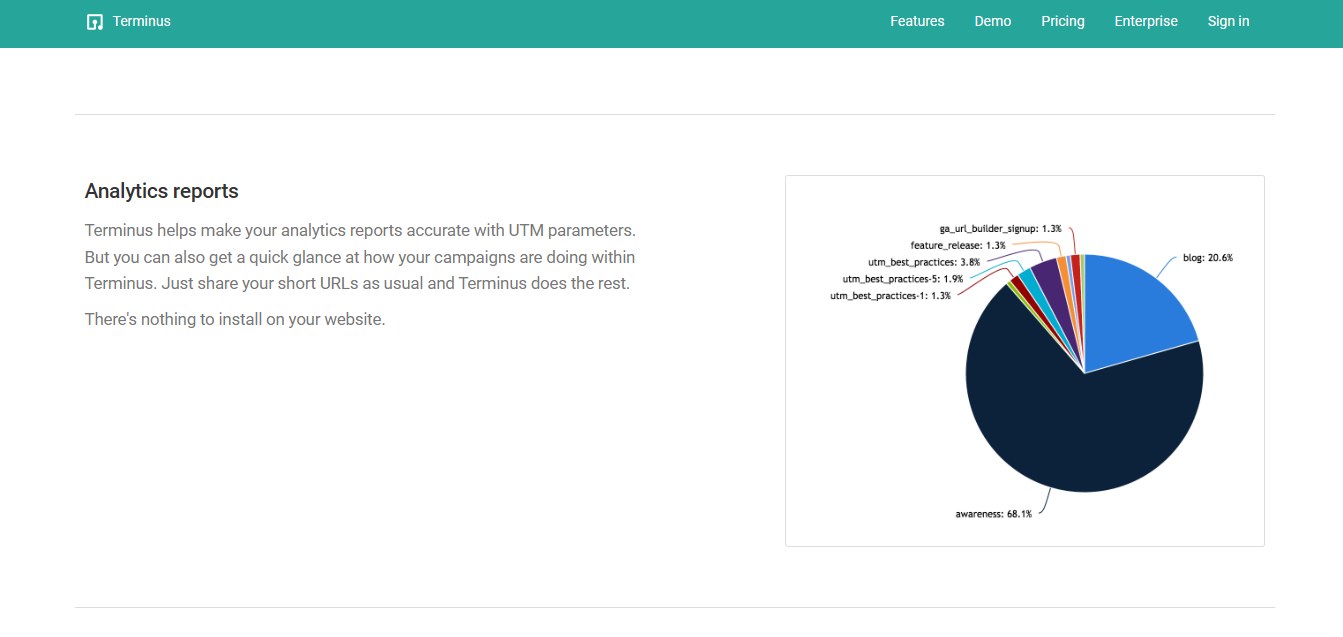 With UTM parameters, Terminus aids in the accuracy of your analytics reports. But Terminus also allows you to quickly scan the performance of your campaigns. Distribute your short URLs as usual, and Terminus does the rest.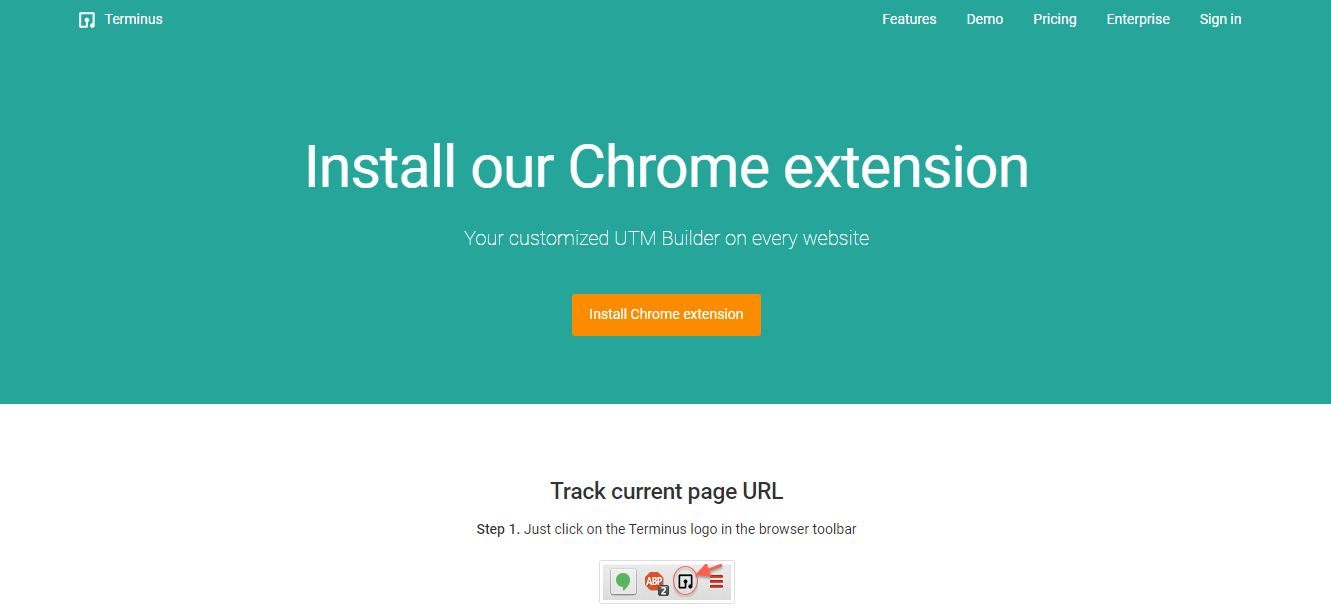 With the chrome extension you can easily do the following;
Track current page URL
All URLs in an email
Track any URL on any page
TerminusApp Pricing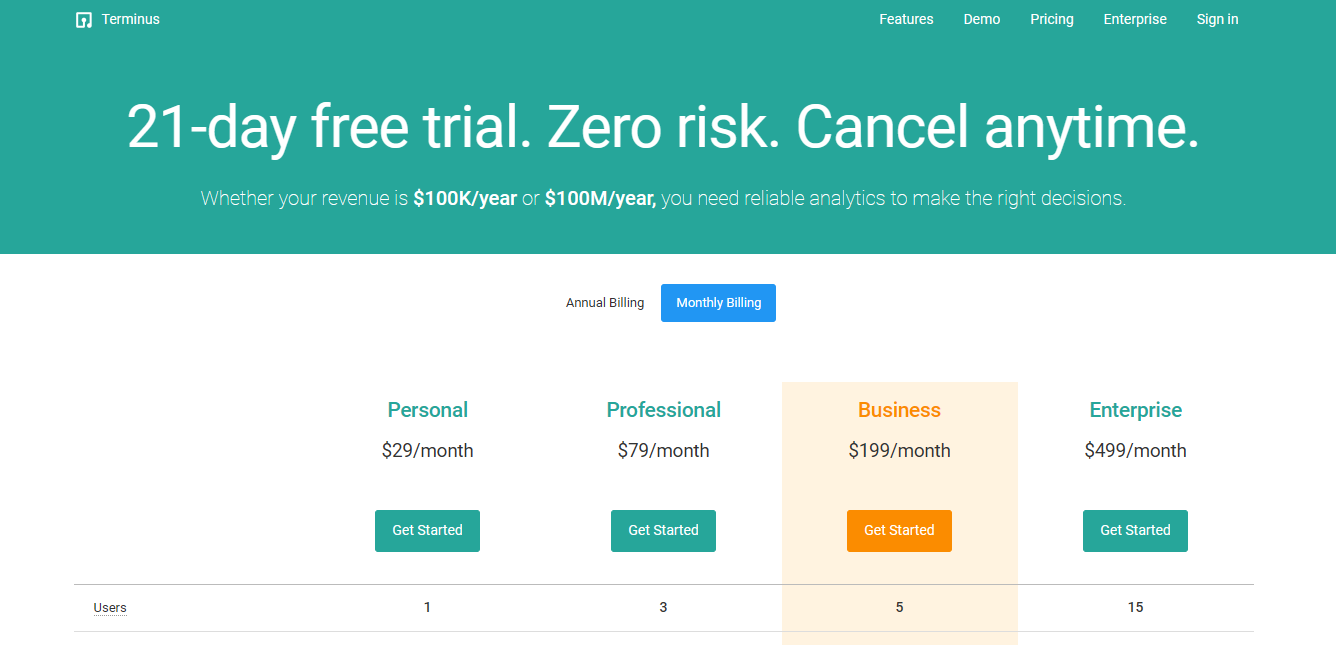 Each plan has a 21-day free trial
$29/month
1 User
Single Project
1 Custom Domains
$79/month
3 Users
5 Projects
2 Custom Domains
$199/month
5 Users
10 Projects
3 Custom Domains
$499/month
15 Users
30 Projects
5 Custom Domains
Benefits 
Designed to create UTM
UTM parameters are typically an afterthought for services. Terminus was created specifically for UTM construction.
It supports a wide range of customer requirements. We do not doubt that it can manage yours as well.
Enterprise-level UTM specifications
An expanding company needs a well-developed UTM management solution that can handle thousands of campaigns for various business units, product categories, goods, goals, and more.
You can define a disciplined UTM approach with the aid of Terminus.
Create custom short URLs
Terminus helps you create branded short URLs by working with your custom domain. Post attractive URLs on Facebook, Twitter, and other social media.
HTTPS for security and privacy
Editable destination URLs
QR Codes
Custom domain
Custom back half
Link Retargeting
Monitor Your Emails
Including UTM tracking in your emails doesn't have to be difficult. Our email tracking builder makes it simple to keep track of all your emails. Most email service providers, such as Mailchimp, AWeber, Constant Contact, Drip, etc., are compatible.
Detailed Reports
To see how your campaigns are performing:
Check out the click reports in Terminus.
Investigate a specific campaign, platform, or source to determine what is and is not effective.
Distribute your short URLs as normal.
Nothing has to be installed on your website.
Work together as a team
Give each team member the appropriate level of access. You can also determine who developed a specific URL or campaign for auditing purposes.
Pricing Comparison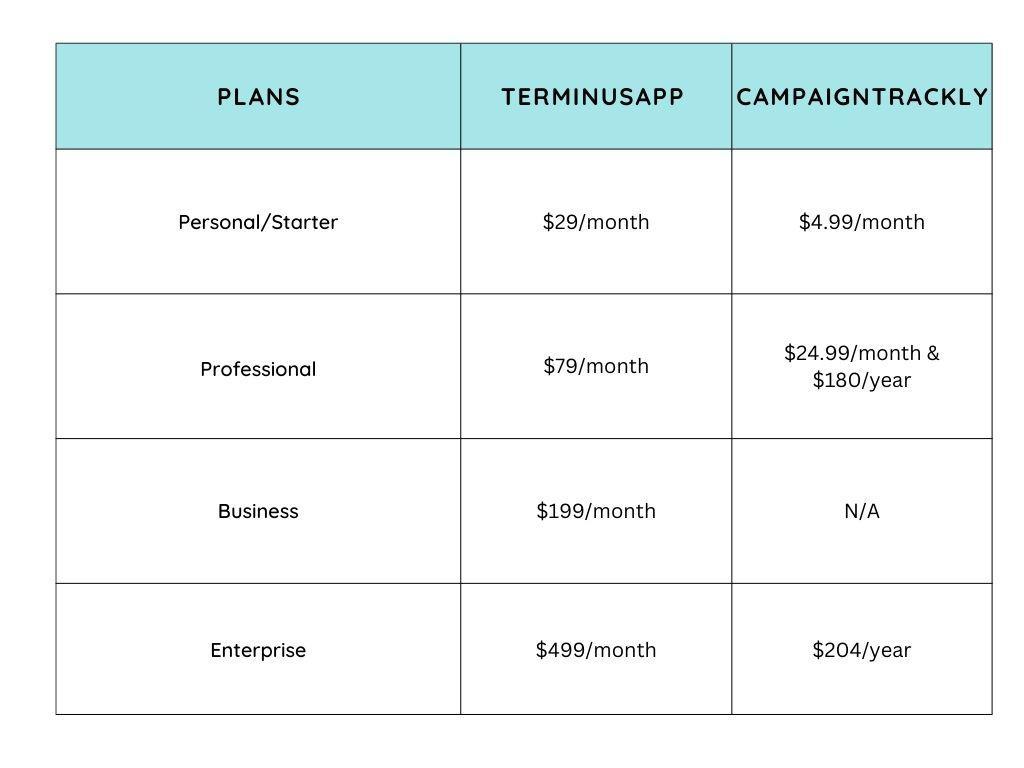 Why choose TerminusApp over CampaignTrackly?
With so many options on the market, it can be hard to choose the right URL building tool for your needs. But if you're looking for a tool that offers multiple configurable URL builders, custom naming conventions, and organizational features, we are the way to go. Here's why:
1. Multiple configurable URL builders: Whether you need to build simple or complex URLs, we has you covered with multiple configurable URL builders.
2. Custom naming conventions: You can create custom naming conventions for your URLs, making it easy to keep track of your UTMs.
3. Presets and preset groups: Save sets of UTM values for quick reuse with presets and preset groups.
4. Auditing and user level permissions: We offer auditing and fine-grained user level permissions, so you can keep track of who is accessing your URL data.
5. Email builder: The email builder enforces UTM naming conventions in email URLs, making it easy to track your UTMs.
6. Auto-generate short URLs: You can auto-generate short URLs with custom domains and HTTPS enabled.
7. Organizational features: They offer a variety of organizational features, like projects, labels, info fields, etc., making it easy to keep track of your URLs.
8. Search and download: Search and download URLs, UTMs, and other data.
9. API: Use their API to integrate your URL and UTM data with analytics and other systems for creating in-house detailed reports.
So if you're looking for a URL building tool that offers all of the above features and much more, TerminusApp is the right choice for you.
Conclusion
If you're looking for an alternative to CampaignTrackly, Terminus App is a great option. Here's why:
Terminus App has many features that CampaignTrackly doesn't offer, like the ability to review and manage all your UTMs in one place. This can be a big time-saver, especially if you have a large or complex website.
It is also configurable to work with various workflows and requirements. So if you need something a little more customized, Terminus App is a great option.
Get started with Terminus
The quickest and easiest way to create UTM links in bulk while following your complex UTM strategy.
Sign Up Now