Waiting around for an email response days after you've sent it is as anxiety-provoking as it is frustrating. But, thanks to email tracking technology, sending an email and watching it disappear into the void is a thing of the past.
Using an email tracker, you're able to monitor the behavior of your email recipients. Whether you want to measure how many link clicks you're receiving or how many people open your messages to begin with, tracking emails is a simple, strategic method for crafting better-performing email campaigns.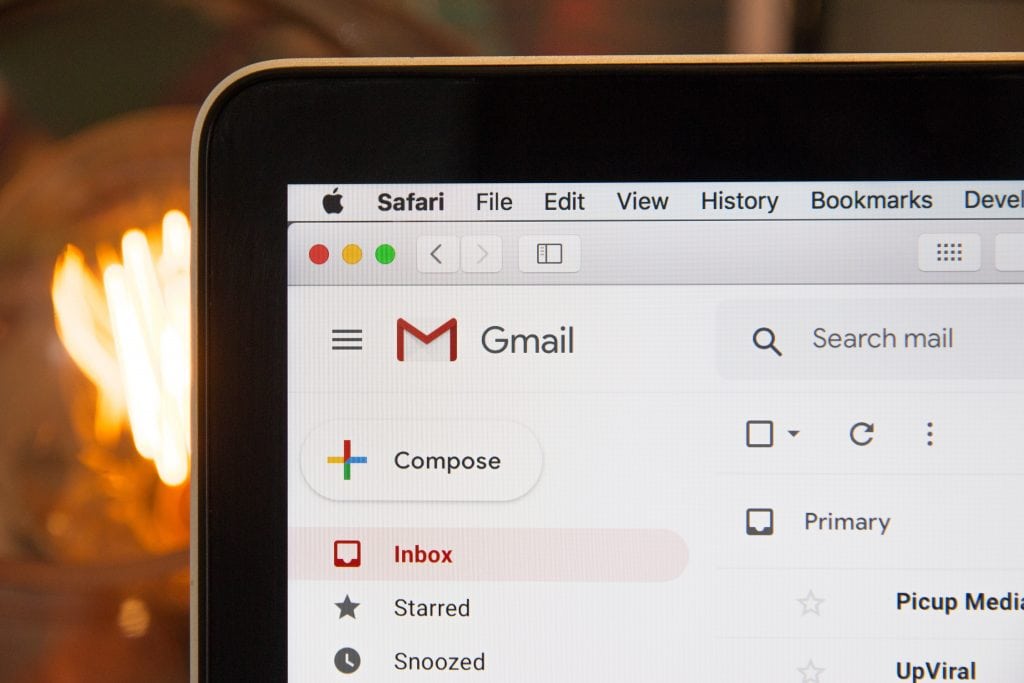 Why is Email Tracking Vital to Your Campaigns?
Understanding who's clicking on your emails provides you with critical insights into your campaign's performance. Here are a few reasons why email tracking will benefit your campaign.
Email tracking provides you with insight into valuable metrics.
Understanding the metrics obtained from tracking emails enables you to fine-tune your campaign strategy. As you adjust your tactics, you'll be able to monitor the changes in your results.
Metrics like click rates, unsubscribe rates, and delivery rates are all helpful in understanding your campaign's strengths and weaknesses. We'll go into more detail about those metrics later on in this post, but having a general understanding of which areas your campaign is falling short in — or succeeding in —  will help you boost your performance in the long run.
For example, if your emails are going largely unopened, it might be an indicator that your subject lines need rewriting, your communications are too frequent, or that your content is irrelevant to the contacts on your list. It could also mean that there are technical errors occurring, such as sending emails to addresses that don't exist anymore.
Email tracking saves you time.
Understanding who opens your emails and who doesn't will inform you about whom you should follow up with. If a contact isn't opening your first email, there's little chance they will be interested in opening a follow-up message. You'll save time by investing your energy in following up with those who were interested enough to open your first email, rather than those who weren't.
>Email tracking provides you with the opportunity to send timely and impactful follow-ups.
When you are sending follow-up emails, tracking email opens will help your communications become more timely. Knowing when your contacts check their emails provides you with the opportunity to send messages when they're most likely to open and read them. What's more, seeing when your contacts are opening messages in real-time will help you to send a timely follow-up. Say, for example, that after sending a proposal to a prospective client and hearing nothing back, you notice your email has been opened a few days later. This is the perfect opportunity to send a relevant, timely follow-up or phone call while you know the prospect is actively reading your message and has you top of mind.
So, How Does Email Tracking Work?
There are three different ways in which you can track an email.
1. Read receipts
Read receipts are an opt-in way to see if your email has been opened. They're offered by some email clients like Microsoft Outlook and Gmail, but they are restricted in some ways. Read receipts need to be authorized by the recipient before they're activated. Additionally, they only work if you and your recipient are using the same email client — so if you're sending an email from your Outlook account to a Gmail address, the request for a read receipt will be ignored.
2. Image pixels
Another way to track emails is through use of image pixels, which are 1×1 pixel images (in other words, images too small for the human eye to see) embedded with a line of code. The image pixel is sent with an email, and once the recipient opens the email, the tracking client knows the pixel has been downloaded. The tracking client then notifies the sender of an open.
Image pixels are one of the most widespread ways that emails are tracked. It's important to note, however, that because images don't load every time an email is opened, image pixels won't always be 100% accurate. If the recipient's images don't automatically download from an email, the pixel won't download either, and it won't count as an open.
3. Trackable links
Trackable links are encoded URLs that notify the sender when they've been clicked on. By sending trackable links in your emails, you're able to see when and what links users interacted with. This gives you an idea of which emails are opened and what content is performing well.
You're able to create your own trackable links using UTM codes, which will help you dial into the origin of your website traffic and give you a clearer picture of how effective your email campaigns are. For example, if the goal of your campaign is to direct users to your website to take advantage of your summer sale, you can track which clicks to your website came from that specific campaign. Here's a deeper dive into how you can track link clicks in an email campaign.
How to Track Emails Using UTM Codes
The Terminus app has a handy feature for building trackable emails using UTM codes. Here's how it works:
The first step is composing your email as usual, which you can do in your email service provider, like Mailchimp. The next is finding the HTML source code. With Mailchimp, you'll get it by clicking on the "< >" button. Other email providers will have something similar.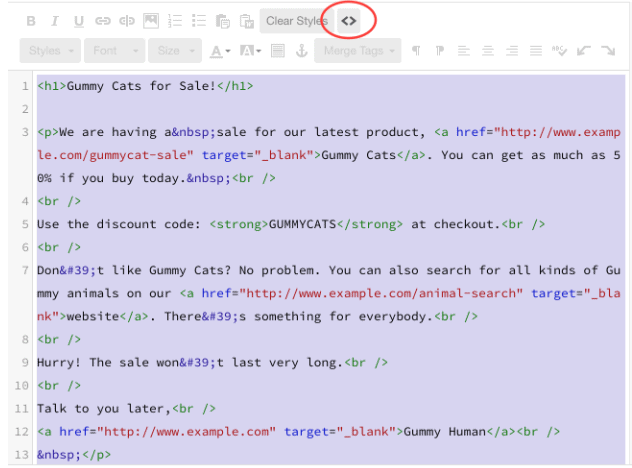 Once you've obtained the source code, you can open Terminus and find the "Emails" tab in your project navigation. Click on "track a new email," and then copy and paste the HTML code into the field provided.


Terminus will automatically identify valid URLs in your HTML email once you plug it into the email builder. You can also choose to use shortened URLs to track email clicks in Terminus. From there, click on "Build tracking URLs and Email." You'll then receive reports on email opens and clicks on tagged links.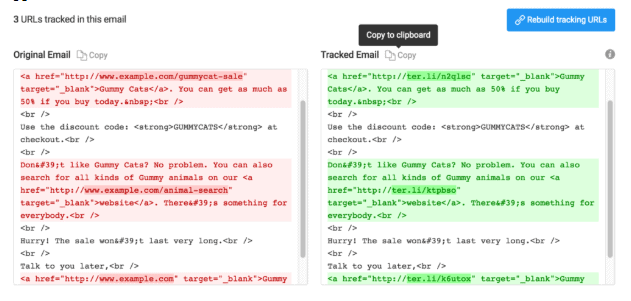 Once you send your tracked email and the recipients have clicked on the links, your reports will also be available in Google Analytics. To find them, open your account and navigate to Acquisition > Campaigns > All Campaigns. You'll see your reports broken down by campaign name. Using this method will also help you track these clicks all the way and see if people converted on your website.
If you're new to using UTM codes to build trackable links, make sure you avoid these common mistakes as you start out.
Other Important Email Metrics To Track
Once your reports are generated, you'll find there are a number of useful insights to glean from your email tracking metrics.
Clicks
Your click through rate, or simply click rate, is the percentage of people who click on a link or image in your email. So, if you send an email campaign to 100 people and 10 people clicked on links within your email, then your click rate would be 10%. A higher click rate, about 2.5% or above, is a sign that your campaign is relevant to your readers and reaching the right audience. A lower click rate — below 2.5% — means you might have to readjust your approach.
Unsubscribe rate
Your unsubscribe rate is the percentage of subscribers who have opted out of receiving your messages. Nobody really wants to know their unsubscribe rate, but understanding it is important nonetheless. An unsubscribe rate is an honest glimpse into your campaign's effectiveness and can actually help you strengthen your strategy in the long run.
Knowing who is unsubscribing from your emails will tell you about the people who read your emails, the kind of content they prefer, and how you can adjust your communications to keep them engaged. As you fine-tune your email strategy, compare how many people unsubscribe when you use a particular subject line, content format, number of images, and the frequency with which you send emails. You'll know what kind of communication resonates best with your audience when you can pinpoint what leads to higher unsubscribe rates.
Keep in mind that the average unsubscribe rate across all major industries is 0.1%, so if you experience an unsubscribe rate higher than that, it's time to make some adjustments.Gin
Delivery Rate
Your delivery rate is another key insight into the health of your campaign. Email delivery rates are calculated with this formula: emails sent minus bounces by the number of emails sent. It's important to know if your emails are bouncing, as it could point to a few lapses in your campaign strategy.
For one, your mailing list might be filled with invalid email addresses. On the other hand, it could be that your subject lines appear too spammy and get filtered out by email service providers. You should aim for a 95% delivery rate or above for your email campaigns.
Having access to metrics like these is invaluable to your email campaign. Luckily, most popular email marketing tools, such as MailChimp and Hubspot, offer email tracking services that summarize these email tracking metrics in a report.
Conclusion
Using email tracking as part of your marketing strategy is a step in the right direction for building more strategic and results-driven campaigns. Email tracking provides you with the complete picture of your campaign's effectiveness, allowing you to better understand your audience, know your own strengths and weaknesses, and save time.
If you're interested in learning more about how to leverage UTM parameters and how to monitor the effectiveness of your campaign, check out the resources below.