Any successful business needs a lot of high quality leads. Just putting a website together with a contact form is not sufficient. You need several tools in your lead generation toolbox to generate enough leads to make your business profitable.
Here are six strategies for generating targeted leads that are highly effective.

1. How to use email marketing for lead generation?
Can email marketing be used for lead generation?
I mean, they are already in your list? Aren't they leads already?  Yes, but they aren't paying you, are they?
They might have just signed for the free eBook on your website. They are in the first stage of the buying cycle.
In order to convert them, there are a few things that you could do.
Rich Delivery: Rich delivery consists of using great typography and rich imagery to entice your subscribers. Our brains process images way more easily than they do text. Things become even more interesting if you use human faces in the emails. Look at the example below, where an eCommerce retailer offers not only free shipping but also free socks.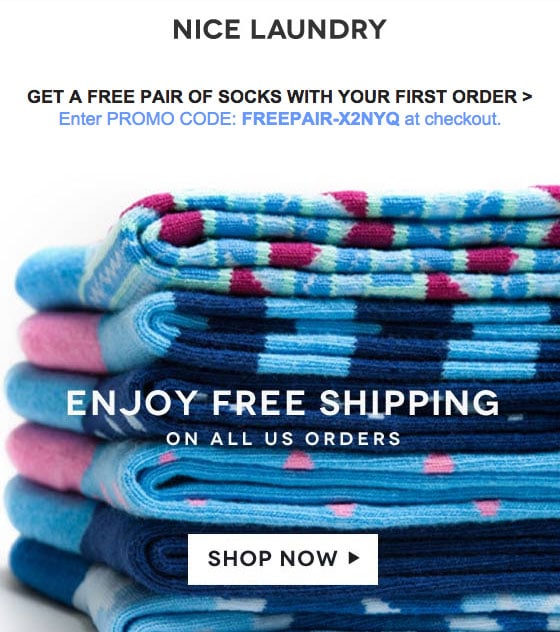 Subject lines: Subject lines play a crucial role in getting your mail opened. Research has proved that subject lines with first or last names get more opens than an email that isn't personalized at all.
Email marketing doesn't start and end with blasting marketing emails 10 times a week. Instead focus on building a relationship with your list. Provide them valuable content and get them to trust before promoting offers.
Make yourself see as a nextdoor neighbour.
2. How to use effective landing pages ?
This is related to the first technique. Your landing pages should reflect that you would provide value.
I believe Ryan Deiss is the one who coined the term tripwire offer. It refers to an offer that's so full of value that it's hard to resist. He used the same technique to grow his Survivalist blog to over 1 million monthly revenue.
This is how it works:
Say, I offer Facebook marketing services to businesses. In order to get them hire me I offer a tripwire offer which goes as: "For $9.99, I will set up your Facebook page and bring you leads for as low as $0.01".
Most offline business owners, like dentists or realtors, don't even know how to set Facebook pages up let alone get leads for 1 cent.
After the initial campaign, they see how effective it is and would want more. That's when I offer them monthly services to the tune of $500 to $1000.
In the example of the eCommerce retailer, did you notice the "tripwire" element? Of course, it wasn't used on a landing page. But it was definitely used.
3. Use LinkedIn for lead generation
Data from Hubspot reveals that LinkedIn is far more effective for lead generation than Facebook and Twitter.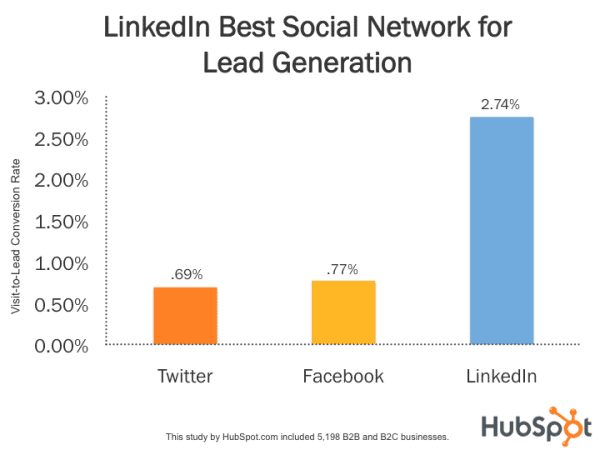 It might be because people take LinkedIn not only as a social media channel, but a platform to showcase their resume to others.
They are also looking for information to grow their careers or help their businesses.
In that manner, LinkedIn would have a more targeted audience just waiting to become leads.
Use LinkedIn ads: LinkedIn ads can be a great way to get yourself at the front and center of your target audience.
Research profile views: You need to have premium profile to see who viewed your profile but it's good to get it. It may be that your leads are stalking you. Send them a "hi" and ask them if you can be of any assistance.
4. Create valuable content
What would be the kind of content that your audience values? The best place to find that out is by monitoring social conversations of your readers.
I don't mean that you ought to do something akin to what NSA does. But instead, use tools like BuzzBundle to see the information what your potential leads freely share.
BuzzBundle allows you to specify any keyword and read conversations happening around that term.
Then, find out what your audience needs. Listen to their pain points and offer solutions by creating valuable content.
To do that you need to find what your audience needs and give them exactly that. You can learn more about that here. In the example below, you can see how you can go about researching what your readers need.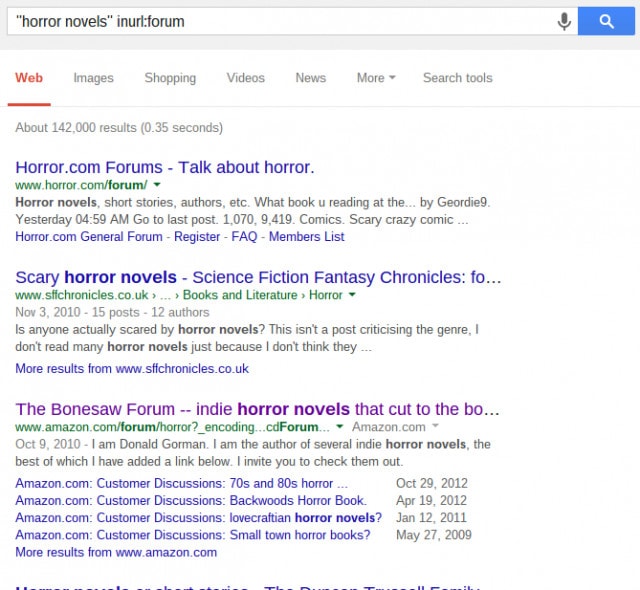 5. Speak at offline events
Offline events can be a good way to get more leads. There's nothing more honest than getting in front of your audience and talking to them about how you can help them out.
People love face-to-face conversations.
6. Incorporate live chat or feedback widgets like Qualaroo.
A few days ago I was looking for a decent VPS. I am complete noob when it comes to VPSes and I was looking around confused, struggling to find something that'd fit my needs and wasn't all that costly.
After reading reviews I rounded up two options— Solid SEO VPS and Poweruphosting.
Solid SEO seemed a better deal since they had servers close to my location… well somewhat. I contacted their support team to know more.
While I waited I headed over to Poweruphosting and viola there was this guy asking me if I wanted some help. Of course I wanted help.

I asked several questions and the last thing I said was Solid SEO had servers close to my country and I was considering them. The chat guy retorted by saying that those guys were resellers and didn't have any servers of their own outside US.
It was enough to ditch Solid SEO and go with Poweruphosting. The point that I want to make is, support emails are a decent thing, but they don't beat instant live chat.
Concluding thoughts!
Leads are the lifeblood of any online business. Try all the strategies that can potentially get the right leads. Who knows what might end up working spectacularly and become a great source of revenue for your business.