Want to understand your target audience? Why would you not? Of course, it will refine your lead generation strategies!
To fully understand your target audience's needs, and interests, you must look at the bigger picture of what drives them to do business with you. Thus, tracking customer behavior empowers you to serve your prospects more efficiently and amplify other similar prospective clients.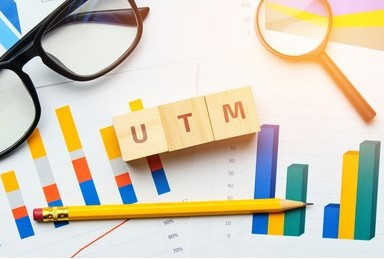 Collecting data and valuable information about your website visitors will also let you know how your customers act on your website. The ultimate objective of doing all this is to convert visitors into leads.
So, how to identify where your traffic is coming from? And how do you collect valuable information about your website visitors and track the performance of content and social media campaigns?
UTM codes are the complete package providing the best solutions to determine the performance of the links from where most of your traffic originates. For instance, adding UTM parameters, you can track general information like how much traffic you are getting from social media or a particular blog post.
This article will thoroughly brief you on how to organize UTM codes and the best UTM building practices to follow. So, let's dive in.
What are UTM Codes? & Why are they Important?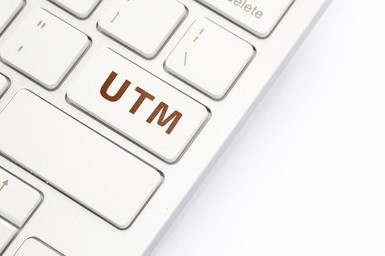 UTM stands for 'Urchin Tracking Module,' acquired by Google in 2005, today known as Google Analytics.
UTM codes, also called UTM Parameters or UTM tags, are small bits of code you can add at the end of the URL link. Adding this code will enable you to track the traffic that visits the particular website. In other words, consider these snippets of codes as analytics tools that help categorize incoming traffic data.
To evaluate the effectiveness of your promotional activities or marketing campaigns, UTM parameters can increase engagement by letting your visitors interact with your website.
If you invest a lot of time in social media, you might post multiple links in your profiles daily. UTM parameters can benefit these scenarios by letting you analyze and examine your traffic source. Best part? You will save a lot of time if you decide how to tag your links now!
How do UTM Parameters Work?
UTM parameters are added at the end of the URL link. It implies these snippets of code work like any other clickable link. However, when a user clicks on that link, Google Analytics uses the UTM links to differentiate each URL from the rest.
Google Analytics collects the crucial data needed to track your link clicks, traffic sources, the number of visitors, conversions, and much more.
How do UTM Links Boost ROI for Marketing Campaigns?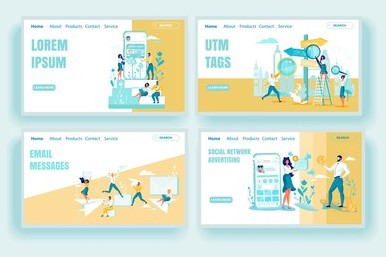 UTM Parameters are imperative to enhance the efficiency of any marketing or social media campaign. Without these variables, you will not be able to get attribution data for traffic sources.
Have you heard of the term 'referrer.' It is displayed as the source of the session in the reports. When a customer visits your website from any external source, the referring website's URL is identified by your analytics tools and determined as the click's source.
However, some scenarios do not allow referring URLs to be passed. Some of these scenarios include:
 Scanned QR codes
Clicks from offline spreadsheets or PDFs
Clicks from emails
While coming across these scenarios, you might not be able to report on your performance and decide how to improve your ROI. However, with UTM parameters, you can quickly see and evaluate all these aspects of the campaign.
These aspects include:
1. The status of your existing campaigns regarding the valuable clicks they acquire.
2. What email list has the highest click rate?
3. The subject line of the website that draws the most engagement.
4. The list of buttons or CTA which were overlooked.
5. What campaigns initiated the lead-generating sessions?
Thus, if you want to make data collection easier, UTM codes help. UTM code snippets allow you to standardize campaign reporting and boost ROI across the target platforms.
Types of UTM Parameters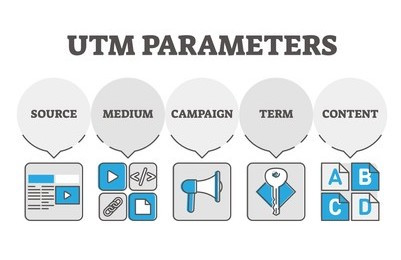 5 basic UTM parameters every advanced marketer should know are as follows:
1. utm_source for Source Website or Name of the Platform
This UTM code tracks the source your visitors are coming from. The source could vary from Facebook, Mailchimp, Twitter, or others.
2. utm_campaign for Campaign Names That You Can Use Across Platforms
It is where you will add an identifier that will boost your marketing campaigns across different platforms and makes sense to your initiative, be it an anniversary sale, product-launch-us, etc.
3. utm_medium for Channel Type
It can track your visitor's channels to land on your site, such as email, paid social media ads, etc.
4. utm_content for Link Placements
Discovers which CTA placement or part of the text generated the most traffic. For example; download-now-button, learn-more-copy, etc.
5. utm_term for Copy Versions
This tag helps you identify which keyword can generate more leads and gain the attention of your prospects, particularly if you are running a PPC (Pay-Per-Click) ad.
Best Practices to Build and Organize UTM Codes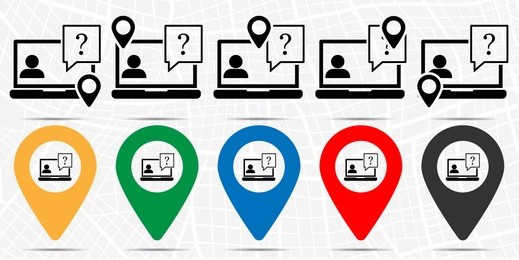 The purpose of this guide is to strengthen your UTM tracking URLs strategy. So, let's check out the top 13 UTM parameter practices you must follow to identify where your traffic comes from, why & how it is getting to your website:
1. Use Custom Parameters if you report on Special Attributes Frequently
The custom UTM parameters refine your UTM tracking efforts to get targeted and precise results while ensuring data integrity.
So, what is the best time to use custom UTM links? When you conduct frequent campaigns (that do not fit into the UTM 5 parameters explained above) that carry characteristics and would be beneficial to differentiate in your reporting.
These custom UTM parameters help marketers to distinguish campaigns without overloading the primary codes. These codes also facilitate ROI data filtering and sorting.
2. Determine if the Campaign is authorized by UTM Parameters attached for Tracking
You can use UTM parameters to track your marketing efforts encompassing your prospect's journey. It includes email campaigns, social campaigns, affiliate campaigns, offline campaigns, digital ad campaigns, etc.
Based on the campaign you want to run, include UTM parameters to your URLs to track which links, images, or CTAs were clicked on.
3. Avoid using UTM Tags for Internal Links
Things can get tricky if you start tracking internal links with UTM Parameters. For instance, trying to check the traffic generated by a particular blog post. It is because UTM parameters track incoming site traffic from an external source, such as emails, different web pages, social media pages, etc.
4. Record who Built the Link
Documenting UTM data from the first step helps. This documentation suggests keeping all records of who built the UTM Parameter (the name of the UTM manager). Once you familiarize your team with the UTM manager, you can refer them to that person in case they have any queries related to UTM.
When you use the dedicated UTM builder TerminusApp, you can see who created the URL or campaign for auditing purposes.
5. Use a UTM Builder Tool
Using a UTM spreadsheet to keep UTMs records while running campaigns can take ample time and cause you a headache. Therefore, if you want to save time and ensure you get accurate data, you can simplify and organize your campaign tracking workflow with a robust UTM builder.
If you are tired of manually adding UTM Parameter to your URLs, we have your back! You can use the efficient all-in-one UTM Builder and Link Management Platform, TerminusApp.
The tool is well-versed in handling complex UTM and CID requirements. Moreover, it attaches UTMs to all the links you create with zero errors. So, you can replace your messy spreadsheets today and develop a consistent UTM strategy.
6. Establish a Convention
Want to create UTMs to check the traffic coming to your landing page from external sources? To create UTM parameters, you need to establish UTM naming conventions, which are the naming rules.
However, you must give clear instructions to strengthen your UTM reports and enable your team members to use UTM naming conventions correctly.
You can create a master spreadsheet for UTM codes. However, it can be challenging for beginners to perform duties in an advanced marketing team.
If anyone in your team switches up a UTM code in the middle of the campaign, you will be able to see 2 sets of data. The first will be linked with one or multiple campaigns, and the second will be linked to the old campaign.
A dedicated tool such as TerminusApp empowers users by letting them define rules and set permissions to maintain consistency in tagging. It helps the naming conventions to feature in your team's workflow by default.
7. Shorten Links to Enhance user Experience
Links get relatively longer when you add UTM codes. The good part is that you can still hide the codes and shorten the URLs. Even after removing the parameters, you will still get the necessary tracking data.
TerminusApp's custom-branded domain helps you build a short, clear, and recognizable link without stripping the value of your UTM codes. So, get one today with TerminusApp to improve your customer experience.
8. Ensure using Lowercase
UTM codes are case-sensitive. Always ensure you use the same, only the lowercase in your UTM parameters. If you use different cases, you need to remember which ones are capitalized, which will be a hassle.
9. Avoid Using Spaces, Use Underscores
Using 'Space' in your UTM code can throw a wrench in your plans as they auto-convert to yielding complex and inconsistent campaign results. It is why underscores are primarily used in UTM tags.
Using underscores, you can keep 2 words together and make them read like one. For instance, utm_content=traffic_analysis_techniques will imply that you are informing the best techniques to analyze traffic.
Some brands also prefer using dashes, plus, or percentage symbols. However, we recommend using underscore to keep the UTM tags clean.
10. Determine UTM Parameters while Copying & Pasting Internal Links
You might be glad to know that when you click 'Copy Link' on Google or social media platforms, such as Instagram and Facebook, they automatically generate a UTM code! So, if you want to copy and paste any link, always ensure you have checked and removed the UTM codes, so it does not conflict with your own UTM code.
11. Improve Readability
Keep UTM codes simple and emphasize Readability. Avoid using similar UTM parameters, and ensure you can come up with a one-line summary from the built UTM code.
12. Make the Most of the UTM Data
Reap the benefit of all these crucial UTM building practices. You can better understand what marketing platforms are more prone to conversions, which ad campaigns bring the most traffic, and the ROI generated from the campaign when using UTM code of snippets to marketing metrics.
Where to Use UTM Parameters?
You must implement the UTM parameters in the use cases mentioned below:
1. Test Clicks from your Email Newsletters
Do you know how important it is to understand the variable inside your newsletter that contributes most of the traffic? Understanding their significance, why not append the UTMs to your URLs?
You can set up relevant UTM codes for all the links if you want to know from where your visitors landed.
2. Insert UTM parameters into Social Media Links
UTMs can be highly beneficial if you want to analyze your social media referral traffic. Primarily, adding UTM code of snippets to social media links can help you find the suitable social media platform as per the products or services you sell and maximize returns by boosting traffic.
3. Track the Banner Advertisements
Want to maximize your ROI? Then, you might regularly perform paid marketing. However, you must know about the banner ads that perform the best.
If you build and organize UTM codes, besides knowing the audience source bringing the most traffic, you can also find the banner size, placement, color, design, and effective banner tags through UTMs.
FAQs
1. Does UTM tracking URLs enhance SEO?
Ensuring you have executed your canonical tags correctly will ensure the UTM tracking will not adversely impact your SEO efforts. You must use the rel=" canonical" tag if you have pages with these codes to determine the canonical URL that Google will rank.
2. How do I organize UTM codes?
Listed below are the best ways to use and organize UTM codes to get the best results:
· You need to be precise, rather specific. Remember, you get what you put with UTM parameters.
· Hide your UTM codes in a short URL. The long link may look messy to your leads and may confuse them.
· Do not use spaces. Keep all tags in lowercase.
3. Does the order of UTM tags matter?
All UTM parameters, including Source, Medium, Term, Campaign, or other query parameters, do not require specific order. You must use a question mark before the 1st query parameter, and other query parameters are separated with ampersands.
Now you know how to organize UTM codes, you can get a clear picture of your traffic sources, prospects' behavior, and campaign performance. If you are searching for a tool to build your UTM parameters, TerminusApp is the perfect solution for all your troubleshooting needs.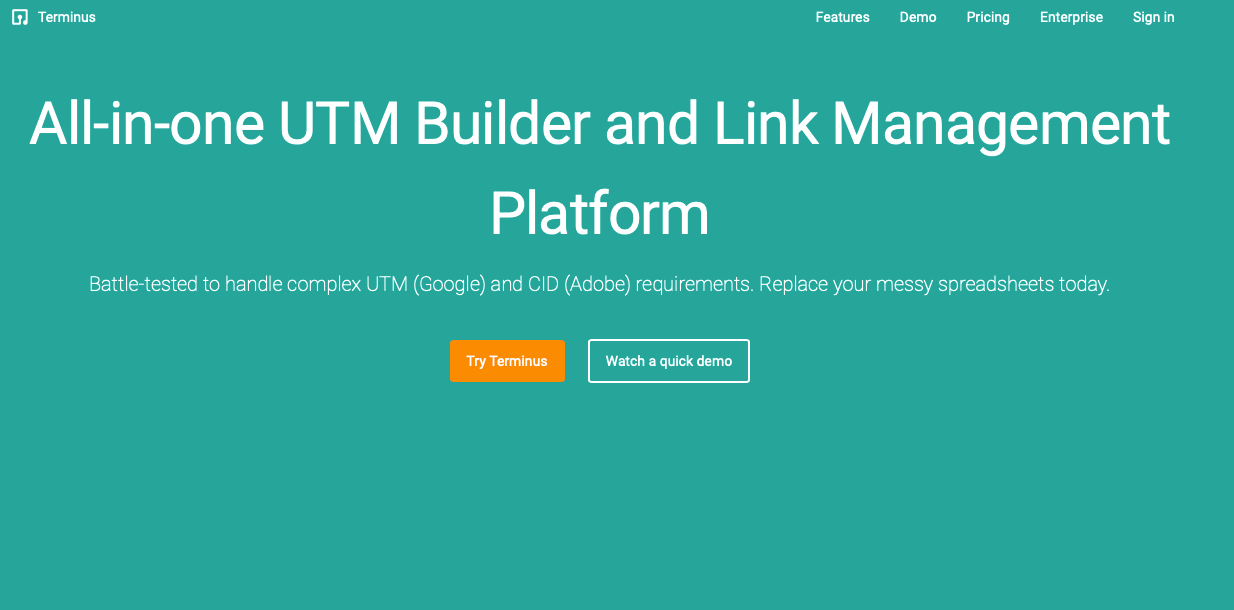 It is feature-rich software that allows you to replace your UTM spreadsheet and standardize your UTM naming conventions. With TerminusApp, you can optimize your marketing efforts to boost the return on investment. Additionally, the platform enables B2B marketers to plan and manage Account Based Marketing (ABM) at scale.
Check out all elements in which TerminusApp can help you steal the show!

Get started with Terminus
The quickest and easiest way to create UTM links in bulk while following your complex UTM strategy.
Sign Up Now