Between 2018 and 2019, a mere 2.6% of visits to e-commerce websites were converted to purchases. This year however, looks to be different.
Due to the coronavirus pandemic and stay-at-home policies, there is a massive boom in online shopping. Between March and April, e-commerce spending in the US soared by 30% compared to the same period last year. This represents a 50% surge in online shopping year-on-year.
As online retail shopping becomes the new norm, digital marketing is more essential than ever. And one of the most effective ways to drive up conversion is to target people who have already shown an interest in your brand or industry. These include users who have visited your site, clicked on an ad, or otherwise interacted digitally with your brand.
This is where two digital marketing tactics, remarketing and retargeting, come in.
What is Remarketing?
In the field of marketing, remarketing is the practice of re-engaging with past and potential customers through email. This includes email reminders for abandoned shopping carts, offers on their wishlist items, or promotions about products related to their past purchases.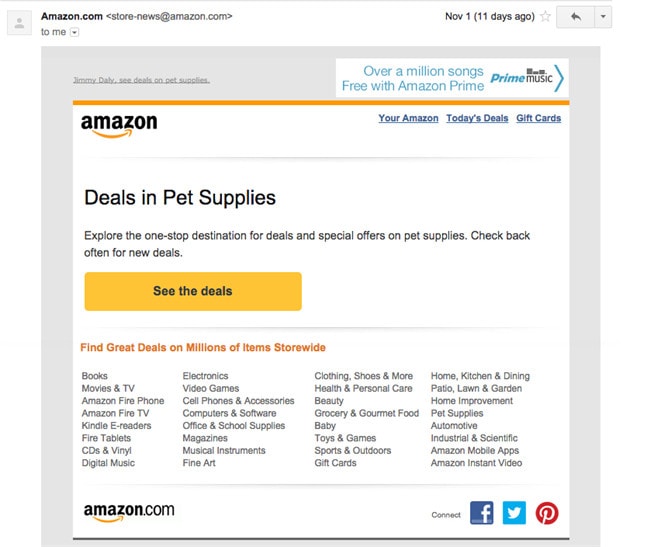 An example of a remarketing email, alerting customers to promotions they might be interested in
What is Retargeting?
Retargeting, on the other hand, is re-engagement through online ad placements. These consist of ads, banners, and suggested products or services that "follow" the user even after they leave your site.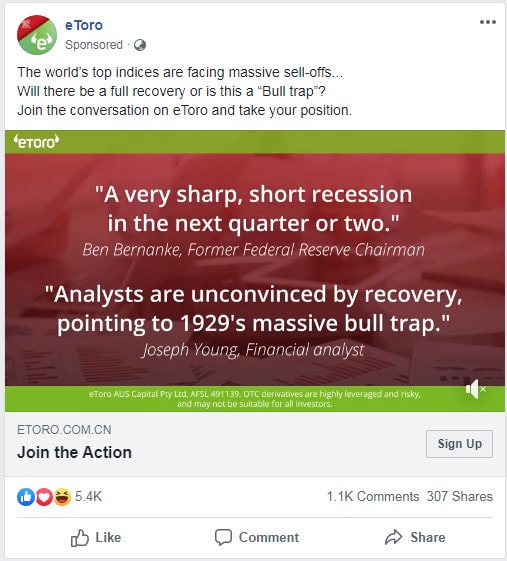 A retargeting ad on Facebook for someone who might be interested in online investments or the stock market.
There are different types of retargeting:
Search Retargeting – Target search keywords or key phrases that are related to your business
Contextual Retargeting – Target users that visit sites related to your industry. For example, a user who searches for airline tickets might also be interested in hotel accommodation.
Site Retargeting – Target the websites that visitors navigate to after leaving your site
Engagement Retargeting – Target users or fans who interacted with your social media presence, such as your Facebook page or Youtube channel.
Remarketing vs. Retargeting: What's the Difference?
Though many people use the two terms interchangeably, here we see the distinction between remarketing and retargeting. The difference lies in the approach: remarketing is engagement through the inbox, while retargeting is engagement using online ads.
Let's take Susan as an example. The owner of three cats, Susan is searching for cheap cat food supplies in bulk to last her pets through the pandemic. She reads through a bunch of online reviews and visits a couple of petshop sites before settling on one particular brand.
Midway through the shopping process, she gets distracted by a Zoom call and abandons her shopping cart.
In remarketing, Susan might receive a follow-up email in a few days reminding her of the cat food. Further down the line, she might get a promo alert if that specific brand of cat food goes on sale.
As for retargeting, Susan might see banner ads for cat food and pet supplies on other websites or even social media, since she has shown an interest in this product segment.
How Does Remarketing Work?
Remarketing campaigns are built on two basic tools: pixels and lists.
Remarketing pixels are unobtrusive pieces of code that tracks a visitor's journey through your site, and even on other sites. It can track the user's progress from your homepage, through various pages, and through the purchase process. By tracing your visitors' path, you can see which pages and products get the highest traffic, and gain valuable insight on your customers' shopping habits.
In remarketing, pixels are also useful in crafting what types of email you will send. For example, pixels can identify which customers had abandoned their cart, so you can send a follow-up.
This is where the remarketing list comes in. Broadly speaking, this is the organized list of your customers and what type of email they should receive. While the pixels do the tracking, it's up to you to do the segmenting.
Here's a sample remarketing list:
| | |
| --- | --- |
| Type | Email |
| First-time purchasers | Thank you note |
| Abandoned shopping cart | Cart reminder |
| Frequent customer | Related products, promotions, or upselling |
| Expiring subscriber | Subscription reminder |
| Wishlist item | Sale alert |
Remarketing campaigns are convenient because the whole process can be automated. Mailchimp offers an all-in-one remarketing service that takes care of the pixel tracking and mass email campaign.
How Does Retargeting Work?
Like remarketing, retargeting makes use of pixels, this time to track the customer off-site. Whereas remarketing focuses on their on-site journey, retargeting follows the users through the web and displays ads that are relevant to their interests, such as your brand, to ensure you stay on top of mind.
Retargeting is done through ad exchange networks. The largest, Google Display network, encompasses 2 million sites and roughly 90% of the Internet, allowing your ad to reach millions of users. Facebook's Audience network encompasses popular social media platforms like Instagram, Messenger and Whatsapp, and is seen by over 1 billion users per month.
When you sign up for such an ad network like Facebook's or Google's, you will be provided with a retargeting pixel for your website. These are small, unobtrusive lines of code that tracks your visitor even when they go offsite. When they visit a site that is part of the ad network, the pixel allows the network to know what type of ads to serve, based on the user's browsing history. 
Since online ads typically run on a pay-per-click (PPC) or cost-per-mille (CPM) scheme, it's important that your ads are displayed to people who are most likely to convert. Retargeting helps by identifying users who have visited your site, thus making the most of your investment.
It's important to note that retargeting scripts can be used together with UTM scripts — codes that track traffic sources to your site. Whereas retargeting tracks where your visitors go, UTM identifies where they came from. Both scripts can be embedded in custom short URLs using tools like Terminus, allowing you track both incoming and outgoing traffic in a seamless manner.
Benefits of Remarketing and Retargeting
Remarketing allows you to:
Provide personalized messaging to customers through the sales cycle, from the initial "welcome" engagement to post-purchase and subscription renewal process.
Salvage abandoned carts. A whopping 76% of consumers abandon their carts during checkout. And yet, 28% of all e-commerce revenue comes from abandoned cart email reminders.
Alert customers to new promos. This is especially important for wishlist items. In addition, customers appreciate exclusive offers.
Upsell products or related items. Studies show that repeat customers are 9x more likely to convert than new ones.
Improve brand loyalty and customer service. A personalized email goes a long way to customer retention.
While remarketing takes care of the customer base, retargeting allows you to attract new ones:
Regain lost website traffic. Users who navigate away from the site are more likely to revisit if they see your brand on other sites.
Improve ad campaigns. Target people who have visited your site or are interested in your specific product segment. 
Reduce ad spending, by targeting consumers who are more likely to convert.
Penetrate new areas. Beyond regular online ads like pop-ups and banners, retargeted ads can appear on top of search results, in social media, and even inside messaging platforms like Gmail and Messenger.
Boost mindshare. Persistent ad exposure ensures that your brand stays on top of mind to interested audiences instead of your competitor.
So do they work?
YES. And we'll let the numbers do the talking.

Remarketing vs. Retargeting: Privacy Concerns
One of the frequent concerns about these two practices is privacy: are they invasive?
Of the two, remarketing faces less issues. A customer who receives an abandoned cart reminder or related products offer may be annoyed, but they have the option to unsubscribe by virtue of the US CAN-SPAM act and the EU's General Data Protection Regulation (GDPR) law, which require commercial messages to include an opt-out function.
Retargeting on the other hand faces greater consumer pushback. The nature of advertising networks mean that your ad as well as other brands related to your industry will follow the user on the web. Whereas a marketing email may be a slight annoyance, persistent ads can cause greater privacy concern and even the adoption of ad-blocking software.
It should also be noted since 2018, the GDPR has enacted several rules related to data privacy, which include:
       

The customer's right to request all their personal data gathered by the company at any time

       

The customer's right to be forgotten

       

A requirement that businesses gather only the data needed to complete an action
And while the GDPR is an EU law, its extra-territorial scope means that it applies to all websites that receive European visitors, even those based in the US.
However, US consumers are willing to tolerate retargeted ads if it means getting a better deal. A Salesforce survey found that 57% of respondents are willing to share personal data to get personalized offers or discounts. Similarly, a Smart Insights survey found that 47% were okay being tracked in exchange for a better deal.
Remarketing vs. Retargeting: Which One Should I Use?
While most sites use the two terms interchangeably, there is clear distinction between remarketing and retargeting, as well as their use case.
Remarketing is on-site reinforcement: that is, reaching out to people who have already invested in your brand by visiting your site or took part in the purchase process. By reaching out on their inbox, the goal is to provide a personal experience in the form of brand reinforcement, upselling, or helpful messages like promo alerts or subscription reminders.
On the other hand, retargeting is off-site awareness: making sure that your brand stays on top of mind of people who have interacted digitally with your business. This is accomplished through online ads on websites, social media, search engines and even streaming platforms.
So which one should you use? Here's a handy table:
| | |
| --- | --- |
| Use remarketing if: | Use retargeting if: |
| Most sales are one-time purchases | You wish to reach out to users that are not in your database |
| You experience a lot of abandoned shopping carts | There is a high bounce rate (visitors who leave the site after viewing only one page) |
| There is a popular wishlist item | There is a high degree of interest for a particular product |
| Most customers are unaware of an ongoing promo | You experience a lot of new but one-time visitors |
Of course, if you have the marketing resources, the best approach would be to use both remarketing and retargeting in concert. The former will reinforce your existing customer base, while the latter allows you to reach out to new customers, especially those who are still on the fence.