Campaign analytics are incredibly important in helping organizations measure the success of their marketing efforts. They provide valuable insights into the effectiveness of campaigns, allowing marketers to maximize the return on their investment.
Campaign analytics provides data about campaign performance, including impressions, clicks, conversions, and other metrics. One software that helps you do this is Uplifter.
With a tool like Uplifter, marketers understand which messages resonated most with their target audiences, which channels were the most effective in reaching them, and which strategies should be adjusted or replaced.
By analyzing campaign analytics, organizations can identify areas for improvement and make changes to increase the performance of their campaigns.
In this uplifter review, I will discuss everything you need about Uplifter and a great alternative worth trying.
Uplifter Review:
Uplifter is a comprehensive system that empowers marketers to create great campaigns without the hassle of manual setup. With Uplifter, users can generate UTMs, CIDs, short links, and QR codes for any campaign in seconds.
They can also get real-time alerts, detailed reports, and valuable insights to track their performance easily. Uplifter helps marketers streamline their campaigns, get more efficient results, and focus on what matters most — growing their business.
With Uplifter, marketers can be sure that their campaigns are always running smoothly and that their customers are getting an amazing experience.
 Features
Uplifter has a powerful set of features designed to make marketing campaigns easier, faster and more efficient. Here are some of the main features of Uplifter:
Uplifter's UTM Builder helps marketers easily create, track and manage their UTM codes. This allows marketers to gain insights into where exactly their traffic is coming from and better measure their campaigns' performance.
With Uplifter's URL Shortener, marketers can easily and quickly shorten long URLs and make them look more presentable and professional.
Uplifter has a QR code generator tool that helps marketers quickly generate and customize QR codes. This helps them drive more engagement and track the performance of their campaigns.
Uplifter comes with advanced analytics dashboards that help marketers track the performance of their campaigns in real-time. This allows them to make quick adjustments and optimize their campaigns for better results.
With Uplifter, marketers can easily manage their campaigns, track their performance and optimize for better results. It's the perfect tool for any marketer looking to get the most out of their campaigns.
 Pros and Cons
 Pros
Easy to Use: The platform is easy to set up and use due to its straightforward user interface.
Can integrate into another as part of a cohesive and unified suite.
Customizable: Uplifter allows businesses to customize its features to best fit their needs.
Analytic Insights: The platform gives businesses valuable insights into customer behavior to make more informed decisions.
 Cons
It can be costly for some businesses
Limited Features: Uplifter's features are limited compared to other customer success platforms.
Uplifter supports is not always time for its users.
 Pricing
Personal plan
1 user
1 domain
Create campaign links
Create shortened links
Create QR codes
Compare performance
Help center support
 Team Plan
Free trial, then £200 monthly plan fees
ALL OF PERSONAL PLUS
5 users
3 domains
User permissions
Dropdown approval flow
Landing page monitoring
Onboarding support
Free online training
Email support
Enterprise Plan
Contact the team for a personalized enterprise plan.
ALL OF TEAM PLUS
Unlimited users
Unlimited domains
Branded shortened links
Custom integrations
Open API
Single Sign On
Anomaly detection
Onboarding workshop
Custom training
Priority support
 Recent Uplifter reviews
Benefits of using Uplifter
Uplifter simplifies the process of campaign creation and management and helps marketers get their campaigns off the ground quickly and easily. From creating campaigns to tracking results, Uplifter provides a comprehensive suite of features that make campaign management a breeze.
Some of the key benefits offered by Uplifter include:
1. Campaign Management: Uplifter's easy-to-use interface allows marketers to quickly create, launch and manage campaigns effortlessly. Uplifter automates manual tasks, such as creating landing pages, tracking results and segmenting lists, which saves time and effort.
2. Reporting: Uplifter provides comprehensive reporting so marketers can track their campaigns in real-time. Reports can be customized to include any data metric and campaign performance can be monitored and improved on-the-fly.
3. Scalability: Uplifter is designed to scale with a business's needs. As the business grows and more campaigns are launched, Uplifter can grow with it to ensure campaigns are managed efficiently.
4. Insights: Uplifter's analytics provide actionable insights into campaign performance. Marketers can quickly identify which campaigns are working and which need to be improved or adjusted to ensure they maximize their ROI.
5. Personalization: Uplifter allows you to personalize your campaigns for each customer. You can create segmentation rules to target relevant audiences, craft messages for each segment, and set up dynamic content for maximum engagement. This can help you reach more customers and increase your ROI.
6. Efficiency: With Uplifter, you can create campaigns faster and more efficiently. You can also track the performance of each campaign and optimize it to get the best results. This can help you improve your campaigns and get a better ROI.
Uplifter is an invaluable tool to any marketer or campaign manager looking to get their campaigns off the ground quickly and efficiently. With its comprehensive suite of features and powerful analytics, Uplifter can revolutionize the way you manage your campaigns.
Why you need an Alternative to Uplifter?
Uplifter is a great campaign tracking software, but it's not the only option. Other alternatives can offer the same features and benefits with additional perks. If you're looking for a way to track and measure the success of your marketing campaigns, then you should consider an alternative to uplifter.
Here are some reasons why you should consider an alternative:
1. Cost: Uplifter can be expensive for small businesses that are just starting or don't have a large budget for software. An alternative may be more affordable.
2. Features: Not all businesses need all the features that Uplifter offers. An alternative may have fewer features but may be more tailored to your specific needs.
3. Flexibility: Uplifter is an all-in-one solution that integrates all features into one platform. This may not be the best fit if you need more flexibility or customization in your tracking software. An alternative may offer more of these features.
4. Support: Uplifter doesn't have the best customer support, which may be challenging if your business starts. An alternative may offer better customer support, making it easier to get help when you need it.
Finding the right campaign tracking software for your business can be a challenge. Uplifter may be a great option for some businesses, but it may not be the best fit for everyone. Consider these reasons why you should look for an alternative.
Best Alternative to Uplifter: TerminusApp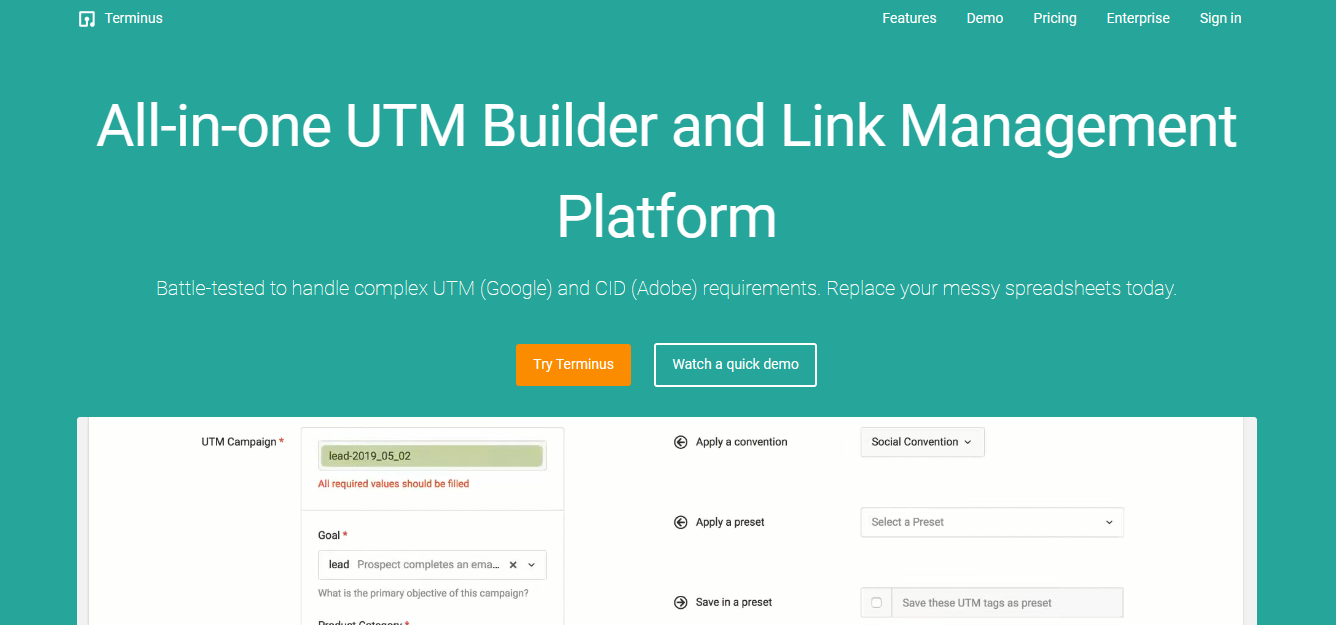 TerminusApp is a powerful tool for creating, tracking and optimizing UTMs. It helps marketers to identify the source of their website traffic, measure the effectiveness of their campaigns, and optimize them accordingly.
TerminusApp also provides marketers with key insights, analytics, and alerts to help them better understand their marketing activities and make smart decisions.
With TerminusApp, marketers can create trustworthy UTMs, CIDs, short links, etc., so they can be sure that the data they're gathering is accurate. They can also use TerminusApp's analytics dashboard to monitor their campaigns and get quick insights and actionable data. With TerminusApp, marketers can get the most out of their campaigns and be more successful.
Features of TerminusApp
TerminusApp is a powerful tool to help marketers create and monitor meaningful campaigns. It offers UTM Builder, URL Shortener, UTM Naming Conventions, Chrome Extension, Reports, URL Validation and Monitoring. By leveraging the power of TerminusApp, marketers can create and monitor campaigns more efficiently.
UTM Builder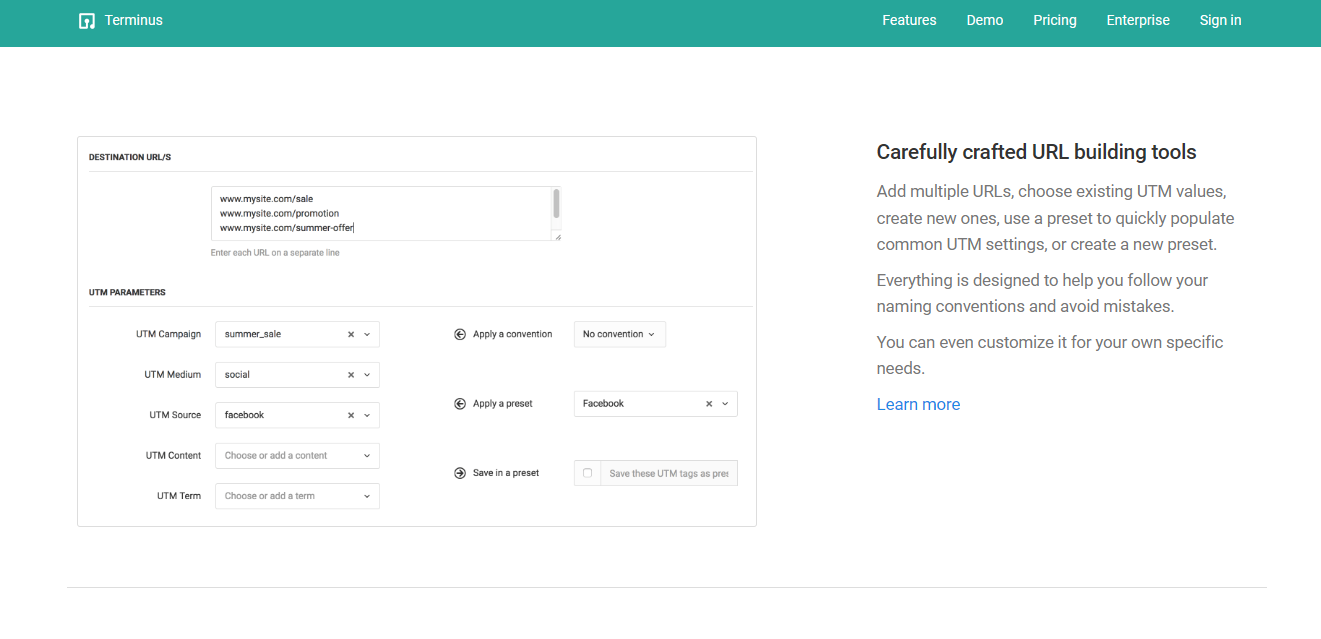 The UTM Builder is a great feature that allows users to quickly create UTM links to track campaigns. It includes intuitive form fields which make it easy to name, define, and save links to use in campaigns. Additionally, TerminusApp offers a URL Shortener, allowing marketers to quickly share links on social media.
UTM Naming Conventions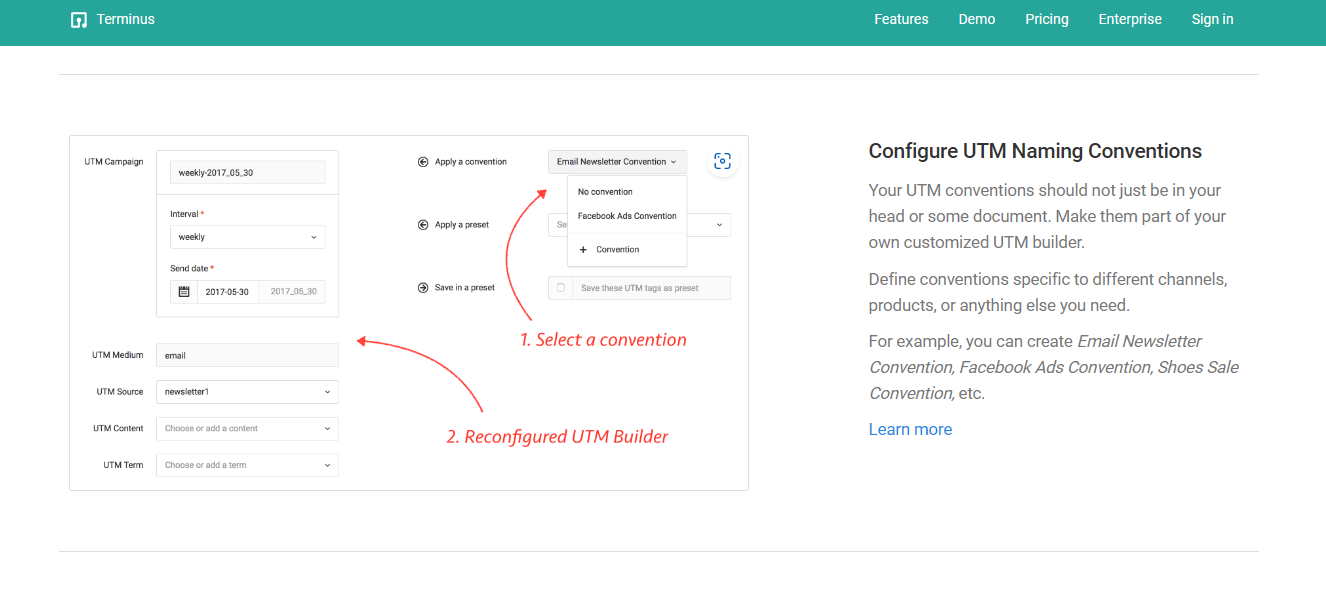 Another great feature of TerminusApp is their UTM Naming Conventions feature. This allows users to set up a standard naming convention for their campaigns which can be used to easily identify and track the progress of campaigns.
Chrome Extension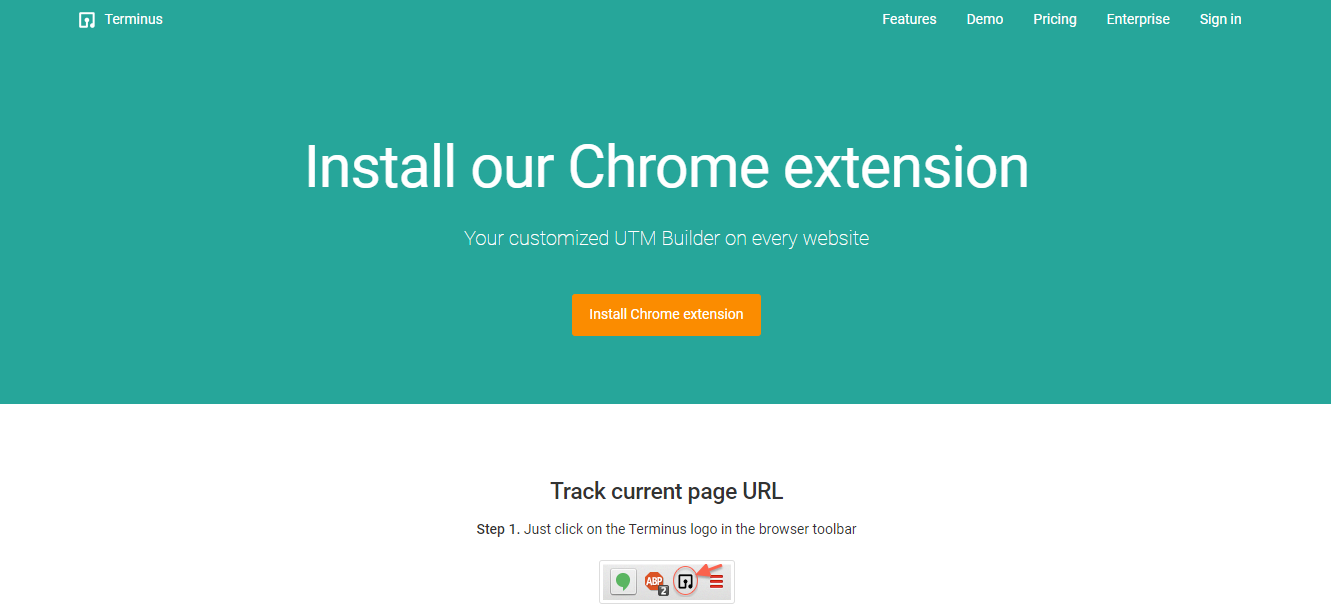 TerminusApp also offers a convenient Chrome Extension, which allows users to quickly access their UTM Builder and URL Shortener features without leaving their browser. This makes it easy to quickly create campaigns on the go.
Reporting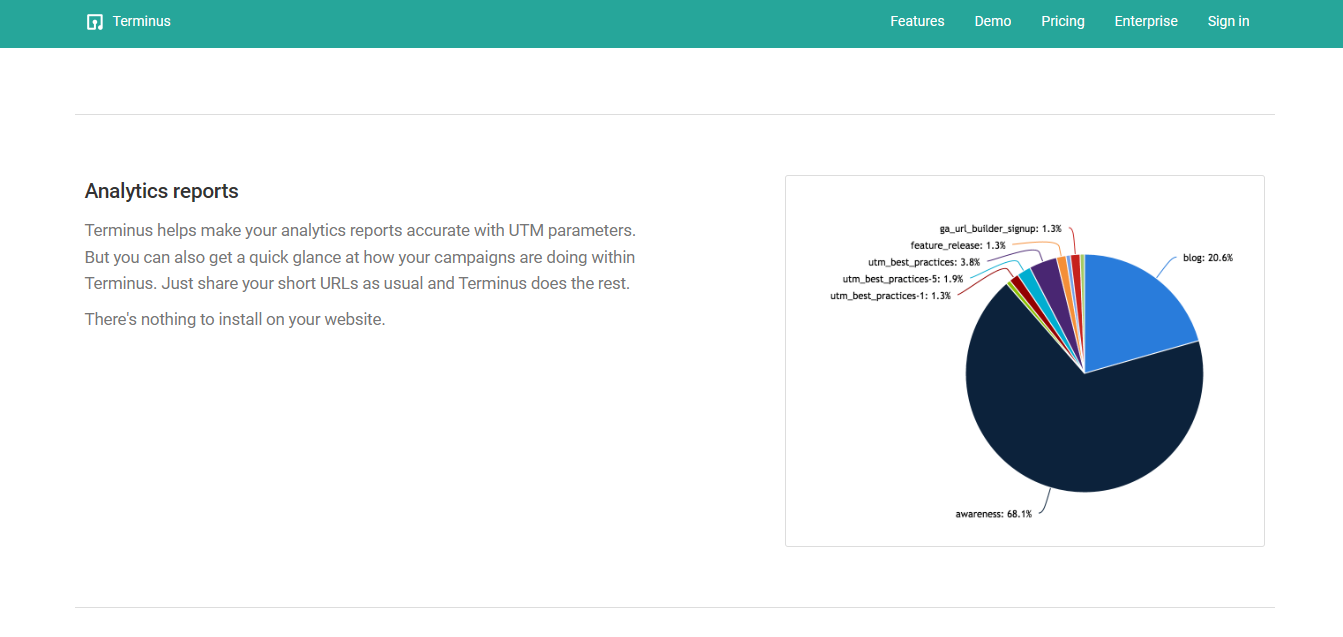 TerminusApp offers comprehensive reporting and monitoring features so users can review the success of their campaigns in real time.
URL Validation and Monitoring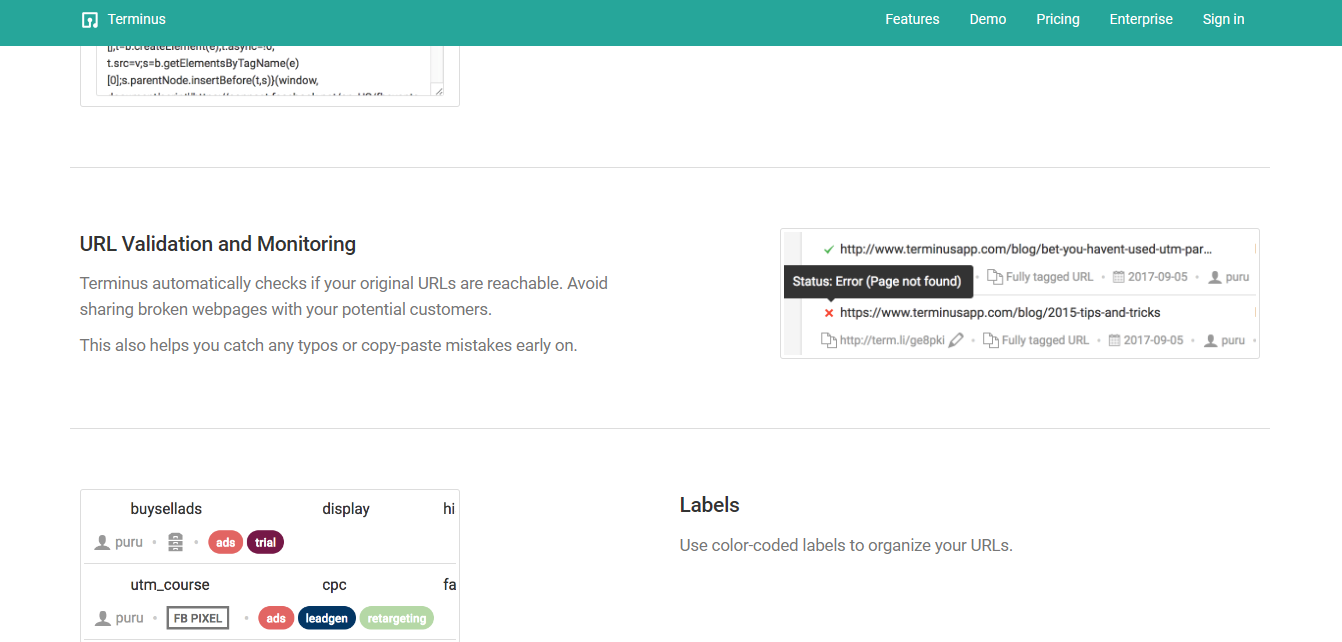 TerminusApp includes a URL Validation and Monitoring feature, which allows marketers to quickly ensure their links are updated and valid. This helps ensure campaigns run smoothly and gives users the best experience possible.
Overall, TerminusApp is a powerful tool for marketers and helps them create, track and monitor campaign success. Its UTM Builder, URL Shortener, UTM Naming Conventions, Chrome Extension, Reports, URL Validation and Monitoring features make it easy to quickly create and manage.
Pros
UTM spreadsheet management is not necessary.
Manage all UTM tracking in one location with review capabilities.
Apply a highly consistent UTM strategy throughout the entire organization.
Can manage intricate UTM norms and taxonomies
Capable of working with a variety of requirements and workflows
It can improve your analytics reports' results, fostering informed and trustworthy business decisions.
 Cons
I have not encountered any drawbacks yet.
Pricing
$29/month
1 User allowance
$79/month
3 Users
5 Projects
2 Custom Domains
$199/month
5 Users
10 Projects
3 Custom Domains
$499/month
15 Users
30 Projects
5 Custom Domains
TerminusApp offers a 21-day free trial for every plan, and you can cancel anytime.
Benefits of TerminusApp
TerminusApp can help improve the efficiency and performance of your campaigns with a suite of features. Its benefits include multiple configurable URL builders, custom naming conventions with nested dependent fields, presets, preset groups, parameter groups, an email builder, auto-generating short URLs, custom parameters, and bulk operations on URLs.
Multiple configurable URL builders allow you to quickly create URLs for different building needs. You can set up different builders for different campaigns or use one builder for all campaigns. The custom naming conventions support nested dependent fields, making it easier to build complex URLs.
Presets and Preset Groups provide a way to quickly save and reuse UTM values across campaigns. You can easily add, delete, and manage presets and preset groups. The Parameter Group feature helps you customize your UTM values further and define which parameters should be included in each URL.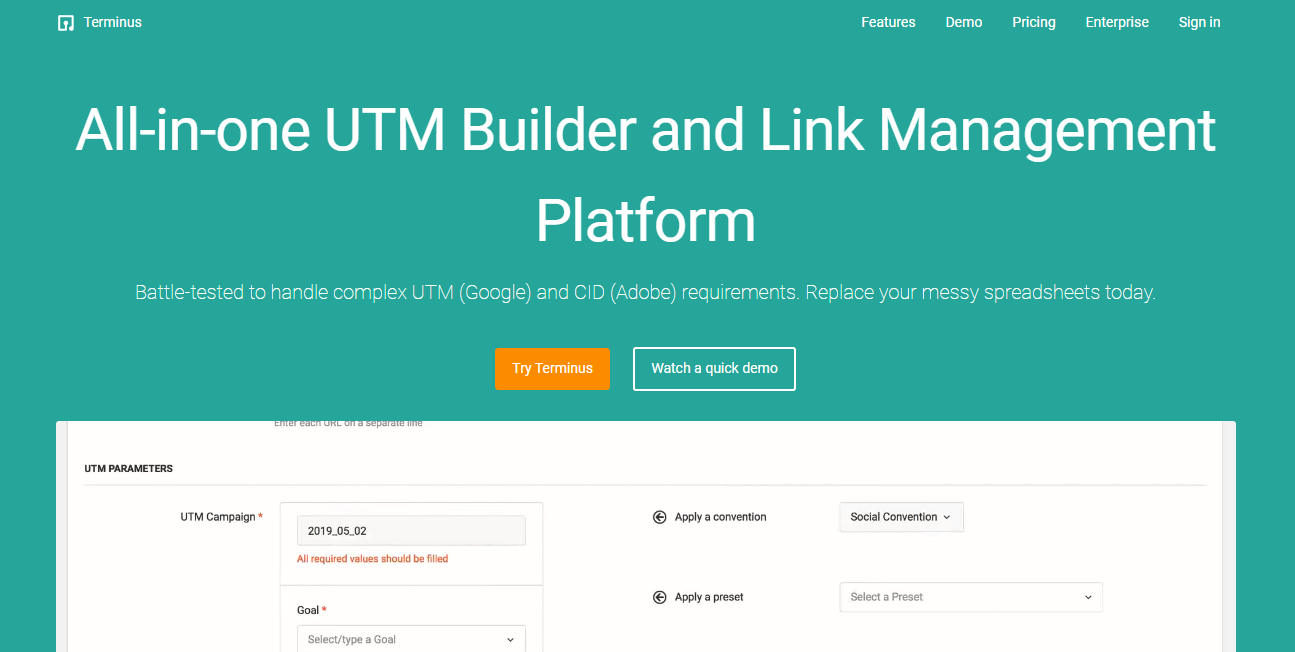 TerminusApp also has an email builder to help enforce UTM naming conventions in email URLs. It makes it easy to keep track of all the URLs used in email campaigns and their corresponding UTM parameters. Plus, you can auto-generate short URLs with custom domains and HTTPS enabled for improved security.
Finally, you can use custom parameters for tracking beyond UTM and perform bulk operations on URLs with TerminusApp. This helps you save time and effort and quickly track multiple campaigns and URLs.
Conclusion
TerminusApp is a powerful all-in-one UTM builder and link management platform that can help businesses maximize their tracking efforts. It offers several features and advantages, such as configurable URL building for different needs, custom naming conventions, preset creation, and auditing.
With Terminus App, businesses can create custom UTM parameters to track beyond UTM, generate short URLs with custom domains and HTTPS enabled, and perform bulk operations on URLs. It is an invaluable tool for businesses that want to track their marketing efforts efficiently and effectively.
Get started with Terminus
The quickest and easiest way to create UTM links in bulk while following your complex UTM strategy.
Sign Up Now