In today's digital world, the length of URLs can be a real pain point. Long, complicated URLs look unwieldy and can be challenging to remember and share. This is where URL shorteners come in handy.
They allow you to create short and sweet links that are easy to manage and share. What if you could take this further and create custom short links unique to your brand or business?
A URL shortener with a custom name allows you to create unique and recognizable links representing your brand or message. In this blog, we'll explore the top 3 URL shorteners and the benefits of using this tool for your business.
What is a Custom URL Shortener?
A URL shortener with custom name allows you to create custom-branded short URLs that match your brand's name or a specific marketing campaign.
Rather than generic short URLs, you can create custom short URLs for marketing, social media posts, and email campaigns.
For example, a clothing brand can create a custom short URL like "brandname.co/summer-sale" to promote a summer sale event.
What is the need for a Custom URL shortener?
If you frequently share links online, using a URL shortener with a custom name can significantly benefit you. Here are some reasons why:
Using a URL shortener with analytics, you can easily track how many clicks your links get, where the clicks are coming from, and other valuable data. This information can help you better understand your audience and optimize your online marketing efforts.
If you're limited by the number of characters you can use (such as on social media platforms like Twitter), a URL shortener can help you fit more content into your posts.
Custom URL shorteners can help you save even more characters since you can create shorter, more concise URLs.
People are more likely to share a link if it's short and easy to remember. Using a custom URL shortener, you can create links that are easy to share and promote. You can even add a call-to-action in your links to encourage people to click and share.
A custom URL shortener can make your links look more legitimate and professional since they'll be branded with your domain name. This can help increase trust and credibility with your audience.
A custom URL shortener allows you to create branded links that align with your business or personal brand. This can improve brand recognition and make your links more memorable for your audience.
How to create an effective URL with a link shortener?
You can create catchy shortened URLs with a URL shortener with custom name. A free URL shortener tool can shorten your usual long URLs, and you can access advanced features like analytics and customization features like creating multiple custom domains with paid plans.
Here's how you can effectively use a URL shortener with custom name-
Select a domain that is short and easy to remember. Consider using a custom domain name that reflects your URL's brand, content, or purpose. Avoid lengthy or complicated domain names.
Aim for simplicity and clarity in your custom URL. Avoid using too many numbers, special characters, or complicated words that may confuse users or make it difficult to remember. Pick a reliable tool like TerminusApp.
When sharing your short custom URL, remember where and how you promote it. Avoid spamming or over-sharing; use it in relevant and appropriate contexts to avoid being seen as intrusive or spammy.
Ensure the short link is accessible and functional on different devices and browsers. Test it on desktops, laptops, mobile phones, and tablets to ensure a consistent user experience.
Regularly monitor the performance of all your links using link analytics tools. Track traffic, click-through rates, and other relevant metrics to evaluate its effectiveness in achieving your goals.
Align your short custom URL with your existing branding, including your website design, logo, and overall brand image, to maintain consistency and recognition.
Regularly review and update your branded domains as needed to ensure it remains effective in achieving your goals. Make changes based on performance data, feedback, and evolving marketing strategies.
Top 3 URL shortener tools
If you're looking for a way to create shortened links that are easy to remember, trackable, and even branded with your domain name, many custom URL shortener tools are available.
We've rounded up three of the most popular options in this list: TerminusApp, Bitly and Rebrandly. Read on to learn more about these tools and find the one that best fits your needs.
1. TerminusApp

TerminusApp is an all-in-one UTM builder and link management platform. It provides many features to create, manage, and optimize their online links.
Key Features
URL Shortening.
UTM Builder.
Customizable Branded Links.
User-friendly interface.
Multi-tag URL builder.
UTM naming conventions.
Manage UTM tracking URLs more efficiently than using a spreadsheet.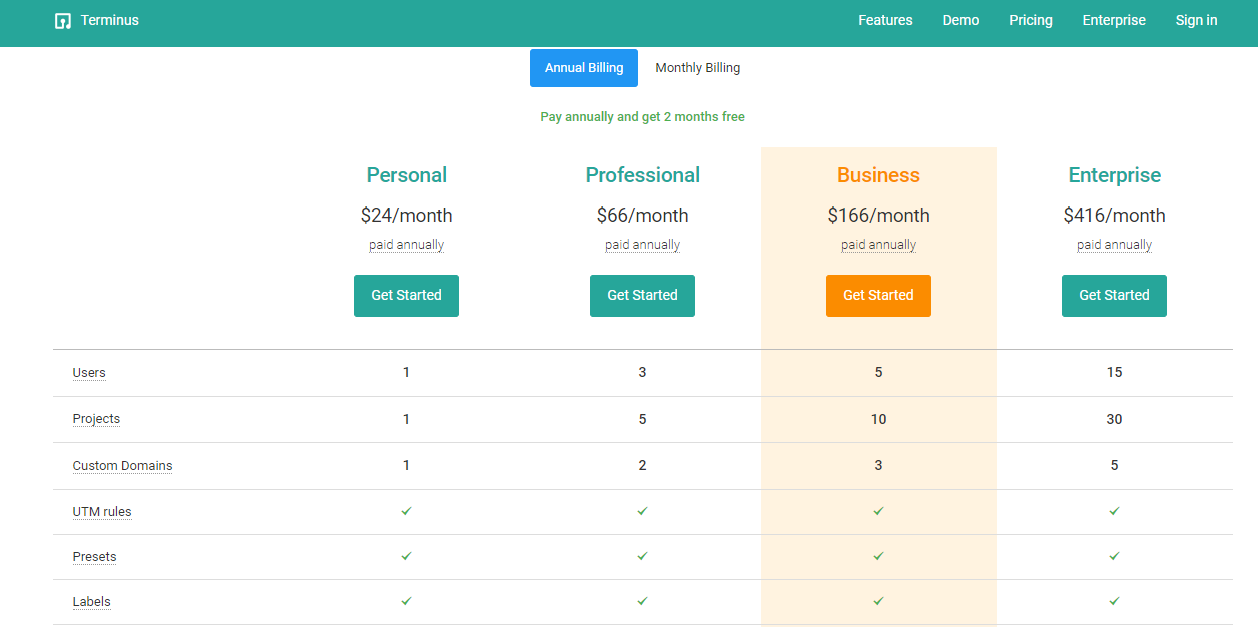 Personal – $24/ month billed annually
Professional – $66/ monthly billed annually
Business – $166/ monthly billed annually
Enterprise – $416/ monthly billed annually
2. Rebrandly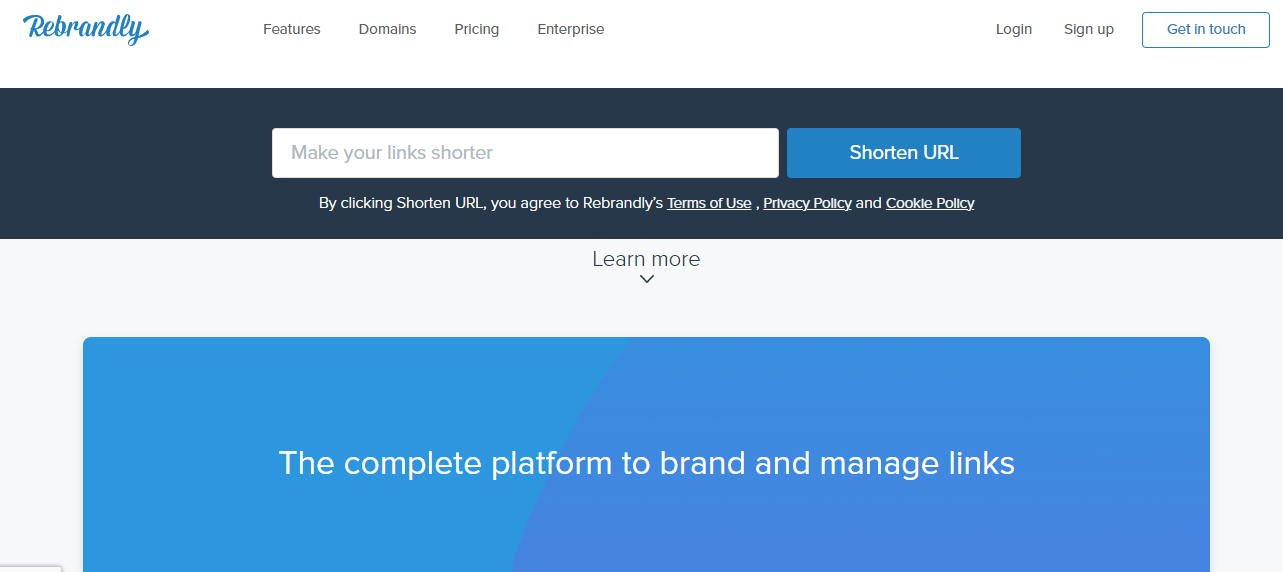 Rebrandly is a URL shortener tool that allows you to create and manage custom branded links, which can be used to improve the visibility and memorability of your content. They offer free and paid plans, with more features available for paid plans.
Key Features
Custom Domains
Link shortener
Link management
Security features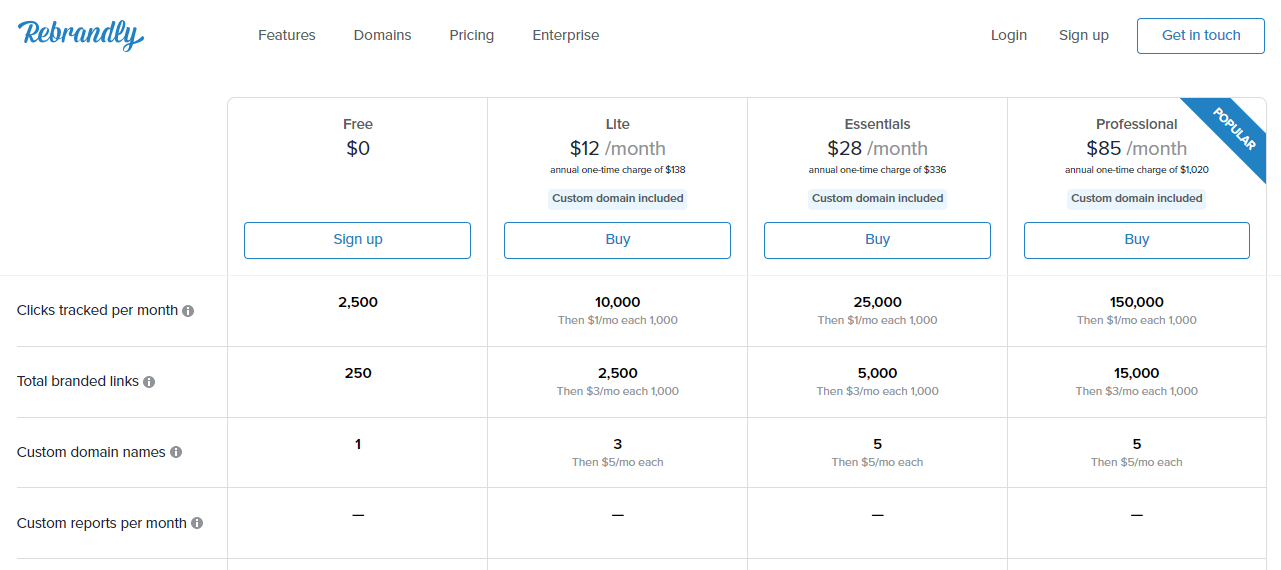 Lite – $12/ month billed annually
Essentials – $28/ month billed annually
Professional – $85/ month billed annually
3. Bitly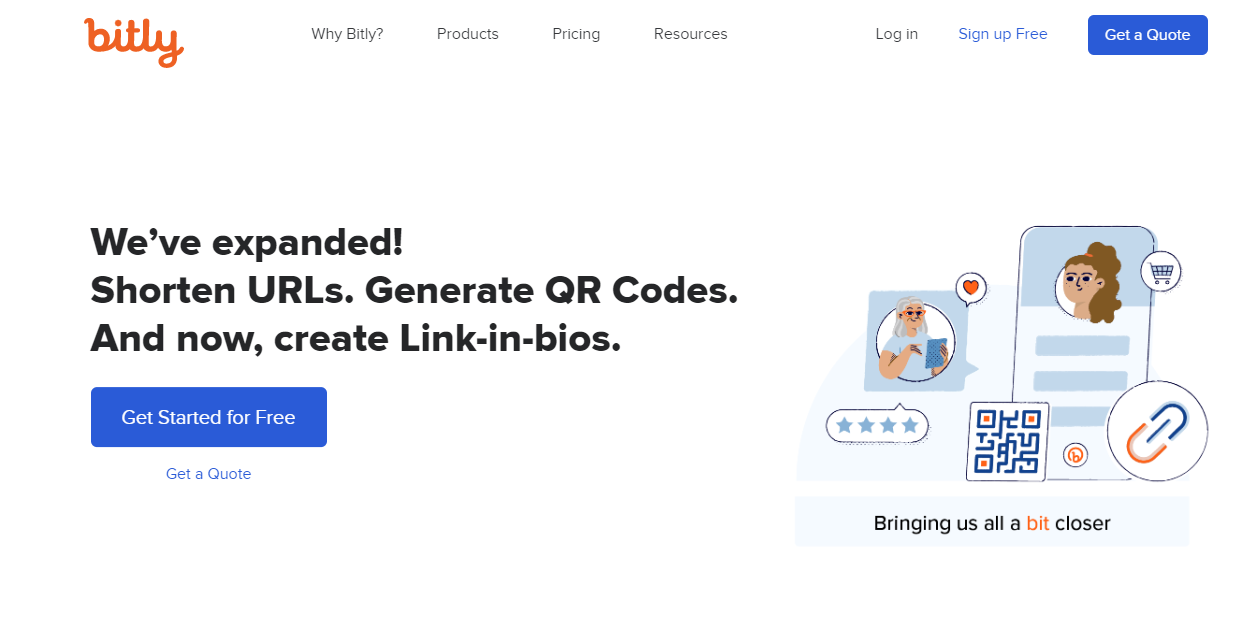 Bitly is a popular URL-shortening service that shortens long URLs into concise, easy-to-share links. It was founded in 2008 and has since become a widely used tool for businesses and individuals alike.
Bitly is a versatile and helpful tool for anyone looking to shorten and track their links for marketing, social media, or other purposes.
Key Features
Custom links
Real-time analytics
HTTPS encryption
Integration with popular platforms like Salesforce, Hubspot and Twitter.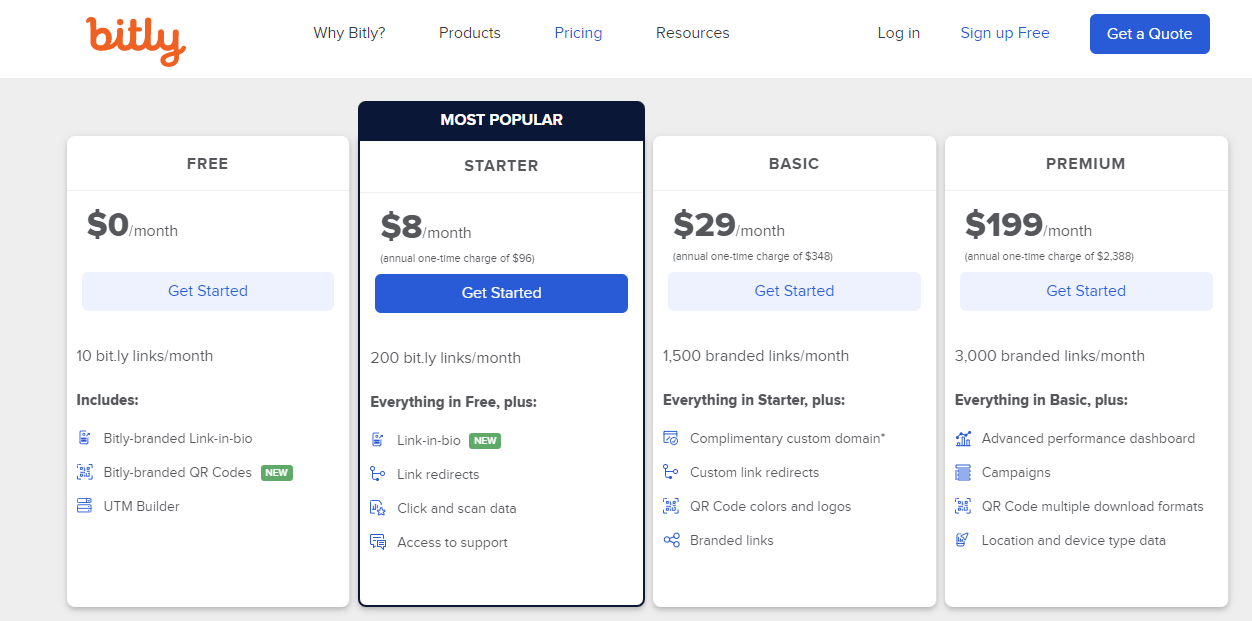 Starter – $8/ month billed annually
Basic – $29/ month billed annually
Premium – $199/ month billed annually
While Bitly and Rebrandly are popular URL shorteners with unique features and benefits, TerminusApp offers a strong alternative for businesses requiring advanced customization and analytics capabilities.
TerminusApp is a UTM builder that offers a one-of-a-kind URL builder for emails, making it easy to add UTM parameters to email campaigns and track their success in real-time. According to some reviews, TerminusApp is more advanced than other link management tools.
Let us dig into TerminusApp a little more to know why.
The All-In-One UTM Builder: TerminusApp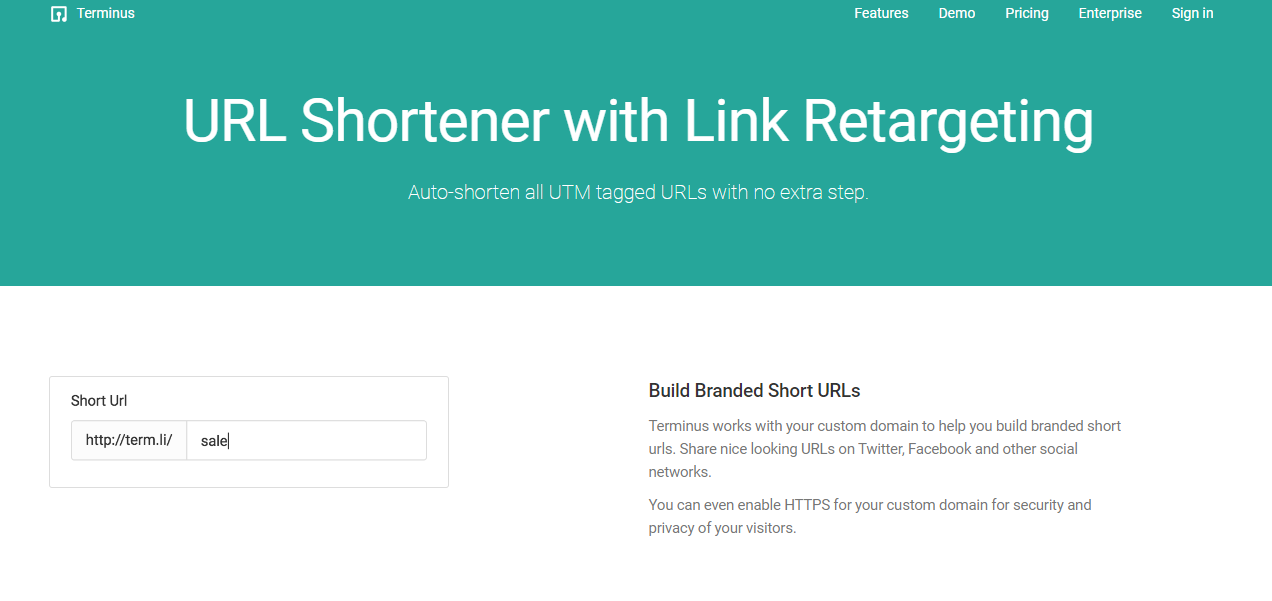 TerminusApp is a leading link management and tracking platform that provides comprehensive tools to create, manage, and optimize your online links. TerminusApp is the perfect URL shortener with a custom name.
It has a UTM builder that adapts to your conventions. No other product has anything like this. TerminusApp can also handle complex UTM conventions/taxonomies. It also has custom parameters for tracking beyond UTM.
With its customizable link domains, advanced link customization features, and comprehensive analytics, TerminusApp empowers you to enhance your business's online presence and drive more traffic and revenue.
How is TerminusApp Better?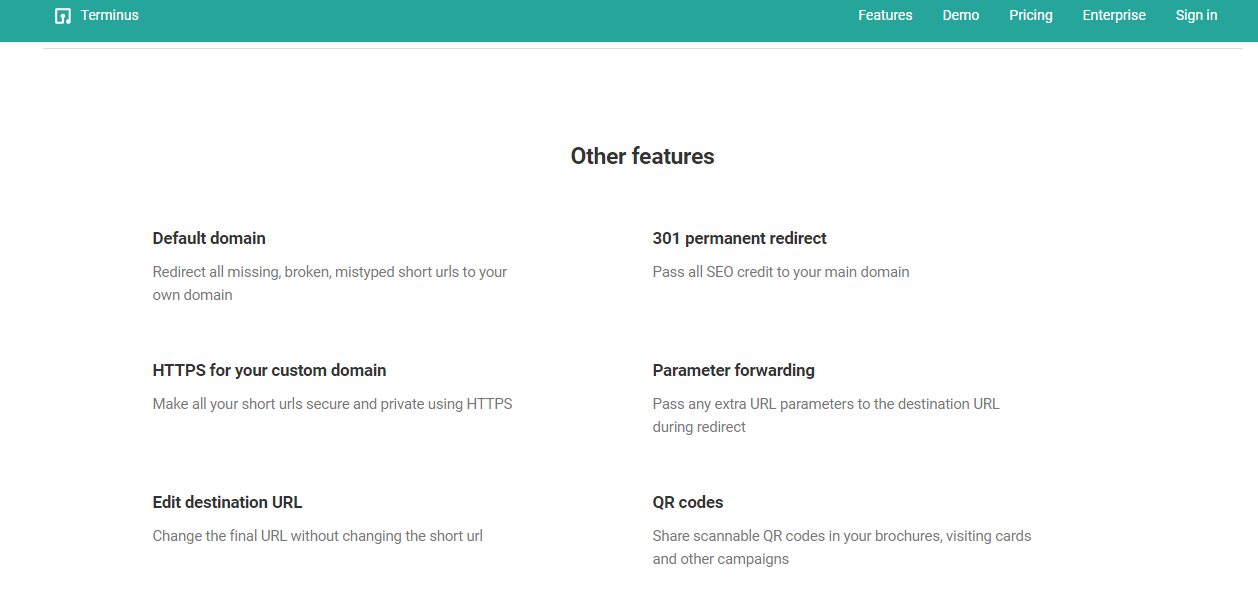 TerminusApp offers multiple features that make it better than any other URL shortener with custom name. Let's discuss its features in detail-
Customizable link domains
TerminusApp offers a wide range of domain options, including generic top-level domains (TLDs) like .com, .net, and .org and country-specific TLDs like .co,.uk or .ca.
One can also use their custom domain for their links, which helps create a more personalized and branded online presence.
TerminusApp's UTM builder allows you to create custom UTM parameters for your links, such as campaign source, medium, and name.
This helps track the performance of marketing campaigns more effectively and understand which channels drive the most traffic and conversions.
TerminusApp allows you to customize links in various ways, including adding custom slugs, setting up redirects, and adding UTM parameters. It helps create unique and engaging links and manage link destinations more effectively.
TerminusApp provides detailed analytics on link performance, including information on clicks, conversions, revenue generated, and more.
This can result in better data-driven decisions about marketing and sales strategies and identify improvement areas.
TerminusApp offers collaboration with team members on link management and tracking, including sharing analytics and creating teams with different permission levels. This simplifies workflows and improves communication among team members.
TerminusApp offers API access for advanced users who want to integrate the platform with other tools or applications.
TerminusApp automatically groups links based on their UTM parameters, making tracking the performance of specific marketing campaigns easy.
It is designed to create and manage short links effectively, focusing on optimizing online marketing and sales efforts.
Our user-friendly interface, customizable features, and comprehensive analytics make it a powerful tool for businesses looking to enhance their online presence and drive more traffic and revenue.
TerminusApp Pricing
Professional
Business

$29/ month or

$24/ month (billed annually)
1 User
1 Project
1 Custom Domain
UTM Rules
Presets
Labels
Notes
Custom Parameters
Multi-tag UTM Builder
Auto-Shortening
Click Reports
Fine-grained User Permissions
Auditing Tools
Chrome Extension

$66/ month (billed annually)

3 Users
5 Projects
2 Custom Domains

Everything in Personal, plus:

Custom Domain SSL
URL Monitoring
Redirect Codes
Bulk Operations

$199/ month or
$166/ month (billed annually)
5 Users
10 Projects
3 Custom Domains

Everything in Professional, plus:

Bulk URL Cloning
QR Codes
Conventions
Grid Mode URL Builder
Email Builder
Auto-generated Tracking IDs
Adobe/GA Classifications
API Access

$499/ month or
$466/ month (billed annually)
15 Users
30 Projects
5 Custom Domains

Everything in Business, plus:

Single Sign-on
Invoice Billing

Signed Agreement
You can choose to pay annually and get 2 months free. Got customized requirements? You can get in touch with our team to tailor plans according to your needs.
Conclusion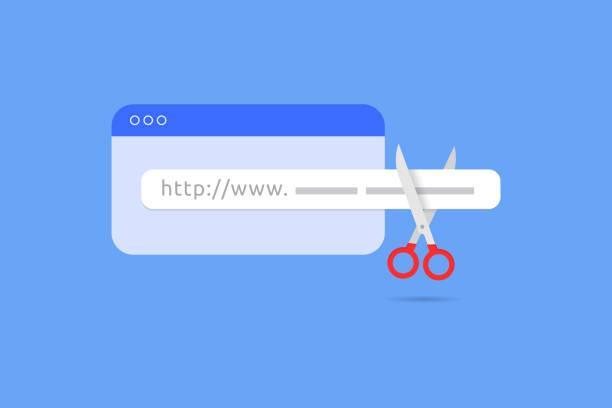 A URL shortener with a custom name can offer a range of benefits for your business. It can help to increase brand recognition, enhance trust and credibility with your audience, and provide valuable analytics and insights into your marketing campaigns.
If you're looking for a reliable and user-friendly URL shortener with a custom name, look no further than TerminusApp. With TerminusApp, you can create short, branded links that are easy to remember and share and track their performance with detailed analytics.
So why wait? Get started here and create custom links that drive more clicks, engagement, and conversions. Take your online presence to the next level with TerminusApp's mighty URL shortener and link management platform.
Get started with Terminus
The quickest and easiest way to create UTM links in bulk while following your complex UTM strategy.
Sign Up Now