Consumers worldwide are growing reliant on social media and software solutions with each passing day. Today's competitive market requires businesses to develop and reach out to customers before their competitors if they want to acquire revenue and improve ROI.
However, thousands of brands in the same industry with their advertising campaigns can quickly overwhelm consumers.
Personalizing your advertisements is vital to acquiring more prospects, and you need actionable data to optimize your ad campaigns to drive more conversions.
Learn how the UTM creative format parameter can help you understand what draws your audience in and how you can use data from Google Analytics 4 to understand their behavior to improve your ad campaigns with better creative input.
What are UTM Parameters?
UTM stands for Urchin Tracking Module, a tracking software developed by Google after they acquired Urchin in 2005, which became Google Analytics.
UTM tags are stubborn query strings that attach at the end of URLs to communicate with Google Analytics and provide data on audience behavior regarding the platform they found your website on, creative content for campaigns they engaged with, and other elements of user traffic.
UTM parameters inform you about various aspects of your campaign to help you compare their performance. An example of a complete URL with proper UTM tagging looks something like this:
www.yoursite.com/page?utm_source=blog&utm_medium=referral&utm_campaign=blogname
The snippets following the "?" are your UTM tags. Each tag refers to the source of your traffic, how they came to your website, and the campaign they fall into.
But what are the individual UTM parameters? How do you use them to track your marketing efforts?
UTM Parameters in GA4 and What They Do
A complete UTM tag comprises two components: UTM parameters and tracking variables. The latter refers to the campaign element you want to track using UTM parameters.
Google Analytics 4 hosts 8 parameters. Here's what they mean:
1.utm_source – The "source" parameter shows where your users come from. Your tracking variables for this parameter record the platform from which your website is referred.
Platforms can include search engines (Google, Bing, Baidu), social media sites (Facebook, Twitter, Instagram), paid posts and ads, etc.
2.utm_medium – The parameter shows you the type of traffic and marketing channel the user came from. For instance, "?utm_medium=organic" means your customer found your website on unpaid search engine results.
Examples of other tracking variables include "email," "cpc" which stands for Cost per Click for paid traffic, "referral," "display" for visual content like videos and ads, etc.
3.utm_campaign – This parameter categorizes the customers into the marketing efforts that brought them to your website – for example, launch, sale, free trial, etc.
4.utm_term – UTM term tracks the performance of keywords for paid non-Google campaigns to analyze their individual performance.
5.utm_content – The parameter records the exact call-to-action (CTA) that brought traffic to your website so that you can compare their performance and carry out A/B testing for your ads.
6.utm_source_platform – You can identify the ad platform your website link was run on and categorize it as Google Ads, Manual, or Shopping Free Listings.
7.utm_marketing_tactic – The parameter identifies the tactic used in your marketing efforts, such as remarketing, onboarding, prospecting, etc. The reports for this parameter have yet to be available on GA4.
8.utm_creative_format – The UTM creative format parameter records the creative material used by your ad campaigns, such as skyscraper, carousel, interactive, video, and image. Like marketing tactics, creative format is not reported by GA4 yet.
UTM Creative Format: Understanding Scopes of Traffic-Source Dimensions
Dimensions in GA4 act as data attributes for your tracking requirements and function as UTM parameters on your reports. Consequently, they record where your visitors came from, the marketing effort they fall under, and the creative content they click on.
Traffic-source dimensions often come with the prefix "First user" or "Session," which are called "Scopes" in Google Analytics 4. With the implementation of the UTM creative format, your traffic-source dimensions would be "First user creative format" and "Session creative format."
User
Users are your visitors that bring traffic to your website. GA4 tracks one user at a time, so even if your customer were to close the window to your website and return later, Google would consider them a single user.
User-scoped dimensions let you accurately track where your users are coming from. Regarding the UTM creative format, the "First user creative format" records the visual content of your ad campaign that first brought a specific user to your website and is found in user acquisition reports.
Session
Session-scoped dimensions help you identify where new and returning users come from when they start new sessions. The metrics record every session started by returning users with the prefix "Session." You can view "Session creative format" metrics in the traffic acquisition report.
Session creative format will tell you the creative content returning visitors clicked on to start a new session.
Since UTM creative format is a parameter yet to be added to Google Analytics 4, you could track it by adding the parameter as a customer dimension. But how do you create one?
UTM Creative Format: Creating Custom Dimensions
As the name suggests, custom dimensions are dimensions that you create on GA4 that Google does not provide to track and analyze data Google Analytics 4 does not track by default. You have a limit of 20 indices to create custom dimensions.
A custom dimension is configured by giving it a name by which you can identify it on your reports, the scope it applies to, and specifying if it will actively process data or not.
While users need custom dimensions to track event or user data not usually tracked by GA4, you can use it to track UTM creative format metrics before Google Analytics releases the parameter to appear on your reports automatically.
You can follow this step-by-step guide to create a custom dimension for the UTM creative format parameter:
Open Google Analytics and click "Admin"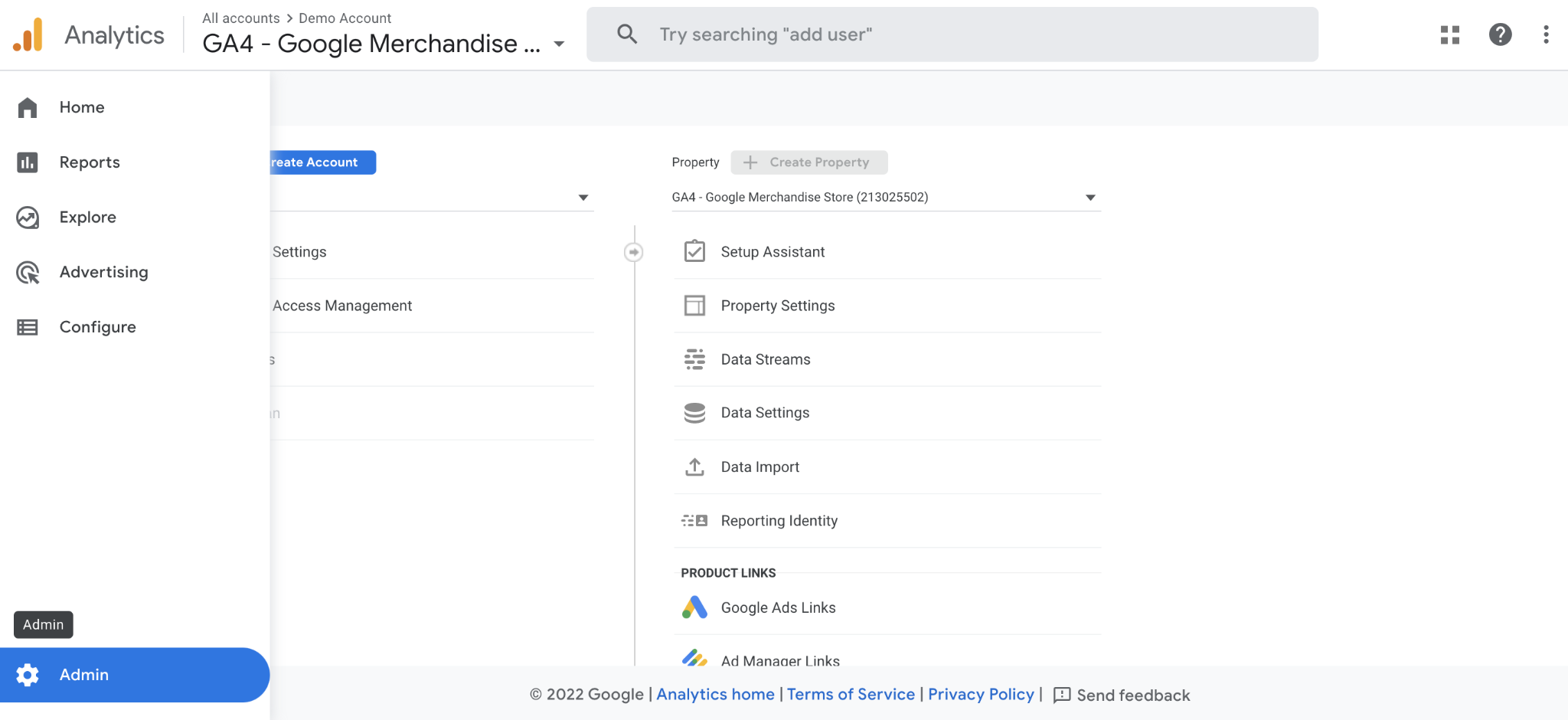 Navigate to "Properties" and click "Custom Definitions"
Click "Create Custom Definitions"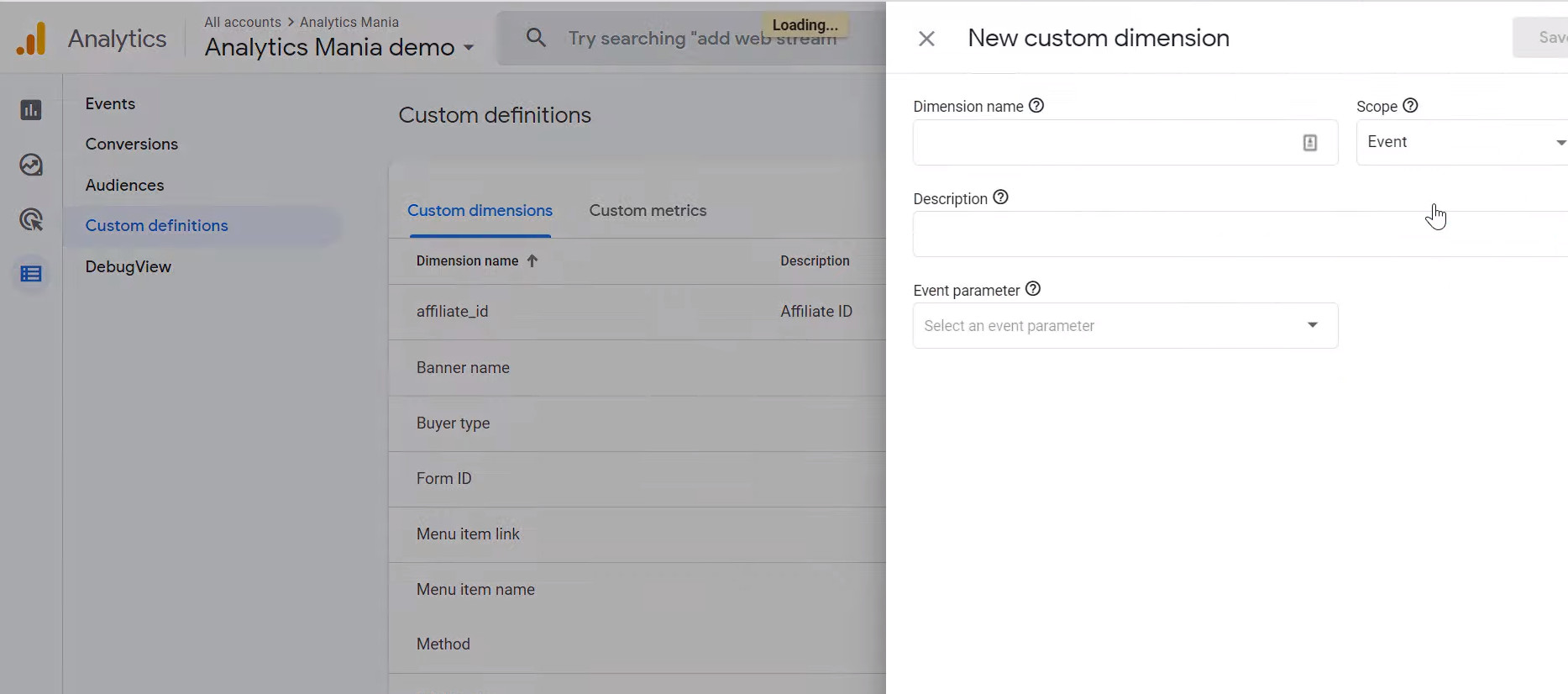 Fill in the following information:-
Dimension name – "utm_creative_format"
Scope – Specify the scope as "event"
Description – The description field is optional, but you can fill it out for easier identification and readability for third parties viewing your reports
Event parameter/User Property – Here, you must type out the exact name of the event specified in GTM.
Click "Save"
The metric value will be "not set" for the next 48 hours.
Auto-Tagging and Manual Tagging
Google Analytics 4 gives you two options through which you can use to collect traffic-source data. You can use the auto-tagging feature or manually tag your destination URLs. Your reports will show parameters and tracking variables as dimensions and dimension values.
Auto-tagging is used when integrating your various ad platforms (Google Ads, Display 360) with GA4 and is implemented for individual integrations. By default, auto-tagging possesses more dimensions than manual tagging and provides platform-specific dimensions.
Full dimension names in auto-tagging appear like this:
[scope] [linked product] [dimension]
For example, Session (scope) Google Ads (linked product) campaign (dimension).
Since the creative format is a parameter yet to be added, you can track this metric by making a custom dimension, relying on the gclid parameter.
If you do not want to integrate your ad platform into Google Analytics 4, you can manually tag your URLs with the relevant UTM parameters to gather insights into traffic-source dimensions.
However, you must be mindful of the various conventions regarding UTM parameters and manage all the marketing URLs for more extensive ad campaigns. Creating and tracking these URLs can often get overwhelming and lead to a resource drain for your organization.
Wouldn't you like an all-in-one platform that lets you create URLs with the appropriate tags so that you always receive actionable data for all your campaigns to target your audience better? Fortunately, TerminusApp provides robust AI-driven services to help you with UTM tagging.
TerminusApp: The Best Tool To Manage Your Marketing URLs

TerminusApp is a robust UTM builder and link management tool that helps you create, track, and analyze the performance of your marketing URLs using UTM tags in one platform. We aim to remove the use of spreadsheets to manage marketing channels, employees, and campaigns.
You can prepare for GA4 to release updates on the UTM creative format parameter before your competitors and optimize your advertising campaigns by ranking its creative aspects with our centralized tracking features.
Drill-down reports provide specific information on campaigns, mediums, and sources through detailed analytics to help you make informed marketing decisions. You can accurately track dimensions like "first user creative format" to see what draws in the most clicks.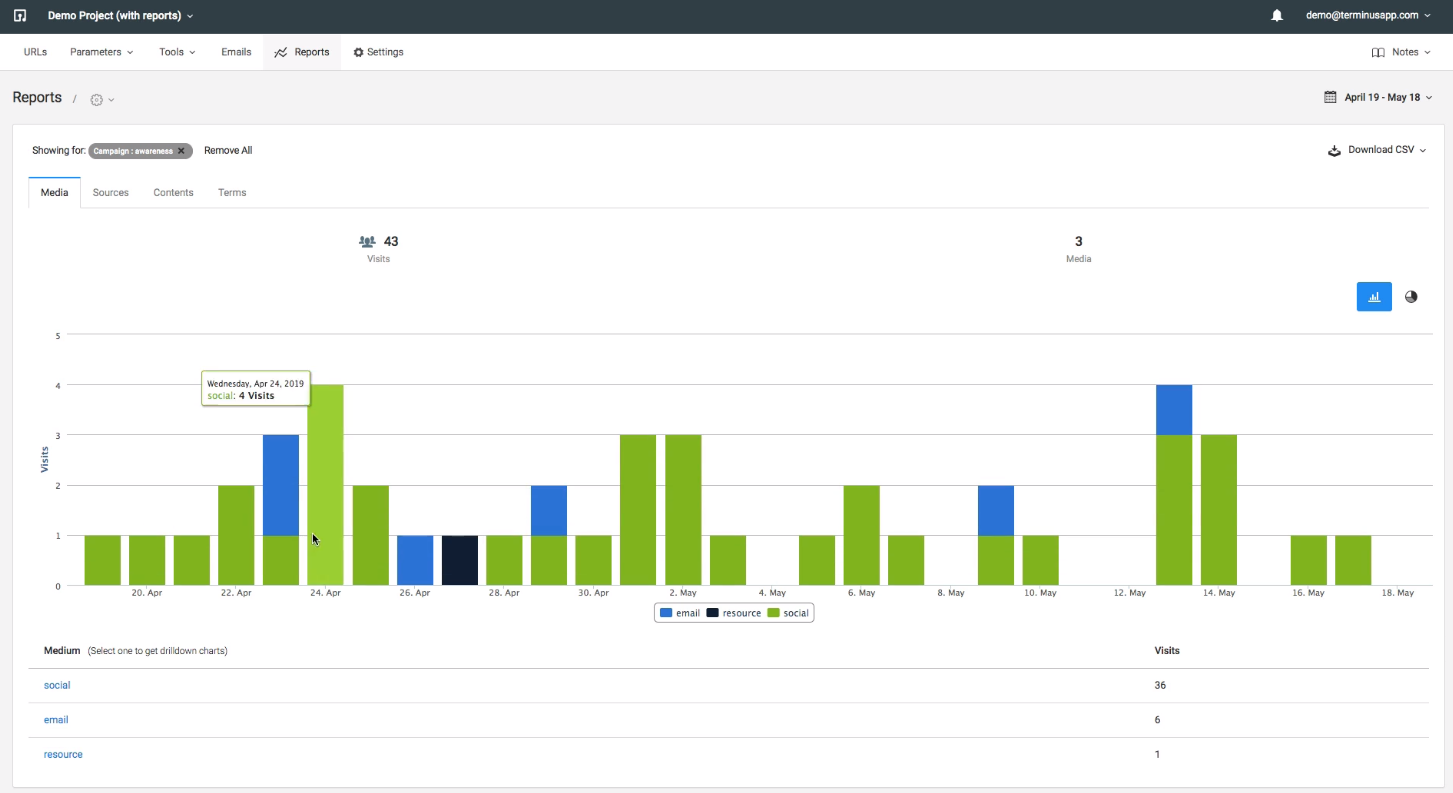 TerminusApp helps you maintain UTM naming conventions like forced lowercase with automation to eliminate the chances of inaccurate data on your traffic. Furthermore, our services are scalable to create tracking codes in multiple URLs for ad campaigns of any size.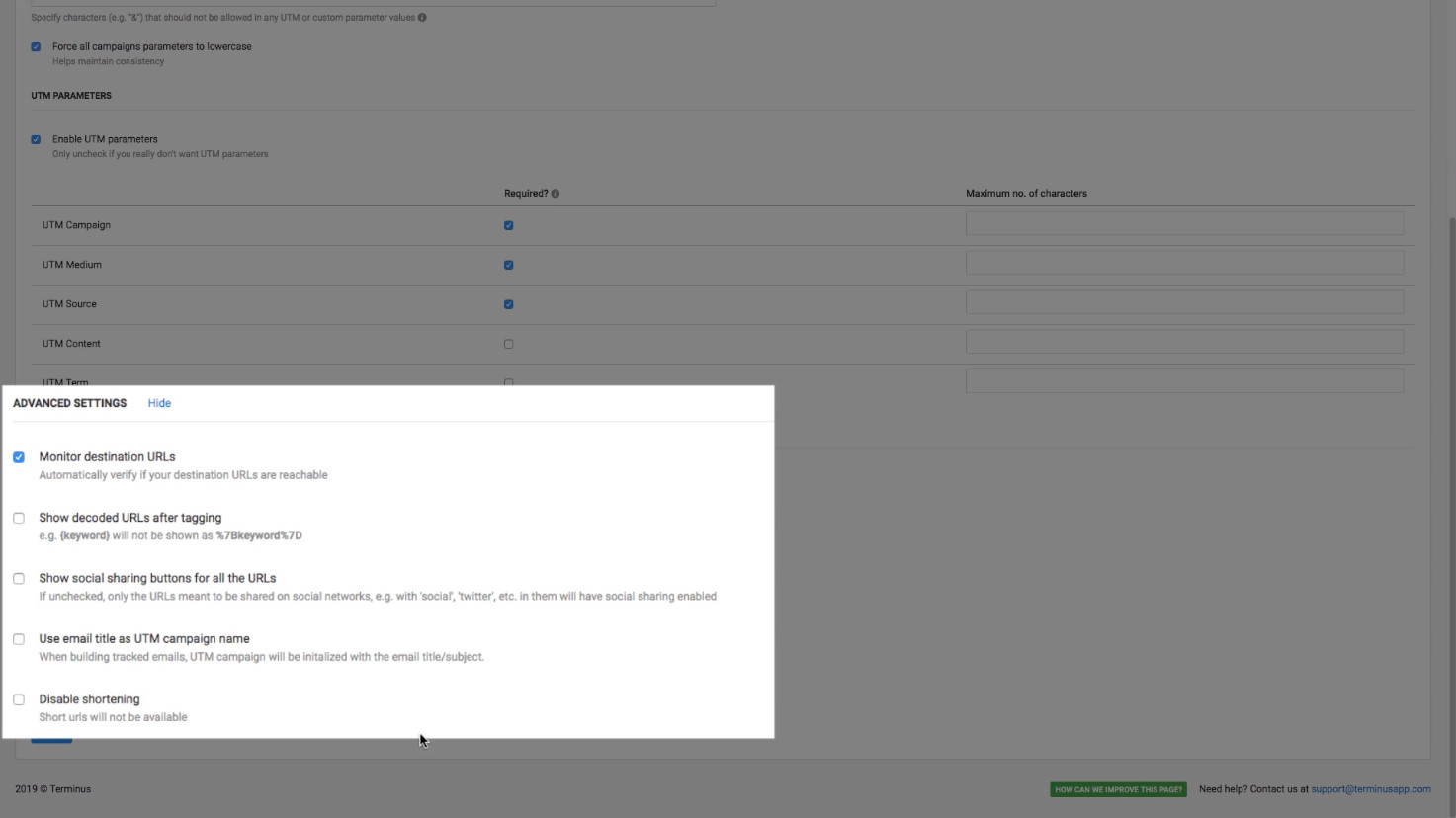 To further cut down on the time it would take you to create URLs, you can save templates each time you build URLs that you can use in subsequent marketing campaigns. If you need help tackling complex use cases, TerminusApp provides various pre-configured conventions.
Follow this simple step-by-step guide to creating URLs with TerminusApp:
Sign up for TerminusApp and select "Build tracking URLs" from your browser

Place your destination URLs
Apply UTM parameters or choose from pre-existing parameters
Apply "Conventions" for specific use cases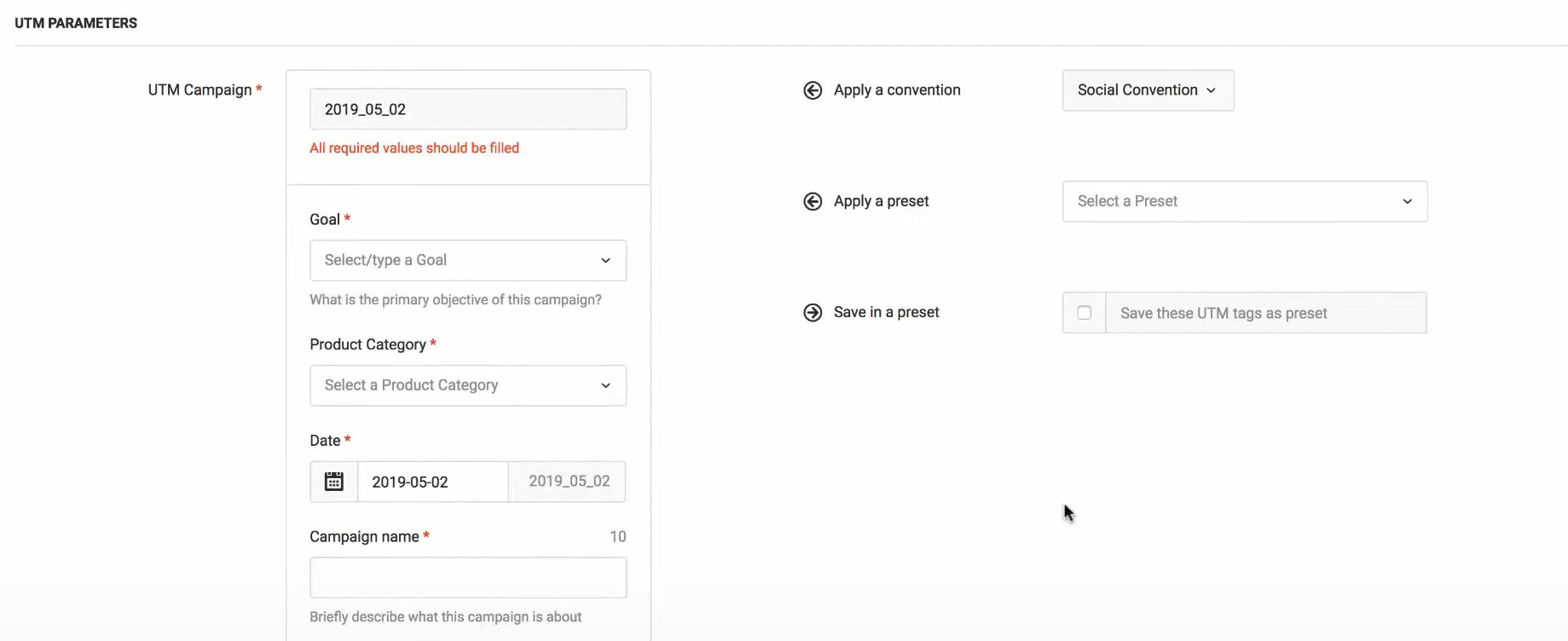 Input values in the given fields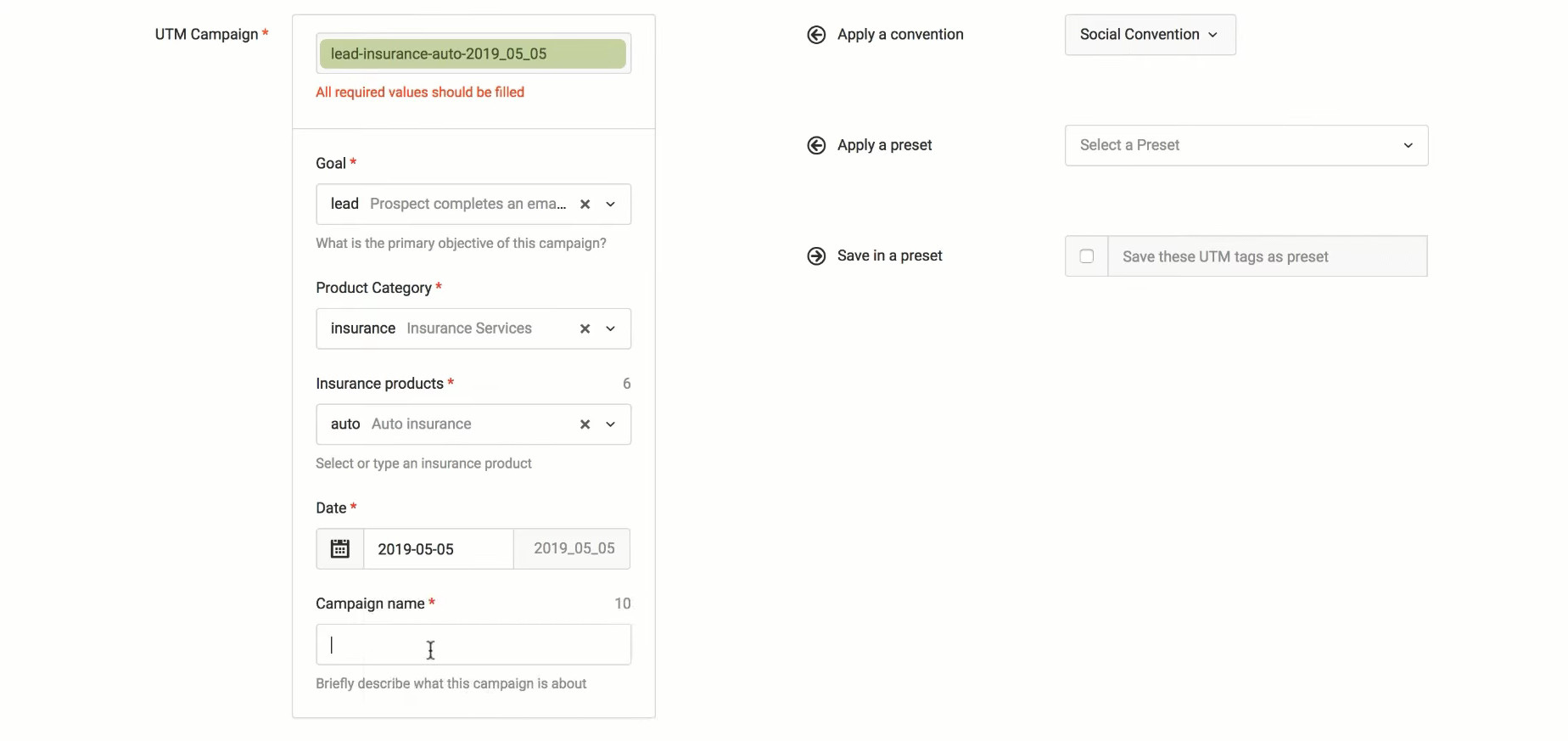 Specify tracking variables for medium, source, content, and term to track factors that inform customer traffic and conversion rates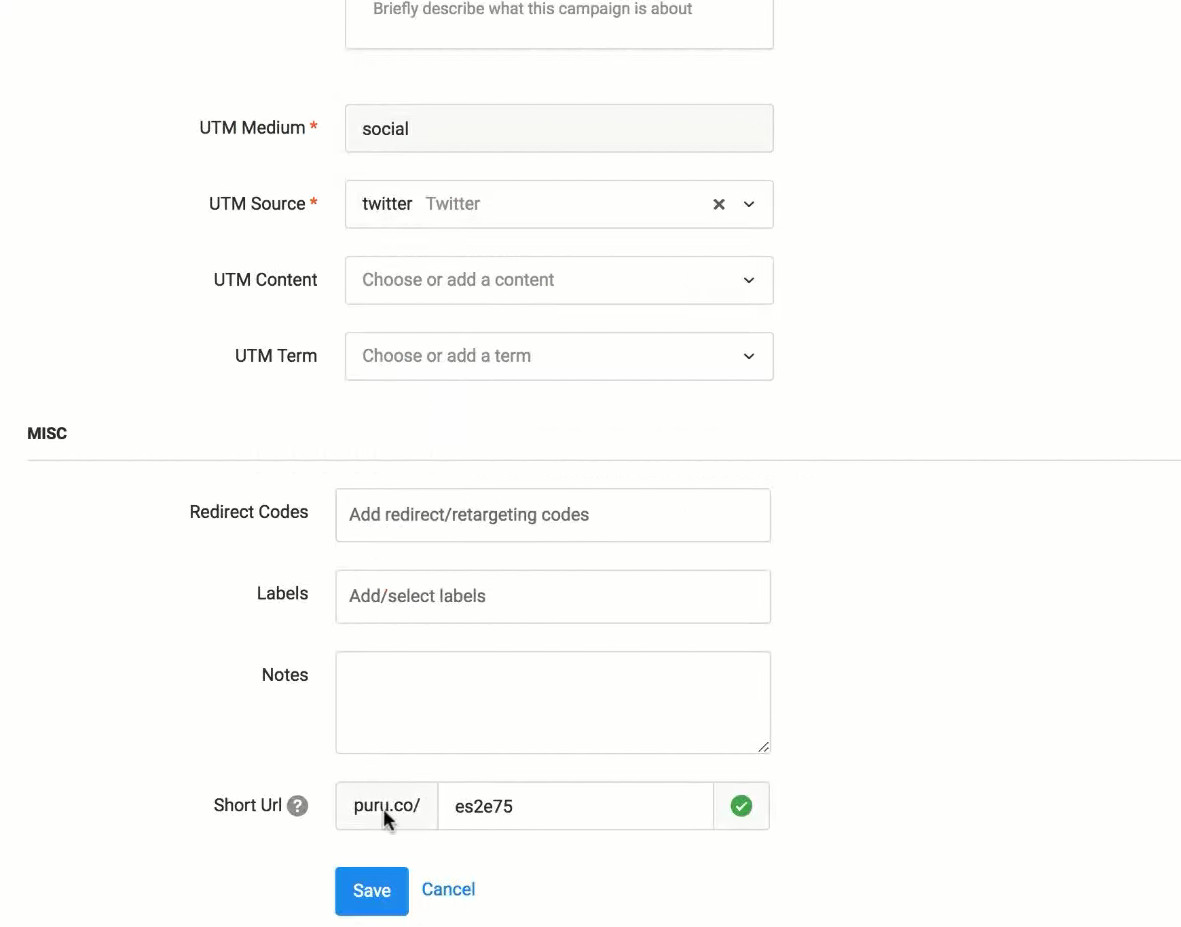 Click "Save." You can access the fully tagged and short URLs from your dashboard. You can also monitor the performance of your URLs to improve your marketing campaigns.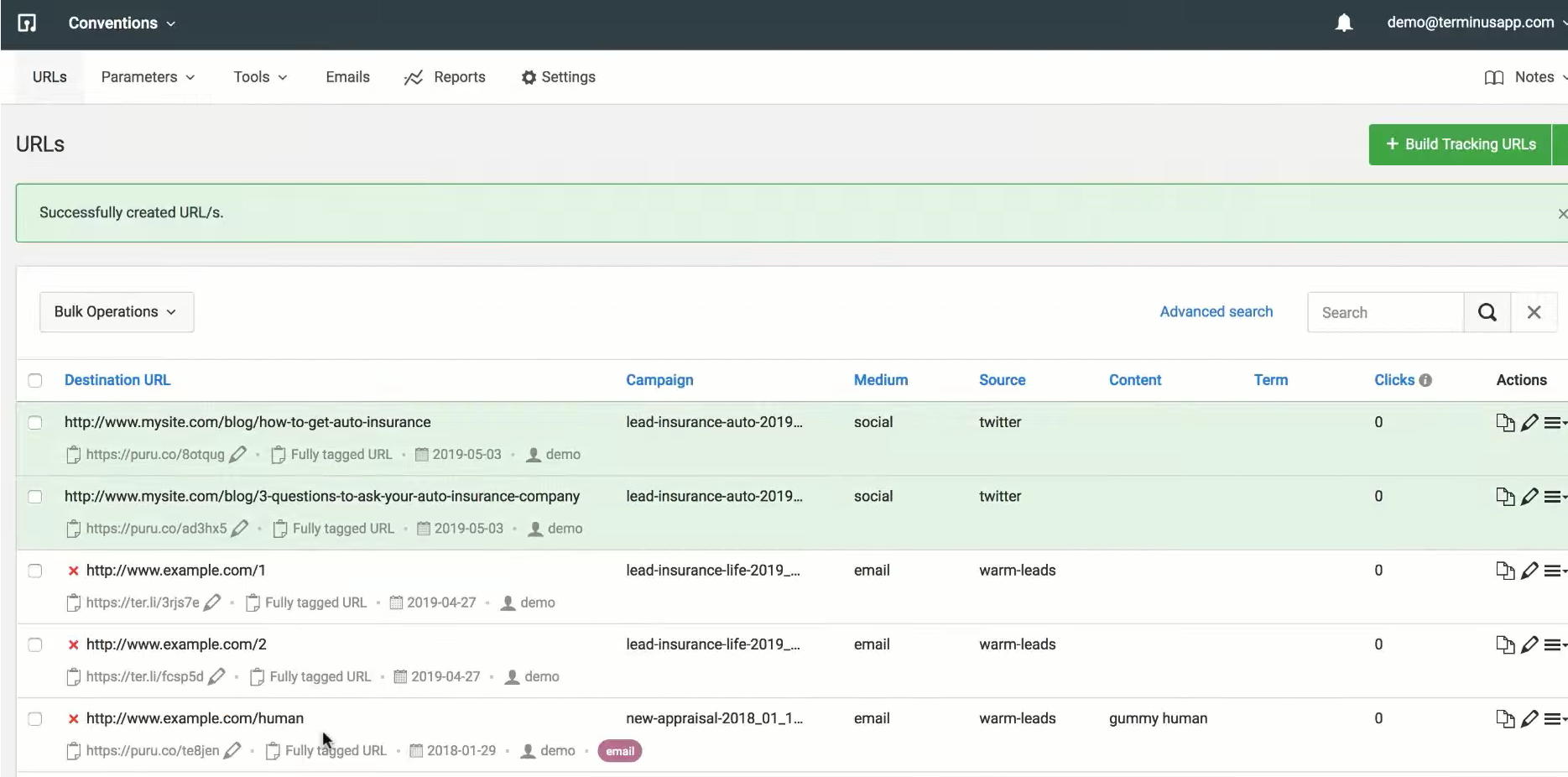 Pricing
TerminusApp offers a 21-day free trial where you can try out our premium features risk-free and decide if you want to subscribe to one of our monthly or annual pricing plans. Opting for our annual plans gives you 2 months free.
For customized UTM and link management solutions tailored to your business needs, you can contact our team to ask for a demo or receive a personalized plan.
Personal

$29/month or $24/month (annual)

1 user

1 project

1 Custom Domain

UTM rules

Presets

Custom Parameters

Multi-tag UTM builder

Auto-shortening

Click reports

Fine-grained user permissions

Auditing tools

Chrome Extension

Professional

$79/month or $66/month (annual)

3 users

5 projects

2 Custom Domains

Everything in Personal and:

Custom Domain SSL

URL Monitoring

Redirect Codes/Link Retargeting

Bulk Operations

Business

$199/month or $166/month (annual)

5 users

10 projects

3 Custom Domains

Everything in Professional and:

Bulk URL Cloning

QR Codes

Conventions

Grid Mode URL Builder

Email Builder

Auto-generated tracking Ids

Adobe/GA Classifications

API Access

Enterprise

$499/month or $416/month (annual)

15 users

30 projects

5 Custom Domains

Everything in Business and:

Single Sign-On (SSO)

Invoice billing

Signed agreement
Conclusion
The success of your advertising campaigns hinges on accurate data on what your audience wants. Without actionable information, you could waste resources and time on failed marketing campaigns that will reduce your ROI.
By making custom dimensions for the UTM creative format parameter in Google Analytics 4, you can improve your ad campaigns to target your customers better and convert them with advertising that feels more personalized.
To help you track and create marketing URLs seamlessly, TerminusApp provides you with all the tools you would need in an all-in-one platform so that you can spend more time closing deals and generating more leads.
Contact our team for a demo or try our features risk-free for 21 days to revolutionize your campaign tracking and create the perfect marketing strategy!