Your business needs to make informed decisions every step of the way if you want to stay ahead of your competitors. Understanding your customer's dynamic requirements and pain points is critical to building a successful marketing campaign.
However, you need accurate and detailed insights to manage your campaigns and point them in the right direction.
You can understand your audience better and track their behavior on your website with UTM tagging to help you generate more leads and increase your ROI.
Learn more about UTM tagging and how the UTM source platform parameter can tell you more about your customers with this article,
What are UTM Parameters?
Urchin Tracking Module (UTM) is a tracking software made by Google after they acquired Urchin in 2005, which eventually became Google Analytics.
UTM parameters are snippets that attach to the end of URLs as a query string to communicate with Google Analytics to provide additional information on user traffic and how they interact with your website.
These tags enable you to gain valuable insight into user behavior through dimensions and metrics such as traffic sources, creative content for ads that users clicked on, campaign links, number of sessions, average session duration, etc.
You can compare your campaign's performance directly with these tags. To give you an idea of what a complete URL with UTM parameters would look like, here's an example:
www.yoursite.com/page?utm_source=blog&utm_medium=referral&utm_campaign=blogname
The query string that follows the "?" is the complete UTM tag for this URL. Each tag answers where your user traffic comes from, how they found your website, and what campaign they fall under.
But what do these individual parameters mean? How many of them can you use on GA4?
Different UTM Parameters and What They Do
UTM tagging consists of using two components: UTM parameters and tracking variables. UTM parameters are paired with your customized tracking variables while following the appropriate naming conventions to analyze different elements of your website traffic.
You can use 8 UTM parameters in Google Analytics 4. Here's a list of them and what they mean:
utm_source – The parameter records where your users are coming from. The tracking variables in this tag convey information on the platform on which your website was referred.
These could be search engines, social media sites, paid posts and ads, etc. Examples include Google, Bing, Baidu, Facebook, Twitter, etc.
utm_medium – "Medium" refers to the type of traffic and marketing channel your customer came from. For example, "?utm_medium=organic" means your customer visited your website from unpaid search engine results.
Other tracking variables include "email," "cpc," or Cost Per Click for paid traffic, "referral" for when your website has been linked from a different website or platform, and "display" for visual ads like images, GIFs, etc.
utm_campaign – The "campaign" parameter classifies the marketing effort that brought your customer to your website. For example, launch, sale, free trial, etc.
utm_term – The parameter tracks the performance of your keywords for paid non-Google campaigns to determine their performance.
utm_content – "Content" records your marketing campaign's call-to-action (CTA) that brought your website traffic. You can compare the performance of your CTAs and use them to carry out A/B testing for your ads.
utm_source_platform – The "UTM source platform" parameter identifies the platform your website link was run on to categorize it as marketing activity on Google Ads, Manual, or Shopping Free Listings.
We will discuss the metrics regarding the Source platform, Session source platform, and First user source platform dimensions shortly.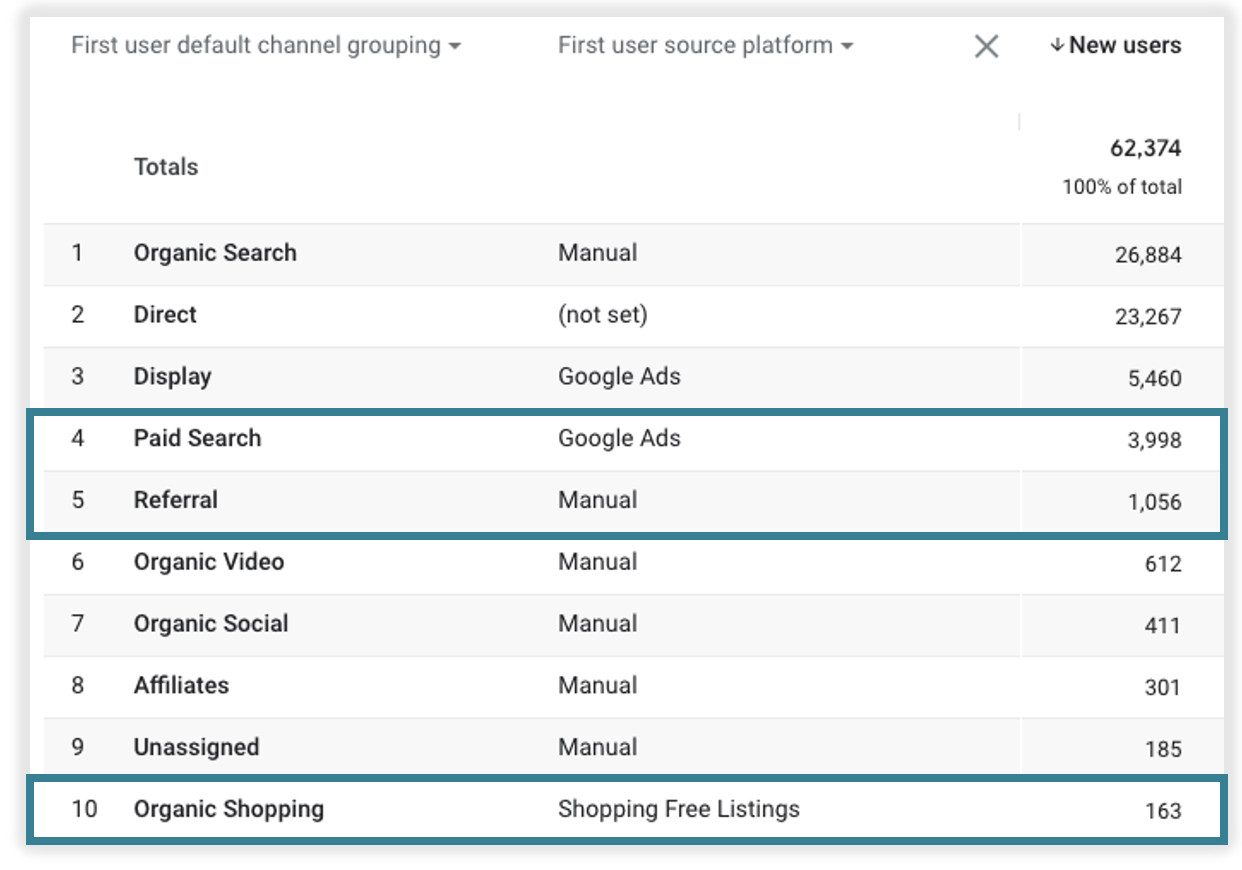 utm_creative_format – The parameter shows the creative format used by your ads. For example, skyscraper, carousel, interactive, video, image, etc.
utm_marketing_tactic – It shows the tactics used, such as remarketing, onboarding, prospecting, etc.
UTM Source Platform: Scopes of Traffic-Source Dimension in Google Analytics 4
In GA4, Traffic-Source Dimensions provide information for various UTM parameters by acting as data attributes. They specifically mention where your traffic originates from, the means your customers took to arrive at your website, and the related marketing efforts.
Few traffic-source dimensions come with the prefix "First user" (First User Source) or "Session" (Session source), which are known as "Scopes" in Google Analytics 4. Consequently, the UTM source platform would need the dimensions First user platform and the Session source platform.
Let's take a closer look at the different scopes present in GA4:
User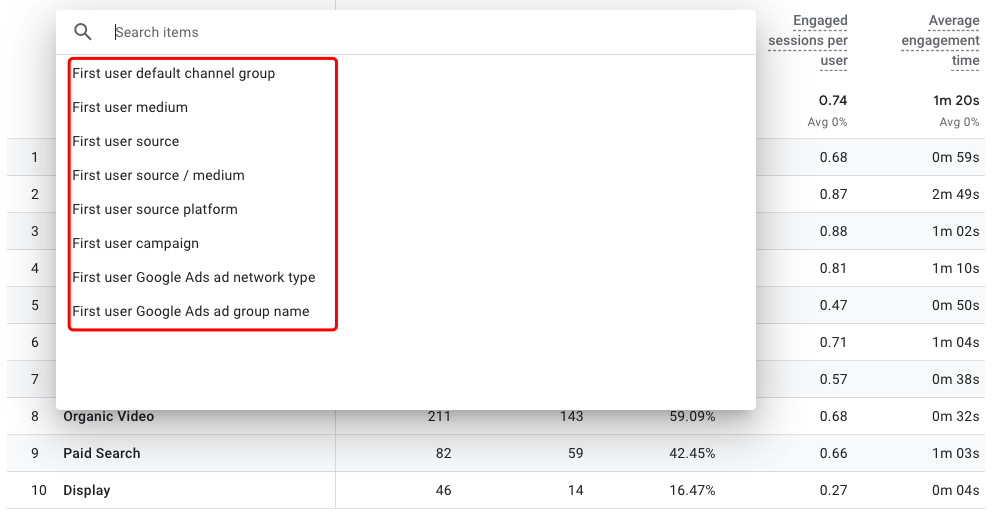 As the name suggests, a user is your customer that has interacted with your website. Even if your customer leaves your browser window and returns later, Google considers them the same user.
Google identifies users using the user ID, device ID, Google signals, and modeling in addition to their browser settings. With user-scoped dimensions, you can accurately track where your customers are coming from.
The user-scoped dimension has the prefix "First user," as it concerns your customer's behavior on your website when they discover it for the first time.
In the UTM source platform, the dimension "First user source platform" defines where you manage your buying activities and is found in your user acquisition report.
Examples include DV360 (traffic from Display & Video 360), Google Ads, Manual (traffic outside Google media marketing activity), SA360 (Search Ads 360), Shopping Free Listings (traffic from Google Merchant Center), etc.
Session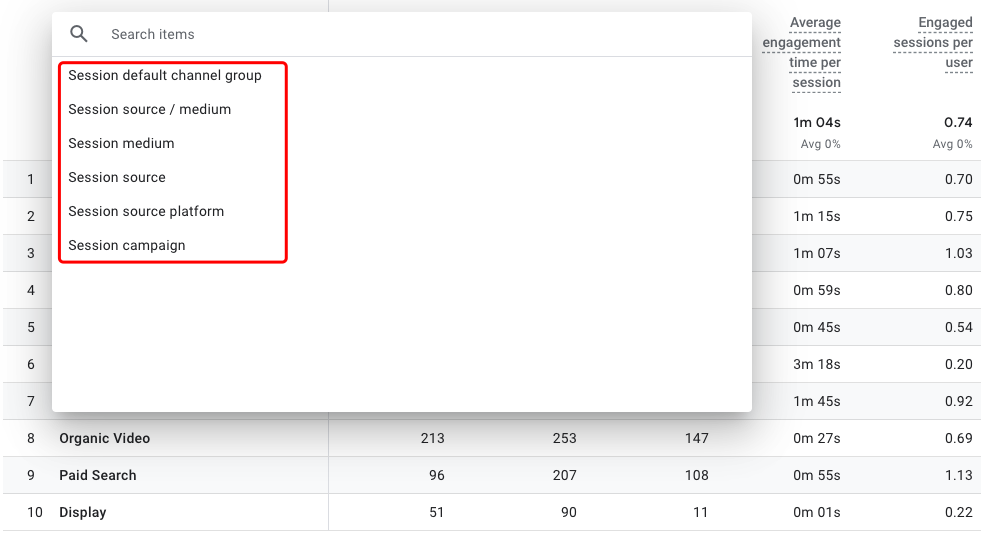 Session-scoped dimensions record where new and turning users come from when they start new sessions. The prefix used for this dimension is "Session" to assign metrics for every returning visitor to your website.
You can find Session-scoped information on the traffic acquisition report. For the UTM source platform, the "Session source platform" tells you the platform of the session's campaign. Like the user-scoped dimension, examples include DV360, Google Ads, Manual, SA360, etc.
Event
Event-scoped dimensions record new values for every successful conversion event the user triggers. Unlike the other two scopes, the Event-scoped dimension has no assigned prefix. Google Analytics 4 uses the Model comparison and Conversion paths reports.
Auto-Tagging and Manual Tagging
Google Analytics 4 allows you to collect traffic data through the auto-tagging feature or by allowing you to tag your destination URLs manually. The UTM parameter and tracking variable show as dimension and dimension values in your reports for both tagging processes.
Auto-tagging takes place through integrations between GA4 and the various ad platforms. Auto-tagging hosts more dimensions than manual tagging while also providing platform-specific dimensions.
Dimension names in auto-tagging are structured as follows:
[scope] [linked product] [dimension]
For example, Session (scope) Google Ads (linked product) campaign (dimension).
Suppose you don't want to choose auto-tagging and create integrations between GA4 and ad platforms. In that case, you can manually tag the URLs in your ads with UTM parameters to collect traffic-source dimensions.
But managing URLs and following proper UTM conventions can be hectic for larger ad and marketing campaigns. Manually tagging and managing individual URLs can add to the extra time and resources needed to carry them out perfectly.
Is there a way you can consistently tag UTM parameters to your URLs and gain actionable insights on the performance of your campaigns on a single platform? With TerminusApp, you can.
TerminusApp: The Ultimate URL Builder and UTM Tagging Tool

TerminusApp is the ultimate UTM builder and link management system that aims to streamline marketing URL management and UTM tracking by providing a single platform to create, track, and analyze your UTM parameters.
You can expect a deeper insight into your audience's behavior regarding your website with centralized UTM tracking on GA4 for dimensions like source platforms to find out more about your marketing campaign.
TerminusApp automates the process of UTM naming conventions so that your tracking codes are error-free. Our services are scalable, where you can create UTM tags for multiple URLs for social and ad campaigns of any size.
For more efficient URL building, you can save templates with preset parameters when you build URLs for your subsequent marketing campaigns. We also let you choose from various pre-configured conventions for complex use cases.
We give you a detailed view of your campaign's performance and traffic through drill-down reports on specific sources, mediums, and campaigns to help inform your subsequent marketing efforts.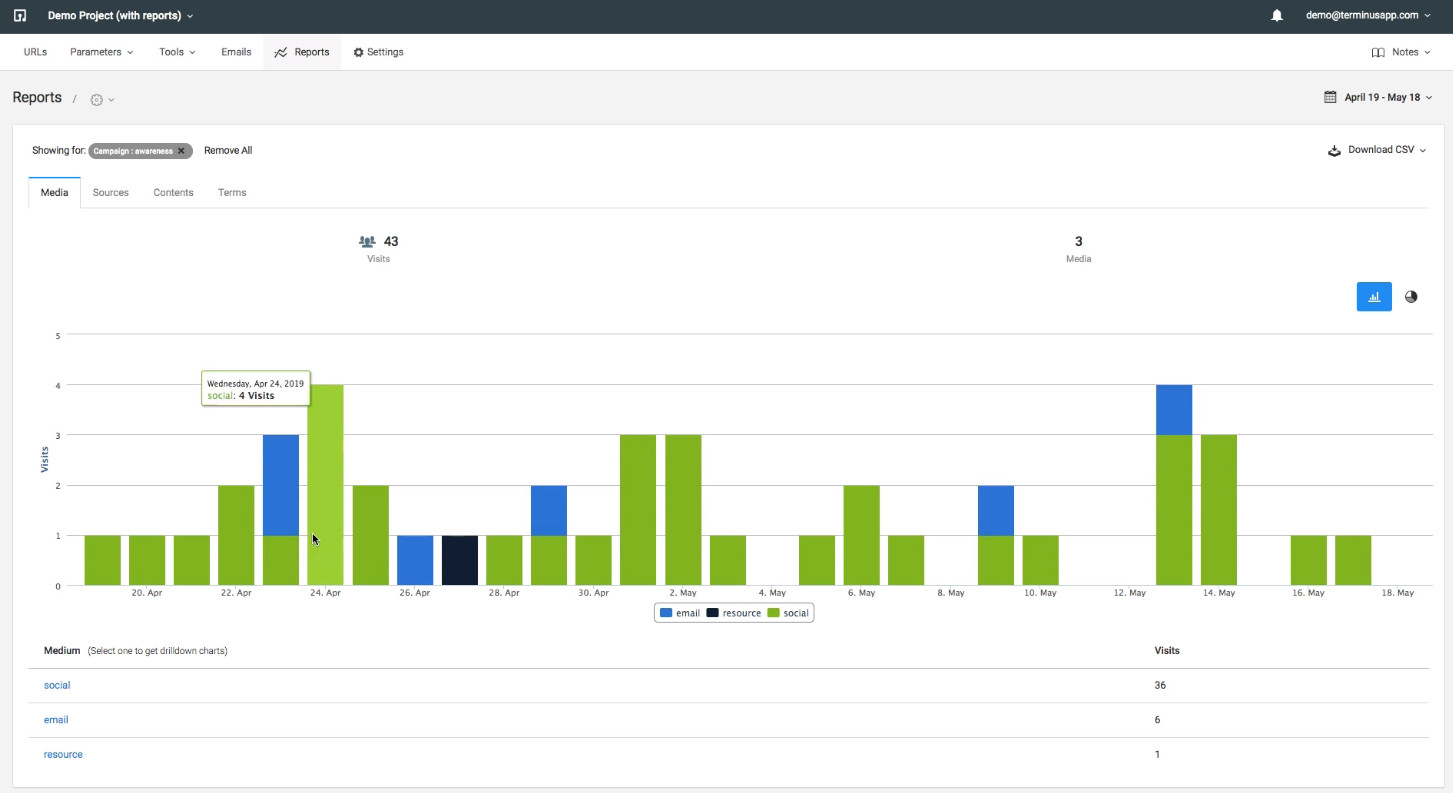 With this, you can accurately view the platforms with the best marketing activity on the UTM source platform parameter.
Pricing
TerminusApp offers a 21-day free trial to try out our premium features risk-free before you subscribe to one of our monthly or annual pricing plans. Opting for the annual plan also gives you 2 months free.
If your business requires customized UTM and link management solutions, you can contact our team to ask for a demo or receive a customized plan.
Personal

$29/month or $24/month (annual)

1 user

single project

1 Custom Domain

UTM rules

Presets

Custom Parameters

Multi-tag UTM builder

Auto-shortening

Click reports

Fine-grained user permissions

Auditing tools

Chrome Extension

Professional

$79/month or $66/month (annual)

3 users

5 projects

2 Custom Domains

Everything in Personal and:

Custom Domain SSL

URL Monitoring

Redirect Codes/Link Retargeting

Bulk Operations

Business

$199/month or $166/month (annual)

5 users

10 projects

3 Custom Domains

Everything in Professional and:

Bulk URL Cloning

QR Codes

Conventions

Grid Mode URL Builder

Email Builder

Auto-generated tracking Ids

Adobe/GA Classifications

API Access

Enterprise

$499/month or $416/month (annual)

15 users

30 projects

5 Custom Domains

Everything in Business and:

Single Sign-On (SSO)

Invoice billing

Signed agreement
Conclusion
Tracking your audience's behavior is vital to ensure the success of your marketing campaign. How users interact with your website can be turned into actionable insights to help you target your customers better and thus drive up your revenue.
With TerminusApp, you can seamlessly create and manage your URLs for every ad campaign. You get to create detailed reports of different performance metrics and help guide your teams better by enabling them to optimize your marketing efforts.
Try out our features risk-free before you subscribe to our premium plans to get a glimpse into how your marketing strategies can be improved with a better understanding of your customers.
Get started with Terminus
The quickest and easiest way to create UTM links in bulk while following your complex UTM strategy.
Sign Up Now