Understanding your audience's behavior is integral for your business to stay updated on its dynamic requirements and consistently deliver customer satisfaction. Furthermore, you need customer data to gauge the effectiveness of your marketing efforts.
Tracking website visitors provides the data mentioned above accurately. Analytics software like Google Analytics 4 and Adobe Analytics lets you record where your visitors are coming from and the channels they fall under with UTM tags, or the gclid and cid parameters, respectively.
But which method would work best for your organization?
We compare UTM tagging vs traditional tracking to dive deeper into both concepts and help you choose the best technique to track website visitors and help optimize your future marketing campaigns for better ROI.
What are Traditional Tracking Methods?
Traditional tracking methods leverages tracking codes utilized by software like Google Analytics 4 and its gclid parameter and Adobe Analytics' Campaign ID (cid) tracking code. Tracking codes are placed within your marketing URLs to track your audience's behavior.
Tracking codes are easy to implement and maintain as you don't need to monitor their workings closely. Traditional tracking methods benefit companies that want a comprehensive view of their campaign performance and traffic with minimal technical expertise.
Google Analytics 4 (gclid parameter)

source
Google Analytics 4 presents your data by recording them as dimensions and metrics. Dimensions can be understood as data attributes, while metrics are quantitative values and appear as numbers.
Thus, dimensions are the data type you want to track, whereas metrics are variable values for each dimension presented numerically. Users can create custom dimensions and metrics to track events and other scopes that are not tracked by default.
You can collect data for traffic-source dimensions by manually tagging or auto-tagging your marketing URLs. Auto-tagging is a feature in GA4 that tags URLs and digital assets after being implemented as integration between your ad platforms and Google Analytics 4.
Auto-tagging assigns a unique parameter to track conversions and ad performances on GA4, called the Google Click Identifier (gclid) parameter. The parameter attaches to your URL to identify the attributes related to the ads your website visitor clicked on.
An example of a Google Ads URL with the gclid parameter looks as follows:
www.yoursite.com/?gclid=123xyz
Adobe Analytics (cid)

source
Adobe Analytics utilizes tracking codes consisting of a pre-defined variable called "s.campaign" followed by a query string. "s.campaign" is used exclusively for campaign tracking, and the query string must be defined and customized to track the required data.
The query string is not defined by default, so you can configure and name it as anything you want, as long as it makes sense to the context of your organization. Marketers generally use "cid," "cmp,' or "cmpid" as parameters.
While Adobe users track a particular dimension using Campaign ID (cid), they must be segmented based on classifications made using SAINT Classifications. Adobe uses SAINT (SiteCatalyst Attribute Import Naming Tool) Classifications to categorize data in your reports.
Adobe users must define classifications by uploading a table or configuring rules using the Classification Rule Builder (CRB). CRB is used to create conditional rules to determine how Adobe reads and stores tracking code data without importing or exporting data.
Pros of Traditional Tracking
Before we jump into comparing UTM tagging vs traditional tracking, let's take a look at the advantages you can expect when you use GA4's gclid parameter or Adobe Analytics' cid:
Complete visibility of campaigns provides a holistic view of your website's performance by tracking metrics like page visits, retention rates, etc.
Traditional tracking methods are generally easier to implement without requiring complex technical expertise.
Organizations of any size can implement traditional tracking methods as they are usually free or relatively cost-effective.
Traditional tracking methods are mostly automated, so you get error-free tracking for accurate data without constant maintenance.
GCLID Parameter
Being a part of the traditional tracking methods, here are the advantages of using Google Analytics 4's gclid parameter:
Auto-tagging with the gclid parameter enables your teams to save time by automating the tagging process of marketing URLs and focusing resources on other tasks.
Automated URL tagging leaves no potential for human errors, leading to incorrect attribution data.
Allows you to segment your customer base with custom dimensions that enable granular tracking.
gclid parameters support future reporting features that will be added to GA4.
Adobe CID
If you choose to use Adobe Analytics' cid, you can expect the following advantages:
SAINT classification lets you alter classification data on an active campaign by reuploading your classification table as a CSV file or changing the rules in the Classification Rule Builder.
Campaign IDs do not require additional tagging as they track a particular dimension.
Cons of Traditional Tracking
Despite the advantages of complete visibility on your campaigns offered by traditional tracking methods, you can face several drawbacks when you try to implement them for your marketing efforts.
A few disadvantages of traditional tracking include the following:
Traditional tracking cannot provide specific details for your website traffic, like the marketing channel your customer falls under, campaigns that bring the most traffic, etc.
You cannot track offline conversions from cold calls or sales meetings. Companies with a large offline presence are severely restrained when using traditional tracking methods.
Traditional tracking does not attribute sales and conversions to specific campaigns, thus limiting your knowledge of the campaigns that drive the most revenue.
Since traditional tracking relies on cookies and other website elements, you can get skewed data if users have blocked or deleted them from their instances.
GCLID Parameter
Here are the major drawbacks of using GA4's gclid parameter:
Tagging custom dimensions for granular tracking is limited by the definitions set by Google.
gclid parameters work specifically between Google Ads and GA4 integrations. The gclid parameter data is encrypted and readable only by Google Analytics 4. You cannot employ third-party analytics software to view your Google Ads data stack.
While the optimal solution is combining auto-tagging and manual tagging through a hybrid tagging process, you still need to manually configure tracking specific data for campaigns using platforms beyond Google Analytics 4.
Adobe CID
In addition to the issue of encrypted data received from Adobe Campaign ID (cid), there are a few more disadvantages you must consider:
Crossing these character limits results in truncated query strings, making campaign tracking challenging to configure.
cid consists of tracking codes that cover only one dimension of your campaign performance by default. While it might not be a problem for smaller organizations, it affects larger organizations that need deeper insight into customer behavior.
Managing various Campaign IDs for a single campaign proves highly tedious to these organizations.
Classification Rule Builder (CRB) requires precise definitions for data and rules. You must create logical expressions while considering how they might match older data so that you don't unintentionally create new values and ruin good data.
CRB classifies campaigns based on specific rules of the full tracking code and not on the unique cid. Changes you make on classifications will be overwritten by the rules you configured for the tracking codes.
CRB cannot remain abbreviated values.
With these drawbacks to consider when you choose traditional tracking, you can opt for an alternate tracking method with UTM tagging.
What is UTM Tagging?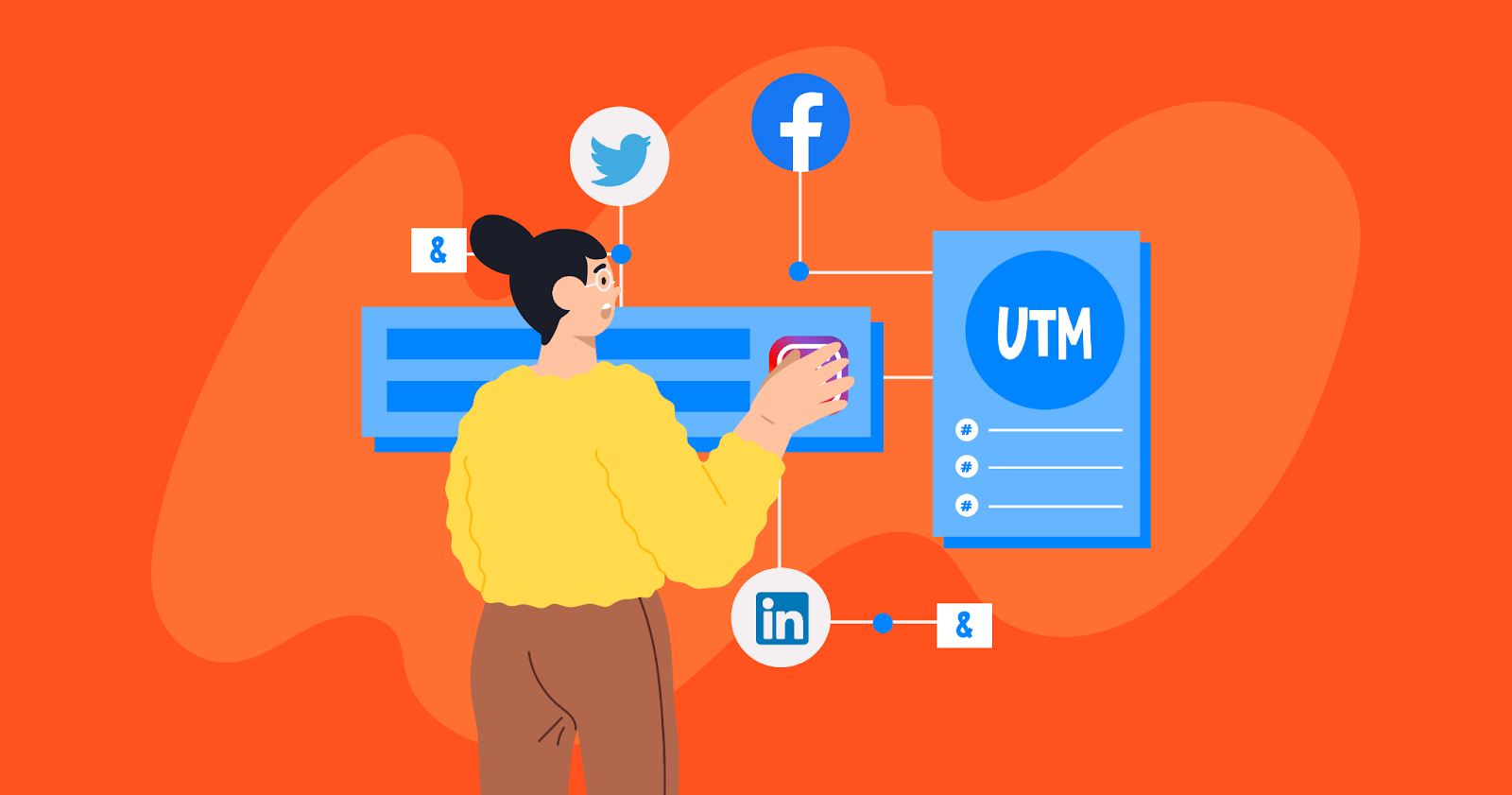 source
UTM (Urchin Tracking Module) is a tracking software developed by Google after they acquired Urchin in 2005, eventually used to create Google Analytics. UTM tags are stubborn query strings attached at the end of URLs to track website visitors and relay the information to GA.
UTM tags track metrics like the platform your website link appeared on, the marketing channel your prospect falls under, the ad content that made them click, etc. UTM tags comprise two components: UTM parameters and tracking variables.
Here is an example of an URL with complete UTM tags:
www.yoursite.com/page?utm_source=twitter&utm_medium=social&utm_campaign=free-trial
The query string following "?" is the UTM tag for the particular link. The "utm_source," "utm_medium," and "utm_campaign" are the UTM parameters, and the metrics for these tags are tracking variables.
There are 8 types of UTM parameters you can configure for your marketing URLs:
utm_source – The "source" parameter identifies the platform from which your customer was referred to your website. You can optimize your marketing efforts and focus on sources of high-user activity for better website traffic.
Tracking variables for UTM source parameters include search engines (Google, Bing), social media platforms (Facebook, Twitter, Instagram), paid ads or posts, etc.
utm_medium – It identifies the marketing and traffic channel your website visitor came from. For example, "?utm_medium=organic" indicates your customer found your website from unpaid search engine results.
UTM medium tracking variables include "email," "cpc" (Cost Per Click), "referral," and "display."
utm_campaign – The parameter categorizes the marketing campaign that brought you traffic. For example, launch, sale, promo_code, free_trial, and other personalized campaign names configured on GA4.
utm_term – UTM term tracks the performance of keywords used for paid non-Google campaigns to measure their performances individually.
utm_content – It records the exact call-to-action (CTA) your website visitor followed to generate traffic. You can compare their performances to carry out A/B testing for your ads.
utm_marketing_tactic – Identifies the marketing tactic being employed. For example, remarketing, onboarding, prospecting, etc.
utm_source_platform – Shows the marketing activity associated with your website link and categorizes it into Google Ads, Manual, or Shopping Free Listings.
utm_creative_platform – The parameter records the creative material used by your ads. For example, skyscraper, carousel, videos, images, etc.
Why You Need UTM Tagging
Now that we have discussed UTM tagging in detail, here are the advantages you can expect when you compare UTM tagging vs traditional tracking:
UTM tagging provides detailed insight into your audience's behavior with a clear view of your marketing URLs, tracking campaign performance, and calculating your marketing efforts' effectiveness.
UTM tags enable you to create customer journey mappings where an in-depth view of the customer's experience can help you identify the elements that encourage conversion or the pain points you can rectify in your marketing strategy.
Data from UTM tags inform you of ways to streamline your marketing strategy, create ads that target your audience better, and publish content that drives value.
Detailed analytics reports for fully-tagged URLs are used to identify campaigns converting prospects the fastest and bringing more revenue. You can allocate your budget accordingly to optimize these campaigns further. Additionally, comparing performance metrics for different campaigns can show you what works and what doesn't with A/B testing.
Campaign performance tracking enables better team collaboration as you create data-driven strategies.
UTM Tagging vs Traditional Tagging Comparison
After analyzing the differences when comparing UTM tagging vs traditional tagging methods, it is clear that the choice between two methods relies on your specific data requirements.
Traditional tracking methods are best suited for smaller organizations that don't require detailed information about campaigns and traffic but rely on a general overview of their marketing efforts with website tracking they can set up with minimal technical expertise.
Larger organizations utilize UTM tagging to acquire detailed metrics for data on specific campaigns, sources, and terms to analyze their performance and streamline marketing efforts.
However, manually tagging your marketing URLs with the appropriate UTM tags can be tedious and remove resources from tasks that could help you generate more revenue. Manually tagging your links also leaves room for errors leading to incorrect campaign data.
TerminusApp provides a centralized link management platform where you can create marketing URLs with complete UTM tags in bulk and acquire detailed information for specific campaign metrics to streamline your marketing efforts.
TerminusApp: The Ultimate UTM Tracking Solution

TerminusApp is a powerful all-in-one platform to solve all your URL management and UTM tracking needs. Our platform simplifies the process of creating fully-tagged marketing URLs for campaigns of any size without the hassle of spreadsheets.
Regarding UTM tagging vs traditional tracking, TerminusApp helps you maintain a consistent UTM strategy with proper naming conventions like enforcing lowercase and removing spaces in your UTM tags for accurate acquisition data and analytics.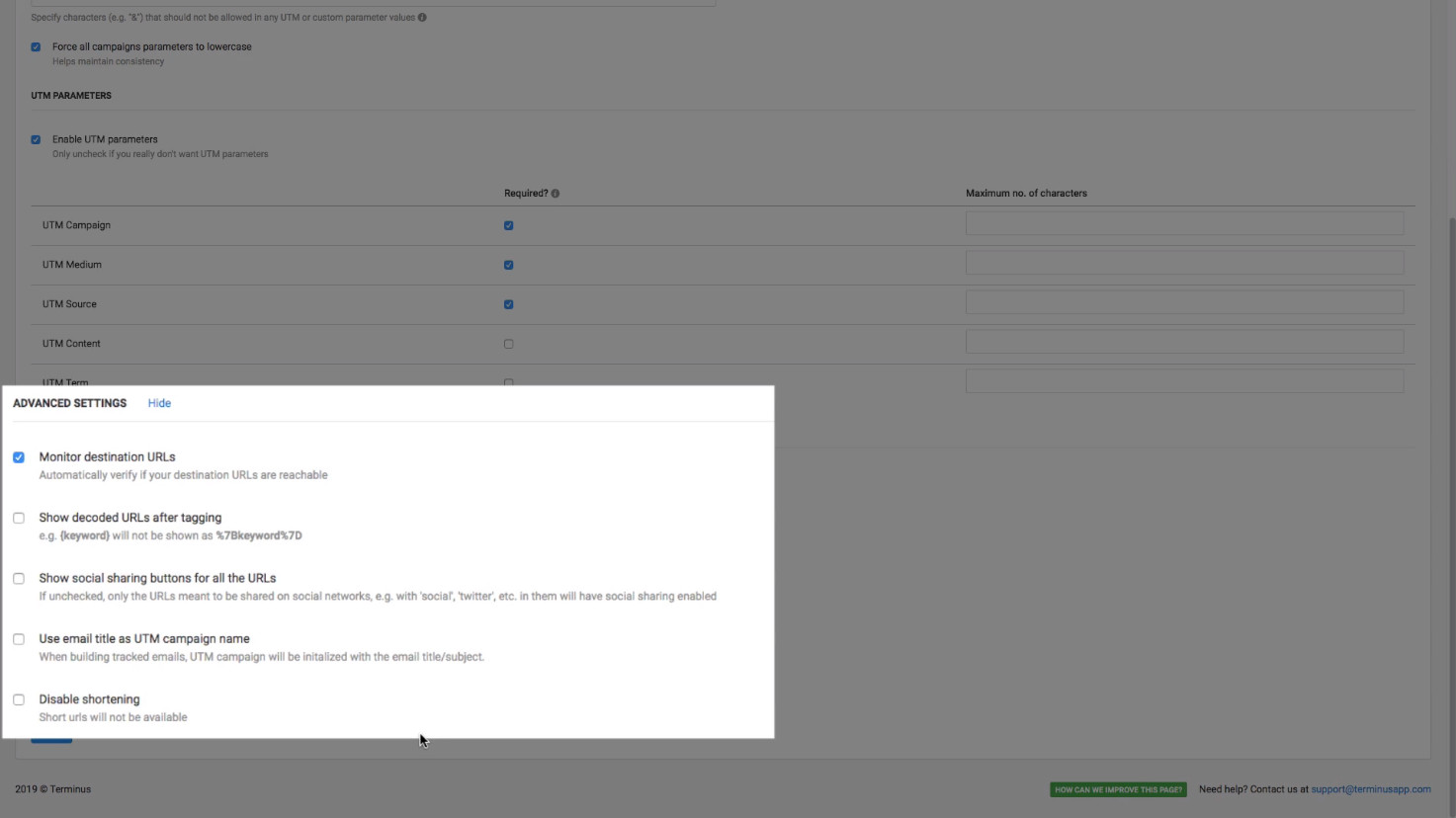 source
Our URL builder feature lets you save templates whenever you create URLs for subsequent marketing campaigns. You can configure URLs for complex use cases with preset conventions. The Multi-Tag URL builder enables you to add multiple sets of UTM parameters to a single URL.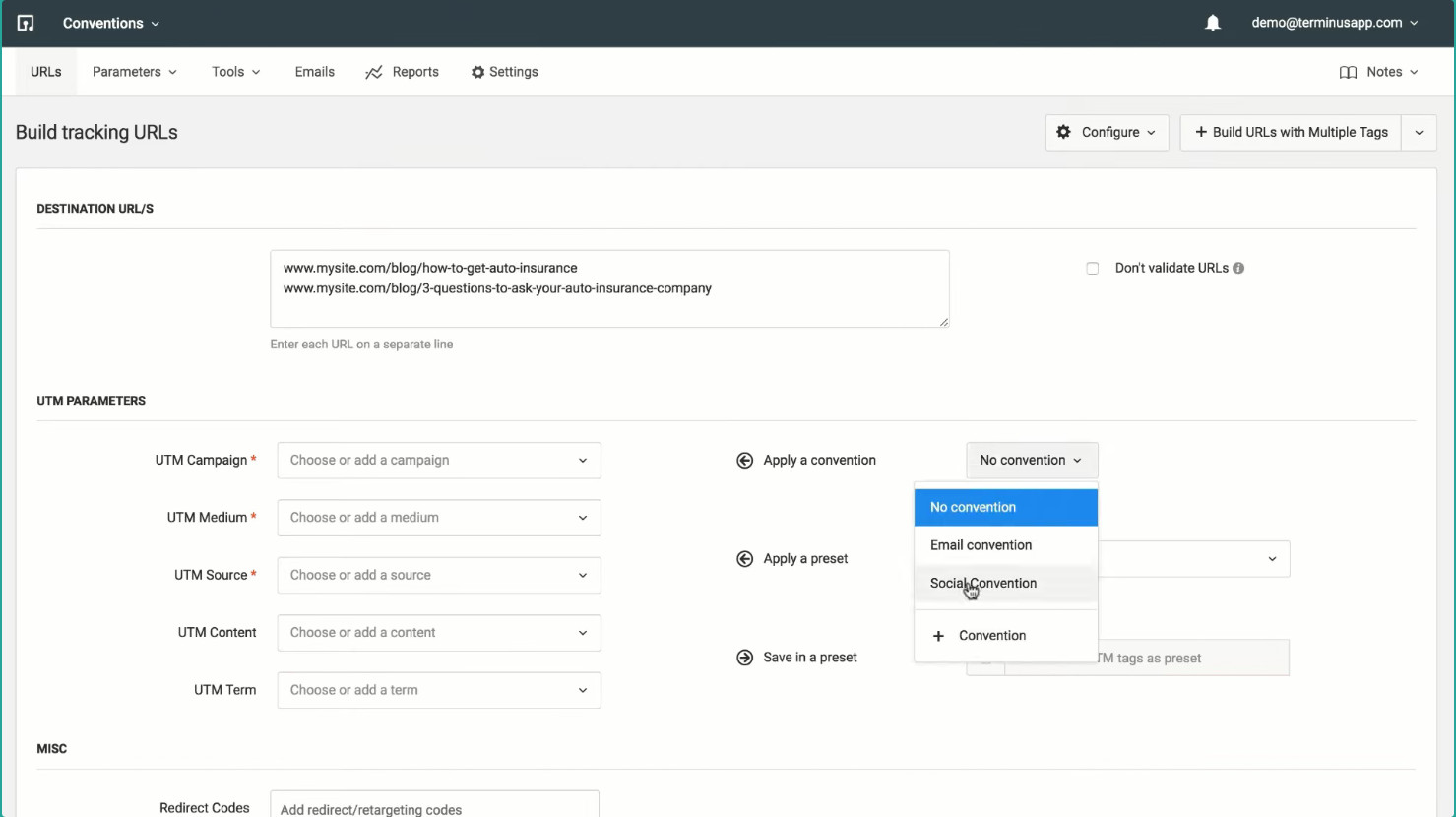 source
TerminusApp lets you add and define custom parameters to standard parameters for granular website tracking to track elements not defined by default UTM parameters. Our centralized platform provides you with accurate URL insights.
You can drill down on reports to view metrics for specific sources, mediums, and campaigns to analyze their performance and optimize your future marketing efforts with relevant insights.

source
Pricing
TerminusApp offers a 21-day free trial. Try our premium features risk-free before subscribing to our monthly or annual premium plans. Additionally, annual pricing plans come with 2 months free to utilize TerminusApp's features.
For businesses requiring customized UTM and URL solutions, you can contact our team to receive a demo and a pricing plan tailored to your unique requirements.
Professional

$79/month or $66/month (annual)

3 users

5 projects

2 Custom Domains

UTM rules

Presets

Labels

Notes

Custom Parameters

Multi-tag UTM builder

Auto-shortening

Click reports

Fine-grained user permissions

Auditing tools

Chrome Extension

Custom Domain SSL

URL Monitoring

Redirect Codes/Link Retargeting

Bulk Operations

Business

$199/month or $166/month (annual)

5 users

10 projects

3 Custom Domains

Everything in Professional and:

Bulk URL Cloning

QR Codes

Conventions

Grid Mode URL Builder

Email Builder

Auto-generated tracking Ids

Adobe/GA Classifications

API Access

Enterprise

$499/month or $416/month (annual)

15 users

30 projects

5 Custom Domains

Everything in Business and:

Single Sign-On (SSO)

Invoice billing

Signed agreement

Custom

Customized pricing

Personalized user and project limit.

Everything in Enterprise
Conclusion
Tracking your marketing URLs is essential to understand your campaign performance and gathering relevant details that enable you to optimize your marketing efforts to generate more revenue.
When it comes to UTM tagging vs traditional tracking methods, both benefit a particular type of organization significantly more than the other. While they are advantageous, they have specific drawbacks that keep them from being the perfect solution.
For organizations that need detailed campaign tracking, UTM tags can provide a wealth of information to help optimize and streamline further marketing endeavors. With TerminusApp, you can simplify your UTM tagging process while providing detailed analytics reports on a centralized platform.
Try our features risk-free with a 21-day free trial, or contact our team for a demo and personalized pricing plan based on your company's custom data requirements to provide accurate campaign data.
Revolutionize your website tracking with UTM tagging using TerminusApp today!