If you are actively promoting your brand on social media but not using URL shorteners, you could be undermining your marketing efforts. Even if you have outstanding, user-friendly content, it matters little if users are not clicking on your links.
A URL shortener works by utilizing a redirect to send users clicking on the shortened link to the webpage that has the longer link. URL shorteners serve numerous benefits for social media marketers. In addition to making your posts look more attractive, they promote optimization and branding and help to gather and make sense of important analytical data. URL shorteners can be used on all major social applications, such as Facebook, Youtube, Instagram, and LinkedIn.
LinkedIn is particularly important for professionals. It is the largest social media platform for job-related posts and business networking. Using a LinkedIn URL shortener helps to promote your brand, set you apart from the competition, and allows you to easily share the LinkedIn profile link on your business card or resume.
How to Shorten a LinkedIn URL
When you create a profile on LinkedIn you are automatically assigned a generic URL. To find your profile's default URL, all you need to do is access your LinkedIn profile. The easiest way to do this is to go to www.LinkedIn.com. Login to your account with your username and password. Once at the home screen, the easiest way to access your profile is to click on the "Me" icon located on the toolbar at the top of the page.
 From the drop-down menu, click on "View Profile". On your profile page, your LinkedIn URL will be located in the URL bar at the top of your browser.
Benefits of a LinkedIn URL Shortener
According to experts, there are some 575 million users on LinkedIn, with more than 260 million monthly active users. Only a very small percentage of users have taken the steps to create a LinkedIn URL shortener. Thus, most URLs on LinkedIn look largely the same. So, by using a custom URL, you are setting yourself apart from other users. This also makes you look more professional to your colleagues and potential employers. You can also add your custom URL to your email signature when sending emails for professional and/or business purposes.
There are also search engine optimization (SEO) benefits to using a LinkedIn URL shortener. A major factor in SEO is the readability of content. Custom URLs are shorter and lack an excessive amount of special characters, improving the readability of your profile and giving you an SEO boost.
How to Shorten URLs with TerminusApp
Using TerminusApp to create branded short URLs is easy. Follow these simple steps:
Pick Your Domain Shortener
Select "Add a Custom Domain
Configure Custom Domain
Configure DNS Settings
Request SSL/HTTPS for Your Custom Domain (Optional)
Configure Your Project to Use the Custom Domain

If you want more in-depth directions for this process, check out this article: Vanity/Custom URLs – How to Get One & Why It's Important
How to change your LinkedIn URL
You can change the default URL to a LinkedIn URL shortener through the settings in your LinkedIn profile. We discussed above how to access the homepage of your profile. Once there, click on "Edit public profile & URL" located on the right side of the screen.

On the next screen, you will see your current profile URL underneath the section "Edit your custom URL". Click on the small blue pen icon located just beneath the URL. Enter the LinkedIn URL shortener that you created using TerminusApp. 

Click "Save" to apply the changes to your profile URL. If for some reason the URL you have selected is not available, you will receive a notification to enter a different URL.

URL Shorteners for Other Social Networks
You can use TerminusApp to create and share nice looking URLs on Youtube, Facebook, Instagram, and other social media platforms. In addition to the benefits of using a LinkedIn URL shortener that we mentioned above, there is another major benefit of using custom URLs.
The advantages of any digital marketing campaign over traditional forms of advertising are the ability to easily collect and analyze data. This is done by adding UTM parameters to your links. You can then use Google Analytics or another service provider to help you monitor sources of traffic and to make improvements to your social media marketing campaigns.
YouTube
 Using a YouTube URL shortener can serve a number of important functions. When commenting on videos, you can keep track of links. When creating videos, you can use a Youtube URL shortener to create optimized links and easily share them with others.
You can easily create a Youtube URL shortener using TerminusApp by following the same steps that we mentioned above. To change the URL, however, you need to do the following:
  Ensure that you are eligible. You need to have at least 100 subscribers and your video has to be at least 30 days old.
  Sign into your YouTube account.
  Click on your profile picture located on the top right corner of the page.
  Click on Settings, Advanced Settings, Channel Settings. If you are eligible you will see a link that reads "You're eligible for a custom URL".
  Enter your Youtube URL shortener in the custom URL box.
  Agree to the Terms of Use, click Change URL and then Confirm Choice.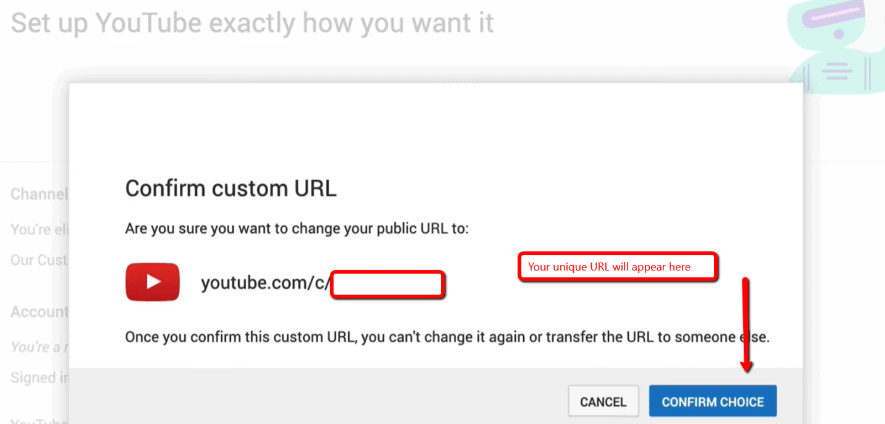 It's important to note that you can only change the Youtube URL shortener for a video once, so make sure you are satisfied before completing the steps above.
Facebook
Much like LinkedIn, a Facebook URL shortener gives your page a professional feel that helps set you apart from your competition. You can also use a Facebook URL shortener to track your Facebook ad campaigns.
Create your Facebook URL shortener on TerminusApp using the steps described above. Once you have done that, follow these steps:
  Go to www.facebook.com/username.
  Select the Facebook page that you wish to change the URL for from the dropdown menu.
  Enter your Facebook URL shortener in the box following www.facebook.com/.
  Click on "Check Availability".
  If the URL is not available, then enter another one. If it is, then click on confirm

Instagram
If you have more than 10,000 followers or a verified account, you can add a URL to your Instagram stories. You can also use an Instagram URL shortener on your profile bio link.
How to add a link to an Instagram story
To add a link to an Instagram story you need to follow these steps:
  Access the tool to add a new Instagram story.
  If you are eligible you will see a link icon at the top of your screen. Click on it.
  Paste the URL shortener that you have created into the story link box.
      Click on "Done".
  Publish your story and share the link with your followers.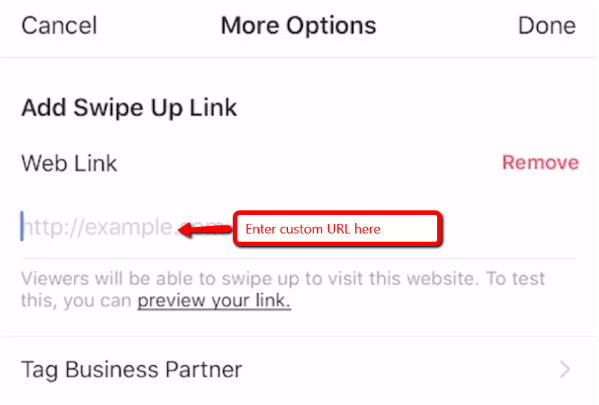 Conclusion
Start using custom, short URLs to take your social media marketing to the next level. TerminusApp allows you to easily create branded short URLs for use on LinkedIn, Facebook, YouTube, Instagram, and all other major social media platforms.
A LinkedIn URL shortener helps separate your profile from nearly 600 million other users. Creating a LinkedIn link shortener with TerminusApp is simple. Once you have created your URL, you can change your default profile link by accessing the settings in your LinkedIn profile.
If you are interested in learning more about using UTM Parameters in your social media marketing, check out these articles:
Why You Need UTM Parameters In Social Media Marketing
Google Analytics: How to Get Accurate Traffic Reports